SUBSCRIPT: Obama hosted July 18 'Education Roundtable' at the White House — without educators or teachers
George N. Schmidt - July 19, 2011
According to Valeria Strauss, President Barack Obama hosted what was called an "Education Summit" at the White House on Monday, July 18, 2011, but left out the teachers and educators. Less than four weeks after the National Education Association's leadership created havoc among the union's three million members by forcing through an endorsement of Obama for President in 2012 (based on the argument that the endorsement would give the NEA a "seat at the table" or something like that), Obama snubbed the NEA, too. There was more room for Microsoft than for teachers at the Obama education meeting.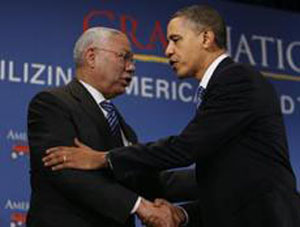 President Obama (right) with Colin Powell (left) at the White House on July 18, 2011.Thanks to Washington Post blogger Valerie Strauss for the following report:
Can you see who's missing? President Obama's unusual education roundtable By Valerie Strauss
President Obama hosted an education roundtable at the White House on Monday and I'll give you one chance to guess who wasn't high on the guest list.
Educators.
Below is a list of people who were invited to the event, which was described on the president's schedule this way:
"The President hosts an education roundtable with business leaders, Secretary Duncan, Melody Barnes, and America's Promise Alliance Chair Alma Powell and Founding Chair General Colin Powell."
The invitees, according to a news release from the White House, include:
· Marguerite Kondracke, president & CEO, America's Promise
· Alma Powell, chairwoman, America's Promise
· General Colin Powell, founding chairman, America's Promise
· Craig Barrett, former president & CEO, Intel
· Glenn Britt, CEO, Time Warner Cable
· Steve Case, former chairman & CEO, America Online
· Brian Gallagher, president & CEO, United Way Worldwide
· William Green, president & CEO, Accenture
· Fred Humphries, senior vice president, Microsoft
· Rhonda Mimms, foundation president, ING
· Kathleen Murphy, president, Fidelity Personal Investments
· Ed Rust, CEO, State Farm
· Randall Stephenson, chairman & CEO, AT&T
· Bill Swanson, chairman & CEO, Raytheon
· Laysha Ward, foundation president, Target
· David Zaslav, president & CEO, Discovery Communications
· Former governor Bob Wise, president, Alliance for Excellent Education
· Anne Finucane, chair of the Bank of America Charitable Foundation, Bank of America
What's more, new initiatives worth, collectively, more than $100 million were being announced in conjunction with the roundtable that will supposedly help keep kids in school, help bridge the achievement gap, etc., among them:
*America's Promise Alliance Grad Nation Community Impact Fund will raise $50 million to support the goal of ending the dropout crisis and prepare young people for college and careers, the release said.
* Microsoft Education is putting $15 million into research and development for immersive learning technologies, including game-based instruction and the creation of a lifelong learning digital archive, the release said.
The president would have been better off talking to these people about job creation than education reform, not only because they aren't the right people to be talking to about improving classroom dynamics, but also because employing the unemployed with kids has been shown to improve educational outcomes.
It would certainly do more to help education than any of the high-stakes test-based reform policies that we have seen in the past decade, stretching over the administrations of president George W. Bush and Obama.
There's no reason not to believe that Obama personally has respect for teachers and the hard job that they have. The problem is that his policies don't show it, and education roundtables with corporate leaders serve only to underscore that sad reality. America's CEOs have enough problems keeping their own businesses running. They should leave education to educators.
http://www.washingtonpost.com/blogs/answer-sheet/post/president-obamas-unusual-education-roundtable/2011/07/18/gIQAf3UJMI_blog.html#pagebreak
A REPORT ON THE WHITE HOUSE EVENT RAN ON FOX NEWS ON LINE ON JULY 18, 2011:
Former Secretary of State Colin Powell was at the White House Monday to attend an education roundtable. General Powell and his wife, Alma, are co-chairs of "America's Promise Alliance," which drives awareness to provide children the key supports to graduate from high school.
At Monday's meeting, "America's Promise Alliance" announced a new philanthropic fund focused on solving the nation's high school dropout crisis which currently stands at 25 percent. The Grad Nation Community Impact Fund will raise $50 million to provide grants to stimulate community engagement and investment to help transform the nation's lowest-performing schools and surrounding communities. "[O]ur children are the future," Alma Powell said. "If they are not prepared for the future, there is no future for this country. And so we are heavily engaged in stemming the dropout rate." The goal is to cut the rate in half by the year 2020.
The White House hosted the meeting with the Powells and several business leaders to discuss building upon strong industry-led partnerships to transform the American education system. President Obama has always touted education as one of his administration's top priorities. "A world-class education is the single most important factor in determining not just whether our kids can compete for the best jobs but whether America can outcompete countries around the world," Obama said in a statement.
Speaking to reporters, Colin Powell said the message to the business leaders is straightforward. "Youngsters are your future employees and your future customers. It's as simple as that." But Powell added, fixing the problem is not as simple as the message. "We have a challenge in front of us and all of America has to come together to work on that challenge."
CEO's like Glenn Britt of Time Warner Cable, Steve Case of America Online and Brian Gallagher of the United Way Worldwide attended the roundtable. Other corporate partners in attendance were representatives from the Business Roundtable and the U.S. Chamber of Commerce. Through their combined efforts, the White House hopes the private sector responds not just with financial support, but with commitments that take advantage of their areas of expertise and the skills of their employees.
The CEO's who attended agree this is an important obligation. Bill Green, the CEO of Accenture said in today's world, the countries and companies with the best people win. "The business leaders that are here recognize we have talent in this country," said Green. "We have to make sure we have a system that gets that talent in the game."
Mr. Powell warned their challenge is not easy and it isn't something that could be solved with a snap of the finger. He asked for a long-term commitment from state governments to get every single business involved in their communities to help solve this problem. "Education is not just skills," Powell said. "It's giving kids character education. It's giving them a sense of purpose. It's getting them to believe in themselves."