Following the Big Lie about the $712 million 'deficit', attack on veteran teachers is renewed... CPS hosting another secret 'Job Fair'.. July 21 'Career Event' to be held at UIC Forum this year
John Kugler - July 16, 2011
Another Secret Invitation Only Government Job Fair? That's the question being asked by hundreds of Chicago teachers and others who were ripped out of their jobs during early and mid-July 2011, just as it was asked one year earlier. As usual, the Chicago Board of Education's "Office of Human Capital" is trying to remove as many full-time, veteran unionized Chicago public school teachers as possible and replace us with as many charter school and novice teachers as it can get away with. Once again, one of the many time wasters for the recently "displaced" teachers is a semi-secret "Job Fair" (by invitation only) hosted by the "Office of Human Capital," along with a number of generally insulting "resume writing workshops," also sponsored by "Human Capital."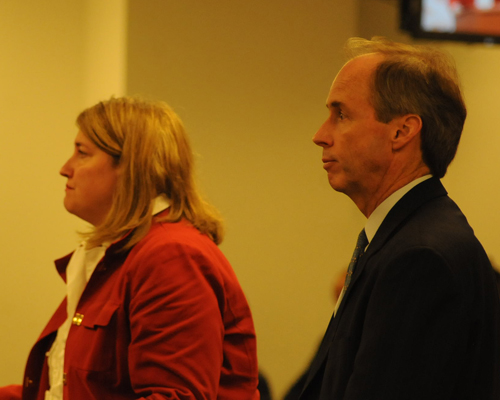 It would be illegal for Alicia Winckler (above left) or Tim Cawley (above right) to work even as substitute teachers in any school district in Illinois outside Chicago, but the two, both of whom came from corporate America, are among the most powerful executives in the nation's third largest school system. Winckler, who came to CPS less than 18 months ago from Sears Holdings, is "Chief Human Capital Officer." Cawley, who began his corporate career at Motorola before working for a time at the Academy for Urban School Leadership (AUSL), is the newly minted "Chief Administrative Officer" of CPS. Between them, Winckler and Cawley have zero public school teaching experience, no teaching or administrative credentials that would be recognized in any Illinois school district, and no respect for CPS teachers. Above, the two presented the fictitious CPS Power Point claiming to prove that the system was facing a $712 million "deficit" during the emergency meeting of the Chicago Board of Education on June 15, 2011. At that meeting, the Board voted to refuse to honor the fifth year of the contract with the school system's unions. During his presentation, Cawley admitted that CPS is preparing to pay the City of Chicago under Mayor Rahm Emanuel an extra $68 million for police services in the schools, but none of the members of the Board questioned Cawley's Power Point numbers of his claims. According to Cawley, CPS will have to pay Chicago $70 million for Police Services in Fiscal 2012, even though the contract between CPS and the City of Chicago, agreed to by the Board in February 2010, only calls for CPS to pay $8 million this year. Substance photo by George N. Schmidt.This year's job fair is not called a Job Fair, but a "Career Event." The evolution of the Orwellian verbiage attached to such things has increased since Alicia Winckler, who made her reputation overseeing the destruction of thousands of jobs during the "synergy" between Sears Holdings and K-Mart (which was taken over by Sears) during the early 21st Century, became "Chief Officer for Human Capital" at Chicago's public schools less than two years ago. When she was hired by former CPS Chief Executive Officer Ron Huberman in December 2009, Winckler's complete ignorance of anything to do with teaching, learning, or educational management was considered a plus. Like many of the latest generation of CPS executives, Winckler came to CPS directly from the corporate world, trained in the brutal realities of corporate "downsizing" and the jargon of job elimination. Winckler is regularly trotted out by CPS for events and conference, where she reads from carefully crafted scripts.
Starting around July 14, 2011, hundreds of Chicago teachers received the following message from the Board:
On behalf of the Board of Education, we would like to thank you for your commitment and service to the Chicago Public Schools. We know that this is a difficult time for you, and to assist you with your job search efforts, we would like to invite you to attend an exclusive Career Event for recently impacted teachers.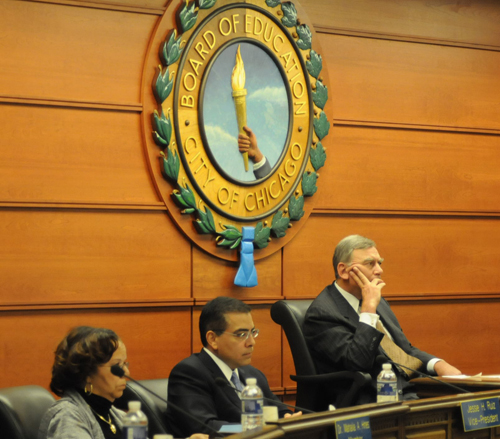 During the melodramatic but carefully scripted meeting of the Chicago Board of Education on June 15, 2011, each of the Board members was required to show attention and concern, then ask questions which attacked the school system's unions and ignored the glaring lies in the budget Power Point which they had been presented. Above, three of the Board members who played their roles according to the script provided by Rahm Emanuel, who had just appointed them, were Mahalia Hines, Jesse Ruiz, and David Vitale. The three were photographed during the Power Point presentation by their newly appointed "Chief Administrative Officer" (Tim Cawley) and their novice "Chief Officer for Human Capital" (Alicia Winckler). A short time after their uncritical acceptance of Cawley's fabrications, the seven members of the Chicago Board of Education, all of whom had just been appointed by Mayor Rahm Emanuel, voted to break the unions' contracts by claiming they had a "fiscal emergency" (the supposed $712 million "deficit" Cawley had outlined) that justified it. Not one of them asked a skeptical question about the carefully cooked numbers in the Cawley Power Point. Substance photo by George N. Schmidt.The Chicago Public Schools Career Event will be held on July 21, 2011 at the UIC Forum. Upon registering for the event and completing an online application, you will be matched with Principals who are seeking to fill vacant positions for the upcoming school year. During this event, you will have the opportunity to submit your resume and share your professional credentials, including experience with specific curriculum, classroom models, grade levels, school climates, student populations and other qualifications.
Registration for the Career Event
Please RSVP for this event by sending your name and contact information (email and phone) to
TRRSVP@cps.k12.il.us . Only invited attendees who have reserved in advance will be eligible to participate.
Online Application Reminder — If you have not already completed an online application, please visit https://www.cps-humancapital.org/app/ to complete your profile and view current vacancies.
Logistics, Please plan to arrive at 8:00 am for registration and bring multiple copies of your resume. The event details are as follows:
Location: UIC Forum, 725 W. Roosevelt Road, Chicago, IL 60608
Time: Registration: 8:00 a.m. Event Conclusion: 1:00 p.m.
Transportation & Parking Information: Various parking facilities are available for a fee. Lot 5 is located one block northwest of the UIC Forum at 1132 S. Morgan. The Maxwell Street Parking Structure is located one block southeast of the UIC Forum at 701 W. Maxwell St. Please note, if no attendant is on duty, cash may be required. For more information, please visit http://www.uic.edu/depts/oee/parking.htm.
The UIC Forum is easily accessible by public transportation. With stops nearby, CTA buses, rapid transit and Metra trains provide convenient alternatives to driving. For specific information, call the RTA 312-836-7000 or visit www.rtachicago.com.
If you have any questions regarding this information, please call Recruitment and Workforce Planning at 773-553-1045.
Regards, Office of Human Capital, Recruitment & Workforce Planning