EDITORIAL: Chicago's traditional McCarthyism roars back as Tribune's makeover leaves more 'news' space for teacher bashing, red baiting, union busting attacks on public schools
George N. Schmidt - July 01, 2011
The "news" story that appeared in the June 30, 2011, editions of the Chicago Tribune was amazing, even by the corporate standards of Chicago Tribune's propaganda departments. The story, a half page long, was a sustained attack on the Whittier Moms, the struggle for a library at La Casita, the Chicago Teachers Union, and unnamed "activists" who, for now at least, will substitute in Tribune jargon for the old Red Scare and racism that once filled the news columns of the largest circulation newspaper in the Midwest.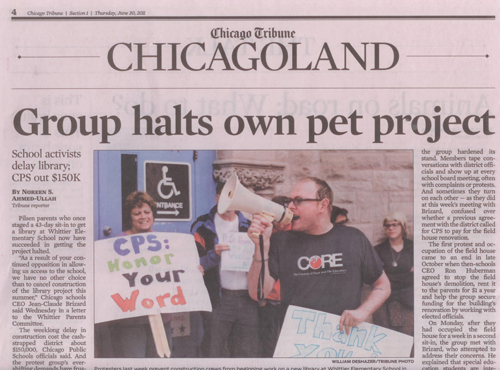 The Tribune has simply been returning to its classical red baiting and racist roots with its massive "news" propaganda (such as the June 30, 2011 article attacking the Whittier Moms and the "leftists" supporting them). For the past four years, Tribune news stories have been routinely slanted to present Chicago's charter schools as good and Chicago's real public schools as bad. During those years, the Tribune has produced ten times more "news" stories about the supposed successes of Chicago charter schools than it has about the city's foremost public high schools (including King College Prep, Northside College Prep, Whitney Young Magnet, Lane Tech, and Walter Payton). The editorial biases of the Tribune have been reflected in its version of news for generations, with some noteworthy literary critiques of Tribune racism and anti-communism (including in the pages of Richard Wright's world famous Chicago novel "Native Son"). For those who arrived in Chicago back in the days of Ronald Koziol, the Tribune reporter who got his exclusive "news" stories slandering the Civil Rights Movement (e.g., the sex life of Martin Luther King Jr.) and the anti-war movement ("Protesters to put LSD in water supply...") from the poisoned files of the FBI's J. Edgar Hoover, the new version of "news" coming out of the Tribune is part of a long tradition.
By red baiting and slanting the facts, the Tribune is simply continuing its long historical tradition of making sure its editorial board controls news content. The recent purging of the news staff (most of the education reporters took buyouts when Sam Zell purchased the paper and loaded it with intolerable debt four years ago) left the news staff younger, less experienced, and in some ways more desperate to cover a story with an editorial slant just to hold a job. The rotating Tribune reporting staff covering the meetings of the Chicago Board of Education have generally ignored more than 90s percent of the issues brought to the Board by the public, often then simply reporting the "news" based on the handouts from the CPS Communications Department.