Rumor of Mills's departure from Chicago proved to be true... Rick Mills to become a deputy superintendent in Minneapolis, Minneapolis superintendent announces
George N. Schmidt - June 16, 2011
Less than three days after the Chicago Board of Education denied that Chief Area Officer (Area 26) Rick Mills (Area 26) was leaving Chicago to take a post in the Minneapolis school system, the Minneapolis (Minnesota) school district announced the Mills will begin as "deputy superintendent" there on July 1, 2011. According to an announcement issued by the Minneapolis school system, Mills will be leaving Chicago to become deputy schools superintendent there.
In their announcement about the hiring of Mills, Minneapolis school officials quoted former Chicago Chief Education Officer Barbara Eason Watkins praising Mills and repeated a claim made by Mills that under his leadership, the high schools of "Area 26" had seen the highest gains of any of the city's high school areas.
Rumors about Mills's pending departure from Chicago began on Friday, June 10, and were reported to Substance. Because we couldn't confirm the rumors, Substance did not publish a story until June 14, when we reported that both Minneapolis and Chicago were denying the rumors. One day later, Minneapolis made its announcement. Chicago Public Schools Communications officials have evaded Substance's questions since Substance confirmed the Minneapolis announcement. Mills has refused to talk with Substance about his pending departure despite a number of requests.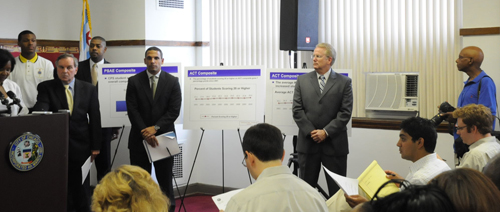 Area 26 Chief Area Officer Rick Mills (above standing second from right) will become deputy superintendent of the Minneapolis schools on July 1, 2011, according to a press release issued by the Minneapolis school district. During his time working for CPS, Mills presided over the massive expansion of military high schools in Chicago, and then was given control over more than 25 regular high schools (most of them general high schools), during which time he instituted a controversial all-out massive effort to improve ACT scores through repeated practice tests. Above, Mills was one of the high school area officers who appeared on July 27, 2010, at Chicago Vocational Career Academy High School with Mayor Richard M. Daley (at podium) and then CPS Chief Executive Officer Ron Huberman (standing beside Daley). At the time, CPS officials touted the increase in ACT scores without noting that ACT is not supposed to be used as a measure of schools' success. Substance photo by George N. Schmidt.The letter from Minneapolis superintendent Bernadeia Johnson follows:
June 15, 2011
Dear Colleagues,
I am pleased to announce that after reviewing many highly qualified candidates, I have selected Rick Mills as my deputy superintendent effective July 1, 2011. The deputy superintendent leads the supervision of schools through the associate superintendents and supervises major divisions including academics, finance, human resources, facilities, plant operations and other general operations departments. The deputy superintendent is designated as acting superintendent in my absence.
Mr. Mills comes to us from Chicago Public Schools (CPS), where he most recently served as chief area officer/area superintendent for the past two years. During this time, he established the highest performing high school area in CPS. Prior to that, he was employed in the CPS area instructional office of military schools and Junior Reserve Officer Training Corps (JROTC) as area instructional officer from July 2005 to August 2009 and as military area officer/director from July 2001 to October 2005. During his past ten years at CPS, Mr. Mills led successful school programs in which students demonstrated measurable achievement results.
Prior to joining CPS, Mr. Mills served the U.S. military in numerous capacities, including as squadron commander, international program director, political-military advisor and executive officer and logistics director in the U.S. military. He began his career in the U.S. military in 1980. He also served as deputy chief of plans and policy for the United Nations in Jerusalem from June 1990 to June 1991 and as assistant professor at the United States Military Academy in West Point, New York, from August 1987 to June 1990.
Mr. Mills holds a Master of Arts degree in business from Webster University in St. Louis, Missouri, and a Master of Arts Degree in National Security Affairs from the Naval Postgraduate School in Monterey, California. He received his Bachelor of Arts degree in criminal justice from Indiana University of Pennsylvania.
Dr. Barbara Eason-Watkins, superintendent of the Michigan City Area Schools who supervised Mills during her time as deputy superintendent of CPS under then-Chief Executive Officer Arne Duncan, now the U.S. Secretary of Education, described him as follows: "Rick is an exceptional leader with a strong commitment to improving student performance and community engagement. He will certainly be an asset to the great work underway in Minneapolis."
Mr. Mills brings a depth of knowledge and experience in leadership, strategic plan development and execution and performance management. Our school district will benefit from his skills in the areas of operations administration and motivating exemplary staff performance, which will allow me to maintain my commitment to focusing intensely on academic achievement.
Please join me in welcoming Mr. Mills to Minneapolis Public Schools. I look forward to working with him and my leadership team on behalf of our 33,000 wonderfully diverse students and their families.
Sincerely, Dr. Bernadeia Johnson, Superintendent of Minneapolis Public Schools