Behind smokescreen of 'Republicans did it!'... Illinois House Speaker Michael Madigan renews attack on teacher pension funds... Democrats' Wall Street agenda working to replace all defined benefit pension plans with defined contribution plans to enrich financial oligarchs
George N. Schmidt - May 12, 2011
For the second year in a row, Illinois House Speaker Michael Madigan, ostensibly a Chicago Democrat, is encouraging legislation to undermine the defined benefit pension plans of Illinois teachers, with the Chicago Teachers Pension Fund (CTPF) his particular target. This year, he is using the Illinois Republicans in the House of Representatives as his camouflage. Madigan, whose daughter is Illinois Attorney General, has long received support from the teacher unions, despite his longstanding hostility to public school teachers and, many say, public education.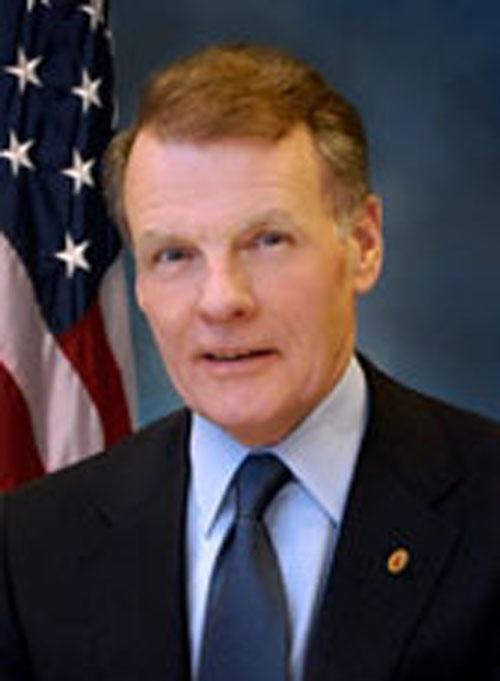 Chicago teachers are beginning to realize that Illinois House Speaker Michael Madigan, although a Democrat, has long been an enemy of Chicago teacher pensions, their union, and the city's public schools.Last year, House Speaker Michael Madigan (D-Chicago) engineered a raid on the Chicago Teachers Pension Fund (CTPF) that cost Chicago educators $1.2 billion and for the first time in the more than 100 year history of Chicago teacher pensions created two tiers among teachers for pension purposes.
The raid, in April 2010, created a two-tiered pension system so that teachers hired beginning January 1, 2011 are facing much worse pension situations than those currently working (or those already on pension). Pension experts note, however, that Madigan's moves negatively impacted and impacts all new Chicago Teachers.
That 2010 law, Senate Bill 1946, brought to the Illinois House floor and voted on in a matter of hours, effectively gave the Chicago Board of Education a $1.2 billion dollar "pension holiday" which has had a massive negative impact on the solvency of the 53,000 member CTPF. The April 2010 raId, which was engineered by the Chicago Public Schools, also had the support of Illinois Senate President John Cullerton, ostensibly also a Democrat. It came about after Illinois politicians accepted the claims of former Chicago Public Schools Chief Executive Officer Ron Huberman that CPS was facing a "deficit" of "up to one billion dollars. Both Cullerton and Madigan accepted Huberman claim, even though subsequent events showed that the "deficit" had been caused mainly by a manipulation of CPS budget numbers (CPS routinely inflates expenses and underestimates revenues at this time each year to create a "deficit crisis"; this year the "deficit" — created the same way — is "$720 million").
Now, adding insult to injury, it appears that House Speaker Michael Madigan and House Minority Leader Tom Cross (R – Oswego) are at it again, according to sources at the Chicago pension fund. As early as Thursday, May 12 (although possibly deferred until early the following week), Madigan and Cross intend to run a new bill that changes the benefits for current employees. According to the current legislative proposal (not quite fully shaped, but soon to be inserted into a Pension Bill —currently an amendment to SB 512) current employees will have three "options" beginning in June 2012:
OPTION ONE: Teachers may remain in the current plan and pay a considerably higher employee contribution (possibly as high as 15 percent);
OPTION TWO: Teachers may move to the new "Tier II" plan passed last year for new employees.
Tier II reduces benefits dramatically (retirement age increases, COLA changes, using 8 years instead of 4 for average salary for pension purposes, etc.) and pay the same 9% contribution;
OPTION THREE: Chose to have an employer contribution (6%) made to a separate "Defined Contribution" plan along with your employee contribution.
Observers who asked to remain anonymous told Substance that the evidence from Illinois is that Democrats and Republicans, led by Madigan, are engineering the destruction of the defined benefit pension plan for Chicago teachers, working off what looks like a long term script. In 2010, under the guise of the "fiscal emergency" being hyped by Ron Huberman and the Chicago Board of Education, the first attack on Chicago's pension plan was completed by Madigan and Cullerton, with Republican votes. Despite claims that by CPS officials at the time that the three-year pension holiday Madigan promoted would keep things straight in the CPS budget, no sooner had the law been passed than CPS financial officials went about creating the second "deficit" and giving the Democratic leaders in Illinois the smokescreen behind which the attack on Chicago teacher pensions could continue.
What this means in real terms, according to those familiar with the situation who asked to remain anonymous, is that current contributors to the Fund will be paying six percent more of their salary to help offset the $1.2 billion shortfall to the fund that the Legislature created in April 201. (Alternatively, members can choose not to pay the 6% and choose instead option 2 or 3 and see a significant reduction in their pension) In short, teachers and principals who are CTPF members will see their paychecks permanently shrink by 6% because of this proposed new law or see their benefits significantly decreased).
Retired members were outraged when CTPF director Kevin Huber reported the new legislation to the Chicago Teachers Union retiree luncheon on May 11, 2011. Huber told the retirees, who packed the banquet hall at Magianno's on Grand Ave. in Chicago, that the legislation approved by Madigan needed widespread and active opposition. A number of those present reported that they had already began calling their legislators, with favorable responses.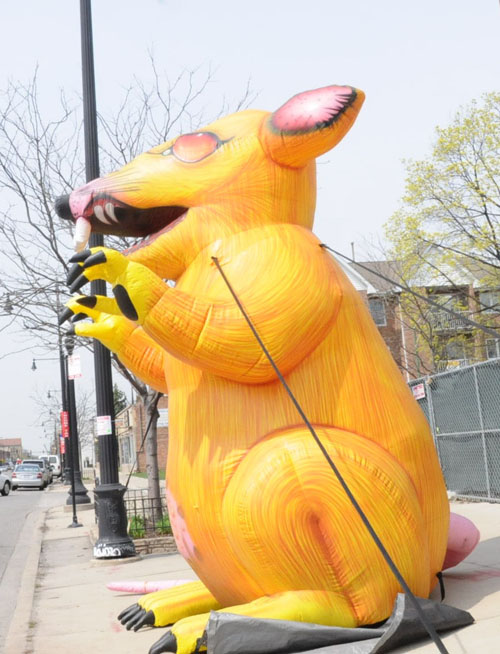 Although militant teachers rejected the idea of putting the "Scab Rat" in front of the Chicago offices of Illinois House Speaker Michael Madigan in December 2010, Madigan's latest maneuvers against the Chicago Teachers Union and Chicago teacher pensions have resurrected the debate. Substance photo by Sam Schmidt.Some talked about a campaign of "NO MORE RAIDS." There is also growing sentiment to picket Madigan's southwest side Chicago offices, and possibly place the "Rat" there, exposing Madigan as as bad as the Republicans in his longstanding support for anti-teacher and anti-public school legislation in Illinois. An earlier discussion among Chicago teachers about picketing Madigan was postponed when he took no action in December on behalf of the "Performance Counts 2010" legislation supported by Chicago's billionaires and brought to the House by Stand for Children, Advance Illinois, the Civic Committee of the Commercial Club, and the Illinois Business Roundtable. Madigan, who represents Chicago's 22nd legislative district, has his Chicago offices at 6500 South Pulaski Road. His Chicago office phone number is (773) 581-8000 and his fax number is (773) 581-9414.
The CTPF is not funded in the same way the downstate system is funded, Huber noted for the retirees on May 11. The underfunding of suburban and downstate pensions is a function of the Illinois Legislature not being fiscally responsible for many years, he said in his remarks. Downstate teachers are all in the Teacher Retirement System (TRS), which has long been used as a piggy bank by Springfield. The Chicago Teacher Pension Fund (CTPF) is much more well funded, Huber said. But it, too, has taken a huge hit in recent years, as the Chicago Board of Education has not kept up with its obligations. Chicago Teachers Pension Fund took a direct hit from the legislature last year when the legislature saw fit to provide the Chicago Board of Education the $1.2 billion "break" from its obligations.
Earlier in the May 11 luncheon, Chicago Teachers Union Retiree Functional Vice President Jim Ward reported to the retirees on the recent lobbying efforts by the union in Springfield. Huber mentioned that the unity of the CTPF, Retired Teachers Association of Chicago, and CTU was unprecedented in recent times. In addition to Huber and Ward, those seated at the head table at the luncheon included Retiree chairman Patricia Knazze, a retired Chicago teacher and former CTPF trustee, and the head of RTAC.
For the time being, the actions to block Madigan's latest attack on Chicago public schools and the Chicago Teachers Pension fund is being limited to phone calls to both Republican and Democratic legislators. Whether retirees and others go further at Madigan's Chicago offices will be announced (and reported here at Substance).
The current proposed law is being advanced as a consequence of a "crisis" that the Illinois Legislature created for Chicago last year. Had the Legislature not passed SB 1946, none of this would have been necessary. CTPF members — both current teachers and Chicago retirees — are encouraged to call their Senators and Representatives and express their outrage at this latest legislative proposal. Substance staff will be working with organizers of this event to collate the responses. Reports on additional actions will be made at substancenews.net.
[Full disclosure: George N. Schmidt is a retiree delegate for the Chicago Teachers Union and is currently receiving a Defined Benefit pension through CTPF]. 