New York Mayor wants to cut 6,000 teachers despite $3.2 billion budget surplus... New York City teachers union vows 'Wisconsin' protest this Thursday
John Kugler - May 07, 2011
In the continued attack on public education and teachers unions New York City, billionaire Mayor Michael Bloomberg released news of his proposed budget in which includes a cut of five percent of all public school teachers: 4,278 (current) teachers and 1,500 through "attrition." In response the United Federation of Teachers President Michael Mulgrew responded with the following statement: "Same smoke, same mirrors, same attempt to blame others for his decision to lay off thousands of teachers, despite increased state aid, hundreds of millions in new revenues and a surplus that has grown to more than $3.2 billion."
In addition to stating that the union intends to fight these proposed cuts, the union has already taken to the streets. Several thousand UFT members, parents and students came out on May 5, 2011 at four simultaneous rallies across the city to say "No to teacher layoffs and child care cuts". In a multi-front fight, the Union is using public relations, coalition building, direct action and alternative plans of action against any cuts of educational services for the children of New York City. Included in the budgets cuts was a proposal to eliminate 16,000 child care slots to which Brooklyn Borough Representative Howie Schoor asked the crowd at one of the city wide rallies "How do you spell incompetence?" hundreds thundered in response: "DOE!"
The mayor retreated on that threat in his budget proposal the next day.
After the latest announcement of cuts by Bloomberg, the union announced more major protests, to be held on Thursday, May 12, 2011. The union is calling for a "Madison" in New York City.
Below is a UFT press release on the plan to propose an alternative budget that saves jobs and serves by cutting waste and big bank giveaways.
UFT joins May 12 Coalition partners in proposing a "people's budget", by Michael Hirsch | published May 4, 2011, http://www.uft.org/news/uft-joins-may-12-coalition-partners-proposing-peoples-budget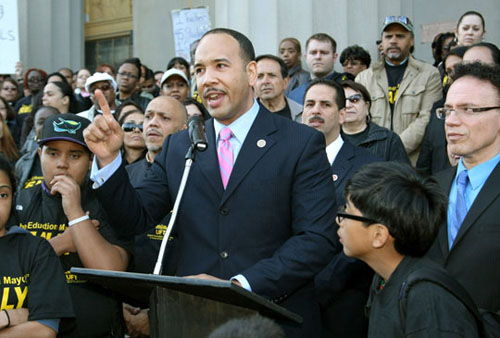 Bronx Borough President Ruben Diaz address the crowd during the May 5 protests against New York City Mayor Michael Bloomberg's proposal to cut 6,000 teacher positions from the city's schools despite the fact that New York City has a budget surplus of $3.2 billion dollars.Anticipating the mayor's austerity executive budget that if approved would slash education and social services while leaving the wealth of city banks, corporations and rich New Yorkers untouched, the UFT joined progressive City Council members and a coalition of unions, community groups and nonprofit service providers at City Hall on May 4 to release an alternative "people's budget."
Watch video of the event >>
http://www.uft.org/videos/strong-economy-all-coalition-releases-peoples-budget
The alternative budget plan, supporters say, would raise needed capital, save jobs and services, and restore equity to the tax system.
"We want the economy to work for everybody, not just a few," said UFT President Michael Mulgrew. "You are seeing the real community of New York City coming out and saying enough is enough."
The event was the kickoff to a week's worth of activities culminating in a major mobilization in the Wall Street area on Thursday, May 12.
The budget report, "Pay Back Time: $1.5 Billion Ways to Save our City's Budget and Make the Big Banks Pay their Fair Share," which was produced by the May 12 Coalition, provides concrete alternatives to the worst proposed cuts. http://www.onmay12.org/sites/default/files/MAY%2012%20COALITION%20PAY%20BACK%20TIME%20FINAL.pdf
The report offers these alternatives to recoup $1.5 billion in savings:
Ending bank subsidies while demanding repayment of unearned and excess subsidies;
Ensuring a "fair-share" tax system and eliminating tax loopholes for millionaires, hedge funds and private equity firms;
Demanding that the city's biggest banks stop harmful practices that cost the city money; and
Paring down contracts with the city's "Big Six" banks — J.P Morgan Chase, Bank of America, Citigroup, Wells Fargo, Goldman Sachs and Morgan Stanley — by 20 percent at a time when other contractors and agencies are facing similar reductions.
Joining Mulgrew was Tammie Miller, the UFT Family Child Care Providers chapter chair, who said the mayor's decision to eliminate child care subsidies for 16,500 low-income children would be a disaster for working families.
"Bloomberg is sticking up for his rich friends without caring about the working class of the city and the children of the working class," Miller said.
Mary Brosnahan, executive director of the Coalition for the Homeless, added that "the big banks that wrecked our economy are back making billions in profits and lavish bonuses. Now, Bloomberg has a choice: ask Wall Street bankers to contribute their fair share to fixing the city instead of enacting devastating cuts to working families."
Information on the May 12 Coalition's planned week of activities is available on the group's website
http://www.onmay12.org/
Following an announcement by New York City Mayor Michael Bloomberg that he intends to lay off nearly five percent of New York City's teachers in order to head off what he claims is a budget problem, the United Federation of Teachers (UFT) has vowed to make a "Wisconsin" sized protest on Thursday, May 12, against the cuts.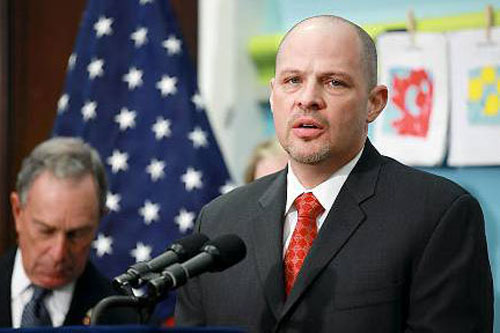 Michael Mulgrew (above right) President of the United Federation of Teachers has announced that the union will organize a "Wisconsin" sized protest against the plans by Mayor Michael Bloomberg (above left) to cut as many as 6,000 teachers and teacher positions from the city's public schools. New York Daily News photo.The Bloomberg threat was initially reported in the press, including The New York Times on Saturday, May 7. The reports were that Bloomberg had released a $65.7 billion city budget on Friday (May 6) that calls for cutting 6,100 teacher jobs — including 2000 through "attrition." In New York City, as contrasted with Chicago, the city budget includes all city services, including education.
On that day, UFT President Michael Mulgrew announced that the protests would be held. Mulgrew noted that New York City, unlike Chicago and many other cities, does not have a budget deficit this year. New York wants to cut teachers anyway, based on what might happen in the future.
THE NEW YORK POST REPORTED AS FOLLOWS:
UFT vows 'Wisconsin' protest over teacher cuts, By SUSAN EDELMAN, Last Updated: 4:31 PM, May 7, 2011, Posted: 4:14 PM, May 7, 2011
The head of the city teachers' union declared war today on Mayor Bloomberg's plan to layoff 4,100 teachers – and angrily vowed a massive Wisconsin-style protest this Thursday as an opening salvo.
"Mr. Mayor, it's not going to happen, and enough is enough!" shouted Michael Mulgrew, president of the United Federation of Teachers, as he whipped up a roaring crowd at the UFT's spring conference in Midtown.
A ballroom-full of educators rose to their feet, clapping and chanting, "Enough is Enough."
Schools Chancellor Dennis Walcott, whom Bloomberg appointed last month after firing Cathie Black, remained seated on the dais and did not clap at Mulgrew's remarks, though minutes earlier the two shook hands and embraced. Walcott was warmly applauded by the teachers, telling them, "I think the world of you."
But they gave a standing ovation to a surprise guest, Wisconsin State Sen. Jon Erpenbach, who led 13 fellow lawmakers into hiding out of state to block Gov. Scott Walker's legislation to revoke union bargaining rights.
The UFT and other city unions plan to draw tens of thousands to a May 12 march from City Hall and other sites to Wall Street to demand that Bloomberg make big banks rescued by the bailout pay more to prevent cuts for education and other city services.
Bloomberg unveiled a $65.7 billion city budget Friday that calls for cutting 6,100 teacher jobs, including 2000 through attrition.
"It's a political game," Mulgrew charged. He said the rally will include parents, students, clergy and others in a show of defiance. "We will not stand by and accept this any more."
Mulgrew hammered Bloomberg for refusing to tap $270 million from a "$3.2 billion surplus" to save teacher jobs.
Walcott said later the surplus is $2 billion, and the mayor tapped savings to "stave off even deeper cuts." He said some money must be held for "bigger holes" next year and beyond.
NEW YORK DAILY NEWS REPORT FROM MAY 8, 2011 BELOW HERE
Union chief girds to fight teacher cuts. New York Daily News. May 8, 2011. http://www.nydailynews.com/ny_local/education/2011/05/08/2011-05-08_union_chief_girds_to_fight_teacher_cuts.html#ixzz1LkrXHjON
Blasting Mayor Bloomberg's threat to cut 6,100 city teachers, union President Michael Mulgrew started gearing up for a battle Saturday.
Mulgrew, who addressed loyal union troops at a spring conference, vowed to take the fight over pink slips to the city streets.
"I believe that these six weeks will be one of the turning points in New York City," he said. "Mr. Mayor, it's not going to happen and enough is enough. ... We're not going to let him harm our children anymore."
The Bloomberg administration has warned of teacher layoffs - the first since the 1970s financial crisis - for more than a year.
The mayor has used the threat to pressure Albany for changes to the so-called "last in, first out" law protecting the most experienced teachers from pink slips - leading critics to claim the layoff numbers are inflated for a political fight.
The budget cuts, which include 4,100 teachers layoffs and a reduction of 2,000 more through resignations and retirements, were announced Friday, kicking off a new round of harsh words from the administration's critics.
Mulgrew continued to accuse the mayor of playing "political games," pointing to the city's $3.2 billion surplus in this year's budget.
"It's pretty simple to me - you take the money out of the surplus. And that money is ours. It belongs to the people of New York City," he said yesterday.
Speaking to the union conference, Public Advocate Bill de Blasio pledged to join teachers in fighting the mayor's budget plans. "The last thing we should do is lay off teachers in the city," he said, noting nothing was "more important" than keeping class size down and teachers at work.
Schools Chancellor Dennis Walcott acknowledged yesterday he had previously underestimated the effect of layoffs on city class sizes.
On average, classes will add two more students, he said. As recently as three weeks ago, his estimate was just 1 to 1.5 students - a change he attributed to "looking at different models."
Walcott, however, rejected Mulgrew's suggested solutions for fixing the deficit, saying the mayor had already used extra city funds to fill the gap created by state and federal budget cuts.
"If the mayor did not put up those $2 billion, we would be looking at deeper cuts in education, so we have to be clear the mayor has been very committed to education," he said.
