Even with network glitches April Substance traffic was the second highest in history
George N. Schmidt - May 01, 2011
Despite problems for the second year in a row during the month of April, traffic at the Substance Website, www.substancenews.net, was the second highest month in the history of Substance during April 2011. Final Site Stats for April 2011 Unique Visitors, 13,343; Hits, 605,796. These numbers, which represent Substance's second highest month in history (March 2011 was the highest) indicate that people are still going to the site regularly for accurate timely information.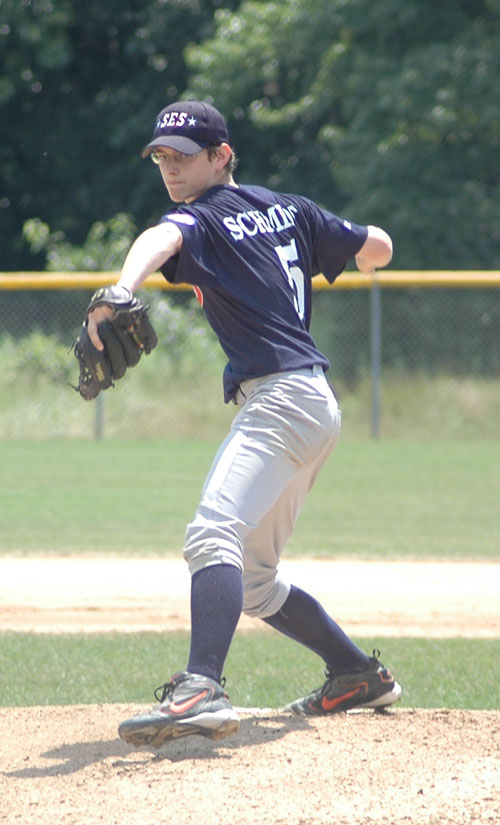 Dan Schmidt has developed and maintained the Substance Website since his senior year at Whitney Young High School in Chicago, where he played baseball for the Dolphins. A 2007 graduate of Whitney Young, Dan Schmidt is now completing his final year in the College of Engineering at the University of California Berkeley. The above photo is from a July 15, 2006 traveling league game when Schmidt played for the Hyde Park Legends baseball team. Substance photo by George N. Schmidt.For the second April in a row, Substance had Internet problems. Troubles began on April 29 and continued through April 30. During those two days, many people who tried to log on to the site reported receiving an "SQL Error" message and being told there was too much competition to get into the site. Dan Schmidt (see photograph), who does Web work for Substance, is going over this problem with Network Solutions, our web hosting and domain name service.
Although on a very low budget, Substance was able to develop and improve its Web site since June 2007 because of the design ability of Whitney Young High School graduate Dan Schmidt (Class of 2007). The "new" Substance website (www.substancenews.net) has been live since January 2008, replacing the "old" site (www.substancenews.com). The "old" is still maintained for archival purposes. The entire history of the CASE case can be found there under Legal Fight in the Archives at www.substancenews.com.
Regular site problems are dealt with in the course of events, including problems that appear to be attempts at sabotage to undermine the site.