Penn school special education teacher hits KIPP hypocrisy on special education children
Corrie O'Connor - March 23, 2011
[Editor's note: The following are the remarks delivered to the March 23, 2011 meeting of the Chicago Board of Education by Corrie O'Connor, who is a special education teacher at William Penn elementary school in Chicago].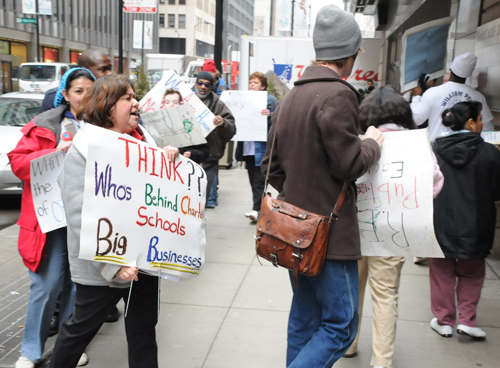 Teachers, parents and students from Penn, Whittier and other schools facing closing and charter school invasions protested outside the Chicago Board of Education (above) prior to the March 23, 2011 Board meeting. Substance photo by George N. Schmidt.My name is Corrie O'Connor. I am a special education teacher at Penn and am here to discuss Special Education law and charters schools.
Charter schools are becoming more and more prevalent. As you may or may not know, there are an increasing number of complaints being filed with Civil Liberties Unions across the United States. Many parents feel strongly that special education and bi-lingual students are being discriminated against.This is already taking place in Idaho, New Jersey, Arizona, Louisiana, Minnesota, Washington and New York. I have no doubt, Illinois will follow.
This is happening, plain and simple, because charter schools are not upholding Federal Laws. They are required to do so since they are funded with taxpayer money and, in fact, are public schools. The Americans with Disabilities Act, the Individuals with Disabilities Education Act, and Section 504 of the Rehabilitation Act of 1973 are all laws that are in place to protect individuals with disabilities. Every child, according to FAPE, is entitled to a Free and Appropriate Education, regardless of the child's disability.
Does KIPP service special education students?
CPS' website says that 11 percent of the students have special needs. These children, though, have mild disabilities.
Conveniently, KIPP Ascend [the KIPP charter school inside Penn] has the unique ability, according to contracts signed by parents, to kick a child out of the school. This can occur for any number of academic or behavioral infractions, if they so choose.
In fact, charter schools openly promote a policy called "counseling out." It is a process of subtly or not so subtly "counseling" a child with a disability to enroll elsewhere.
Charter schools set higher standards so that they can call themselves high-performing…and if they are unable to meet those standards, can be closed down.
Penn school serves one of the largest populations of special education students in the city of Chicago. My question is, "What will happen to the 143 Penn students, some of whom have already been turned away by KIPP,, do?" What happens to the students that have Traumatic Brain Injury, are Other Health Impaired or are Mentally Retarded? What about our students with severe cases of Cerebral Palsy or the ones that are in wheel chairs and have multiple disabilities, or rare syndromes?
They, most certainly, will not be "chosen" by KIPP. Our children will be shipped off around the city, so that the high-performing, and specifically chosen KIPP students can be educated. Not only is this morally reprehensible, it is absolutely and unequivocally breaking the Federal Law. I am here to advocate for our precious students at Penn School.
