Principal a 'nightmare'... Washington High School's patronage war between principal and teachers
Jim Vail - March 05, 2011
A war has been raging between a principal and the teachers at George Washington High School in the far southeast region of the city. The trouble began, according to a number of teachers and Chicago Teachers Union officials, three years ago when a new principal named Florence Gonzalez took the helm and started what teachers now call a massive purge of the faculty and the students.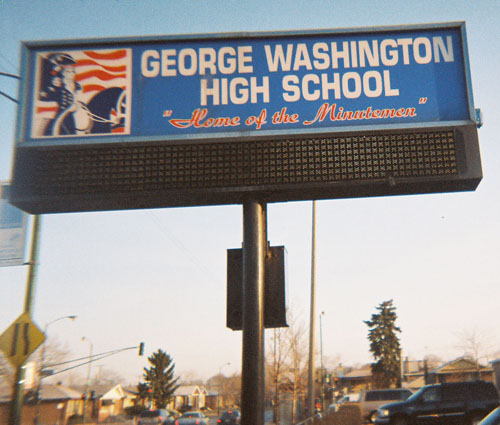 Chicago's George Washington High School is closer to Indiana casinos than to most of Chicago. Substance photo by George N. Schmidt.Gonzalez first aimed her sights at a diverse teaching staff and targeted many for dismissal. She then replaced them with a mostly white teaching staff, some of whom, those familiar with the case claim, live outside the city.
The principal then targeted the black students when she dropped the Options for Knowledge program which allowed students outside the attendance boundaries to attend. Many of the African American students who did not live in the neighborhood were able to attend thanks to this program.
The school went from 25.7% African American in 2008, when Gonzalez was hired, to just 15.1% in 2010, according to the Chicago Public Schools website.
Those who applauded Gonzalez's efforts said the school is now showing higher test scores and increased attendance, while violence at the school has been decreasing (the police force had been beefed up and more security hired).
"It is just becoming more reflective of the community its serves," stated an anonymous blogger on district299.com two years ago. "No student has been forced out or the subject of gestapo tactics because of race. Any student that has been expelled has been so justifiably within the rules and regulations of CPS."
But those on the other side counter these claims.
"The test scores are only up because Florence has decided that it would be best to not test all the students who should be tested," wrote another anonymous blogger. "Attendance is up because the assistant principal stated in almost every professional development meeting that if you don't submit attendance by the end of the day that he will go in and mark every child present. I find it interesting you don't mention the fact that so many of the employees at Washington don't live in the city, or are performing duties outside their job description."
The outrage against Gonzalez spilled into the student body which organized a massive walk-out in the spring of 2008, even though their new principal threatened to suspend or arrest all those who planned to participate.
"More than 50 percent of the more than 1,500 students at Washington boycotted the school after learning that the principal, who has only been at Washington since January 2008, was purging teachers and other staff," Substance reported in April, 2008. "According to school data, student attendance was 47 percent on March 12, 2008. Some of the students who took the day off on March 12 had had zero absences for the school year, while others on the list have had more than 80 days absent for the school year."
Trouble began, many teachers interviewed said, in 2007 when a Washington High School Local School Council member took an informal poll of teachers who wanted to keep the interim principal Mark Klimesh for the remainder of the year instead of having the LSC elect a new principal, according to an official document listing the accusations against Gonzalez.
Although the school has had facilities problems because the Chicago Board of Education has been spending its rehab money on charter schools and not on regular public schools, from the outside Washington High School still resembles a suburban public school more than your typical CPS school. Substance photo by George N. Schmidt.Gonzalez then started "targeting individuals for termination who had stated that they preferred keeping the interim principal," the document reads.
"She's very good at what she does," said attorney Matt Layman, who has filed two lawsuits on behalf of teachers terminated and harassed by Gonzalez. "She follows the law."
One case Layman filed is for unlawful termination and harassment against a teacher who spoke out against Gonzalez for unfairly punishing black students. Gonzalez did not rehire the teacher, stating the budget was the reason, Layman said.
The teacher then found a job at a northside high school, but Gonzalez called the principal and said her former teacher was a liar and not a good educator, Layman said. The high school principal then rescinded the offer, the attorney said.
His other case involves the dismissal of an award-winning culinary arts teacher who provided over $80,000 worth of ovens and cooking utensils to the school. The lawsuit is seeking reinbursement to the teacher for the supplies, he said.
"She's been suspended twice by the Board," attorney Layman said, "but for some reason they have refused to terminate her."
Anonymous sources say it was due to misappropriation of funds.
Gonzalez did not respond to a call from Substance seeking comment.
According to sources who asked to remain anonymous, it is Gonzalez's political connections that allow her to operate with near impunity.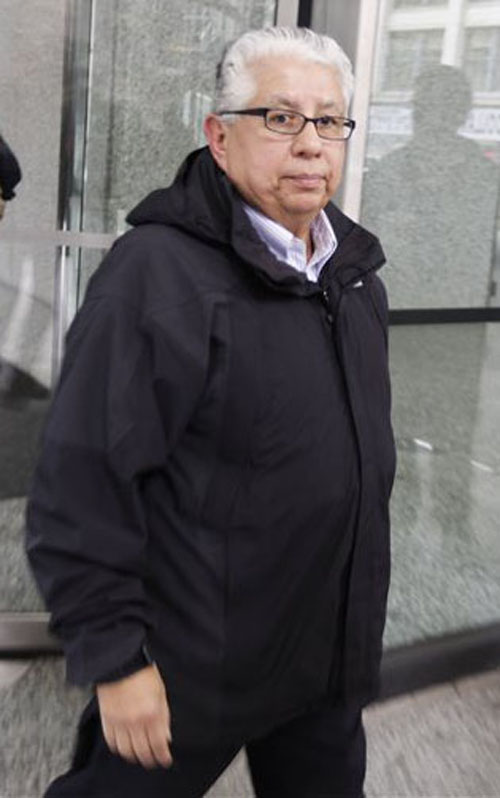 Former Chicago Streets and Sanitation Commissioner Al Sanchez (above) leaving the federal courthouse in Chicago following his conviction and sentencing on corruption charges. Sanchez headed the Hispanic Democratic Organization, which used city workers to work elections to bring in votes for candidates favorable to Chicago Mayor Richard M. Daley, in violation of federal patronage laws. Among those elected with the help of HDO was Rahm Emanuel, whose first election to the U.S. Congress benefited from Sanchez's workers.Some argue that she may be in violation of the Shakman decree which outlawed the hiring of politcal patronage jobs. Several new hires at Washington have come directly from Alderman John Pope's office, records show.
Take Thomas Sadzak, who was hired as a boys basketball coach by Gonzalez in 2008, even though he was found guilty of sexual harassment and allegedly put on a do not hire list with the city.
In McPherson v. the City of Chicago, the complaint stated: "It is undisputed that beginning in June of 2000, Sadzak made sexual remarks about McPherson's body, including her breasts, in the presence of hand laborer Nina Booker. He also asked McPherson to let him touch her breasts ... passed McPherson notes entitled "To-Do List" which contained lewd drawings, and made obscene comments to McPherson. In addition, Booker and Woods saw Sadzak pull down his pants in front of McPherson on at least one occasion. On days when McPherson was not at work, Sadzak drove past McPherson's home or repeadedly called her home phone."
Sadzak is no longer employed at Washington, but is now working for 10th Ward Alderman John Pope. When Substance called him at Pope's office and asked him why he left his position as boys basketball coach, he stated "no comment."
In fact, it appears that criminals — or at least job seekers with a criminal or questionable record — are Gonzalez's preferred choice over teachers who speak out on behalf of their students.
She hired Jerold Rodish as a part-time security guard. CPS later terminated Rodish after it was revealed he was fired as a police officer in Cicero because he has a criminal history that includes arrests for battery, stalking and resisting arrest, according to the Sun Times.
Businesses in Russia often need a "roof" to operate (protection from someone in government or organized crime, with both often overlapping). Gonzalez has hers in the form of Al Sanchez, the former Chicago Streets and Sanitation commissioner and head of the Hispanic Democratic Organization (HDO), who was just sentenced to two and a half years in prison for a hiring scandal.
Many staff members, who asked to remain anonymous, allege Gonzalez and Sanchez were very very close personal friend. Some have told Substance that the two lived together for years. She admitted to growing up and being good friends with Sanchez in a deposition, Layman said. And according to a lawsuit filed in the Cook County Circuit Court seeking $8,025, both Sanchez and Gonzalez are named as the defendants.
Think of Sanchez as a Godfather of Chicago Latino politics. While running the Department of Streets and Sanitation, he headed the Hispanic Democratic Organization (HDO) which started in 1993 to help elect Mayor Daley as well as Latino candidates to city and statewide offices and ensure no hispanic mayoral challengers to Daley. One of the reported beneficiaries of HDO's precinct work was reportedly Rahm Emanuel when he made his first run for Congress in the Fifth Illinois Congressional District.
In 2006, a federal investigation was launched into hiring practices at City Hall, where HDO and other political groups had influence over the city's hiring system and political workers were allegedly rewarded with city jobs and promotions. Sanchez was one of the highest ranking Daley administration officials to be found guilty of criminal conduct in the scandals.
"There are political connections," Layman said, "but nobody will admit to it."
In one of the many grievances filed against her, Gonzalez had asked the computer teacher Aaron Selmon (in 2009) to make some political literature for Alderman Pope, according to Washington teacher and union delegate John Whitfield. But Selmon told her he was too busy, to which she replied that she then "might not invite you back," Whitfield said.
Selmon was not tenured and was not hired back the following year, Whitfield said.
Whitfield is the school's union delegate who has taken her on. He has filed numerous grievances against Gonzalez and now the principal is trying to have him fired through the E3 process that states he is unsatisfactory even though he has always been rated an excellent teacher.
Whitfield said his problem with Gonzalez is that she does not follow the seniority guidelines in the contract and targets minority teachers. While some minority teachers have been hired back, "virtually all of the instructors and staff let go have been people of color," he said.
He also noted that security cameras set up throughout the school have been used more to target teachers rather than criminal activity. It's turned into an Orwellian nightmare, he said.
Whitfield also filed a grievance on behalf of teachers who had accents and were people of color, claiming they were not getting equal support from Gonzalez. After an appeal, the grievance is now at the Board's Equal Opportunity Compliance Office, he said.
So what did Gonzalez do to target Whitfield who is currently challenging her? She made him the special education teacher even though he hasn't taught special education for most of his 30 year teaching career.
"She puts teachers in positions that they can't do well," the attorney, Layman, said. "That's how she gets rid of them." The Chicago Teachers Union contract allows teachers to tell the principal what they would like to teach in the following year's program, but a teacher's wishes do not have to be honored. In many cases in recent years, principals have targeted teachers by placing them in technically legal programs (based on their certification) but where they have no recent experience. Many Chicago teachers have multiple certifications and endorsements, but have taught one particular subject for years, or even decades.
Many teachers contacted by Substance for this article did not want their names mentioned for fear of retaliation, including those who are no longer working at Washington.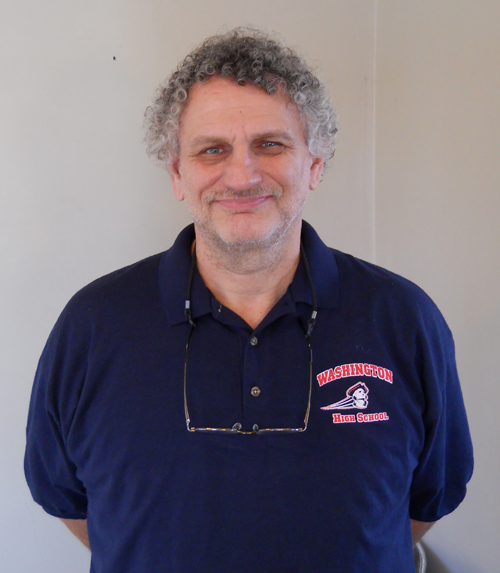 Washington High School delegate John Whitfield. Substance photo by Jim Vail.The Chicago Teachers Union has been on the battle lines with the teachers filing grievances and unfair labor practices, according to Whitfield. But the problem has been that the CTU has lacked continuity in its representatives for Washington. According to Whitfield, there have been six CTU field reps who handle the teachers' grievances over the three years Gonzalez has been in power.
While one case has resulted in a successful outcome where teacher Kevin Ross, a 32-year veteran, was reinstated after the Board said a serious mistake was made to fire this teacher, most other grievances have not been resolved favorably or are still pending.
Sources say the union has asked the Board to terminate Gonzalez, but the CTU has not confirmed this.
"The union, unfortunately, doesn't seem to have a lot of pull around here," Layman said.
One accusation in the official document asking for the termination of Gonzalez, is that she has used the inspector general's office at CPS to investigate individuals who she has deemed "enemies" of her administration.
"She's very good at what she does," Layman repeated when asked how Gonzalez has been able to get away with all this.
