Substance urges readers to back Miguel Del Valle for Mayor of Chicago
George N. Schmidt - February 10, 2011
For the second time in 30 years, the monthly newspaper Substance has endorsed a candidate for Mayor of Chicago. In an editorial in the February 2011 print edition of Substance that went to press on February 10, 2011, the Substance staff issued the following editorial. The endorsement came after a survey of all active and inactive staff members of Substance. As the tallies show (at the end of the editorial below), the endorsement was overwhelming.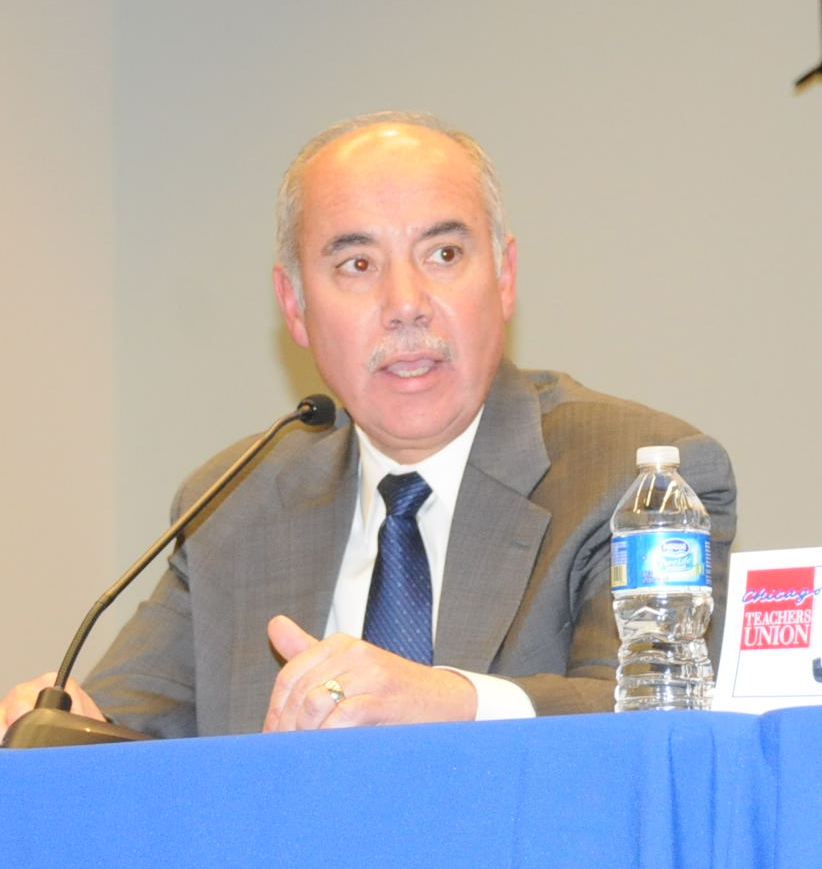 Chicago City Clerk (and former Illinois Senator) Miguel Del Valle (above, during the December 16, 2010 Chicago Teachers Union candidates' forum) received the endorsement of Substance newspaper and www.substancenews.net on February 10, 2011. Substance photo by George N. Schmidt.The last time Substance made an endorsement for mayor was in 1983, when Harold Washington ran for the first time, and many erstwhile "Democrats" split from the party's candidate and supported Republican Bernard Epton for mayor under one slogan that stated: "Epton. Before It's Too Late." In 1983, Substance staff members campaigned for Harold Washington and in several cases suffered violence and threats in some Chicago communities as a result of their support for Washington. Within a year after his election, despite the hysteria generated by the Epton campaign (and the disgraceful "Council Wars" that provided the world with so much theater that The Wall Street Journal called Chicago "Beirut on the Lake"), Washington had won over the majority of voters, and his re-election went much more easily.
A number of Substance staff members went to work for Harold Washington during his brief time in office, but Substance broke with Washington when the mayor, who had been supported by the majority of the city's teachers, forced the Chicago Teachers Union into the 19-day strike which closed schools in September 1987.
Substance's February 2011 print editorial, published on February 10, 2011, follows:
Miguel Del Valle is the only candidate who can point to a quarter century of standing strong for public schools, teachers, and our union. The profile in the Sun-Times in January was mostly about personal stuff (as usual, the Sun-Times ignores the politics and does "personal narrative"), which was strong enough, but the man's record is even stronger.
Compare Del Valle's life story with Rahm Emanuel's Chicago Wannabe nonsense and the reality is as stark as the difference between 773 and the more affluent parts of 847 (where Rahm did high school at New Trier).
Rahm was raised safely and amid privilege in the suburbs, then he carpetbags here safely with Richard M. Daley, then Barack Obama, as his sponsors. What a guy. A real mensch. And then, while the rest of us suckers were working for a living, Rahm left "public service" for three years, worked his fingers to the bone with more intensity than a bricklayer in cold weather or someone shoveling snow on stairs, and could only "earn" $18.5 million as an "investment banker."
Gery Chico's record is the Vallas and Daley record. Every single thing Paul Vallas did as "CEO" Gery Chico voted in favor of as President of the "Chicago School Reform Board of Trustees." On the simple question of the Chico record and "transparency," Chico is more than a hypocrite today. It was Gery Chico who began the process, still being followed, whereby the Board of Education votes every six months (required by law) to keep secret every word they spoke in every closed session meeting. So the Chico record is as secret as the combination to the locks at Fort Knox — thanks to Gery Chico (1995 - 2001) and those who followed him in that office (Michael Scott; Rufus Williams; Mary Richardson Lowry to be precise).
Miguel Del Valle can actually say, as he did to the Chicago Teachers Union House of Delegates on January 5, that he voted against the Amendatory Act while a Senator, against charter schools, and for the teachers, our pensions, and our unions. No other candidate can say that because all of them have records of teacher bashing (Chico) or union bashing and busting (Emanuel). And since Carol Moseley Braun was out of public life for more than a decade, how can anyone know what she would have done in the face of the challenges we've faced since the beginning of the 21st Century? Sorry, it's not that simple.
"Viable" is what we create through hard work. Miguel DelValle can point to a lifetime of hard work on behalf of the people of Chicago, public education, and the union people whose work makes the City That Works actually work.
A Substance staff poll in early February 2011 revealed that the overwhelming majority of the Substance staff supports Del Valle, and we are recommending him. The results were 16 for Del Valle; two for Carol Moseley Braun; and one for Rahm Emanuel.
The February 2011 issue of Substance is being mailed to print subscribers on February 11, 2011, and will be sold at various events during the coming weeks. The balloting will take place on February 22. Early voting is taking place at this time. 