MEDIA WATCH: A few questions reporter Sam Dillon might have asked but didn't... New York Times continues to tout Arne Duncan's version of reality
Susan Ohanian - February 09, 2011
I'm not going to comment on Sam Dillon's reportorial skills but I will say this: He lacks curiosity. As careful readers of The New York Times know, reporter Sam Dillon got another front page story about the programs of Arne Duncan and the U.S. Department of Education on February 8, 2011.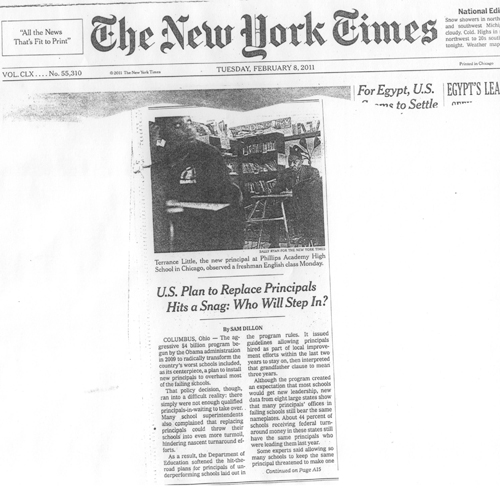 Since December 2008, when The New York Times first put a piece of Arne Duncan propaganda on Page One as "news," reporter Sam Dillon has been a regular mouthpiece for the lies, half truths, and fabrications of Race to the Top and Arne Duncan's claims for his work both in Chicago and now nationally. Above, Dillon's front page story of February 8, 2011.Below are a few answers to questions I had after reading the article. Don't you sometimes wonder why people sitting in schools of education are so silent about things like school turnaround?
Follow the money.
The Academy for Urban School Leadership (AUSL) (http://susanohanian. org/show_ nclb_atrocities. php?id=3639) operates by employing frameworks and services from a number of third parties, including National- Louis University, Charlotte Danielson, Uncommon Schools, Linkit!, The Haberman Educational Foundation, The New Teacher Project, City Year, Urban Teacher Residency United, and others.
AUSL would not serve as a "general contractor," but would introduce clients to these organizations and enable clients to make their own choices about purchasing materials or services from, or otherwise partnering with, any of these parties. . . .
Residents attend National-Louis University during the program's initial summer and on Fridays throughout the school year, and complete the university program with a Master's Degree. Course work is customized for the AUSL program. . . .
On September 30, 2009, AUSL and its partner applicants National-Louis University and Chicago Public Schools were awarded a $16.6 million, five-year Teacher Quality Partnership (TQP) grant from the U. S. Department of Education. A significant portion of this grant will support increased scale for AUSL's residency program to train teachers for Chicago schools.
And then there are the other bedfellows (http://susanohanian.org/show_atrocities.php?id=7267), the folks who sit on boards together, boards whose purpose is to decimate things like teacher seniority.
Here's a heads-up for principals and teachers across America — from AUSL: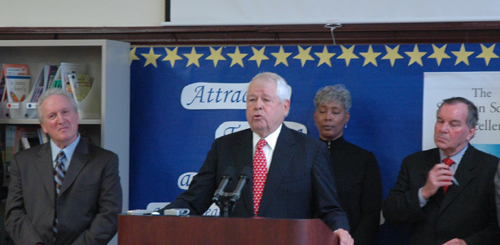 On January 31, 2008, multi millionaire ventur capitalist Martin Koldyke (above at podium) has been promoting various quick fix solutions for Chicago's public schools. Above, Koldyke was speaking about the alleged success of the "Sherman School of Excellence" at a Sherman school event. Koldyke founded the Academy for Urban School Leadership (AUSL) in Chicago and built an edifice of half truths and phony claims on behalf of AUSL's supposed "turnaround" expertise. Now, thanks to uncritical cheerleading in the news columns of The New York Times, AUSL is exporting its fabrications as expertise to the rest of the USA as former Chicago schools chief Arne Duncan foists "turnaround" on the rest of the country under "Race to the Top." Substance photo by George N. Schmidt.Over the last few years, AUSL has advised numerous groups about our turnaround model and teacher residency program. Below is a short summary of the groups: 1. University of Delaware 2. Minneapolis School District 3. Iowa Superintendent of Schools 4. Urban Teacher Residency United 5. San Francisco Unified School District 6. California State University at Chico 7. National Governors Association 8. Department of Education Office of Innovation and Improvement 9. Lieutenant Governor of New Mexico 10. University of Texas
Think about the Chicago schools subject to the turnaround enterprise. Phillips Academy High School, opened on September 5, 1904. Named for American abolitionist Wendell Phillips, its student body came from wealthy families of Chicago's South Side mansions. This changed with great Black migration from the South and by 1920, Phillips Academy was the first predominately black high school in Chicago. When it was shoved into "turnaround" in 2010, it was officially listed as 97% black with 95% of students eligible for free or reduced-price lunch.
Notable alumni include: Gwendolyn Brooks, Nat King Cole, Sam Cooke, George E. Johnson, Sr. Phillips was brought under Academy for Urban School Leadership (founded by venture capitalist Martin Koldyke (http://susanohanian.org/outrage_fetch.php?id=691) in 2001; Koldyke is on National Council on Teacher Quality Advisory Board) supervision in 2010, and Terrance Little became its principal.
Maybe Sam Dillon should have asked why Terrance Little left "Morton School of Excellence," which became an AUSL turnaround school in 2008). Great Schools contains no data on Morton, but AUSL provides this information: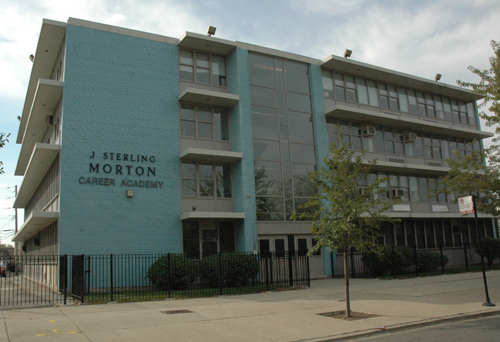 By the time Chicago's Morton elementary school (above) was turned over to AUSL for a "turnaround" in 2008, the school had already been subjected to a number of quick-fix flavor-of-the-month solutions to its supposed problems. While Chicago officials denied the impact of the tragic level of poverty in the Morton West Side community, the school went from regular elementary school to "Career Academy" (above, in 2007) to, the latest, an AUSL "Turnaround" school. Substance photo by George N. Schmidt."Morton School of Excellence's" student achievement scores dipped during the first year of AUSL's turnaround.
We have been disappointed by Year 1 results, and we are committed to getting the school's performance on track. For 2009-10, we have changed the school's principal and AP, as well as five of the school's teachers. We are confident that academic performance will be much stronger this year, and we already see a dramatic improvement in the school climate and culture at Morton.
So AUSL brought in a new principal in 2008 and then another new principal in 2009. Terrance Little is listed on a website page dated 2008.
Terrance A. Little: 2007-2008- Principal of AASTA, 2004-2007- Assistant Principal/Lead Teacher at BEST High School, 2003-2004- Principal Intern/7th Grade Teacher at Northwest Middle School, 2002-2003- career Specialist at Carver Military/Farragut Career Academy, 2001-2002- Business Education/Computer Teacher at Tilden Career Academy High School, 2000-2001- Principal Intern/Math Teacher at Yazoo City High School.
Sam Dillon could also have asked why AUSL needed to pay $42,000 for a lobbyist in 2007. I don't mean to imply they paid for a lobbyist only that year; that's the only year for which I checked their income tax statement.
Here's the background Chicago deems appropriate to direct a school turnaround effort on Tim Cawley, a managing director for the outfit conducting school turnarounds in Chicago a managing director at the Academy for Urban School Leadership. Of additional note: From 2003-20007, Cawley was on Board of Directors, The Wireless Foundation.
Tim Cawley, a managing director at the Academy for Urban School Leadership EDUCATION 1977 University of Notre Dame, Notre Dame, IN BBA 1994 University of Michigan, Global Leadership Program, Ann Arbor, MI Cert. PROFESSIONAL EXPERIENCE 2008-present Managing Director, Finance & Administration, The Academy for Urban School Leadership, Chicago, IL 2006-2007 Senior Vice President, Global Logistics, Motorola, Inc., Schaumburg, IL 2005-2006 Senior Vice President, Mobile Devices Supply Chain, Motorola, Inc., Schaumburg, IL 2003-2004 Senior Vice President and General Manager CDMA Product Line, Personal Communication Sector, Motorola, Inc., Schaumburg, IL 2001-2002 Corporate Vice President and General Manager North America, Personal Communications Sector, Motorola, Inc., Schaumburg, IL 1998-2001 President, Ameritech International 1995-1997 President, Ameritech Small Business Services 1993-1995 Vice President, Marketing, Small Business Services, Ameritech International 1991-1993 Chief Executive Officer, Board of Directors, Revell-Mongram, Inc., Morton Grove, IL 1990-1991 Senior Vice President, Marketing, Revell-Mongram, Inc., Morton
Sam Dillon might have asked Tim Cawley why, under "Other Experience" on his resume he saw fit to list only one fact — that in 1987 he was Co-Manager, San Francisco Mayoral Campaign for Roger Boas. Dillon could have read about Boas' plea bargain to seven counts of statutory rape, charges that stemmed from his having had sexual relations with teen-age girls at a brothel in the New York Times. (http://query.nytimes.com/gst/fullpage.html?res=940DE1D91F3CF931A15753C1A96E948260)
I'll close with my favorite comment from the first newsletter published by AUSL
(http://www.ausl-chicago.org/newsletters/Nov-2008.pdf), in November 2008. When reading this, remember that a Chicago school opens as a turnaround with entirely new staff: all the old teachers and the principal have been eliminated:
On September 2, returning students at Howe and Morton were led into their classrooms for the first time by their teachers, quickly learning that misbehaving would not be tolerated by this new team. By the second day of school the students were already used to the new routine.
I want to know what happened on the third day. And the 103rd.
Whew! On to reader comments on this article, comments that range from wisdom to rage, with a little humor in between. The comments kept pouring in all day on the day (February 8, 2011) that the Times published the Dillon AUSL / Turnaround story on its front page.
South Carolina Reader Comment: By far the best way to change our schools is to bring good, well-paying jobs back to our economically-blighted neighborhoods. We must reverse the economic decline that was caused by our big corporations sending tens of thousands of factories and millions of our jobs to China and other low-wage countries.
California Reader: Duncan is a great example of the "Peter Principle". He failed in Chicago; the he was promoted so that he could repeat his failure on a national scale.
Florida Reader Comment: And who did you think was going to step into this micromanaged pot of boiling oil? . . .
Indiana Reader Comment: Seems "they" are looking for a mixture of the best teacher you ever had, Gandhi, Chesty Puller and Bill Gates. Probably Jesus too since there is a need for miracles.
Calgary, Canada Reader Comment: Here is an idea. Lets address what is really hurting our so called failing schools by studying what they really have in common. Economically disadvantaged students. I bet most of these so called failing schools are in poor neighbourhoods the problem is not the principal or teachers or even the students. The problem is poverty. Fix that and you fix the schools.
Reader Comment: Mr. Duncan and Mr. Obama have fallen for the easy rhetoric of "fire all the teachers, get rid of the principals, and blame the unions". They continue to rely on the spurious advice of educational gadflies who've never been responsible for the learning of a classroom full of kids. They continue to have faith in cheap and easy sounding solutions rather than accepting and confronting the difficulty of the task.
Missouri Reader Comment: "Getting rid of" principals and teachers is not going to improve schools. Improvement of schools must be done at the community level and it will happen when the people of the community -- rich as well as poor -- realize that they must be responsible for others, as well as themselves. We've had too much of this "greed is good" philosophy. People have to start caring for each other.
California Reader Comment: Once the Michelle Rhees and Arne Duncans have finished converting our schools into test factories, fewer and fewer people will be willing to incur thousands of dollars of student loan debt to become teachers, especially when they can be laid off with 5 or even 10 years of seniority.
HERE IS THE COMPLETE SAM DILLON ARTICLE FOR ANYONE WHO NEEDS TO READ IT ALL AND JUDGE FOR YOURSELF
Plan to Replace Principals Hits Snag: Who Will Step In? by Sam Dillon New York Times
02/08/2011 (http://www. nytimes.com/2011/02/08/education/08education.html?ref=todayspaper)
COLUMBUS, Ohio -- The aggressive $4 billion program begun by the Obama administration in 2009 to radically transform the country's worst schools included, as its centerpiece, a plan to install new principals to overhaul most of the failing schools.
That policy decision, though, ran into a difficult reality: there simply were not enough qualified principals-in-waiting to take over. Many school superintendents also complained that replacing principals could throw their schools into even more turmoil, hindering nascent turnaround efforts.
As a result, the Department of Education softened the hit-the-road plans for principals of underperforming schools laid out in the program rules. It issued guidelines allowing principals hired as part of local improvement efforts within the last two years to stay on, then interpreted that grandfather clause to mean three years.
Although the program created an expectation that most schools would get new leadership, new data from eight large states show that many principals' offices in failing schools still bear the same nameplates. About 44 percent of schools receiving federal turnaround money in these states still have the same principals who were leading them last year.
Some experts said allowing so many schools to keep the same principal threatened to make one of Education Secretary Arne Duncan's signature policy initiatives similar to previous failed turnaround efforts at many of the same schools.
"To think that the same leader with a bit more money is going to accomplish tremendous change is misguided," said Tim Cawley, a managing director at the Academy for Urban School Leadership, a nonprofit group that began leading turnaround efforts in Chicago when Mr. Duncan was the superintendent there.
"This idea of a light-touch turnaround is going to sully the whole effort," Mr. Cawley added. The Department of Education said it did not know how many principals had been replaced nationwide.
But eight states that include 317 of the 730 schools the department has named as recipients of federal money for school improvement efforts this year — California, Texas, Ohio, Missouri, Michigan, Georgia, New York and North Carolina — provided data in response to a request by The New York Times.
The percentage of such schools that retained principals from the previous school year to this one ranged from about 68 percent in Michigan to about 28 percent in New York. The average across those states was 44 percent. Pennsylvania, a large recipient of the federal grants, did not respond to requests for the data.
In an interview, Mr. Duncan said the program was reinvigorating many ailing schools. "We are absolutely trying to challenge the status quo," he said.
He has frequently portrayed the turnaround campaign he led in Chicago as one of the few in American public education.
But as secretary, he said, he has discovered that many districts nationwide had been carrying out their own "aggressive" school transformation efforts before he got to Washington, appointing committed new principals.
"The last thing that you want to do is kick somebody out who has rolled up their sleeves and taken on the largest challenge in public education," he said.
The turnaround program here in Columbus offers an example of the pattern. Columbus was allotted about $20 million to remake seven schools that Ohio authorities had identified as among the state's worst.
At three schools, the district retained principals serving since fall 2007. In the other four, it installed new principals last summer, drawn from Columbus schools.
At Champion Middle School, in a neighborhood with a housing project plagued by drugs and poverty, mired in failure despite years of turnaround efforts, the district installed a principal who had once taught at Champion, Edward Baker. Mr. Baker was available because the district last summer closed the declining middle school where he had been principal.
"I think our superintendent selected me because I'd been a teacher at Champion and she knew I had a little background on the neighborhood," Mr. Baker said.
In an interview at her headquarters, Gene T. Harris, the Columbus superintendent, said she had given careful thought to who should lead all seven schools. She left three principals in place, Ms. Harris said, because those schools suffered from chronically high staff turnover. "And it was within the guidelines," she said, referring to the federal rules allowing districts to retain principals hired no earlier than the 2007-08 school year as part of an improvement effort.
"If I see that the principal has been there a short time and is showing some promise," she said, "then I have the best of all worlds — I can keep them there, maintain the momentum and also maintain the stability."
Because leading schools out of chronic failure is harder than managing a successful school — often requiring more creative problem-solving abilities and stronger leadership, among other skills — the supply of principals capable of doing the work is tiny.
Most of the nation's 1,200 schools, colleges and departments of education do offer school leadership training. "But only a tiny percentage really prepare leaders for school turnaround," said Arthur Levine, a former president of Teachers College who wrote a 2005 study of principal training.
A handful of programs, including several run by nonprofit groups like New Leaders for New Schools, and others like the University of Virginia's School Turnaround Specialist Program, have built a reputation for success by emphasizing in-school leadership training, rather than traditional academic research and class work.
In Chicago, federal money is financing an overhaul of Phillips Academy High School. Mr. Cawley's nonprofit trained Phillips's new principal, Terrance Little, by having him work alongside mentor principals experienced at school makeovers.
"If we're talking about turning around 700 schools, I don't think you can find 700 principals who are capable of taking on the challenge of this work," Mr. Little said. "If you could, why would we have this many failing schools?"
In fact, few of the schools receiving federal money installed principals with specialized training, experts said. "What we're seeing is a principal shuffle — Principal A moving to school B, B to C and other permutations," Gerald Tirozzi, executive director of the National Association of Secondary School Principals, said in a statement.
Michael Casserly, executive director of the Council of the Great City Schools, which represents 66 urban districts, said that from the beginning, superintendents worried about finding qualified school leaders.
"This was a human capital problem — these people don't grow on trees,"Mr. Casserly said. [Well, if not on trees, where does the Broad Foundation grow them?]
And since some districts had replaced principals as part of homegrown improvement efforts, superintendents asked Mr. Duncan for flexibility.
The rules released in December 2009 said schools using the most popular overhaul models had to replace principals unless they had been hired "within the last two years." In March, the department clarified that to mean, unless hired before 2007-8.
"Duncan has been talking about bringing major changes fast, and keeping a principal who's been there for three years is not radical change," said Jack Jennings, an education analyst who has studied school makeover efforts. "Maybe it shows that once the administration got into this campaign, they saw it was more complicated than their rhetoric."