New York City Mayor Michael Bloomberg claimed 21,000 city teachers would lose their jobs, but... New York Governor claims education budget cut won't cost New York City schools teaching jobs
John Kugler - February 04, 2011
Less than a week after New York City Mayor Michael Bloomberg claimed that as many as 21,000 of New York's teachers might be hit with layoffs under the new budget facing the city and state (and took a shot at veteran teachers in the process while complaining that some of the city's "best" -- i.e., youngest -- teachers would lose their jobs, while some of the "worst" -- i.e., veterans -- would keep their jobs), Governor Andrew Cuomo contradicted Bloomberg in his first major discussion of the state's budget.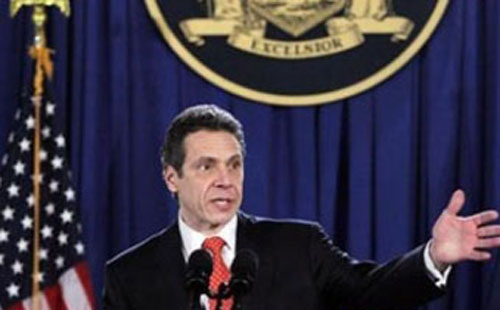 New York Governor Andrew Cuomo disagrees with New York City Mayor Michael Bloomberg about whether teachers will have to be laid off because of state budget cuts. UFT photo.In a speech on Tuesday, February 1, 2011, Cuomo said that there will be cuts in the state education funding, but that his analysis is that the cuts should not result in layoffs of teachers across New York state, or in New York City.
According to a news release from New York's United Federation of Teachers (UFT, the New York City teachers union):
Gov. Cuomo: Layoffs aren't necessary (published February 1, 2011)
In an unusually impassioned budget speech, Gov. Andrew Cuomo on Feb. 1 called on legislators to get a broken Albany budget process under control this year, and proposed a $1.5 billion — or 7 percent — cut to state education aid.
But, in contrast to Mayor Bloomberg's threat to cut 21,000 city teachers, the governor said his education cuts could be managed without layoffs.
Remaining federal stimulus funding and rainy-day reserves in many districts could absorb the education cuts, Cuomo said, as well as wage freezes or benefit contributions. "There will be absolutely no need for layoffs," he vowed.
In New York City, the cut would come to $579 million; a 7 percent cut in state education aid translates to a 2.9 percent spending reduction in school districts once local contributions are factored in.
There was less bad news in the budget than many had expected, though the cuts are large. The state was on track to increase education and Medicaid spending by 13 percent each this year before the new governor stepped in, and he called on the Legislature to "change the culture" of a state government that has grown used to spending more every year. The state should not be supporting big bureaucracies, he said, but it should be sure its people — including its students — are well served.
"The mayor has threatened to lay off a quarter of the teaching force, but Gov. Cuomo made it clear today that there is nothing in the proposed state budget that would require local layoffs," UFT President Michael Mulgrew said. "The governor's planned cut to New York City schools amounts to about 3 percent of the school system's budget. We have every confidence that Cathie Black, whose management skills the mayor has repeatedly cited, will be able to manage a reduction like this without laying off teachers and raising class sizes."
"If the mayor continues to insist that cuts in Medicaid and education will lead to significant harm to the city, he should join us in demanding an extension of the millionaire's tax, whose planned sunset will cost the state billions in lost revenue," Mulgrew added.
In good news for students, the governor's budget called for no tuition increases at SUNY colleges.
