THE EGGPLANT: Gates Foundation announces drone-driven teacher evaluation
Susan Ohanian - January, 2011
[Editor's note. As the writer notes below, 'The Eggplant' is a third cousin to its more famous public relative, The Onion. Readers who want more information along these lines — and other recent reports from The Eggplant — should consult Susan Ohanian's website at www.susanohanian.org].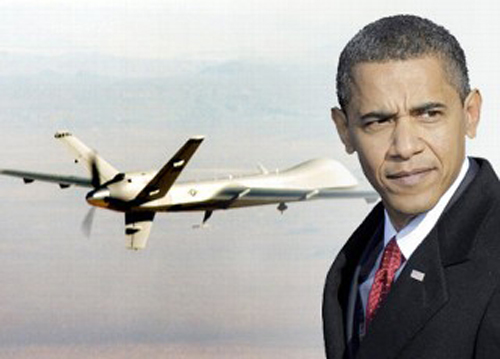 "This time we've got it right," the President told a special meeting of his newly created educational task force, to discuss the drone deployment program component of Race To The Top. Following the successful introduction of military drones to murder people in Asia on behalf of the ever-shifting U.S. "mission" articulated, re-articulated, and re-re-articulated by President Barack Obama, government insiders, in cooperation with the Gates Foundation and other school reform supporters, will be announcing a unique public-private partnership to provide drone-driven assessments to identify failing teachers and underperforming classrooms. The program is expected to replace "data driven management," which replaced "turnaround," which replaced "small schools," which replaced "reengineering," which replaced "reconstitution" during the day when Obama was an Illinois politician based in Chicago and supporting corporate "school reform." Seattle — The Bill and Melinda Gates Foundation today announced a significant partnership with the American Federation of Teachers and the Thomas B. Fordham Institute to ensure a highly qualified teacher in every classroom. The disbursal of $148 million in grants will help hundreds of thousands of teachers significantly increase their day-to-day outputs so they can ensure that tomorrow's workers have the necessary skills to compete in the global economy.
According to a press release issued by the Gates Foundation, the AFT and the Thomas B. Fordham Institute, these three have entered a ground-breaking partnership to evaluate teachers utilizing the drone technology that has revolutionized warfare in Iraq, Afghanistan, and Pakistan. A bird-size device floats up to 400 feet above a classroom and instantly beams live video of teachers in action to agents at desks at Teacher Quality Inspection Stations established by the AFT and the Thomas B. Fordham Institute.
When asked if the drones were authorized to drop bombs on teachers who exhibit inadequacy, Chester E. Finn, Jr., president of the Thomas B. Fordham Foundation, replied, "Don't be ridiculous. Gates money puts other methods at our disposal."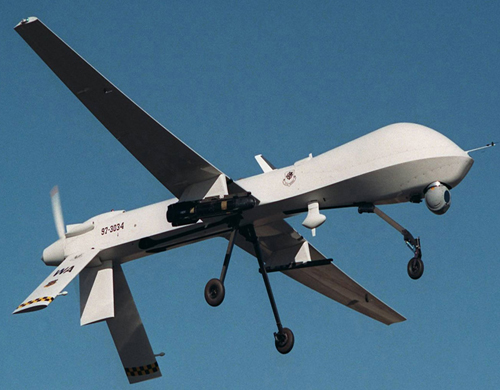 Military and civilian engineers funded by a joint grant from the Bill and Melinda Gates Foundation and the U.S. Department of Homeland Security are preparing miniaturized Predator Drones for deployment in the classrooms of underperforming U.S. schools and to seek and deal with underperforming urban teachers.Randi Weingarten, president of the 1.5-million-member American Federation of Teachers said the powerful union has signed on to the drone project because it is "In keeping with our mission of improving the quality of the services we provide." (http://www.aft.org/about)
Weingarten noted that the unmanned aircraft currently patrol the border with Mexico, flying into hurricanes to collect weather data, photographing traffic accident scenes. She said that once the invisible eyes become routine, they'll help teachers improve the delivery of their craft.
A spokesman for the Thomas B. Fordham Institute noted that Gates funds will allow sophisticated robotics to use artificial intelligence to seek out and record teachers' delivery of Common Core standards-based instruction. "These are a valuable tool in ensuring a global economy-competitive workforce."
Finn, Jr., emphasized, "As we asked in our [Gates funded] seminal report Now What? Imperatives & Options for Common Core Implementation & Governance (http://www.edexcellencemedia.net/publications/2010/201010_nowwhat/Now%20What%20-%20Oct%202010.pdf) "Do we entrust "implementation" of the Common Core entirely to individual states, districts, and the marketplace?. . . Do we create a powerful interstate body to ensure that the new standards are implemented in actual classrooms and real lesson plans in schools across the country?"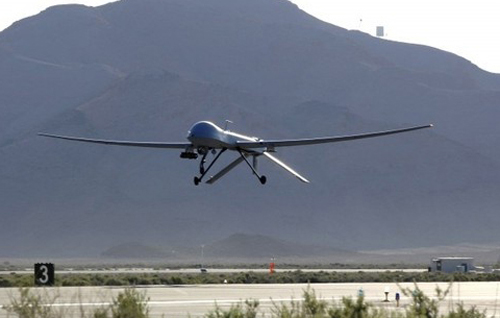 Prototype miniature data driven drones are now being tested in California and Nevada prior to deployment to schools in Detroit, Chicago, Baltimore, and Los Angeles under the new program from the U.S.Department of Education. U.S. Secretary of Education told the press in a release issued by the department that the mini-drones had been tested and proven in Turnaround school in Chicago during the fall semester of the 2011 - 2012 school year thanks to unique time dimensional software provided by the Bill and Melinda Gates Foundation and Microsoft Corporation.Vicki Phillips, Gates education director, noted We at Gates are going to be relentless about acquiring quality data and the need to focus on evidence-based decision making. And we will go where the evidence takes us. (http://www.gatesfoundation.org/united-states/Pages/program-overview.aspx)
Melinda French Gates added, Evidence gives you argument for action. When you have it you know what works and what doesn't. (http://www.gatesfoundation.org/learning/Pages/college-ready-education-plan.aspx)
A Gates source not wishing to be identified acknowledged that drone technology will put the needed teeth into the Common Core Standards. "No one can hide from us," she said. — Susan Ohanian, Eggplant, 1/24/11