RETIREE AND PENSION NEWS: New York's Joel Klein, ever the hypocrite, draws a $34 k annual 'teacher' pension while slamming teacher pensions
George N. Schmidt - January 21, 2011
Following his retirement after eight years as the appointed chancellor of New York's public school system, Joel Klein, who is now working for Rupert Murdoch's News Corp, signed up for a teacher pension, and began drawing $34,000 per year for his brief non-teaching time in a teacher position in New York City. Then he went back to attacking the defined benefit pension plans of teachers, especially New York teachers, with the same vigor utilized last year by Chicago's Ron Huberman when Huberman read the same lines to the Illinois General Assembly and conned the legislators into undermining Chicago's defined benefit pension plan.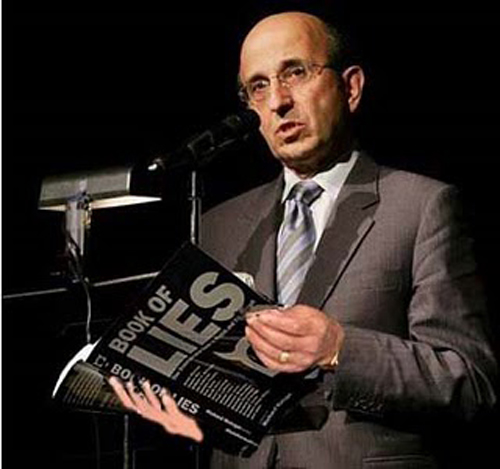 Although he never taught a day in a public school in New York City, former chancellor Joel Klein, who now works for Rupert Murdoch's News Corp, was entitled to draw a pension of $34,000 per year based on the fact that he was classified as a "teacher" during his eight years in office. Klein, who was appointed by Mayor Michael Bloomberg, is now denouncing defined benefit pension plans of the kind he is receiving as a retired New York teacher. Photo by NYC Parents blog.The difference is that in New York, some of the newspapers still report the news about the schools, whereas in Chicago the two dailies simply recycle corporate happy talk about charters while waiting for more scandals to bash the remaining regular public schools.
Here is the story from the New York Daily News (January 20, 2011):
After decrying defined pension benefits, ex-chancellor Joel Klein cashes in for 34K per year BY Meredith Kolodner , DAILY NEWS STAFF WRITER, Thursday, January 20th 2011, 4:00 AM
Former schools chancellor Joel Klein decried the pensions earned by veteran teachers, before cashing in himself for an annual $34,000 pension check.
Just weeks before former Schools Chancellor Joel Klein slammed teacher pensions as "hollowing out public education," Klein walked into the teacher pension office to collect his own annual windfall, sources told the Daily News.
Klein, who could rake in as much as $4.5 million this year at his new gig with News Corp., also will collect $34,000 annually for his eight years as chancellor.
Accepting the money seems to fly in the face of a harsh editorial he wrote last week, ripping into the guaranteed pensions earned by veteran teachers.
"Defined-benefit pensions helped bring the once-vibrant U.S. auto industry to its knees," Klein wrote in The Wall Street Journal on Jan. 10. "The promised benefits just proved too costly. In that industry, such pensions are mostly a thing of the past."
"Alas," he added, "the same kind of pensions are now hollowing out public education."
But Klein's eight-plus years as chancellor entitled him to a slice of the public pension pie, and last month he helped himself. His $250,000-a-year salary allowed him to cash out at a much higher rate for fewer years logged.
A teacher with a master's degree can make up to about $34,000 in annual pension payments only after 20 years of service.
Klein said through a spokesman that he had no comment.
Teac hers, however, were ready to sound off about it.
"It's the height of hypocrisy," said Brian Jones, a second-grade teacher at Public School 30 in Harlem, whose own eight years as a teacher would net him about $6,400 in annual pension payments.
Other teachers understood why he took the cash — but wished he wouldn't bash them for doing the same thing.
"It's hypocritical, but I don't fault him one minute for getting the pension — it just shows how important the pensions are," said Jeff Kauffman, a teacher at Aspirations Diploma Plus High School in East New York, Brooklyn.
"People enter into public service knowing that you give up a lot. You can earn a lot more money doing other things, but you give that up knowing that you're making a difference and there's a decent medical plan and a pension."
The teachers union boss was less forgiving.
"It's very disturbing to hear that someone who has spoken out so vehemently against a pension system now has no qualms about taking part in that system," said United Federation of Teachers President Michael Mulgrew.

[mkolodner@nydailynews.com. Read more: http://www.nydailynews.com /ny_local/education/ 2011/01/20/2011-01-20_after_decrying_defined_pension_ benefits_exchancellor_joel_klein_cashes_in_for_34.html#ixzz1BcxDZLCt]