SUBSCRIPT: Board adding injury to insult atop injury in 'Certified Substitute Teacher Selection Event' event at UIC
George N. Schmidt - January 19, 2011
How about "Sing for your supper and beg for your job" as sung by the famous duo of Terry Mazany and Alicia Winckler? The Chicago Board of Education's massive bureaucracy still has a sense of humor. More than six months after former "Chief Executive Officer" Ron Huberman purged more than 1,300 veteran teachers under the pretext of a budget emergency, while retaining inexperienced and charter school teachers across the vast school system, CPS is now inviting the certified teachers to compete to become substitute teachers in the same system where they worked, often for decades, as regular classroom teachers.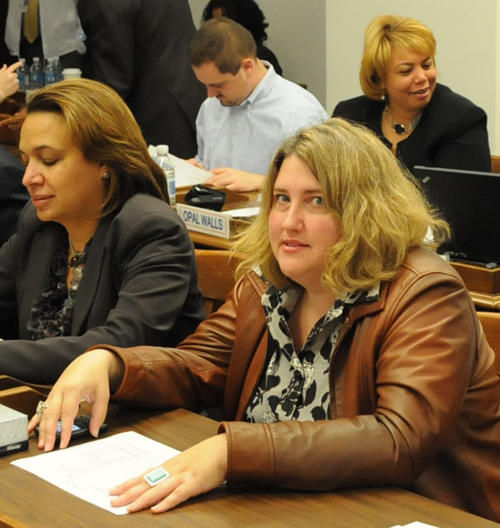 Chicago Public Schools "Chief Human Capital Officer" Alicia Winckler (above right at the October meeting of the Chicago Board of Education), like her counterpart Chief Financial Officer Diana Ferguson (above left) has no teaching, education, or public school administrative experience or qualifications. According to CEO Ron Huberman and the members of the Chicago Board of Education who hired Winckler in December 2009, Winckler's lack of teaching qualifications made her the perfect pick to become "Chief Human Capital Officer" for the third largest school system in the USA. Prior to coming to Chicago's public schools, Winckler was with Sears Holdings, where she reportedly helped organize the "synergy" when Sears acquired K-Mart. In Capitalspeak, "synergizing" means getting rid of people, er., "Reducing Human Capital Expenses." Substance photo by George N. Schmidt. In a recent letter sent to displaced teachers, CPS announced the "Certified Substitute Teacher Fair", known (wonderfully) as the "Chicago Public School (CPS) Certified Substitute Teacher Selection Event". What do you expect, really, from an outfit that has a "Chief Human Capital Officer" — who was recruited for her work in public education about a year ago after "synergizing" the K-Mark/ Sears deal — and with a straight face talks about the people who work in the vast system as "Human Capital"?
The announcement for this selection event was sent to hundreds of veteran teachers. It reads as follows:
Dear __________ (name of veteran teacher sometimes appears in this space)...
Congratulations! We are pleased to invite you to attend a Chicago Public School (CPS) Certified Substitute Teacher Selection Event! The event will focus on identifying high quality, certified instructors to join the Chicago Public Schools Day-to-Day Substitute Teacher Pool. This pool is regularly accessed by principals looking to fill regular teaching positions as well.
Due to an overwhelming response, we have decided to host several events over a two day period and ask that you strictly adhere to the time assigned to you. We request that you bring a current resume and a copy of your transcripts (unofficial transcripts acceptable).
You have been invited to attend the Certified Substitute Teacher Selection Event on Tuesday, January 25, 2011 from 8:00 a.m. - 10:00 a.m. at the UIC Forum located at 725 W. Roosevelt Road, Chicago, Illinois 60607. Please arrive on time, as interviews will begin promptly with an allotted time of 20 minutes per applicant. Only one interview per applicant will be conducted, if you are accepted, you will be sent a formal offer letter to join the district as a day-to-day substitute teacher available to all schools within CPS.
Transportation & Parking Information:
Various parking facilities are available for a fee. Lot 5 is located one block northwest of the UIC Forum at 1132 S. Morgan. The Maxwell Street Parking Structure is located one block southeast of the UIC Forum at 701 W. Maxwell St. Please note, if no attendant is on duty cash may be required. For more information, please visit http://www. uic. edu/depts/oee/parking.htm.
The UIC Forum is easily accessible by public transportation. With stops nearby, CTA buses, rapid transit and Metra trains provide convenient alternatives to driving. For specific information, call the RTA 312-836-7000 or visit www.rtachicago.com.
Additional Information:
Offer letters will include specific information for completing the required on-boarding processes, including drug and tuberculosis screens, fingerprinting and a background check, and any other Board of Education approved requirements. All applicants will incur costs associated to all on-boarding processes. If you are not selected to join the day-to-day substitute pool, CPS will notify you in writing.
If you have any questions regarding this information, please email Substitute Services at subservices@cps.k12.il.us. Thank you for your interest in becoming a day-to-day substitute teacher with Chicago Public Schools.
Sincerely,
Angela Simpson
Substitute Services Manager