Detroit vote count challenged, recount scheduled for Wednesday as numbers become more clear
George N. Schmidt - January 18, 2011
The demand for a recount of the votes in the Detroit runoff election between incumbent Detroit Federation of Teachers (DFT) president Keith Johnson and dissident Steve Conn has resulted in a recount being called for on Wednesday, January 19, 2011, at the DFT offices. The basis for the recount is that there were irregularities in the voting and in the votes that were ultimately counted (or not counted). Conn's caucus has circulated a school-by-school vote count, as well as other information about the alleged irregularities.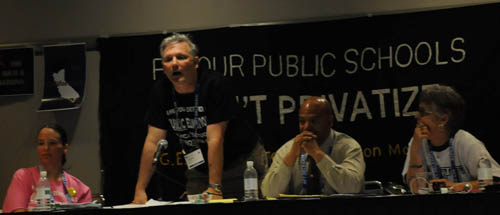 Steve Conn speaking during a forum on organizing at the 2010 American Federation of Teachers convention in Seattle. Substance photo by George N. Schmidt.According to a media release from Conn's caucus:
Urgent notice to all DFT Members:
The investigation of irregularities in the recent DFT election has begun. It appears that many DFT members' votes were NOT counted.
A recount is scheduled for this Wednesday, January 19, beginning 9:30 am. All DFT members have the right to observe.
But there is also the issue of voter disenfranchisement — the refusal to count many ballots cast by dues-paying members.
We have launched a thorough investigation of this matter. We demand that all dues-paying members of the DFT have their ballots counted.
What you can do to help:
1. We have already found several schools, including Cass Tech and Denby, where the number of votes counted was much lower than the total number of votes cast. Please find your school on the attached spreadsheet and compare the votes counted with the total number of members who voted at your school, as reflected on the DFT signature roster sheets. Contact your building rep and other teachers at your school if you need to.
Please report your findings a.s.a.p to 313.645.9360 or marquette6@hotmail.com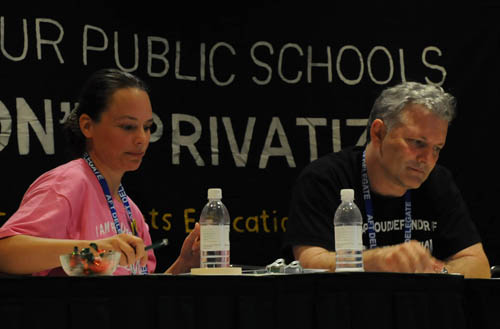 The banner behind Steve Conn (right above) during the AFT Peace and Justice forum in July 2010 read: "Fix out public schools. Don't privatize." Substance photo by George N. Schmidt.2. Many members whose names were not printed on the signature roster sheets, and who had to add on their names, did not have their votes counted, we believe. Please fill out the attached affidavit demading your vote be counted, if you had to add your name to the signature roster.
Contact us at 313.645.9360 or marquette6@hotmail.com
It is important that you include a copy of your pay stub showing your name, work location, and that DFT dues have been deducted. You can access your past paystubs at the peoplesoft/HR payroll link at the bottom of www.detroitk12.org
Your prompt action is essential to the future of our union! Steve Conn, 313.645.9340, sjconn@msn.com