SUBSCRIPT: Yo! Rahm! It's not Chicago's children who have the 'empty eyes'...
George N. Schmidt - January 10, 2011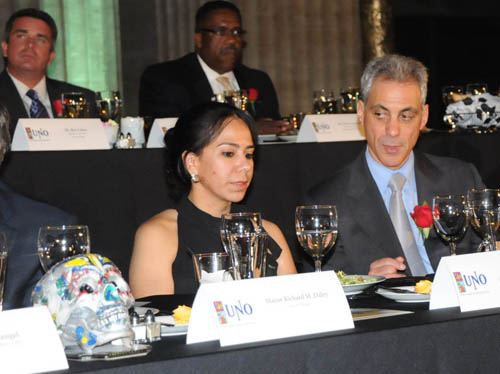 Rahm Emanuel was seated with UNO Board President Veronica Alanis, Mayor Richard M. Daley, and UNO CEO Juan Rangal at the UNO 25th anniversary party at Union Station on November 16, 2010. Above, Rahm's eyes. Substance photo by George N. Schmidt.In a session with the Chicago Sun-Times editorial board, multi-millionaire mayoral candidate Rahm Emanuel offered an amazing observation about Chicago children that he blamed on Chicago's schools. According to Rahm, while he was shaking hands at "L" stops, he noticed what he called an "emptiness" in the eyes of children. "Shaking hands at "L" stops around the city, Emanuel said he has seen "an emptiness in kid's eyes that I would never accept in my own children" — a dynamic he wants to fight..." the Sun-Times reported in a January 10 story. Somehow, that children's emptiness — which doesn't show in his own kids — is, like everything else that besets Chicago's global ruling class, the fault of the public schools and public school teachers. Naturally, the Sun-Times didn't ask Rahm how he knew the reason for the "emptiness" — just as the Sun-Times never asks for any actual specifics when a guy like Rahm (or his buddy Ron Huberman, also a product of Chicago's City Hall) spouts crazy claims like Chicago kids get four years' less school in 12 years than kids in Houston, or that the Chicago Teachers Union "turned down" more than $300 million for a "longer school day" of, Rahm seems to be saying "five minutes"! We have a more down-to-earth suggestion about why children meeting Rahm Emanuel, his half dozen handlers, and that ubiquitous video crew that is carefully cutting up his video footage into the smarmy messaging he's trying to substitute for reality: Rahm's a scary guy, and the kids who don't run away from him like a Halloween Ghoul or Zombie are showing fear — not emptiness. With each passing day, the nice thing about the Emanuel campaign is that it shows just how far from reality Chicago's corporate ruling class has become. Another nice thing: They'll pour hundreds of millions of dollars into electing this guy, when every child in town (probably including Rahm's own) can tell by looking in the guy's eyes that he's really messed up — or worse...