SUBSCRIPT: Friends don't let friends quote teacher bashing phony 'data'...
George N. Schmidt - January 01, 2011
…While we at Substance would be first to agree that many of the "Coalition Partners" cultivated by the new leadership of the Chicago Teachers Union can help out, we hope the union leadership will remember the rule about friends and data drunks: Friends don't let friends quote phony data. This thought came to mind as we watched Jitu Brown of the Kenwood Oakland Community Organization quote one of the most outrageous out of context "facts" about how bad Chicago Public Schools are during the December 27 press conference announcing the plans for what they're calling a "representative elected Board of Education."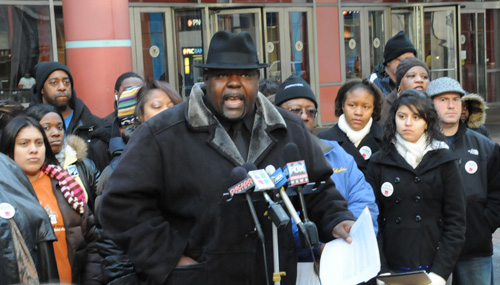 Jitu Brown of the Kenwood Oakland Community Organization cited a number of examples of the failure of mayoral control while promoting the elected school board during the December 29, 2010 Chicago media event (above). But Brown fell into a common trap and quoted phony data from the University of Chicago that basically bashes teachers and public high schools while ignoring the enormous and increasings costs of four-year college educations for working class kids. Substance photo by George N. Schmidt.Brown cited a statistic, long ago debunked by careful research, that spewed about five years ago from the University of Chicago, viz, that "only six out of 100 Chicago high school students graduate from a four-year college by the age of 25…" That piece was not true when the U of C propagandists (led at the time, for those caring, by John Easton, who is now Arne Duncan's research chief; need we say more) first said it, and it remained in the public record after they had to apologize because they forgot to ask most — that's as in the majority of — four-year colleges how CPS graduates were doing. The other bit of fancy data dancing in that thing was the ninth grade thing. They took the number of kids before the infamous dropout year (basically, sophomore year of high school, and not only in Chicago) so they inflated the Chicken Little factor majorly. Instead of comparing high school graduates (an indicator of the ones who stuck with their teachers and classes), U of C took those who got as far as high school, then blamed CPS teachers for "failing" to get all (or most?) of those through a "four-year" college program.
Note the spin there, too. What's wrong with military service, trade apprenticeship, a community college, or, say, that wonderful thing that Bill Gates did — "entrepreneurship"? Note: Bill Gates never finished his undergraduate time at Harvard. Gates dropped out to play with his computer and BASIC and then launched MS-DOS and Microsoft with help from some very clever lawyers provided by his Daddy, one of the wealthiest bankers in the Seattle area.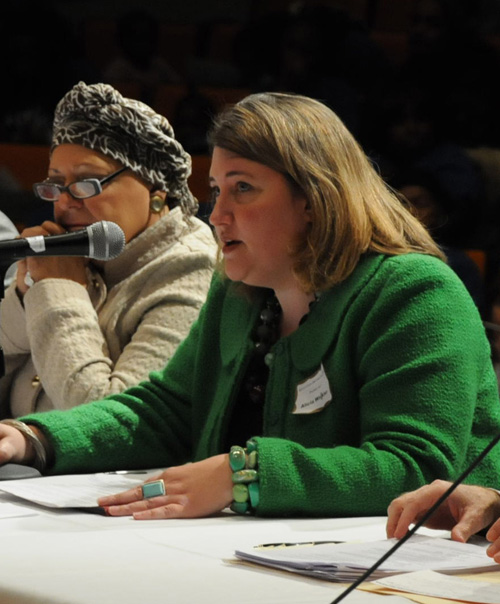 On December 16, 2010, while testifying on behalf of Chicago Public Schools Chief Executive Officer Terry Mazany (who avoided the hearings) on behalf of the "Performance Counts" bill, CPS Chief Human Capital Officer Alicia Winckler (above in green) told the members of the Illinois General Assembly the false "data" that only six out of 100 children who enter ninth grade in a Chicago Public School graduate from a "four-year college" by age 25. The widely discredited "fact" (which was revised by the University of Chicago researchers who first published it) has been making the rounds as an urban myth since 2005 and 2006, but nobody challenged Winckler when she made the slander against her own employer on behalf of "Performance Counts." Substance photo by George N. Schmidt.But back to Jitu Brown and the CTU connection. A week before he quoted that terrible piece of data spinning, Brown had been exemplary as a witness on December 17 in front of the House "Education Reform" committee, challenging the "Performance Counts" nonsense. Ironically, Brown's testimony came a day after the tone-deaf former corporate hack Alicia Winckler testified on behalf of CPS — and quoted the same non-fact about four-year college graduates and CPS high schools. It's worth reminding friends that not every bit of "data" should be shared without being re-vetted, so to speak. Especially stuff that you can hear quoted in "Waiting for Superman."… 