Some thoughts about my sister Allegra... A sister's memories of Allegra Podrovsky (1952 - 2010) Chicago music teacher and band organizer and leader
Rosagitta Podrovsky - December 30, 2010
It is now more than a week since my sister's funeral, which took place on a cold overcast afternoon in December. The turnout was wonderful: there were teachers, relatives, neighbors, friends from the CTU, members of the Mount Prospect Community Band and our sorority, Delta Kappa Gamma, and several students from Kelvyn Park HS, where she had taught band for more than twenty years.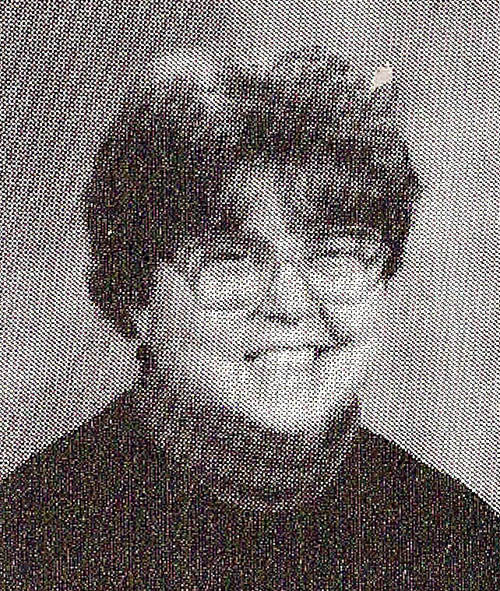 Yearbook photograph of Allegra Podrovsky.I know she would have enjoyed seeing everyone, as well as listening to the heartfelt eulogies, had she been able.
But, of course, she was not. Allegra had the misfortune of contracting a fairly rare, incurable, and debilitating disease, with no glamorous movie star as a spokesperson. For the most part, she had to deal with dismissive doctors who knew what the outcome would be and therefore didn't do much in the way of research or treatment, resulting in serious complications of osteoporosis, which made it even more difficult for her to get around.
As I thought about it during her last few months, I realized that I never — and I mean never — heard her complain. There was no whining, no bitterness, no blaming others, no "why me?", no taking the easy way out.
She kept teaching, leaving home at six in the morning, trudging up to the third floor and back down, Monday through Friday, until she retired last June. I am eternally grateful to Henry Reichert, her fellow band teacher, who helped her every day, in every possible way, thereby enabling her to continue doing what she so loved to do.
Allegra and I grew up on the South side, in a subdivision called Scottsdale, near 79th and Cicero. I am the older sister, and, since Bogan High School was not yet completed, I attended Calumet High School. As a pianist, I had planned to accompany the chorus for my required music credit; however, there was no need for me there, and I sort of backed into taking band instead.
Anyone familiar with the Chicago schools back in the late fifties and early sixties is well aware of the wonderful band programs that existed. Calumet was one of the powerhouses, with both a large concert band and a marching band. And, although I was interested in art and journalism, becoming a music teacher became a strong possibility for me.
Allegra chose her lifelong profession as she watched the Calumet band marching down State Street. That was it for her — she wanted to be a band director, and she joined the Bogan band and learned to play the flute.
Both her band director, Adolph Erst, and mine, Lou Lason, were great "band-centric" role models, so we learned not only how to play and march, but all about selecting appropriate music, creating audience-pleasing concerts, and raising funds for all the things that were needed to maintain a successful instrumental music program.
We also learned how to fight to keep our students enrolled in band after the first year, in order to cultivate the organization we had created, since that well-known phrase, "but they already have a year of music", had been invented for the programmers long before we even started school.
Since I was the older sister, I entered the teaching arena before Allegra, and it was not easy breaking down the barriers. Women were expected to teach chorus, while men could do whatever they chose. I fought many battles on my own before I finally was appointed as a band director at Bowen HS. When we competed in the CPS band contest that year, I could hear shocked whispers from the audience — "It's a lady director!". The only good thing about those attitudes is how they finally changed, making it easier for all the women who followed me, including my sister.
Like all of us who worked for the Chicago Public Schools, Allegra was bounced around from school to school in the beginning. For a while, she taught band to an adorable group of children at William K. Sullivan elementary school, on the southeast side. By then, I was assigned to Roger C. Sullivan HS, in Rogers Park.
There was considerable confusion when people were not sure which one of us was which. "Miss Podrovsky?" "Which one?" "The band teacher." "Which one?" "Sullivan." "Which one?" and so on.
She finally landed at Kelvyn Park, and, as they say, the rest is history.
Allegra led the Kelvyn Park HS Band and the Drum & Bugle Corps to victories and superior ratings in countless competitions over the years. I remember telling her that I would probably have hated her as a teacher because she made her students work so hard and do so much. She expected a lot of them, and they knew it, and they always came through for her, learning lots of valuable lessons about life in the process.
She was equally determined to fight for Kelvyn Park faculty, which led her to become a CTU delegate for many, many years. There too, she was fierce and feisty; by now, some of her encounters with the UPC have attained mythic status.
She was thoughtful and generous to her friends, spending hours looking for just the right gift, or devoting considerable time and energy in designing centerpieces and decorations for special occasions like the band awards dinner or the prom. By way of explanation, she said that she wanted her students to have the best high school experience possible.
One measure of her success was the number of former students who kept in touch with her over the years. She was always there for them, and, towards the end, they were there for her as well.
Anyone who is not an only child knows that siblings can be annoying at times, and we certainly had our moments. One winter day, when I was already running late for school, and had to take two different buses and knew with a certainty that bus number 2 would not be arriving in a timely fashion, Allegra decided to amuse me by putting little rubber balls into my boots, making it impossible for me to get them on. Very funny, she thought. I did not appreciate the humor at the time.
Ultimately, though, we were best friends and travel buddies, and we were involved in the same profession and shared many friends and acquaintances. We also did some interesting things: once,we drove up to Zion State Park for an unobstructed view of Halley's Comet. Another time, we drove out to the middle of nowhere to see the famous steam engine, The Flying Scotsman, chugging its way down the tracks on a special visit to America.
For a while, we both succumbed to automotive silliness and drove Renaults: (cute little subcompact cars from France, with personalities befitting their country of origin): mine was yellow, and hers was purple. Thankfully, we got over it; the fuel line fell off of mine, and hers caught on fire. No more Renaults after that.
We worked on political campaigns together and we planned events, attended conferences and conventions and union meetings together. Now and then, people assumed we were twins, which always pleased me, since I was older. She was NOT amused.
Sometimes we would get together in her kitchen or mine to cook traditional holiday foods together, such as kreplach (which are like little meat-filled ravioli, which we created in assembly-line fashion), and we would freeze them for future occasions.
Just yesterday a little bag of them fell out of the freezer as a subtle reminder of the good times. The most difficult thing for me, now, will be doing all those things without her. By myself.
Through it all, though, from the day in January when my parents brought her home from Michael Reese Hospital, wearing a hand-knitted white hat with a giant pink bow, until these last few difficult years, she was consistent. She never lost her dignity or her famous sense of humor. And to her everlasting credit, to paraphrase that great Sinatra tune, she did it her way. 