Led by Chicago Teachers Union, push to end mayoral control... Groups call for elected Chicago Board of Education
George N. Schmidt - December 29, 2010
Joined by a group of community organizations dubbed their "community partners," leaders of the Chicago Teachers Union announced on Wednesday, December 29, 2010, that they were calling for an elected school board for Chicago to replace the current school board, which is appointed by Mayor Richard M. Daley.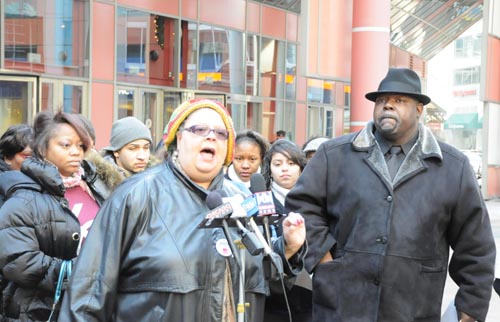 Chicago Teachers Union President Karen Lewis (above at microphone) outlines the reasons why a coalition of groups led by the CTU is calling for an elected school board for Chicago and an end to mayoral control. Substance photo by George N. Schmidt.The speakers at a morning press conference noted that Daley was given complete control over Chicago's public schools in 1995, when some Democrats joined with Illinois Republicans to pass the "Amendatory Act of 1995" in the Illinois General Assembly. The 1995 law launched the mayoral control movement in the USA. It gave the mayor of Chicago the power to appoint the school board (which began as a seven-member thing called the "Chicago School Reform Board of Trustees") and a "Chief Executive Officer" (instead of a superintendent).
The critics in 2010 charged that Chicago-style school reform and mayoral control have failed, and that the only democratic solution is for the city to move towards an elected school board. They outlined their plan for what they called a "representative elected school board" at a 10:30 a.m. press conference on the cold sidewalk outside the State of Illinois building in downtown Chicago. Originally, the press conference was supposed to take place inside the vast lobby and atrium of the building (called the "James Thompson Center" after former governor and millionaire lawyer James Thompson, who is still living), but state officials ousted the group from inside the building.
The press statement distributed by the groups follows:
"Chicago public education is a hot-button issue, usually for what is not going right in our schools. When citizens ask for real improvements for all schools and all children, officials attempt to silence us with a response that usually ends with "children don't want to learn," "irresponsible parents," and, the fan that fuels school privatization, "bad teachers." Instead of providing us with solutions, our communities have been neglected and vilified.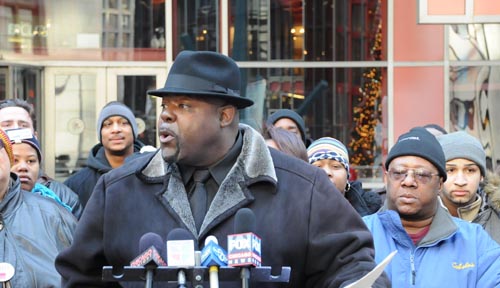 Jitu Brown, leader of the Kenwood Oakland Community Organization (KOCO) from Chicago's South Side, outlined the plan for a representative elected school board at the December 29, 2010 press conference. Substance photo by George N. Schmidt."Today, many of Chicago's strongest community-based organizations join the Chicago Teachers Union in a true partnership of parents, students, community members and teachers to improve education in Chicago by demanding fundamental change in school governance.
"Since 1995, Mayor Richard M. Daley has had sole control of Chicago Public Schools. He appoints the CEO (no longer a superintendent with education expertise) and the Board of Education which is comprised of seven people: bankers, lawyers, financial consultants and a doctor. This Board has approved 99% of all votes before it and does so without public debate or documenting the votes of each individual Board member.
"So how much have schools improved under mayoral control?
"Chicago schools were showing slow and steady growth in the 1990s, but that growth stalled in 1997 according to a CCSR study1. Since then, as the Chicago Tribune reported, minor growth in standardized test scores can generally be explained by lowering test standards, not real academic improvement (2).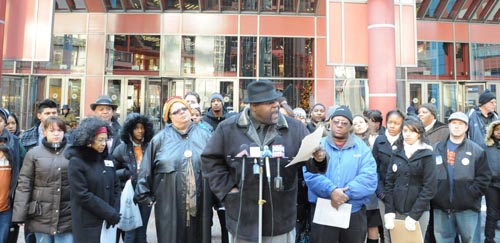 A large crowd of people from community and student organizations joined the Chicago Teachers Union's officers in front of the State of Illinois building to announce the plan for the elected school board. Originally planned for inside the vast public atrium of the Thompson Center (State of Illinois Building), the press conference was forced outside into the cold December morning by state officials. Substance photo by George N. Schmidt."And for 15 years, Chicago Public Schools has implemented a staggering number of reforms, from probation, to student retention, to school closings, charters and turnarounds and the wholesale firing of 1,300 educators this past summer. Many of these reforms have damaged our schools and our children – increased violence, increased teacher and student mobility and a general destabilization of neighborhood public schools. But one thing has remained constant for the past 15 years -- citizens have had little to no voice in school policy.
"Enough is truly enough.
"Today we demand an end to mayoral control of Chicago Public Schools and the beginning of a representative elected school board comprised of parents, students, educators, administrators and community members. Before we vote, we must know the answer to this question: Will the next mayor continue to shut out its citizens when making school policy or will the next mayor adopt an open, transparent and democratic form of governance?
"We must demand equity and democracy for all children and communities from our next mayor. All children must be able to walk across the street to a world class school. We can no longer tolerate our children competing against each other in this education lottery.
Enough is truly enough."
The groups and individuals listed as participating in the press conference follows:
Jitu Brown Kenwood Oakland Community Organization
Michelle Young President Action Now
Rico Gutstein Teachers for Social Justice
Henry English Executive Director Black United Fund of Illinois
Karen GJ Lewis President Chicago Teachers Union
Patrick Brosnan Executive Director Brighton Park Neighborhood Council
Cheryl Johnson People for Community Recovery
REFERENCES WERE GIVEN:
(1). Easton, J., Rosenkranz, T., Bryk, A., Jacob, B., Luppescu, S. & Roderick, M. (2000). Annual CPS test trend review, 1999. Retrieved from http://ccsr.uchicago.edu/content/publications.php#1998.
(2). Rado, D. (2010, October 18). New ISAT lets kids pass with more wrong answers. Chicago Tribune. Retrieved from http://articles.chicagotribune.com/2010-10-18/news/ct-met-isat-answers-20101018_1_math-tests-new-isat-wrong-answers.