SEX APPS, HEGEMONY, AND TODAY'S BELL RINGER COURTESY OF CATHIE BLACK... A satiric view on New York Mayor Michael Bloomberg's attempt to put Cathie Black in charge of the New York City Public Schools
Susan Ohanian - November 16, 2010
In 1957 chain-store president, Maxwell H. Gluck was nominated to be ambassador to Ceylon. Mr. Gluck had contributed, by his own estimate, $20,000 or $30,000 to the Republican campaign of 1956, but, like many such appointees before him, was not known for having any experience in politics or diplomacy. Questioned by Senator Fulbright about his qualifications for the post, Mr. Gluck had some difficulty: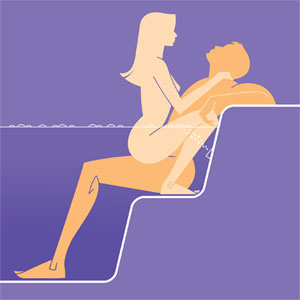 The Cosmo curriculum pioneered by Hearst executive Cathie Black includes a daily lesson plan. Above, on November 15, 2010, the lesson plan, entitled "Hot Tub Sex", was available on the Cosmo magazine Web site. Black's publications update the lessons on a regular basis so that teachers in New York's public schools will never be without a "Bell Ringer" for their classes.Fullbright: What are the problems in Ceylon you think you can deal with?
Gluck: One of the problems are the people there. I believe I can--I think I can establish, unless we--again,unless I run into something that I have no run into before--a good relationship and good feeling toward the United States. . . .
Fulbright: Do you know our Ambassador to India?
Gluck: I know John Sherman Cooper, the previous Ambassador.
Fulbright: Do you know who the Prime Minister of India is?
Gluck: Yes, but I can't pronounce his name.
Do you know who the Prime Mnister of Ceylon is?
Gluck: His name is unfamiliar now, I cannot call it off.
President Eisenhower remarked that an appointment in return for campaign contributions was unthinkable (NY Times, Aug. 1, 1957). About his nominee's competence, he observed: "His business career was examined, the FBI reports on him were all good. Of course, we knew he had never been to Ceylon, he wasn't thoroughly familiar with it; but certainly he can learn if he is the kind of character and kind of man we believe him to be." --Anti-Intellectualism in American Life, by Richard Hofstadter
News Release (November 2010): Mayor Michael R. Bloomberg stunned everybody but Rupert Murdoch and Oprah when he appointed Cathleen P. Black, a highly-respected leader in one of New York City's central industries, as the next Chancellor of New York City's Schools, another central industry, explained Bloomberg.
What follows is a press conference with the mayor, Cathie Black, and selected guests.

Contrary to critics, Hearst publishing executive Cathie Black, who has been nominated by New York Mayor Michael Bloomberg to be the next Chancellor of the New York Public Schools, has experience both with curriculum development and lesson planning. As chief executive of the corporation that publishes Cosmopolitan magazine, Cathie Black has pioneered both the lessons outlined in the "Cosmo Kama Sutra" and gotten it on the cutting edge of technology by having it as a phone app. (Sorry for the poor resolution of the graphic above. The title, if you can't read it, is "The Cosmo Kama Sutra -- 77 mind-blowing sex positions.") Readers may ask whether each semester in New York's public schools will be 77days long, to cover the entire Cosmorriculum.Reporter: Mister Mayor, you have said a "public" search was conducted for the new chancellor. Can you tell us where this took place?
Mayor Bloomberg: Poughhkeepsie... And Cohoes.
Reporter: Some parent activists are complaining, saying that the system needs a Chancellor with a background in education.
Mayor Bloomberg: This just goes to show they have no understanding whatsoever of what the job is. The Department of Education is an agency of the city that deals with 1.1 million customers, has 135,000 employees, and has a budget of $23 billion a year. http://www.susanohanian.org/show_outrages.php?id=9531
Reporter: Mister Mayor, when you speak of students as "customers," do you mean a person who purchases goods or services from another; buyer; patron or are you using the informal definition of a person one has to deal with: a tough customer; a cool customer?
Mayor Bloomberg: Remove that person from the room.
Kindergarten Teacher: Ms. Black, do you support Constructivism?
Cathie Black: Yes, indeed. While at Hearst, I was a member of the team that oversaw the construction of the 46-story Hearst Tower that was erected on the six-story base near Columbus Circle that Randolph Hearst had built in 1928. The Hearst Tower, which was the first skyscraper to break ground in New York City after September 11, 2001, won several awards and was New York City's first LEED Gold skyscraper.
And Eva Moskowitz and I have already shared 43 e-mails. Following the good advice of Joe Williams of the Democrats for Education Reform, I pledge to give Eva's innovative Harlem Success Academy the space it needs to grow. http://www.nypost.com/p/news/opinion/opedcolumnists/the_keys_to_chancellor_black_success_gdSlhEflfyVxZAGCmCwYLJ
Thomas Friedman: What about technology and preparing students to be workers in the Global Economy?
Cathie Black: As the media industry has tackled digital changes, Hearst Magazines —Cosmopolitan, Esquire, Good Housekeeping, Harper's Bazaar, Marie Claire, Popular Mechanics, Redbook, Town & Country, and O, The Oprah Magazine — are widely regarded as being at the forefront of the digital platform evolution. Our success with the Cosmo Iphone Apps [WARNING: Not for family viewing] shows me such Apps are the way to go in the schools. Our students depend on us to stay on the cusp of technology.
http://www.cosmopolitan.com/sex-love/positions/
Professor: Critical pedagogy shows that Marxist thought challenges the way in which the dominant ideology is reproduced through the use of myths. What will you do to combat this institutionalization of elite values?
Cathie Black: My own children have enjoyed "A Night at the Opera." I want this for all children.
Professor: What can you do to counter the destructive effects of hegemony?
Cathie Black: I am committed to seeing that children received a balanced meal when they are in school. Including ethnic foods is a positive approach, one that I support.
Reporter: Mr. Cuomo, as governor-elect, how do you feel about this appointment?
Governor-elect Andrew Cuomo: The mayor's judgment has proven good in the past. http://www.nydailynews.com/ny_local/education/2010/11/13/2010-11-13_mayor_bloomberg_didnt_tell_education_commissioner_he_was_appointing_cathie_black.html#ixzz15HTGPuyn