MEDIA WATCH: How Chicago's 'Superman' cheats poorest kids! WBEZ and Catalyst expose hypocrisy of Chicago charter schools -- Raising test scores and making their numbers by kicking out 'bad' students
George N. Schmidt - November 10, 2010
As the propaganda for the national expansion of charter schools reaches its peak, thanks to a combination of an endorsement by the President of the United States, the U.S. Department of Education, and Hollywood, two Chicago news organizations have gone behind the scenes to reveal the truth about how most of Chicago's charter schools "make their numbers", corporate style: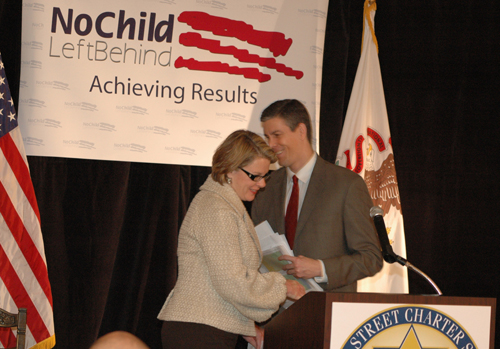 Two years before he became U.S. Secretary of Education and began pushing the Obama administration's plan to privatize public schools through charter schools, Chicago schools "Chief Executive Officer" Arne Duncan (above right) was regularly providing propaganda on behalf of charter schools — and against regular public schools. On January 15, 2007 (above), Duncan and other top Chicago public school officials hosted a media event at Chicago's Noble Street Charter School (main campus) when then U.S. Secretary of Education Margaret Spellings (above left) came to town to celebrate the anniversary of the Bush administration's "No Child Left Behind" law. Spellings came to Chicago at times during her tenure with the federal government, always choosing to ignore successful public schools and focus media on charter schools (which even then were forcing out the most vulnerable students. Substance photo by George N. Schmidt.They dump their "bad" students out. Sometimes those students wind up back in the public schools. At other times?
In the first part of a hard-hitting series that ran on WBEZ radio and on line in Catalyst magazine on November 9, 2010, reporters exposed the fact that the majority of Chicago charter schools were forcing out or kicking out their problem students.
But the discovery in 2010 by Catalyst and Chicago Public Radio of scandals in Chicago's charter schools programs was really nothing new. Parents and children had been reporting the push outs by sanctimonious charter school operators in Chicago since the founding of Noble Street Charter School more than ten years ago, and the fact that Noble Street, where Michael Milkie's family now is paid more than $300,000 per year, kicks its kids out and sends them back to Wells High School (which Milkie regularly slanders in his narratives) was being reported from the first months of the administration of George W. Bush. Chicago's charter school miracle stories, which have now been adopted and woven into the Obama administration's version of corporate "school reform," have more to do with intensely skillful marketing and propaganda than with the actual ability of Chicago's charter schools to radically improve the education of America's most at risk students. Despite regular doses of corporate propaganda touting the Chicago charter school model, charters schools, even the most "successful", routinely cheat the public and their own supporters by neglecting the most seriously needy children, thereby dumping those children into the public schools while simultaneously deriding the public schools for supposed "failure."
THE WBEZ REPORT FROM NOVEMBER 9 FOLLOWS HERE:
Charter schools are being talked about a lot lately as a strategy for improving urban education. In Chicago, families line up for the chance to get their kids into these schools, drawn by tougher discipline and academic standards; 11,000 kids are currently on waiting lists.
ut students also leave Chicago charter schools in surprisingly high numbers.
WBEZ's Linda Lutton looks into claims that charters move out students who are toughest to educate—kids with behavior problems, or kids who struggle academically.
This story was co-reported with Sarah Karp of Catalyst Magazine. Read the Catalyst story.
Nobody told Alberto Rodriguez to leave his Noble Street charter school.
Nobody had to.
By the end of his freshman year, he had about 50 detentions, mostly for small things.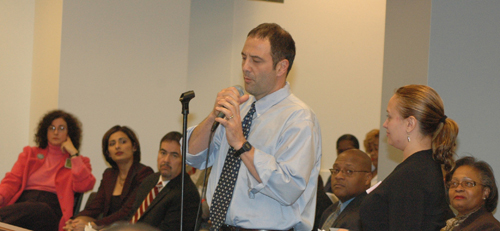 Noble Street charter schools chief Michael Milkie (above at microphone at the October 2006 meeting of the Chicago Board of Education) left his teaching post at Chicago's Wells High School to launch the Noble Street Charter School(s). Within two years, Milkie was kicking out students, sending them back to the public school where he had once taught. But as Noble Street grew and became a darling of corporate "school reform", Milkie's dirty secret was hidden by Chicago's corporate media — until now. Teachers at Wells High School reported to Substance as early as 2006 that Milkie was kicking out the most challenging students at Noble Street and sending them back to Wells (or out to become dropouts). Chicago's corporate media ignored the story for half a decade. Substance photo by George N. Schmidt.ALBERTO: Yeah, I forgot my belt. And for being late to class, or for being late to school.
Those detentions and a string of Fs on his report card translated into a $700 bill for his mom. The school charges students for detentions and to make up failed classes.
RODRIGUEZ: Pues, no, le dije. Yo no puedo pagar ese dinero, porque es mi mortgage, o es la escuela de mi hijo.
I can't pay that, Rodriguez told the school. It's either my mortgage or his schooling.
If numbers from previous years are any indication, Alberto was one of more than 2,500 students to leave Chicago charter schools last year. About 11 percent of charter school students transfer out annually.
But a closer look shows that some Chicago charters lose 15, 20, even 25 percent of their students in a year—and these are schools kids are clambering to get into…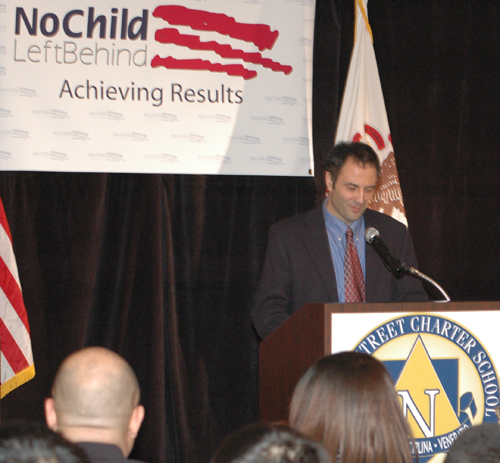 When the Bush administration decided to come to Chicago to celebrate the anniversary of No Child Left Behind in January 2007, it was in part to shine the light of local and national politics on Noble Street and other charter schools. Despite the fact that Margaret Spellings, U.S. Secretary of Education at the time, was less than a mile from one of the best high schools in the USA (Whitney Young), she snubbed every public school during her January 2007 visit. After feting Noble Street (and listening to Michael Milkie, speaking at the event, above) Spellings met secretly with top corporate officials in Chicago, including Chicago Board of Education members Norman Bobins and Michael Scott. The public and press were barred from that meeting. Substance photo by George N. Schmidt.Mike Milkie is co-founder of Noble Street schools—which are posting some of the highest test scores in the city.
MILKIE: Are there kids who come to us and say, 'The discipline is too hard—I can't take it.' And we say, 'Well, maybe you should choose another school?' Sure. We have very strict rules, we have high academic expectations. Kids who don't meet those will often transfer. But in no way are they pressured to leave.
A look at charter schools in Chicago shows how complicated and difficult it is ot hold on to those strict rules and high academic expectations without losing the weakest students.
ambi: North Lawndale charter school
Early in the morning on one of the last days of summer, brand-new ninth graders line up outside another charter school— North Lawndale College Prep on Chicago's West Side.
During two days of freshman orientation, this school will lay out expectations for kids. And staff will make it clear they are here to help them succeed.
ADVISORY TEACHER: We're gonna talk about different issues. I'm gonna help you stay organized to make sure that you're ready. We're going to talk about your grades. We're just going to kind of be a support system for you guys as you go through the next four years.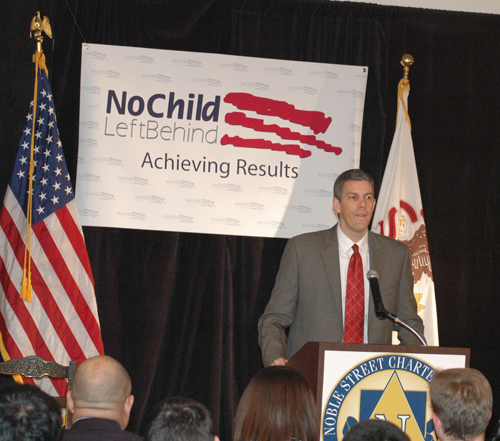 Throughout his eight years as "CEO" of CPS, Arne Duncan (above at Noble Street Charter School in January 2007 on the anniversary of No Child Left Behind) ignored complaints about Chicago's charter schools, covered up scandals from Chicago charter schools, and focused media attention on a carefully orchestrated propaganda campaign on behalf of Chicago's charter schools. The January 2007 media event featuring Duncan, Noble Street Charter, and U.S. Secretary of Education Arne Duncan was just one of dozens of examples from the Duncan years in Chicago (2001 - 2008). Substance photo by George N. Schmidt.This homeroom teacher tells her classroom of girls their goal will be to maintain a 3.5 GPA. It's immediately clear that some kids will struggle with this.
TIARA: Speaking of the homework, is there like a lot of homework? Because if it's like more than one sheet, I won't do it. TEACHER: OK, We've got to change the attitude on that, OK?
Down the hall, BOYS are meeting with their advisors.
THORPE: Write this down: 773-406…
Most in this class have NEVER HEARD A TEACHER say this before:
THORPE: If you ever need me, just want to talk, you're in trouble, you need help—you call me, and I'll be there. Don't ever lose that number.
Parent Thilia Matthews says that kind of support diminished when her daughter started struggling.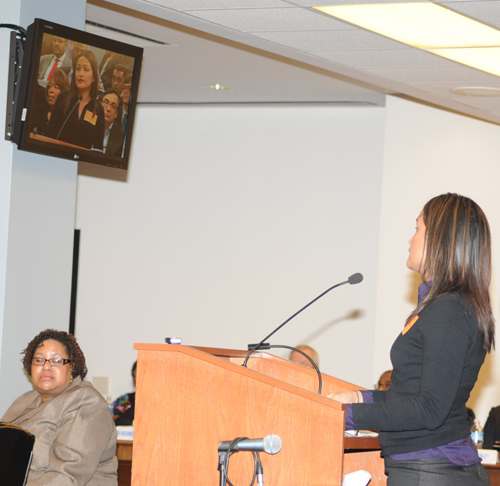 Apologists for Noble Street, like Angelina Alfaro (above speaking to a meeting of the Chicago Board of Education) present carefully scripted narratives in favor of the school and its policies at public events. Alfaro, who has told people she is a full-time Noble Street "Alumni Coordinator" routinely tells CPS how important Noble Street is, leaving out or denying that the school routinely sends its "bad" students back to Wells High School and other schools. Substance photo by George N. Schmidt.She says her daughter had just finished her sophomore year—and was not on-track to graduate—when a school counselor told her this:
MATTHEWS: She told me that she wasn't gonna be able to graduate on time, and that they wasn't gonna take her money for summer school, because they felt it was best that she just get a transfer out, so… LUTTON: Are those the words she used? MATTHEWS: Right. It was, 'Just transfer her out and then she can come back once she makes up her credits.' Which to me, it didn't sound right. I said, yeah, OK, just forget it. I just took her out.
Of the students who began as 9th graders with Matthews' daughter, a third are gone.
HORAN: Absolutely we're concerned about it.
John Horan is the school's founder. This year, he's personally reviewing every student request to transfer out. Chicago's largest charter network is doing something similar.
The reality is that getting rid of even a handful of low-performing kids can boost test scores and attendance rates at charters.
HORAN: The charter movement if it's going to expand is vulnerable to this critique. Until we answer it in a clear way that people feel good about, it reduces the credibility of charters as a whole.
ambi: Wells High School Many kids who leave charters head to traditional Chicago Public Schools, where graduation requirements can be lower, and it's easier and cheaper to make up credits.
Principal Ernesto Matias is trying hard to make WELLS High School a place kids CHOOSE to come, but he also recognizes the role Wells plays in Chicago's school landscape.
MATIAS: We are an educational hospital. We take the kids no one wants. They don't score high enough. They're a discipline issue, whatever.
Upstairs in a first-period English class I happen into, 7 of the 23 students present have transferred here from charter schools. Junior Deanna Nogueras is one of them:
DEANNA: I like it a lot better. It's so much easier. I don't have to worry about stupid things—about my uniform being perfect, my piercings. So it's a lot better. It's more relaxed. And I don't be waking up every morning like, 'Oh, my God, I gotta go to school.'
Deanna's English teacher has his lesson planned down to the minute. But halfway through class, kids are still straggling in with tardy passes. Fewer than 3 percent of students meet standards here.
The federal government is encouraging districts to close schools like Wells and put charters in their place.
Schools chief Ron Huberman says when charters are successful it's thanks to rigorous curricula, and motivated teachers who spend more time with students. He doesn't believe charters have policies that systematically weed out weaker students.
HUBERMAN: I have found none of that to be true. What I have found is that it is a promulgation of a myth.
Huberman said he'd turn over data to support his finding, but the district didn't keep that promise. WBEZ did obtain an internal CPS memo. It's titled "Memorandum on Charter School Myths." The four-page report actually finds that traditional schools held onto more kids than charters did for the year CPS examined. It found that both charters and traditional schools lost lower-performing students.
University of Chicago Professor Charles Payne says we need more information about why kids leave charters...
AND more about school policies WBEZ found while reporting this story: charging students to make up failed classes, for instance. Demanding that high school students repeat the entire grade if they fail even one class. Not allowing students to stay in high school for a fifth year. Requiring an adult to attend school with a problem child.
PAYNE: They sound to me like ways institutions have—whether intended or not—of pushing out the weakest students. And pushing them out in ways that may not count against the school's evaluation. Because the student appears to be making an independent decision. In fact, the student is being encouraged, pushed in that direction.
Mike Milkie, the founder of Noble Street schools, says charter school leaders do grapple with this question of expectations—how much is too much— but he says most kids can and do raise their performance.
MILKIE: And I think the kids who even transfer spending a year or two here are much better off for the rest of their lives, because they've gained discipline and academic habits and they've learned consequences of actions.
And, Milkie says, those lessons will help kids at their next school.
This story was produced with support from the Hechinger Report, a nonprofit news source based at Teachers College, Columbia University.
THE CATALYST REPORT FOLLOWS HERE:
by Sarah Karp, November 9, 2010
It's almost 8:21 a.m. at Gary Comer College Prep Charter, nearly a minute after the morning bell. On this sunny day, Principal James Troupis stands in the gleaming foyer, watching several stragglers head to class.
"Hurry up," he tells one young woman, as she shifts her backpack from one shoulder to the other. "Power-jog if you have to." The student picks up her pace.
Behind her, two serious-looking students trickle into class. By 8:25, the foyer is empty.
The incentive for this last-minute hustle is Noble Street's Code of Conduct, which calls for demerits any time a student is tardy. The later the student, the more demerits. Four demerits in two weeks equals a $5 fine and a three-hour detention.
The strict rules and tough consequences create an orderly vibe at the charter school, which is housed in a newly constructed building in Greater Grand Crossing. The calm environment--"it is tangible," Troupis says—sets Comer and many other charters apart from traditional high schools, where it's not uncommon to see students linger in the halls after the bell.
Noble Street and other charter schools emphasize calm and order as a prerequisite to learning. To accomplish this, many charters have discipline codes that are tougher than the CPS Student Code of Conduct.
But tougher rules are a double-edged sword. Charter critics say these schools routinely push out problem students, forcing neighborhood high schools to cope with more than their share of troublesome youth.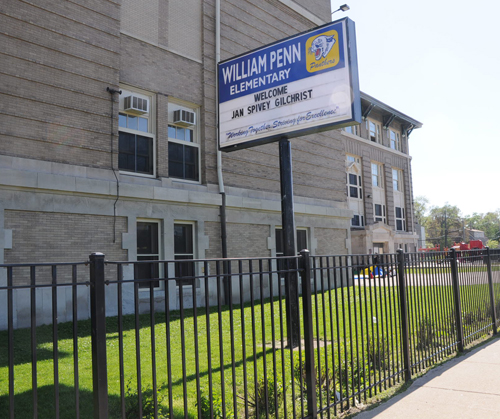 Just before Arne Duncan ordered the William Penn Elementary School on Chicago's west side to take in the controversial KIPP Ascend charter school (which had already run into trouble at two other CPS locations), parents from Penn protested to no avail. Since KIPP has been placed inside Penn, parents and teachers have noted that all the resources go to the charter school, while the real public school is neglected. KIPP is also allowed to kick out its kids, who, ironically, wind up back in the overcrowded classrooms of Penn — in the same building! Substance photo taken 2009 by George N. Schmidt.A joint investigation by Catalyst Chicago and WBEZ-Chicago found a complicated dynamic: A higher percentage of students transfer out and are expelled from charter schools than from traditional schools. Yet interviews with parents and students reveal support for tough rules, and do not support the notion that charters are inordinately "pushing out" children with behavior or academic problems.Listen to WBEZ's Linda Lutton's story.
The Catalyst / WBEZ investigation found that:
About one out of every 10 charter school students (2,700 out of 24,659) who were enrolled in 2009 either transferred to another school or otherwise failed to return in the fall of 2009, according to the Illinois State Board of Education Charter School Annual Report. (That number does not include students who left CPS.)
Traditional schools do not have comparable statistics. But an internal CPS memo provides evidence suggesting that students are more likely to leave charters: Between November 2008 and November 2009, 20 percent of students from traditional schools transferred out, compared to 26 percent of charter students, according to the memo. The memo also states that students who transferred were more likely to have lower test scores.
Charter schools expelled 146 students in 2009, or 5 of every 1,000—a higher rate of expulsion than traditional schools, which posted an expulsion rate of 1.5 for every 1,000 students. (See chart.) In 85 percent of charter school cases, students were expelled for less serious offenses that are not eligible for expulsion under CPS rules. Once expelled, charter students are sent back to their neighborhood school by the district's Office of Adjudication.
Charter vs. magnet transfers
Magnet schools are comparable to charter schools, with lotteries for coveted seats and no attendance boundaries. Charter school operators often boast of long waiting lists; one school says it had a list of about 11,000 students this year. Yet a far higher percentage of students leave charter schools. As of yet, there's no comprehensive study to explain the discrepancy.
Charter schools 11%
Magnet schools 6%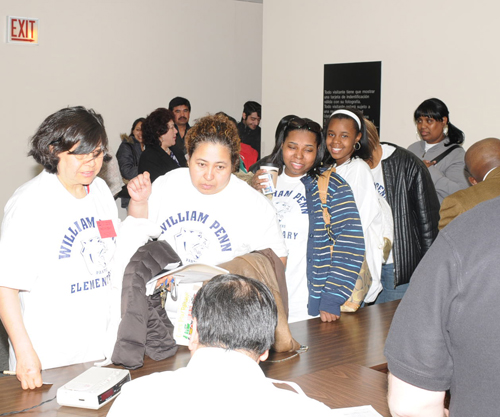 When a busload of Penn parents showed up at a Chicago Board of Education meeting to protest the placement of the KIPP charter school inside their building, they were kept waiting for more than an hour by CPS security, while "parents" supposedly supporting KIPP were taken straight up to the Board meeting. Substance photo by George N. Schmidt.To date, there has been no comprehensive analysis by CPS of why students transfer from charter schools, despite anecdotal complaints from some parents and activists that charters push out students, especially struggling students. CEO Ron Huberman dismisses the accusations against charters as "more myth than reality." He says data show that students who are forced out of charter schools are exceptions, but his office did not produce data to back up that claim.
At least one charter operator plans to ask students why they are leaving. Chicago International Charter Schools, the city's largest operator, this year will have schools keep a ledger documenting transfers out, says Kate Floyd, the communications manager at CICS, where 3 percent of students transferred out in 2009.
Floyd says administrators hear that most students leave because they are moving out of the area. (On average, 85 percent of charter students live within 1.5 miles of the school, according to the CPS Charter School Annual Report.)
From interviews with charter school officials, students and parents, it's clear that some students leave—or are counseled out—of charters because they can't or won't, get on board with the school's rules and requirements. Neighborhood schools do not have the luxury to adopt their own discipline codes or force parents to sign agreements that students will comply.
At Noble Street, for instance, credit recovery costs $140 per class, nearly three times the cost at a traditional public school.
"It was ridiculous," says Rosalla Bernard, who took her son, Christopher, out of Noble Street's Rowe-Clark Math and Science Academy in Humboldt Park. "$5 for coming late. $5 here and $5 there. It seemed like a lot of punishment."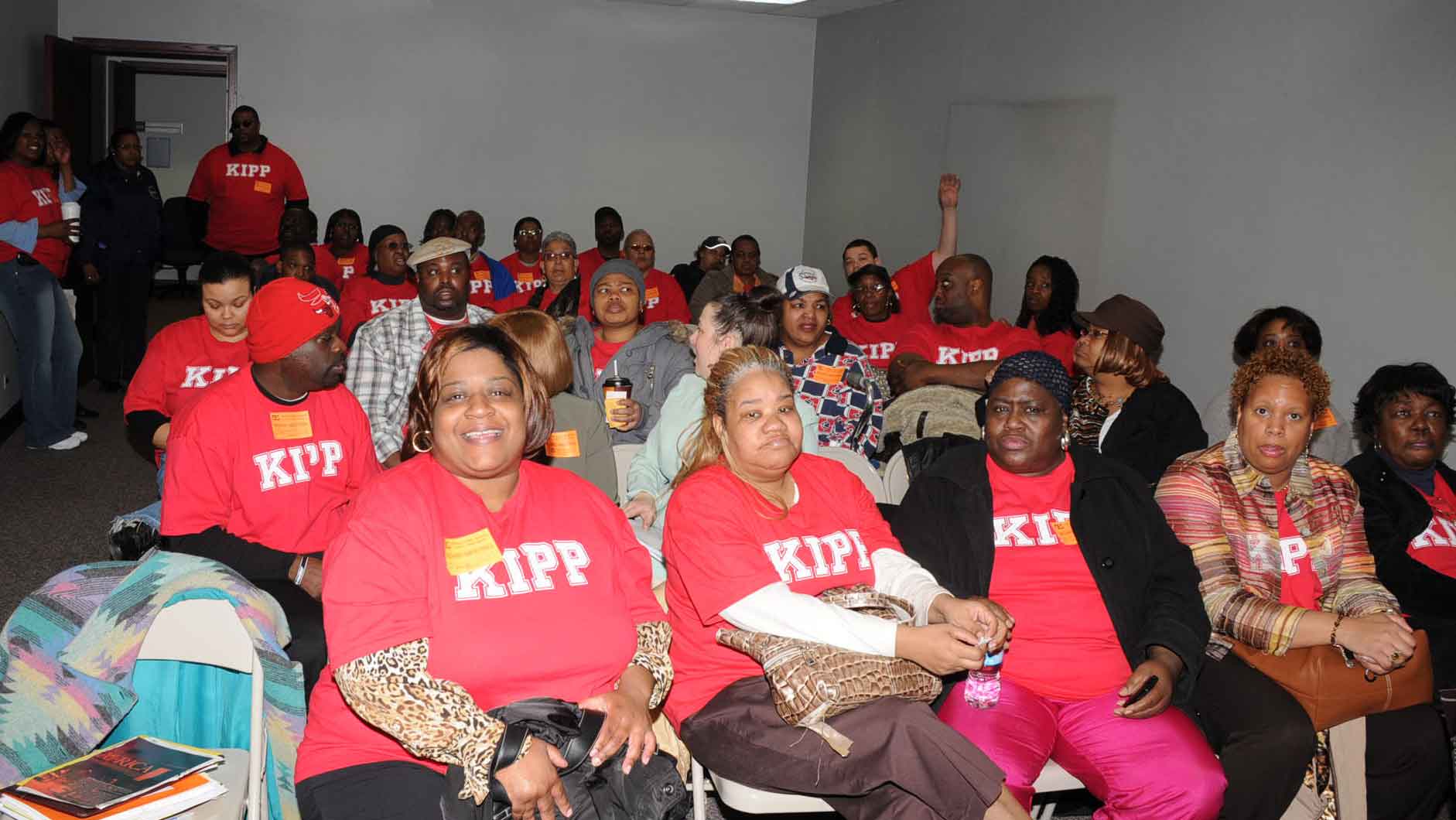 "Parents" organized to attend a meeting of the Chicago Board of Education in support of the KIPP ascend charter school refused to identify themselves when Substance reporters asked them who their children were and how long they had been attending the KIPP charter school. Substance later learned that many of them had been recruited by KIPP to present supporters to the Board of Education meeting, while then CEO Arne Duncan orchestrated the placement of KIPP inside Penn Elementary. Substance photo by George N. Schmidt.The final straw: A notice that her son failed three classes. The cost to recover those credits was too steep, and Bernard also thought that the school had not done enough to accommodate her son's special learning needs. Bernard ackowledges that she didn't talk about the matter to anyone at Noble Street—she just transferred her son to Orr the next year. (About 17 percent of Noble Street students transferred out in 2009, according to ISBE data.)
"It was really a big disappointment," Bernard says.
Michael Milkie, founder and executive director of Noble Street, says he and his wife started the charter in 1999 in response to what they saw as a lack of discipline at Wells Academy, where they were teachers. Creating a place where students were held to a certain standard was of utmost importance.
Milkie's philosophy: "If you sweat the small stuff, then you don't have big issues. We don't have big issues, maybe one fight a year."
Noble Street and other charters require parents and their children to sign contracts, pledges or compacts, committing to the school's policies. Most of them, at least on the surface, seem benign.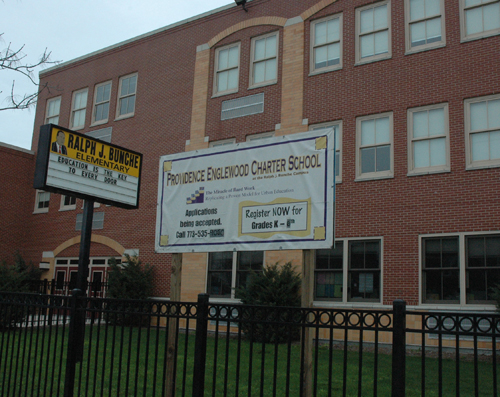 After Arne Duncan orchestrated the destruction of Ralph Bunche Elementary School (above, at 6550 S. Ashland Ave.) in 2006, the Board of Education voted to give the building, which had been rehabilitated as a cost of more than $8 million, to the Providence St. Mel's school, which opened it as "Providence Englewood Charter School" in September 2006. The new charter school immediately implemented the exclusions outline by WBEZ and Catalyst with one additional one. Providence Englewood Charter School locked its playlot after school hours so that children from the community were denied access to a public place of recreation. When asked by Substance about the locking, the Providence Englewood principal said that there had been gang bangers in the area, then hung up. Substance photo by George N. Schmidt.At Providence Englewood, a charter elementary school on the South Side, parents must sign a contract agreeing to attend four parent-teacher conferences and eight parent enrichment classes during the school year. At Perspectives Charter Schools, a network of high schools, students must commit to a program called "A Disciplined Life." Many of the elements are general—maintain a healthy lifestyle or have a good work ethic. But some of the requirements, like never eating junk food at school, can be difficult for teens to meet.
But this attention to discipline and school culture is critical to the success of charter schools, says David Whitman, author of the 2008 book Sweating the Small Stuff: Inner City Schools and the New Paternalism. Whitman notes that some of the most successful charter schools set out to teach traditional middle-class values by closely supervising student behavior and pushing high academic standards.
"It is a benevolent paternalism, not a malevolent paternalism," he says. "The thing that made the strictness work is that students had the sense that teachers cared about them."
Milkie says Noble Street's practices provide an important lesson for students: Misbehavior has consequences. He adds that 95 percent of students want discipline, abide by the rules and pay to make up classes. "A very, very small percent can't or don't," he says.
Indeed, students and parents tend to be firm supporters of strong discipline and the calm, orderly environment it creates. Maxine Thompson says her daughter Lexis, a freshman at Gary Comer, has already gotten two demerits—one for being late and another for not raising her hand in class. Faced with the threat of having to pony up money,Thompson talked to her daughter about her behavior and told her that any charges will come straight out of her allowance.
"I love this school," Thompson says. "There is more discipline here than at other schools. To me, at other schools, the teachers cannot teach. CPS has lost its focus on education."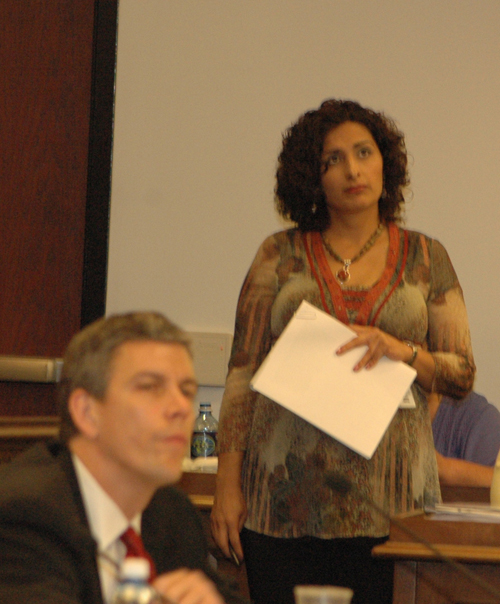 When parents complained earlier about KIPPs policies at meeting of the Board of Education, CEO Arne Duncan always had his "New Schools" chief (there have been several) on hand to cover things up. Above, in 2006 New Schools chief Beatriz Rendon (who was later replaced by Josh Edelman, who has since been replaced) is preparing to talk to a parent who had complained about KIPP's treatment of her son. Substance photo by George N. Schmidt.April Goble, executive director of KIPP Ascend Charter, says she has actively worked to eliminate some of the factors that might force students to leave. About 13 percent of students transferred out of KIPP in 2009. (KIPP, for Knowledge is Power Program, is a national network of college prep charter schools.)
Instead of having students and parents sign a contract, which might sound threatening, Goble has them sign a "pledge to excellence." She has told KIPP's staff to try their hardest not to suspend students, and to keep them in class so they don't fall behind. She also lowered student fees to less than $50.
Yet some children still have difficulty adjusting to tougher rules.
Delilah Hollingworth loved KIPP Ascend, where she enrolled her son, Larry Davis, as a 4th-grader last year. The school offered longer days, and had nicer equipment and teachers who seemed like they cared about the children.
"I am not a perfect parent," Hollingworth says. "But I want to get a good education for my children. This was Larry's chance."
But within four weeks, she was called into five parent-teacher conferences. Larry picked on girls. He had an attitude. He forged her signature on a note home.
Hollingworth admits Larry can be a handful. "You can't tell him anything," she says.
KIPP officials told her that they did not have a detention room to put him in and didn't want to suspend him. Eventually, Hollingworth says, they told her that if she wanted him to continue attending the school, she would have to sit with him through a day in class.
But Hollingworth, an hourly worker at a fast-food restaurant, says she didn't have the option to miss time from work. As she recalls the meeting, the principal and counselor had his transcript in hand and papers for her to transfer him out.
She signed them, and walked away from the school crying. "It was like I failed," she says. Ironically, Larry now attends Penn Elementary School, housed in the same building with KIPP Ascend.
Goble says she wasn't in the meetings with Hollingworth, but, according to the paperwork she has seen, Larry's mother decided on her own to remove her son. She says staff often suggest to parents that they sit through a school day with their child, especially if he or she is having problems complying with the rules.
"But it is just a suggestion, not mandatory," Goble says. She would like to see Larry re-enroll and, when she sees him on the playground, tells him to talk to his mother about it.
It is clear that Larry has gotten the message that his behavior was unacceptable. One day last spring, Larry sat quietly, listening to his mother talk about her disappointment and her feeling that he wasted his chance at a good education.
Eventually he speaks up, saying that he was not used to the strict environment at KIPP and felt like he was being "picked on" by students and teachers. But he says he's learned his lesson and would like to go back to KIPP.
"I am trying to do better," Larry says.
Shown the door
Only 16 percent of students expelled from charter schools are sent to an alternative school, where students from traditional Chicago public schools are sent upon expulsion. The rest of the students kicked out of charters are sent to regular neighborhood schools. The reason? Charter school discipline codes are tougher than the districts, and many of the offenses that get students expelled from charter schools aren't severe enough to warrant expulsion from CPS.
Type of school All students Expelled students Expulsion rate (per 1,000) Traditional 378,943 531 1.4
Charter 29,012 145 5
The story of Maria Soto and her sons, Darnell and Yentl Grigler, illustrates what can happen when students run up against rules that are, by design, tougher than those in traditional schools.
Soto thought the University of Chicago's charter high school in Woodlawn was the answer to her prayers. Her oldest son, Yentl, has epilepsy and she didn't want to send him to a neighborhood school—and the University of Chicago name was synonymous with good education.
But Soto says her boys ran into trouble with neighborhood children who were jealous of the laptops the charter school students received. Soto says she and other parents complained to school officials and said that they needed to have security out after school. But she says officials told her that once the students left the school, they were on their own.
"Our kids were easy prey because they were naive," Soto says.
Darnell and Yentl admit that eventually, they started fighting back. Once they got caught up in a snowball fight that escalated into a brawl. In a more serious incident, Yentl was threatened with an expulsion hearing—it would have been his second at the school—after an off-duty police officer working as a security guard at the school accused him of having a gun. Yentl denies it.
Linda Wing, director of schools and community engagement at the University of Chicago Charter Schools, declined to give details about the case but said that "the Griglers elected to transfer when the student discipline policy was invoked with respect to their actions."
Wing explains that the charter network adopted its own discipline code in 2007 after parents told administrators that they wanted a stricter environment.
"Our parents were concerned that the standards reflected in the CPS Student Code of Conduct were tolerant of behaviors that they did not consider to be conducive to safety, respect, peace, teaching and learning," Wing says.
Some offenses, like battery to a staff member or volunteer, automatically result in an expulsion hearing at the U of C charter schools—but not at a CPS school.
Wing stresses that the U of C charters do not regularly force students out. The transfer rate is about 3 percent, she says, and in some years it is exaggerated by the departure of students who have earned enough credits to graduate early from a traditional Chicago public school. (State data shows that in 2009, 12 percent of students transfered out of the University of Chicago Charter Schools). The U of C charter network requires more credits for graduation.
Wing says the charter expelled seven students last year, two of whom wouldn't have been expelled if they had gone through the school's restorative justice program.
Soto enrolled both young men at Hyde Park High. Darnell just started his junior year there.Yentl only lasted three weeks. Soto says she pulled Yentl out after he had a seizure and she didn't get an immediate call from the school. She enrolled him in GED classes at Kennedy King College. But he has yet to pass the GED exam.
"Now that I know how hard the GED is, I wish I would have never left," says Yentl, a soft-spoken young man. "I should have just done my work and ignored everything else.
