Peter Cunningham takes to the road for Arne Duncan... NCTE Waxes Enthusiastic Over Duncan Media Handler Appearance at Convention
Susan Ohanian - October 29, 2010
Some of us National Council of Teachers of English (NCTE) stalwarts have agitated long and hard for NCTE to make a statement:
against the LEARN Act
against Common Core Standards and the tests that travel with them
FOR federal investment in school libraries and professional librarians
FOR a concerted move against poverty
And here's what we get — an invitation to hear from US Department of Education Representative/Presenter: Peter Cunningham, Asst. Secretary for Communications and Outreach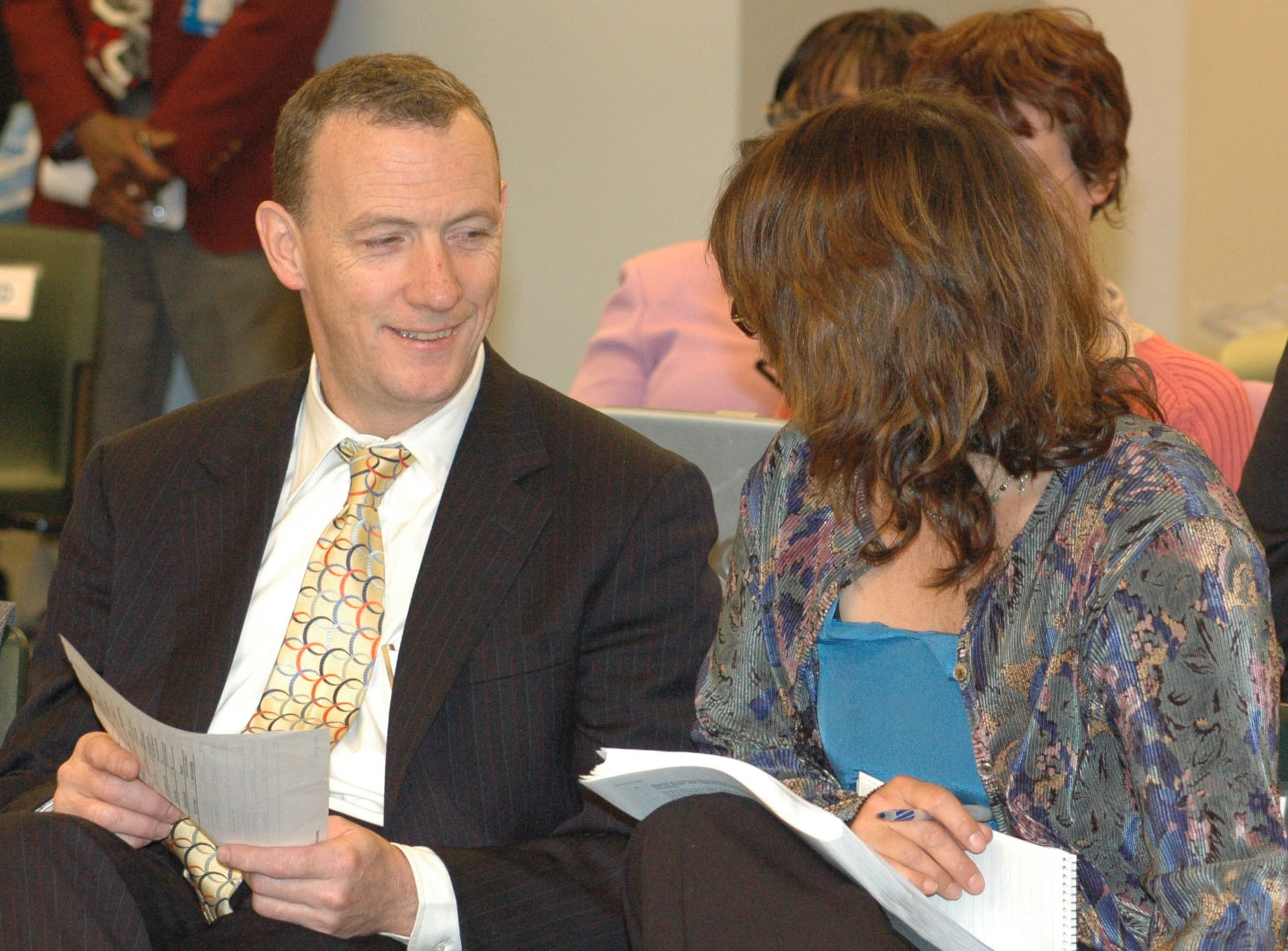 Peter Cunningham (above, during the April 25, 2007 meeting of the Chicago Board of Education) served as Arne Duncan's propaganda chief in Chicago until Duncan was appointed U.S. Secretary of Education by President Barack Obama in January 2009. Since then, Cunningham has performed the same duties for Duncan in Washington. Substance photo by George N. Schmidt.Oh my. Cunningham is Arne Duncan's media handler from his Chicago days. Look for him to do what he did when Richard Rothstein offered sharp criticism on a radio program, KCRW "To the Point," as reported by Caroline Grannan.
http://www.substancenews.net/articles.php?page=1134
When Rothstein pointed to the damage done by an overreliance on standardized testing, Cunningham concurred.
When Rothstein said that Race to the Top is "accentuating the harm that NCLB did," Cunningham agreed, "Absolutely that's a very real issue."
When Rothstein pointed out that "charter schools on average don't have better student performance than regular public schools," Cunningham responded, "We 100% agree that many of them are not good."
As George Schmidt, Substance Editor and longtime English teacher has documented, "Cunningham was overseer of the Chicago Board of Education's media relations during the years (2001- 2008) Duncan served as 'Chief Executive Officer' of Chicago's public schools. Cunningham had final approval over all of Duncan's public speeches and usually rehearsed Duncan in talking points when a subject was more complex than a few simple sound bites. He is now in charge of public relations for the U.S. Department of Education, including the 'rebranding' of No Child Left Behind and the marketing of "Race to the Top."
http://www.substancenews.net/articles.php?page=902&section=Article
Monty Neill has made the point that Arne Duncan is deliberately vague in his speeches, not to mask a lack of knowledge of the issues but to mask what the Department of Education is really doing behind the scenes. Watch for this "agreeable vagueness" in Orlando, English teachers.
http://www.substancenews.net/articles.php?page=902&section=Article
While the corporate press continues to ignore the Duncan/Cunningham lies, blacking out the critics and simply repeating the claims without verifying anything, we can hope that teachers won't be snowed by the appearance of the genial DOE representative who seems to agree with so much of what worries them.
Announcement
from: Kent Williamson, NCTE Executive Director
Subject: Bulk Mail: Speak to US Department of Education staff during the NCTE Annual Convention! [emphasis in original]
To: Susan Ohanian (bulk mail)
Don't miss this important opportunity to speak to and hear from US Department of Education staff during the NCTE Annual Convention!
Federal policy on literacy education continues to evolve and change. For the first time at an NCTE convention, registrants will have the opportunity to hear from and share views with a senior Department of Education representative and literacy educators serving as Teacher Ambassador Fellows within the Department during an open meeting on Saturday afternoon.
On the eve of a critical Congressional session where it is likely that the Elementary and Secondary Education Act will be considered for reauthorization and many other issues critical to NCTE members will be addressed, this is a timely opportunity to learn more and make your views known. Here is the session information—I really hope you can participate!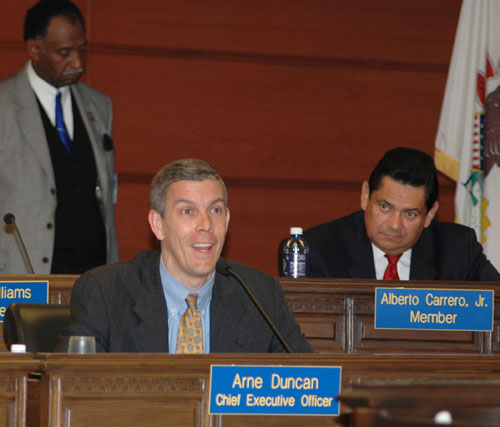 In April 2006, Arne Duncan was still serving as "Chief Executive Officer" of Chicago's public schools, despite the fact that he had no experience in public education and had never taught a day in his life. Duncan's ability to speak publicly on the issues was aided by Peter Cunningham, who often rehearsed Duncan on his talking points before media appearances and major public events. Substance photo by George N. Schmidt. Update on Literacy Education Policy with the US Department of Education Open Meeting: 1:15 – 2:30 pm, Saturday, November 20 Coronado Ballroom
USDoE Representative/Presenter: Peter Cunningham, Asst. Secretary for Communications and Outreach Moderator: Leila Christenbury, Virginia Commonwealth University, Richmond, VA
Sincerely, Kent Williamson, Executive Director National Council of Teachers of English
