Chicago Teachers Union leads Daley Plaza rally
George N. Schmidt - September 22, 2010
Hundreds of Chicago teachers, parents, students, and community leaders organized by the Chicago Teachers Union rallied in Chicago's downtown Daley Plaza across from City Hall after school on Tuesday, September 21, 2010. The rally, which had been called by the Chicago Teachers Union, highlighted once again the inequities in public school policies in Chicago and described the impact of teacher firings on the schools.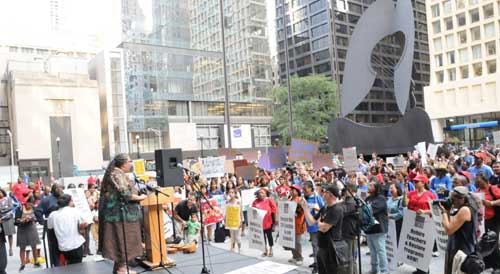 In the shadow of the iconic Picasso sculpture in Chicago's Daley Plaza, Chicago Teachers Union President Karen Lewis (at podium) addresses the crowd of nearly 500 people who assembled for the CTU rally on September 21, 2010. Substance photo by George N. Schmidt.The speakers at the rally included Chicago Teachers Union President Karen Lewis, and each of the union's officers. Lewis and her three colleagues (Vice President Jesse Sharkey, Recording Secretary Michael Brunson, and Financial Secretary Kristine Mayle) had been elected in an upset unseating the incumbent Marilyn Stewart in a June 11 runoff for the leadership of the 31,000-member union.
The union leaders were joined by people organized and brought to the rally by a number of groups, including the Kenwood Oakland Community Organization (KOCO) and Action Now! Students from several schools, including Social Justice High School and Julian High School, also took part in the rally.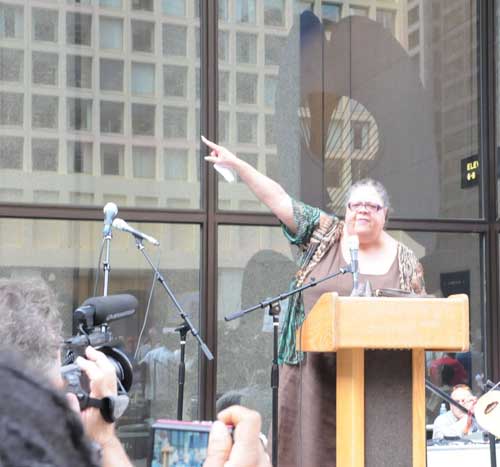 The crowd roared its approval when Karen Lewis pointed west to Chicago's City Hall and told them it was time to replace mayoral control with an elected school board. Substance photo by George N. Schmidt.The crowd began gathering before the scheduled 4 P.M. starting time, and was brought to an enthusiastic pitch following introductions by Recording Secretary Michael Lewis and rap music. By the height of the event, observers, including this reporters, estimated the size of the crowd at between 400 and 500 people, filling the space between the Picasso statue and the Cook County building.
In addition to the union officers who spoke, the crowd heard from Dorothy Brown, Clerk of the Cook County Circuit Court. Brown had previously supported Karen Lewis and the leaders of the union when they were protesting against school closings in the winters of 2009 and 2010. She told the crowd that public education needed to be strengthened not privatized.