'Nothing's colder than dead clout...' (classic Chicago political reminder)... Who's Ron Huberman's clout now that Richard M. Daley is dethroning himself?
George N. Schmidt - September 07, 2010
The abrupt announcement by Chicago Mayor Richard M. Daley that he was not going to run for re-election next year caught even sophisticated observers by surprise. But by the end of the afternoon on September 7, 2010, both the Associated Press and Crain's Chicago Business had confirmed the story and were running with it, while the rest of Chicago's corporate media was scrambling to catch up with one of the biggest political stories in American politics today.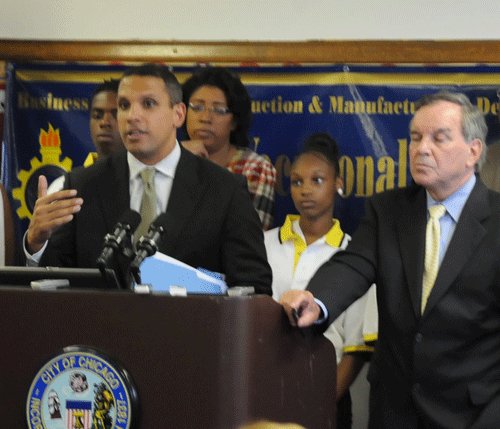 While Chicago schools Chief Executive Officer Ron Huberman read from his platitudinous script, Chicago Mayor Richard M. Daley had showed his interest in Huberman's words to the press as the two announced that Chicago high school test scores had gone "up" again. It all took place during a media event on July 27, 2010, at Chicago Vocational ("Career Academy") High School. Substance photo by George N. Schmidt. "There's nothing colder than dead clout," is a saying I first heard from friends who were born and raised in Chicago's 11th Ward, original home of the Daleys before they moved to more trendy environs, in relation to school politics when Ruth Love was trying to hold on to her job as Chicago schools superintendent in 1983 after a vote of the Board of Education made it clear to her that her time had run out (and her ear for political nuance turned out to be dead).
And "dead clout" may have finally caught up with Ron Huberman, whose latest job has been "Chief Executive Officer" of Chicago's public schools system. What happens next remains to be seen.
Dwarfed within the Daley story was another story, one that would have an immediate impact on the city's public school system. Chicago Public Schools currently has more than 410,000 students, at approximately 680 schools (nobody can give an exact number because of the proliferation of small schools and charter school "campuses" under Daley) with, according to the latest official statements, more than 40,000 full-time workers (and by this reporter's estimate, another 8,000 to 10,000 part-timers and consultants).
Will Daley's clout extend beyond Daley's regime?
And will that clout — the clout that put a controversial "ex-cop" with an inflated reputation for wizardry with numbers in charge of the nation's third largest school system — last for Ron Huberman? One year after an almost ridiculous bit of hagiography ran off the cover page of Chicago magazine praising Huberman (and replete with so many inaccuracies that even critics were nonplussed), has the Huberman era in Chicago politics finally run out?
Only time will tell, but the scramble for position in the post-Daley era will begin immediately now that Daley has officially become a lame duck. One of the biggest questions to ponder is whether that lame duck status will extend to some of Daley's most famous and powerful proteges — foremost among whom is Ron Huberman.
Substance would like to begin a thread of comments to this. Please give your name, of it you are not using your name, be sure that you give Substance your true e-mail address.