Huberman continues to fire the best teachers while talking doubletalk about teacher quality... Experience at Little Village High School just one example of the hypocrisy of the current purge of veteran teachers so Huberman can fill the ranks with 'Teach for America' and other novices
Jim Vail - August 25, 2010
The mainstream media are praising Chicago Schools Chief Ron Huberman for firing the "worst" teachers in the system. The fact is, he is continuing to terminate the best. Sunny Neater-DuBow received her layoff notice two weeks ago at the Multicultural Arts School (MAS) in Little Village. She and seven of her colleagues were layed off before the new school year, when it is estimated that more than 1,500 teachers will be terminated.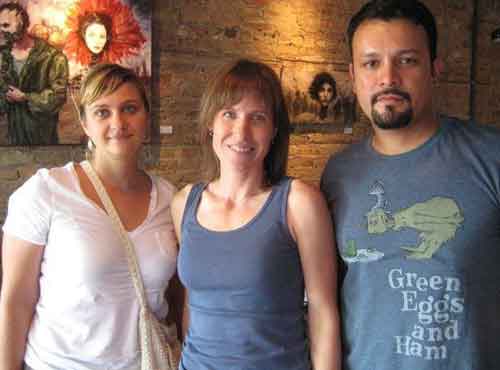 Sara White, Sunny Neater-DuBow, and Daniel Lopez are three of the hundreds of teachers who have recently been terminated by Ron Huberman. Although the terminations are done by local school principals, Huberman and his senior staff are encouraging principals to assert their powers and allowing principals to "clean house" for political reasons without regard to seniority, tenure, or teacher credentials. Substance photo by Jim Vail.Neater's accomplishments make her sound like one of those star performers the Board should be proud of. She has taught for seven years in CPS, two at MAS, and earned her tenure after completing her National Board Certification, which is the highest certification a teacher can earn in the country.
She has been recognized by outside foundations who have awarded her education grants and was tapped to sit on the education advisory committee at the Museum of Contemporary Art. Her focus was on community based art projects "honoring the voices of each of our own students" and collaborated with the School of the Art Institute, where her students have art shows.
Neater's sudden termination comes after Huberman's decision a couple of months ago to fire more than 30 CPS mentor teachers, many of whom were also National Board certified and received the highest evaluation ratings.
"I just felt devastated," Neater told Substancenews, adding that she is the sole breadwinner for her family.
So when the Chicago Tribune and Sun Times write to applaud Huberman's decision to fire unsatisfactory teachers (when only 26 of the 426 recent layoffs were rated "unsatisfactory") without due process, it appears this corporate-backed media is justifying the massive teacher layoffs which could be averted.
Last week's budget hearings, which took place between August 17 and August 19, presented lots of testimony of other sources of revenue, such as Daley's TIF funds, almost $700 million sitting idle and unbeknownst to Chicago taxpayers until recently, a reserve fund, which Board president Mary Richardson-Lowry said she is against raiding, as well as questionable expenditures, such as increasing the area offices by $57 million and building a new Jones High School for $125 million during this financial crisis that is mandating cutting teachers and increasing class sizes.
They scream they want the best teachers for the city's children, then turn around and fire them.
"I feel what we're hearing is unsatisfactory teachers being layed off, so the public welcomes getting rid of these burned out teachers," Daniel Lopez, another recently layed-off MAS teacher, told Substancenews. "But everyone layed off at MAS is not that teacher."
The question then appears - if the new federal teachers job bill was passed that will provide roughly $100 million to save teachers' jobs in Chicago, why are teachers continuing to be terminated?
A closer look at Neater and Lopez's situation in Little Village may explain why.
The Multicultural Arts School is one of Little Village High School's four campuses that were built after Latino parents and other community activists staged a hunger strike to force the Board of Education to build another high school in an overcrowded southwest section of the city.
The school was considered a new school under the Renaissance Plan to open 100 new schools, Mayor Daley's privatization plan to close public schools and open charter or "turnaround" public schools in which the entire school staff are fired.
Little Village High School became a "performance" school in which the faculty continued to be represented by the Chicago Teachers Union.
The idea of four campuses - Infinity, World Languages, Social Justice and the Multicultural School of Arts — was part of the "small schools" concept first championed by multi-billionaire Bill Gates, who has since declared the idea a failure and is focusing on using tests to evaluate teachers and promote more non-unionized charter schools.
According to Lopez, the first two years at MAS were "magical, everybody was into it and there was a lot of chemistry."
But after the initial euphoria, things started to go downhill.
"There were growing pains in the beginning," said Lopez, a 33-year-old English teacher who has taught at MAS since the school opened. "Then it became very political. There were tensions between the African Americans and Latinos. In the aldermanic race they were saying this is a school just for Latinos. The heavy focus was on bi-lingual, and then they threw the core mission out the window. I think they were saying let it fail, and then we'll take it back."
The Board of Education's idea of "taking back" a school is by installing principals into schools who will implement the corporate agenda from 125 S. Clark Street — tie test scores to teacher evaluations, focus on standardized testing, fire teachers.
In fact, Mayor Daley has openly wondered in public how much easier his job would be running the city schools if there were no local school councils (LSCs), a democratic form of school governance, to deal with.
So that is where Neater and Lopez and other top notch teachers at the Little Village school became collatoral damage — an advisory local school council that forced the school to hire a principal from outside the school community and outside the concept of what the school originally stood for.
Bcause MAS was built and opened under the Renaissance plan, rather than having a regular LSC like all public schools, MAS has an Advisory LSC, which just makes recommendations, rather than wielding more powers a regular LSC has, such as approving the budget, Lopez said.
After Jose Rico, the principal who hired Neater and Lopez, left for Washington D.C. to serve as deputy director of Excellence in Latino Education, the search for his replacement began in the ALSC and a principal selection committee began with input from the teachers.
But suddenly this democratic approach to select a new principal stopped, and the teachers and parents were forced to quickly select a new principal or the Board would appoint one.
It came down to Politics 101 — the president of the LSC wanted to hire her friend, Patty Gonzalez, an elementary school principal none of the teachers heard of, Lopez said.
The members of the LSC, some of whom are parents, wanted to hire Gonzalez. Many teachers think that Gonzalez had a friendship with the head of the LSC before she got hired, Neater said.
The teachers were against Gonzalez being hired because her experience was working in an elementary school, and she was to lead a high school, Lopez said.
Whatever plans Gonzalez had for the school when she started last year were not communicated to the staff. She told her administration everyone would keep their jobs, then gradually fired everyone, before turning her eyes on the teachers, Lopez and Neater said.
The Professional Problems Committee, where the teachers' union delegate chairs a meeting with the principal about school problems, was shut down, with Gonzalez arguing that the problems the teachers mentioned were not contractural issues, Lopez said.
Gonzalez performed so poorly her first year that the ALAC representing the community rated her unsatisfactory, Lopez said.
Senior Ditch Day is the example Lopez used to illustrate how ineffective the new principal was. Lopez said Gonzalez would tell the students the story that she never graduated from high school to inspire the kids.
But what she termed her "no-nonsense" discipline approach turned against her when she cracked down on all the students who stayed away from school on the traditional Senior Ditch Day.
"The way she reacted she alienated the parents and students," Lopez said. "This was supposed to be a celebratory time, in which the kids were getting ready for prom. But she never graduated from high school, so she didn't even understand this tradition."
She targeted exemplary teachers, such as Neater and Lopez who were rated among the best at the school, suddenly rating them "satisfactory."
Gonzalez told Neater that she was not involved in the community, and when Neater told her her assessment was wrong because she has been focused on the community, the principal told her she could respond in writing, and then did nothing, Neater said.
First, two Probationary Assigned Teachers (PATs) who were not tenured at the school received termination letters from the principal, Neater said.
Then the tenured teachers were next, eventually leading to a total of eight teachers being dismissed.
Neater said she received a voicemail from Gonzalez saying her position was "redefined due to budgetary constraints" and later received a letter from the Board of Education.
But earlier this summer Neater said she saw her position posted online, with a twist, the school was looking for a new art teacher with a dance endorsement.
Lopez, who was the head of the English department, was similarly dismissed when his position suddenly demanded a bi-lingual endorsement.
"She obviously worked with the Board and was closely mentored by someone at the Board," Lopez said.
Sara White, another MAS social studies teacher, said that she was also "honorably dismissed" due to a "program reduction."
All three teachers were tenured.
In other words, Gonzalez appeared to be merely implementing the wishes of the Board of Ed, which is to target higher paid tenured teachers, despite how effective they may be in the classroom, and hire lower cost new teachers.
The Board of Ed plans to hire 200 Teach for America teachers who are fresh out of college, despite the Chicago Teachers Union demanding that all layed-off teachers be called back to their jobs after the funding has been restored, the CTU reported.
Hiring cheaper labor makes sense to the business people who run the schools, but not to the children whose lives were touched by these outstanding teachers abruptly cut out of their lives.
"We were honorably dismissed," Neater said, "which means we are not eligible for the reassignment pool or even cadre (substitute teaching) and in 30 days I will have no benefits. My husband has been out of work for 10 months and I have a one year old at home and mortgage payments." 