SUBSCRIPT: Giannoulias among major supporters of controversial Chicago charter school... Urban Prep's celebrity supporters to do another
George N. Schmidt - August 23, 2010
Illinois State Treasurer Alexi Giannoulias (candidate for Senate) and a handful of other celebrities will be helping raise additional cash for Chicago's controversial Urban Prep charter schools. According to the most recent issue of the CPS New Schools Newsletter, Urban Prep, the Chicago charter school whose test scores are below the district average but which managed to get national publicity because they make all of their soon-to-graduate seniors apply to colleges that have virtually open admissions (thereby they can report that all of their "graduates" have been accepted to college) is gong to benefit from another celebrity poker game.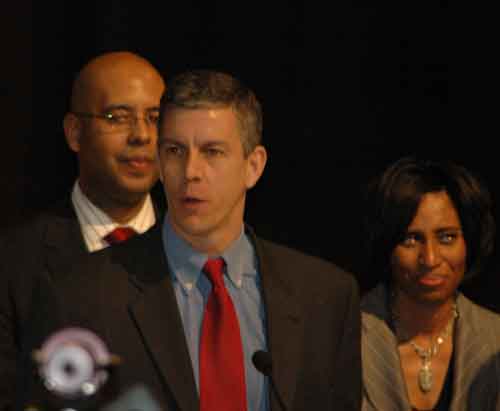 Urban Prep's Tim King (above left) was part of the show when Arne Duncan hosted a media event announcing RFPs for more charter schools at Urban Prep on April 7, 2008. By the same time the following year, Duncan was U.S. Secretary of Education and pushing Chicago's charter schools hoax as part of the nation's policy on schools. Substance photo by George N. Schmidt.Here is the report from Chicago's Office of New Schools:
"Get your poker face ready for the 4th Annual Aces UP! Celebrity Charity Poker Tournament & Reception, a benefit for Urban Prep Academies.
"Aces UP! 2010 will be hosted by Illinois State Treasurer Alexi Giannoulias, Urban Prep Founder & CEO Tim King, Chicago Sun-Times columnist & TV/Radio personality Richard Roeper, and College Football Hall of Famer & former Chicago Bear Chris Zorich. This year's event will be held on Friday, August 27th at The River East Art Center (435 E. Illinois Street in Chicago). Doors open and the reception begins at 5pm; the tournament follows at 6:30pm.
To register for the event or for more information, please visit www.acesuptourney.com."