Chicago Teachers Union Delegates Unanimously Reject Concessions at Special Meeting on August 11
Jim Vail - August 11, 2010
Chicago Teachers Union delegates voted unanimously to reject the Board of Education's demands that the teachers give up nearly $100 million — in salary adjustments and other concessions (such as furlough days) — at a special delegates meeting on Wednesday, August 11. More than 500 delegates and other union members filled the auditorium at the Local 399 Operating Engineers union hall for the two hour meeting.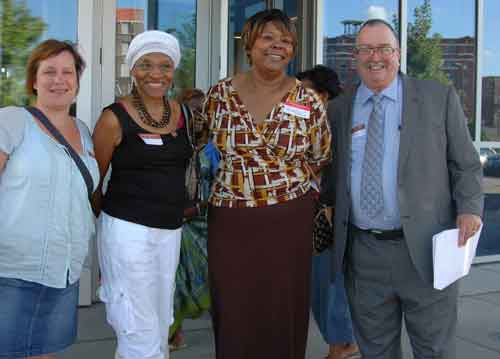 Four of the delegates following the August 11, 2010, meeting outside the meeting. Left to right: Wendy Boatman (Seen High School), Barbara Baker (retired teachers), Antoinette Barnes (displaced teachers), and George N. Schmidt (retired teachers). Substance photo by Sharon Schmidt.Discussion continued for more than a half hour following a report about the two negotiating sessions with CPS representatives and CPS attorneys given by new CTU President Karen Lewis. Lewis was joined in her reporting by various members of the rank-and-file bargaining team that had been established immediately after the new CTU administration took office July 1. Instead of negotiating in secret, Lewis reported, the CTU officers and attorneys bring 35 rank-and-file union members to each of the sessions. The sessions took place on July 23 and July 30, with the Board team demanding concessions and the union refusing to budge.
The three rank-and-file bargaining team speakers who reported to the House were Gloria Higgins (PSRP), Mary Edmonds (delegate, McDade elementary), and Lisa Dimberg (delegate, Carpenter elementary). All told how arrogant the Board's team acted.
Following the report, speaker after speaker voiced their vehement opposition to any concessions, which many said, including the newly elected Chicago Teachers Union leadership, will not guarantee saving teacher jobs. Since the beginning of summer, Chicago school officials have been firing and laying off veteran teachers and others across the city, following the claim, since proven false, that CPS was facing an unprecedented "deficit."
"If you give up concessions, will that stop the layoffs," asked newly elected CTU President Karen Lewis, who presided over her first House of Delegates meeting.
Almost 400 delegates quickly answered a thundering: "NO!"
"Once they ask for a nickel, they'll ask for a dollar," said the delegate from Burnside Elementary School, who added she was very impressed with the work of the CTU bargaining team that has brought an unprecedented number of CTU members to the negotiations.
President Lewis said the Board's lawyers, asking for concessions, showed a list of what other unions across the city have given up.
"I was a little offended because I don't care what others have done," Lewis said. "I did not back down."
Cheers and loud applause erupted numerous times during the meeting that voted to unanimously reject the options proposed by the Board of Ed on July 23, 2010, which included giving up the teacher's 4% raise over the last two years of the contract, as well as eliminating nine paid holidays, pension pick-up, and step or lane advancements on the salary schedules after June 30 and eliminating all increments and stipends.
The Resolution read in part that the Board of Ed currently has a five-year agreement with the CTU members, who if they accept concessions will harm the quality of the students' education, undermine the very principal of collective bargaining agreements, while the Board's budgets for the current fiscal year do not address TIF funds and ignore federal, state and local monies available for public education and will not stop layoffs.
Several delegates said that any concessions given now will certainly necesitate more concessions later.
Lewis noted that the Board asked for $240 million in concessions in February, but now are asking for about $100 million.
"Logically, none of this makes sense," Lewis said.
Unlike delegates meetings in the past, this one certainly had the ring of democracy in the air. Almost every teacher or other school worker who took the floor was allowed to speak their mind about how upset they are with the current Board leadership.
Whereas former president Marilyn Stewart would quickly close debate and wisk away microphones — perhaps because she followed policies from above that were detrimental to the teaching profession -such as not protesting privatization or supporting the TAP program that ties teacher's pay to standardized tests — current president Lewis listened intently to a seeminly endless barage of criticism against making any concessions.
Kurt Hilgendorf, a recently displaced teacher (Hope High School) who has been actively studying the budget, told the delegates that the Board has roughly $400 million in reserves, broken into three parts - 1) $190 million in a general reserve fund, 2) $50.4 million in a worker's comp and tort fund and 3) $164.1 million in a debt service risk fund.
Danielle Ciesielski, a delegate at Robeson High School who also studies the budget, said there was a press conference at Robeson earlier in the day. The media event, which featured Mayor Richard M. Daley, Senator Dick Durbin, and Board of Education President Mary Richardson Lowry, was about the recently passed $26 billion federal education bill that will save 100,000 teacher jobs across the country. According to Ciesielski, Lowry told the media that the Board will use the money to save "programs" — rather than hire back teachers as Sen. Durbin said. Ciesielski noted that the Robeson High School administration had dismissed students before Mayor Daley arrived at the school for the noon event. Robeson is a "Track E" school, which began classes Monday, August 9.
CTU Vice President Jesse Sharkey said he wanted to speak up for the teachers being layed off by saying it's "unacceptable" for the teachers to take the blame for the layoffs, as the corporate media is currently portraying the situation by asking the union constantly if the teachers will take salary cuts to avoid layoffs. Sharkey took the floor to speak from a microphone during the discussion, rather than speaking from the podium at the front of the hall.
Sharkey noted the Board is currently planning to spend $125 million to build a new Jones High School (a few blocks from Walter Payton College Prep High School), even though the current Jones (at 606 S. State St.) has just benefits from hundreds of millions of dollars in rehabilitation and land acquisition. Sharkey also noted that new TIF districts are being created that take money from the schools.
"It's clear what their priorities are," Sharkey said. "If we give up, it will only lead to more cuts."
The delegates meeting was highly charged politically, unlike any delegates meeting in the past five years.
"I think it may be Daley's last chance to bust the union," said Taft High School delegate Sam Duarte. "If we give them one penny, we cease to exist."
Former CTU president and Gage Park special education teacher Debbie Lynch, who supported CORE in their run-off election that defeated the UPC machine, told the delegates that every teacher in her building agreed — No Concessions!
One delegate mentioned that the Board owes the teachers snow days; another said teachers are only paid for one week during the two week Christmas vacation; and another delegate said if they want teachers to take furlough days, then teachers should be paid hourly, which means being compensated for lots of overtime work writing up IEPs and other professional meetings. When President Lewis asked how many of the delegates spent their own money to buy teaching supplies for the children we teach, the majority of hands were raised.
The feeling of comraderie in standing firm against any concessions, gave way to a brief emotional moment after one National Board Certified teacher, Sara White, from Little Village High School, broke down in tears saying she and her National Board certified colleague Sunny Neater were just terminated and have three weeks before losing all their benefits.
They both noted that job postings for their positions were later seen online.
In a touch of political acumen, Lewis told the two that they will always have a place in this union, and then quickly referred them to Lynn Cherkasky-Davis, head of the CTU Quest Center, who formerly worked with Stewart.
Lewis certainly made good on her promise to the corporate media to let the teachers decide if the teachers union should make any concessions.
"The House of Delegates, that's my boss," Lewis said to loud applause. "I'm just the messenger." 