Chicago Teachers Pension Fund sues Chicago Public Schools for $40 million
Jim Vail - July 21, 2010
The Chicago Teachers Pension Fund (CTPF) filed a lawsuit on July 8, 2010, against the Chicago Board of Education seeking $40 million that it claims is owed to the teachers' pension fund. The lawsuit marks the latest confrontation between the CTPF and the Board of Education that has resulted in a legal dispute. An ongoing problem with CPS providing the CTPF with accurate information on current retirees has been on the agenda since 2007, when CPS changed its computer systems for keeping track of personnel information.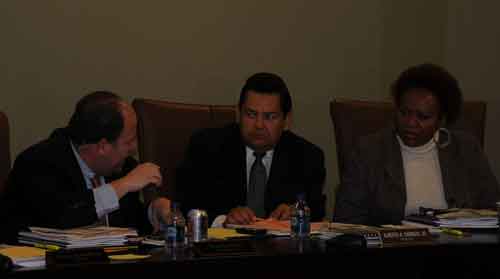 Chicago Teachers Pension Fund (CTPF) executive director Kevin Huber (left) discussing pension issues with Board representative Alberto Carrero (center) and teacher trustee Lois Ashford (right) during the November 2009 meeting of the Pension Trustees. The Chicago Board of Education's disputes with the pension board have been growing since 2007. Substance photo by George N. Schmidt.According to the July 8, 2010, lawsuit, the Board should have paid $393,266,000 into the Fund for 2010, but was short $40,635,883.26.
The Board of Ed notified CTPF last year that it disputed its net contribution requirement of $345,014,000, with the state paying the difference, and wrote the following letter, according to the lawsuit.
"Nothing in the language of Section 17-129(c) suggests that CTPF has the authority — after February 28, 2009 — to make an additional or amended certification to CPS (Chicago Public Schools) for fiscal year 2010. Thus CPS disagrees with your August 14 (2009) letter that "the entire $345,014,000 becomes due by June 30, 2010."
CTPF notified the Board in a letter that the net amount due for fiscal year 2010 was $358,843,883.26, but it had only received $318,208,000, and thus demanded the payment of $40,635,883.26 by July 7, 2010 which it has not received, the lawsuit says.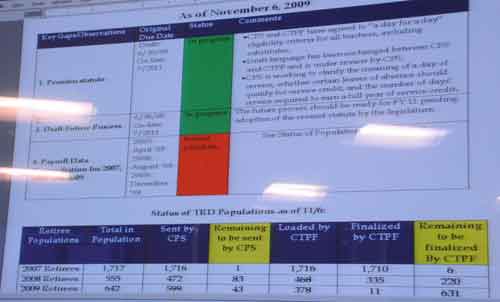 A Power Point from November 2007 shows the impact of the shoddy work CPS did when it changed its computer systems in 2007 while Robert Runcie was Chief Technology Officer. Runcie was promoted by Ron Huberman to the position of Chief Administrative Officer despite the expensive mistakes in CPS's privatized computer hardware and software systems. Substance photo from the November 2009 Pension Trustees meeting by George N. Schmidt.The Pension Fund is seeking in addition to money owed, interest on the amount plus attorneys' fees.
"The Board of Education is in violation of this legal duty under the Illinois Pension Code," the lawsuit states. 