VIDEO LINK HERE: AFT convention video by New York's Ed Notes shows how AFT leadership (Randi Weingarten) and Chicago came to agreement on school closings resolution
George N. Schmidt - July 22, 2010
A video made by New York's Norm Scott for Ed Notes has been released, showing the working agreement between New York's United Federation of Teachers and the new leadership of the Chicago Teachers Union that resulted in a very strong position on school closings being adopted by the 2010 convention of the American Federation of Teachers.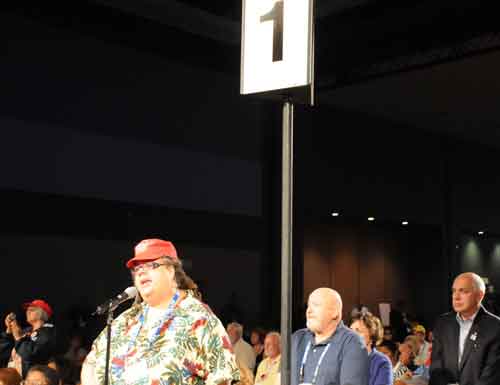 Chicago Teachers Union President Karen Lewis during the debate at the AFT convention on the resolution on school closings. The debate is now available on You Tube, thanks to Ed Notes from New York City. Substance photo by George N. Schmidt.According to Norm Scott, who covered the convention as press for Ed Notes and other New York publications:
"There is no more volatile issue than that of closing schools. It leads to disruption of students, parents and teachers who are tossed onto the scrapheap– in NYC they are known as ATRs - absentee teacher reserves as even the most experienced teachers are used as subs.
"The difference between the new Chicago Teachers Union leadership from CORE and the UFT/Unity Caucus almost came to a head at the recent AFT convention in Seattle, where the UFT initially supported a resolution that did not include much stronger language. Randi, fearing an embarrassing floor fight that might expose the fault lines in AFT/UFT policy on closing schools — they have refused to oppose them unequivocally — had Unity leaders approach the CTU and together they negotiated language the CTU would be willing to accept."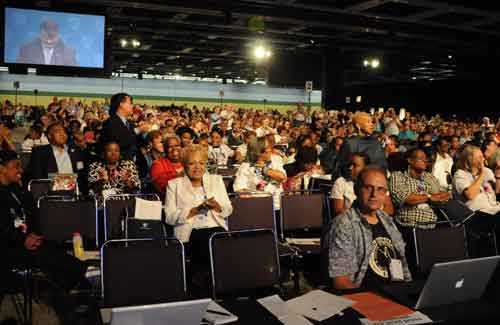 Ed Notes Editor Norm Scott (forground, right at computer) was one of the few reporters who covered the entire 2010 AFT convention. Substance photo by George N. Schmidt.The link to the video is
http://www.youtube.com/watch?v=Bhailiqr4uQ
If you can't get it through a hot link here at Substance, try to cut and paste into your browser.
AFT Convention: UFT/CTU Deal Expose Fault Lines in School Closing Policy
Norm Scott, normsco@gmail.com, norscot@aol.com