Latest U.S. Department of Education 'Reading' program will be DIBELS on Steroids
Susan Ohanian - July 19, 2010
On June 22, 2010, the US Department of Education announced the appointment of its 'Reading Institute.' I regard this as a MUST Read. Below you will find a cast of characters traveling the country for the U. S. Department of Education. You will recognize many names from their work for the Rod Paige and Margaret Spellings DOE. And now Arne Duncan pretty much offers business as usual. Maybe the conference should be called 'Dibels on Steroids.' Certainly, a distorted and starved notion of what reading is marches on, rich in funding and power.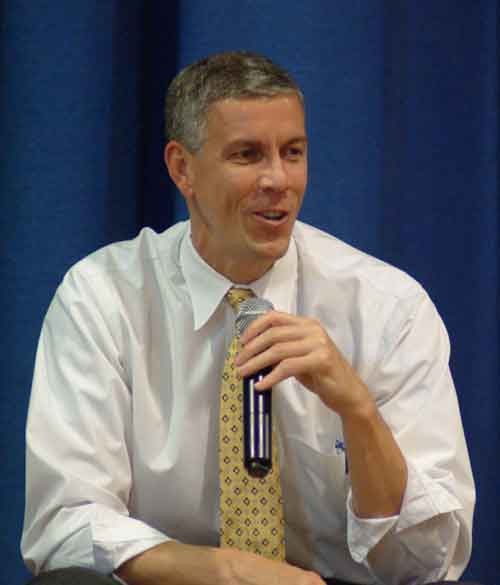 Above, U.S. Secretary of Education Arne Duncan spoke to a group at Aviation High School in Seattle Washington on July 9, 2010. Duncan's visit was picketed by teachers attending the national convention of the American Federation of Teachers (AFT), which was taking place in Seattle. Duncan, who ducked the 2008 AFT convention in Chicago because of planned protests against his privatization and union-busting policies, was not invited to the 2010 AFT convention. Substance photo by Garth Liebhaber. I'm not saying that some of these people haven't don't some good work, but the cumulative effect of reading about all this pre-school assessment and staff development done by the same small group of people is worse than chilling. They are building from the base laid down by Reading First. The topic here is reading. The same thing is happening in math. The vested interests are gearing up for the Common Core Standards — lining up the curriculum, the coaching, the assessments, and the professional development.
Read the short bios: What you don't know will destroy your profession and destroy the education of the children in your care. What you don't know will kill you.
Note who's here. Note how little experience with children is in the group. Most of all, note who's missing. The research base and the advocates for developmentally appropriate practice who are once again silenced. Maybe you should ask them why they remain silent.
You won't have to read far in the bios before you're asking, "WHO IS RMC and why are so many of their people listed here?" They provide the answer on their website:
National Reading Technical Assistance Center: Annual Reading Institute The Center, managed by RMC, is coordinating the second annual Reading Institute July 19 - 21 in Anaheim, CA. This year's theme is comprehension and will feature plenary speakers Catherine Snow, Harvard University, Michael Kamil, Stanford University, and Thelma Melendez de Santa Ana, Assistant Secretary for Elementary and Secondary Education, US Department of Education. In addition to networking and peer learning, participants will chose from workshops and presentations by more than 80 national reading researchers and experts on a range of comprehension topics, including standards and assessments, vocabulary instruction, literacy coaching, dual language learners, and early literacy.
When bios aren't provided at the DOE site, I list some information found elsewhere in red. Take Note: When the information is in black, the researcher has provided the information. This doesn't mean the "black" info is any less interesting--and any less disturbing--than what's in red. Even "the red," is mostly taken from official websites, just not the one provided by the U. S. Department of Education.
Read the program here a conference held in May: United States Department of Education Early Childhood Educator Professional Development Program Early Reading First Program NATIONAL CONFERENCE The Palmer House Hilton, Chicago, IL May 11- 12, 2010
Now, for July, we get this:
U. S. Department of Education Reading Institute Anaheim, CA July 19-21, 2010
READING INSTITUTE SESSIONS Nationally recognized researchers, evaluators, and practitioners will present both new research findings and time tested best practices that enhance scientifically based reading instruction. You are invited to explore the challenges and solutions to implementing sound reading programs with your peers and with the Nation's leading experts.
Please return to this page periodically for ongoing updates!
Presenters
PLENARY SESSION SPEAKERS
Thelma Melendez de Santa Ana Confirmed as Assistant Secretary for Elementary and Secondary Education at the Department of Education by the U.S. Senate on July 24, 2009. In this position, she plays a pivotal role in policy and management issues affecting elementary and secondary education. She directs, coordinates and recommends policy for programs designed to assist state and local education agencies with improving the achievement of elementary and secondary school students. She helps to arrange financial assistance to local education agencies whose local revenues are affected by federal activities. She also serves as the principal adviser to the U.S. secretary of education on all matters related to pre-k, elementary and secondary education. Prior to arriving at the Department, Melendez served as superintendent of the Pomona Unified School District (Calif.). Two high schools in the district were ranked in 2007 by U.S. News & World Report as among America's top 500 high schools out of 18,000 nationwide. She also designed and launched a mathematics and science magnet school and a charter school for grades 7 through 12 at-risk students. Dr. Melendez worked on district-level reform in her position as program manager at the nonprofit Stupski Foundation, where she focused on creating high-performance learning organizations to raise student achievement and close achievement gaps. Dr. Melendez earned her Ph.D. from the University of Southern California, where she was in the Rossier School of Education program specializing in language, literacy and learning.
Melendez is a member of The Broad Center for the Management of School Systems 2006 Urban Superintendents Academy
Catherine Snow: An expert on language and literacy development in children, focusing on how oral language skills are acquired and how they relate to literacy outcomes. Snow has chaired two national panels: the National Academy of Sciences committee that prepared the report "Preventing Reading Difficulties in Young Children," and the Rand Reading Study Group that prepared "Reading for Understanding: Toward an R&D Program in Reading Comprehension." Her research activities include a longitudinal study of language and literacy skills among low-income children who have been followed for 15 years since age three; following the language development of young children participating in the Early Head Start intervention; studying the vocabulary development of first- and second-language learners; and considering aspects of transfer from first to second language in the domains of language and literacy. Her book, Preparing Our Teachers: Opportunities for Better Reading Instruction, is one of several efforts she is involved in to develop consensus among teacher-educators about what pre- and in-service elementary teachers need to know about language and literacy. Snow has also written about bilingualism and its relation to language policy issues such as bilingual education in the United States and in developing nations, and about testing policy. She is currently involved in efforts to improve middle-school literacy outcomes, in partnership with other Boston area researchers and the Boston Public Schools.
Member, Common Core Standards Validation Committee.
Michael Kamil Consulting Professor, for the Psychological Studies in Education, School of Education, at Stanford University. His work is concerned with the effects of technology on literacy and its acquisition. His research determines the types of materials that are best suited for use in beginning reading instruction and the appropriate balance between applications of technology and the demands of literacy. He also conducts research with English language learners. A current study of his examines the effects of recreational reading of information text on reading achievement of ELL students. He is currently a member of the National Literacy Panel for Language Minority Children and on the Editorial Advisory Board, Journal of Educational Psychology. Dr. Kamil previously served on the RAND Reading Study Group and the National Institute of Child Health and Development National Reading Panel. Dr. Kamil earned his Ph.D. from the University of Wisconsin, Madison.
. On April 13, 2000, the National Reading Panel concluded its work and submitted the controversial and discredited "The Report of the National Reading Panel: Teaching Children to Read," at a hearing before the U.S. Senate Appropriations Committee's Subcommittee on Labor, Health and Human Services, and Education. Michael Kamil was a member of the National Reading Panel. Another NRP member, Joanne Yatvin, wrote a dissenting report.
BREAKOUT SESSION SPEAKERS NOTE: When one clicks on the bios of these speakers provided by the US Department of Education, one gets a different list of speakers. The two lists are combined here. Some of the official bios are quite long. I've indicated abridgments.
Anita Archer: Ph.D. Special Education. . . . While earning her Ph.D. in special education from the University of Washington, Dr. Archer was fortunate to work with a team ahead of its time in research-validated instructional techniques and student progress monitoring. . . .
A list of her reading products is listed at Cambrium Sopris
Amy Baker No bio provided at DOE site. Clinical Associate, Children's Institute, Rochester.
Stephen Barkley: Executive vice president of Performance Learning Systems, Inc., an educational consulting firm.
Performance Learning Systems Inc. offers products and services for educators to become more effective in the art of teaching. Online and on-site graduate courses are offered through over 20 college and university partners. Our graduate courses are included in graduate degree programs with many of our partners. Let us know if you are interested in joining a cohort. Invite your colleagues too! . . .
PLS and our wholly-owned subsidiary, 3rd Learning, have developed technology that provides teachers with lesson plans aligned with academic standards. Through our software application, EdPortal, teachers can acquire lesson plans designed by master teachers that meet specific learning standards by state, benchmark, grade level, or subject area.
Rita Bean: Professor emeritus in the Department of Instruction and Learning, received the International Reading Association (IRA) Special Service Award for distinguished service to the association.
Elizabeth Bright: Research Associate with the National Reading Technical Assistance Center and RMC Research Corporation (RMC).
Anneta Buenger: Currently serves as a Technical Assistance Provider for the National Reading Technical Assistance Center and was a project team member on the National Reading First Sustainability Project.
Shari Butler: No bio provided. Research director RMC; principal investigator of the Review of Current Literature Base on Vocabulary Instruction (2009).
See Stoking the Vocabulary Fire, Dallas, Texas, June 2-3, 2010
Kathleen Cooper: Master's Degree in Educational Administration. . . . Research Associate in the Sacramento, CA office of RMC Research Corporation (RMC), Ms. Cooper provides technical assistance services through the Reading First Technical Assistance Center to state and local educational agencies on the implementation of Reading First grants and sub-grants. Her responsibilities include supporting implementation of reading programs in alignment with scientifically based reading research, building central and site instructional leadership, using of data for instructional decision-making, and developing instructional tools to augment teacher effectiveness.
Lexie Domaradzki: Washington Reading First Director, directing the implementation of the Washington Reading First grant. . . . Joined RMC Research Corporation (RMC) as a Research Associate in 2008. She provides technical assistance on the implementation of Reading First grants to the Northwest State Cluster Team for the National Reading Technical Assistance Center (NRTAC). Her primary areas of expertise are early childhood and kindergarten through Grade 12 reading, with emphases on research-based instruction and assessment. Her responsibilities include coordinating and delivering consultation and professional development services in support of high-quality, research-based reading instructional systems and providing linkages to resources including national experts, studies, and services.
Nell Duke: Ed.D. in Language and Literacy from Harvard University. . . Promising Researcher Award from the National Council of Teachers of English. The following year she was recognized by the International Reading Association for the Outstanding Dissertation Award in 2000.
Rachael Demma No bio provided. M.A. in Policy Analysis and Evaluation from Stanford University's School of Education. Senior Policy Analyst, National Governors Assocation. Contributed to the initial five years of the Building Futures: Head Start Impact Study as a Research Associate on the Westat study team.
Christine Dwyer: Partner and Senior Vice President in RMC Research Corporation (RMC).
Susan Ebbers: Independent educational consultant and author, and a doctoral candidate at UC Berkeley. She is published by Sopris West (aka Voyager Learning and Cambium Learning) with four publications and is a Gibson-Hasbrouck Associate. Ms. Ebbers' curricular publications promote knowledge of the phonics code and knowledge of roots and affixes. Vocabulary, morphological awareness, linguistic insight, English Language Learners, interest theory and comprehension, measurement theory, she is a researcher, educational consultant, blogger, and curriculum author.
Patricia Edwards: No bio provided University of Wisconsin-Madison. President, International Reading Association
WGBH "Reading Between the Lions" Advisory Board, May 2001-2004 Reading Aloud International Advisory Board, October 2003-present.
Linda M. Espinosa: No bio provided. Retired professor of early childhood education, University of Missouri, Columbia; co-director of the National Institute for Early Education Research at Rutgers Univ., 2002 to 2003. Recent research and policy work has focused on effective curriculum and assessment practices for young children from low-income families who are dual-language learners. Co-chair of the First Five, Los Angeles County Universal Preschool Research Advisory Committee. Dr. Espinosa previously served on the Head Start National Reporting System (NRS) Technical Advisory Group. Author of From Research to Practice: Getting IT RIGHT for Children from Diverse Backgrounds. Participant,the National Academy of Sciences Research Roundtable on Head Start. Contributing author, Eager to Learn: Educating Our Preschoolers, published by the National Academies of Science.
Ann Fiala: Senior Field Analyst for RMC Research Corporation (RMC) until 2006. She developed and delivered training on beginning instruction, use of data, use of center/workshop for small group instruction, differentiated instruction and building instructional leadership teams. Clients were various states Department of Education, school districts and campuses including a training of trainers in Texas on Texas Adolescence Literature Academy for sixth thru eighth grades. She has also worked with SERTAC.
Alice Furry: Dr. Furry has 34 years of professional experience with research-based approaches to supporting and evaluating educational performance. Primary expertise: assessment development, instructional design, instructional leadership, professional development, program evaluation, research-based reading instruction, and school improvement. As a research associate and director of the Sacramento office of RMC Research Corporation (RMC), she serves as a senior technical assistance associate and as a member of the leadership team of the National Reading Technical Assistance Center (NRTAC). Prior to joining RMC Research in 2008, Dr. Furry served as the Chief Administrative Officer of the Reading Lions Center in Sacramento, California. This agency served as the nexus for the Reading First California Technical Assistance Center, which oversaw 8 Regional Technical Assistance Centers across the state; and served as the lead for the California Reading Implementation Centers, a statewide network of professional development programs for teachers, coaches, and administrators.
Question from Danielle Pazos, Literacy Mentor, CAPIC Head Start: Many schools are using Open Court as their reading program, funded by Early Reading First. I'm concerned that this program is too phonics based, and only skims fostering long term language/literacy goals. Any feed back? Is the program supposed to look skill and drill or am I missing some component of it? thanks!
Reid Lyon: Hi Danielle:
If any program is too much this or too much that, the teacher must be able to identify where the gaps are and fill them with the appropriate interactions and materials. If you have a chance, contact Alice Furry in Sacramento at the Sacramento USD and have her direct you to teachers now using the program.--from Reid Lyon's Live Chat.
Irene Gaskins . . . As a research assistant she tracked the characteristics and progress of struggling readers in Pennsylvania's dyslexia study. This experience piqued her interest in why some bright children have great difficulty learning to read. Sparked by her interest in children who have profound difficulties in learning to read, Ms. Gaskins founded Benchmark School in Media, Pennsylvania in 1970.
Ms. Gaskins has worked on such significant problems as designing word recognition instruction that works for students who previously made little progress in this area, improving reading performance by increasing students' awareness and control of cognitive styles and other personal factors, and designing programs that teach strategies for understanding and learning from texts.
Ann Fiala: Senior Field Analyst for RMC Research Corporation (RMC) until 2006. She developed and delivered training on beginning instruction, use of data, use of center/workshop for small group instruction, differentiated instruction and building instructional leadership teams. Clients were various states Department of Education, school districts and campuses including a training of trainers in Texas on Texas Adolescence Literature Academy for sixth thru eighth grades. She has also worked with SERTAC.
Nina Gonzales: Research Associate/Technical Assistance Provider with RMC Research Corporation and the Reading First Technical Assistance Center. Here she provides tailored professional development and customized technical assistance nationally in an effort to improve student reading achievement. Daily she is reading, analyzing, disseminating, and interpreting scientifically valid research to improve the field of education.
Margo Gottlieb: No bio provided. Director, Assessment & Evaluation, Illinois Resource Center and Lead Developer, World-Class Instructional Design and Assessment (WIDA) Consortium
"The old tests weren't anchored in standards," said Margo Gottlieb, the developer for a consortium of nine states and the District of Columbia led by the Wisconsin education department that has created an English-proficiency test. "They had very low ceilings that weren't rigorous. We had no idea if a child shown to be proficient in English would succeed in math or science.". . . The consortium that Ms. Gottlieb is working with has devised a separate version of its test just for kindergartners that will be given individually. The test is expected to take about an hour if the child knows enough English to stay with it until the end. --Education Week,Nov. 17, 2004
Trudy Hensley Provides professional development and technical assistance for the National Reading Technical Assistance Center (NRTAC) located at RMC Research Corporation (RMC). In addition to her role with the NRTAC, she is the director of the Tampa, Florida office of RMC.
Tina Herrington: ...Previously served as a technical assistance provider for the Central Regional Reading First Technical Assistance Center. In that role she developed customized professional development based on the needs of individual state Reading First program offices. Prior to her work at RMC, she served as a district administrator, a role in which she oversaw the use of both federal and state funds. She has authored, administered, and evaluated various federal programs and grants and worked closely with business managers and state agencies to comply with grant guidelines. At the Sealy Independent School District, she was responsible for management and oversight of a Reading First grant among others.
While at the university, Ms. Herrington was instrumental in the development of new curricula for reading methods courses to better correlate the teacher preparation program with Texas state standards. . .
Elfrieda Hiebert Adjunct Professor in the Graduate School of Education at the University of California, Berkeley. Her interests lie in how fluency, vocabulary, and knowledge can be fostered through appropriate texts. She has authored or edited nine books, the most recent of which is Finding the Right Texts for Beginning and Struggling Readers: Research-Based Solutions (Guilford Press; with M. Sailors). Through documents such as Becoming a Nation of Readers (Center for the Study of Reading, 1985) and Every Child a Reader (Center for the Improvement of Early Reading Achievement, 1999), she has contributed to making research accessible to educators. She is also a member of the Reading Hall of Fame.
Marla R. Hunt: . . .currently a Research Associate/Technical Assistance Provider with RMC Research Corporation (RMC) and the National Reading Technical Assistance Center (NRTAC). Here she provides tailored professional development and customized technical assistance nationally in an effort to improve student reading achievement. . . .
Sandra Jones: Hill Program Coordinator, Associate Professor, Communication Sciences & Disorders, was a school educator for 30 years, serving as a teacher, professional development coordinator, principal, and academic dean. In addition to her responsibilities as Director of HILL for the past 9 years, Dr. Jones is an Associate Professor in the Department of Communication Sciences and Disorders. . . .Professional Development Coordinator for the Department of Elementary and Secondary Educations Massachusetts Reading First Plan for six years. She was also a member of the Massachusetts Reading Leadership Team and the Statewide Adolescent Task Force and has provided professional development to New York, Arkansas and New Hampshire Reading First literacy leaders.
Kelly Hunter: No bio provided Director of Professional Development, Children's Literacy Initiative. Masters in Reading/Writing/Literacy with a Reading Specialist Certification, 2002. Ph.D. in progress.
Janice Im: No bio provided Senior Program Manager, Zero to Three: National Center for Infants, Toddlers and Families.
Janette Klingner: Professor of bilingual multicultural special education in the Department of Educational Equity and Cultural Diversity at the University of Colorado at Boulder. . . Currently is a co-Principal Investigator on two research projects funded by the Institute of Education Sciences, U.S. Department of Education and a co-Principal Investigator for an Equity Assistance Center (Region VIII). . . .
Susan Landry: No bio provided. Pediatrics professor at the University of Texas Health Science Center at Houston, worked for Bush when he was governor of Texas. Founder and Director of the Children's Learning Institute. Dr. Landry's research into environmental factors that promote early cognitive growth and development led to her development of the framework for the Center for Improving the Readiness of Children for Learning and Education (CIRCLE), which led to the implementation of the Texas Early Education Model (TEEM) in pre-kindergarten classrooms across Texas. Here Edward Ziegler questions her independence from Bush administration policy; advisor to Team Baby Entertainment, a series of sports themed children's DVDs officially licensed by the NCAA, NBA, MLB and NASCAR; a featured speaker at Laura Bush's White House Summit and mini White House Summits held across the United States. Citizens for Responsibility and Ethics in Washington (CREW) filed a Freedom of Information request on correspondence officials at the Department of Education and those at the (1) Executive Office of the President, (2) White House Office and (3) Office of the First Lady, regarding any or all of the following: (A) Susan Landry or Susan Landry Moore; (B) University of Texas Health Science Center at Houston's Children's Learning Institute; (C) University of Texas Health Science Center at Houston's Center for Improving the Readiness of Children for Learning and Education (CIRCLE); (D) Texas State Center for Childhood Development (SCECD); (E) Texas Early Education Model (TEEM); and/or (F) Wireless Generation's mClass:CIRCLE software.
Critics say this enterprise is little more than an effort to market research and products through a variety of commercial vendors.
Vicki LaRock Senior Research Associate in the Portland, Oregon office at RMC Research Corporation (RMC). Vicki has been providing technical assistance and professional development to states, districts and schools implementing Reading First programs for the last seven years, currently as part of the National Reading Technical Assistance Center (NRTAC) and before that as part of the National Center for Reading First Technical Assistance. She also currently provides reading services to states as part of the Northwest Regional Comprehensive Center. . . .
Lucy Levine: RMC is all the bio said.
In April 2010, Levine is identified as staff member at National Reading Technical Assistance Center
Christopher J. Lonigan: Leading researcher in the areas of pre-school literacy instruction and assessment whose research interests additionally include the emotional and motivational influences on the development of psychopathology; language acquisition; and early intervention (language/literacy) and its effects on cognitive, behavioral, and social development. He is a professor in the Department of Psychology at Florida State University. Dr. Lonigan's current research is in preschool interventions for children at-risk of reading failure, development of emergent literacy skills in preschool children, and language development and social development. On a joint grant with the University of Southern California, he is investigating "Enhancing Preschoolers Pre-literacy Skills", funded by the National Science Foundation's Interagency Educational Research Initiative.
Kathleen Lord: A reading specialist, Dr. Lord provided professional development to high school teachers in the English Department. Dr. Lord discussed instructional strategies and assessments for open response questions on the MCAS exam. She emphasized the fact that open response questions were primarily formulated to assess students in reading skills. Dr. Lord offered the teachers specific reading strategies in order to increase student performance on the MCAS.
Jana Martella No bio provided (MS, MA) is the Executive Director of the National Association of Early Childhood Specialists in State Departments of Education and provides consultancy to multiple states on early childhood initiatives. She brings to her work more than thirty years of experience in education, including as a teacher and assistant administrator, legislative liaison, and state coordinator for federal programs. A central part of her focus has been on education system and program improvement through standards-based reform, including her work in promoting improved opportunities in early childhood education.
Lesley Maxwell Director of Clinical Education, Coordinator of the Speech, Language, and Literacy Center (SLLC), and Clinical Assistant Professor, Communication Sciences & Disorders. She is a specialist in pediatric speech-language pathology with interests in the areas of language and literacy, early childhood disorders of communication, autism, school-age language learning disabilities, phonological disorders, and oral language instruction in regular education classrooms. In addition to her administrative duties, Ms. Maxwell teaches courses on the topics of language acquisition and intervention seminars, and mentors students and faculty in the Speech, Language and Literacy Center. Ms. Maxwell is also a consultant at Boston Public Schools and at Speech and Hearing Associates.
Mike McKenna: Thomas G. Jewell Professor of Reading at the University of Virginia. He has authored, coauthored, or edited 15 books and more than 100 articles, chapters, and technical reports on a range of literacy topics. . . . His research has been sponsored by the National Reading Research Center (NRRC) and the Center for the Improvement of Early Reading Achievement (CIERA). He is the cowinner of NRC's Edward Fry Book Award and ALA's Award for Outstanding Academic Books. He serves on the editorial board of Reading Research Quarterly. . . .
Margaret McKeown: Clinical Professor, Department of Instruction and Learning, University of Pittsburgh School of Education and Senior Scientist in the Learning Research and Development Center. In her work at the University of Pittsburgh, she pursued two major lines of research. One is the investigation of the development of vocabulary as it influences reading comprehension; the other focuses on the comprehension students achieve from school texts. . . .Member of the International Reading Association, Reading Hall of Fame, 2008.
Kristina Najera: Research Associate at RMC Research Corporation in Arlington, VA. She brings expertise in literacy, pre-service and in-service teacher training and professional development, and curriculum development. Her particular area of focus is implementation of evidenced-based reading research and instruction. She is currently serving as a Technical Assistance Provider with the National Reading Technical Assistance Center (NRTAC) and has presented on topics related to scientifically-based reading instruction, effective instructional practices to enhance core instruction, sustaining evidence-based reading practices, and effective instructional leadership of evidence-based schoolwide reading models. Additionally, she assisted in the development of resources to support effective scientifically-based reading practices.
Florence Nelson: No bio provided Senior Policy Analyst, Zero to Three: National Center for Infants, Toddlers, and Families
Sarah Nelson: Assistant Professor in Educational Leadership and an Associate Director the International Education Leadership and Social Change, Department of Educational Administration and Psychological Services at Texas State University,San Marcos, Texas. She serves as a researcher and instructor in the Educational Leadership program, which prepares school administrators. Her research interests include educational equity, culturally responsive pedagogy, and high stakes accountability systems.
Susan B. Neuman: No bio provided Professor in Educational Studies and Director of the Michigan Research Program on Ready to Learn, University of Michigan. Served as the US Department's assistant secretary for elementary and secondary education in the Bush2 administration for two years.
Shira Peterson: No bio provided Research Associate at Children's Institute; worked on a research team at the University of Rochester to evaluate the ScienceStart! Curriculum, an inquiry-based preschool curriculum that was recognized by the National Research Council as a promising new early learning curriculum. Online instructor.
Craig Ramey No bio Provided
"I do know the test has gone through one of the most rigorous development phases that places it among the most reliable and valid."--Craig Ramey, head consultant National Reporting System, a national test measuring vocabulary, letter recognition and math for Pre-K children.
Ramey likened the new system to industrial "quality assurance" programs. "What we are bringing to Head Start is not different from what you encounter when you go to buy a car," he said, noting that car buyers trust that companies maintain quality from plant to plant.-- Valerie Strauss, Washington Post, Jan. 17, 2003
"If you were the head of any industry I know--automobiles, pharmaceuticals, take any product you would use--you would have a quality assurance system in place to determine how your product is faring in terms of quality."-- Slate Newsletter, April 2004
Sharon Ramey: No bio provided Developmental psychologist whose professional interests include the study of the development of intelligence and children's competency, early experience and early intervention, the changing American family, and the transition to school.
The Rameys are directors of the Center on Health and Education: This certificate program is designed to provide participants with a strong and practical education over the course of 9 months that will result in an understanding of the science of early childhood development and learning and the application of that knowledge in the classroom setting.
Tim Rasinski: Professor of literacy education at Kent State University. He has written over 150 articles and has authored, co-authored or edited over 15 books or curriculum programs on reading education. He is co-author of the award winning fluency program called Fluency First. His scholarly interests include reading fluency and word study, reading in the elementary and middle grades, and readers who struggle. His research on reading has been cited by the National Reading Panel and has been published in journals such as Reading Research Quarterly, The Reading Teacher, Reading Psychology, and the Journal of Educational Research.
Andrea Reade:No bio provided RMC. As co-leader of the regional Adolescent Literacy Initiative, she utilizes the expertise and knowledge derived from working as a curriculum and instruction administrator, middle school and high school English teacher, and instructor of students in the Graduate School of Education at the University of Massachusetts, Lowell to assist states in effectuating positive educational change through enhancing and refining their implementation of NCLB.
Jo Robinson: Ms. Robinson has worked for 32 years in the public school systems in two states. Twenty-nine of those years were in elementary schools, first as a teacher and then as a principal in three different schools. Under Ms. Robinson's direction her last elementary school won a Chase Manhattan/Fordham University School Change Award in 2000 for dramatic increases in reading achievement. She has taught adjunct graduate courses for four universities, and was the director of both the Reading Excellence Act and Reading First for the state of Washington Department of Education. She has worked with the U.S. Department of Education and nine states to help them implement Reading First.
Marsha Roit Dr. Roit is the Director of Professional Development for SRA/McGraw-Hill and one of the authors of the Open Court Reading Program.She is also program author of SRA Imagine It! A comprehensive Pre-K - 6 reading language arts program that incorporates feedback from teachers nationwide with the most recent research in the areas of reading and writing.
Emily Russin: No bio provided associate researcher at RMC Research.
Sarah Sayko: Research Associate at RMC Research Corporation (RMC) in Arlington, VA. Technical Assistance Provider with the National Reading Technical Assistance Center (NRTAC) assisting states with the implementation of their Reading First grants. Ms. Sayko also served on the Reading First sustainability project. In this capacity, she assisted in the development of state and local resources to support sustaining evidence-based reading practices and facilitated local districts on the development of sustainability plans. Prior to joining RMC, Ms. Sayko was a Reading First Coordinator in a Massachusetts school district, where she was responsible for local program implementation and was a Reading First Coach, working directly with teachers to support implementation of evidence-based reading practices. She is a certified K-12 reading specialist and holds a M.Ed. in Reading from Lesley University.
Bryan Schultz: No bio provided Chief of Member & Organizational Advancement National Association of Child Care Resource & Referral Agencies (NACCRRA).
Tom Schultz: Project Director, Council of Chief State School Officers. Formerly at The Pew Charitable Trusts, where he served as director of the Early Childhood Accountability Task Force, co-authoring a recently released task force report on issues of early childhood assessment and program accountability. Schultz has also worked as a senior manager in the Head Start Bureau, the National Association of State Boards of Education, and the U.S. Department of Education.
Catherine Scott-Little: Associate Professor, Human Development and Family Studies School of Human and Environmental Sciences The University of North Carolina at Greensboro
Timothy Shanahan No bio given pan class="red">Professor of urban education at the University of Illinois at Chicago and director of the UIC Center for Literacy; president of the International Reading Association. Executive director of the Chicago Reading Initiative, a public school improvement project serving 437,000 children in 2001- 2002. He received the Albert J. Harris Award for outstanding research on reading disability from IRA and was inducted into the Illinois Reading Council Hall of Fame in 2002. He also received the Milton D. Jacobson Readability Research Award.
Shanahan served on the White House Assembly on Reading and the National Reading Panel.
"I've said research doesn't show that encouraging reading improves reading and that sustained silent reading (SSR) is probably not such a good idea." --Timothy Shanahan
Mark Shinn: Professor of School Psychology and Program Director of the School Psychology Program at National Louis University. . . Formerly professor of School Psychology and Special Education at the University of Oregon for 19 years. Project Director of the Northern Region of IASPIRE, an OSEP and Illinois State Board of Education personnel preparation project designed to support implementation of RTI and EIS. In 2006, he co-designed the RTI/EIS training for the Bureau of Indian Education (BIE) that was delivered to Indian Nations across the country by the Consortium on Reading Excellence (CORE). . . .
Rebecca Silverman: Former elementary school teacher and an endorsed reading specialist, whose teaching and research are focused on early prevention and intervention for children who may be at risk for experiencing reading difficulties. Dr. Silverman is particularly interested in the relationships between children's individual characteristics and teachers' instructional methods. She has concentrated primarily on vocabulary development and instruction, having conducted studies evaluating methods of early vocabulary instruction during storybook reading, comparing the vocabulary development of young English-Only and English Language Learning children, and investigating the effect of multimedia enhanced vocabulary intervention on children's vocabulary development. In the future, she plans to investigate the potential longitudinal influence of early vocabulary and oral language instruction on the reading and writing development of children with diverse backgrounds and abilities. . . .
Jan Silverstein: Consultant for the National Center for Reading First Technical Assistance within the Western Region since 2005. She also consulted with Expanding the Reach, a Title I Pilot Project focused on improving achievement in reading from 2005-2007. Dr. Silverstein directed federal and state grants and awards programs at the Colorado Department of Education (CDE) from 1994 through 2005 including the federal Colorado Reading First initiative and state level reading reform. . . .
Margaret Simon: Senior Research Associate at RMC Research Corporation (RMC); over 35 years of experience in education concentrated in the areas of reading and literacy in grades preK-12, teacher preparation, technical assistance and professional development, program evaluation and research, and developmental psychology. She has a Ph.D. in Developmental Psychology/Research and Evaluation from Boston College and an Ed.M. in Child Development from Tufts University. Simon has consulted with teachers and administrators as well as with evaluators of research-based programs in various content areas for the U.S. Department of Education. In addition, she has had a lead role on a number of federal contracts focused on identifying best practices, translating research into practice, and creating evidence-based multimedia and text resources for a variety of audiences.. . .
Martha Smith: Educational Consultant in Reading and has over seventeen years of classroom teaching experience. Dedicated to helping K-12 teachers translate educational research into practice, Ms. Smith enjoys developing literacy-related professional materials and delivering staff development with onsite follow-up support to educators across the country.
Dorothy S. Strickland: No bio provided Samuel DeWitt Proctor Chair in Education at Rutgers University, and she formerly taught at Columbia University's Teachers College. Past president of the International Reading Association and its Reading Hall of Fame. She has received the National Council of Teachers of English (NCTE) Award and was recognized in 1994 as the NCTE Outstanding Woman in the Teaching of English.
Member, Common Core Standards Validation Committee.
Teri N. Talan: No bio provided Director of Research and Public Policy, National-Louis University and the Public Policy Liaison for the Center for Early Childhood Leadership; co-author Program Administration Scale: Measuring Early Childhood Leadership And Management.
Shane Templeton: Program Coordinator for Literacy Studies at the University of Nevada, Reno. His research is focused on the development of word knowledge in elementary-, middle-, and secondary-school students. His books include Teaching the Integrated Language Arts and Children's Literacy: Contexts for Meaningful Learning; he is co-author of Words Their Way: Word Study for Phonics, Vocabulary, and Spelling Instruction (3rd Ed.). . . . Principal Investigator for the Nevada Reading Excellence Act at the University of Nevada, Reno. Since 1987 he has been a member of the Usage Panel of the American Heritage Dictionary.
Alice Thomas: Founder, president and CEO of the Center for Development and Learning. A core mission of social justice drives her strong belief that every child is entitled to a high-quality education regardless of race, socioeconomic background, or learning profile. . . .
Sheryl Turner: Associate in Research within the Tampa, Florida offices of RMC Research Corporation (RMC). There her knowledge in the scientifically based reading strategies is utilized as a National Reading Technical Assistance Provider. She consults and advises state Departments of Education Reading First offices in the implementation of literacy initiatives. She also conducts professional development at the state, district and school level for literacy coaches, administrators, and K-12 teachers in several areas, including scientifically based strategies for improving student literacy, the role of the coach, and classroom management. . . .
Sharon Van Vleck: No bio provided What to Look For: Supervision of Comprehension and Vocabulary for Principals: Sharon Van Vleck, Kathi Cooper, and Alice Furry, Western Regional Reading First Technical Assistance Center, RMC Research Corporation, Sacramento, CA --Presentations from the 5th Annual National Reading First Conference July 28-30, 2008 Nashville, TN
Sharon Walpole: Assistant professor at the University of Delaware School of Education, teaching undergraduate courses on language and literacy development in kindergarten and first grade, Master's courses on content area reading instruction and on organization and supervision of the reading program, and doctoral seminars on literacy and educational policy. She has extensive school-based experience, including both high school teaching and elementary school administration. Involved in federally funded and homegrown school-wide reform projects, Dr. Walpole has studied the design and effects of school-wide reforms, particularly those involving literacy coaches and she works closely with the Reading First initiatives in Delaware and in Georgia. She is co-author of The Literacy Coach's Handbook: A Guide to Research-based Reform and Differentiated Reading Instruction: Strategies for the Primary Grades. . . .
Gerrit Westervelt: No bio provided Executive Director of the Build Initiative, a project created by the Early Childhood Funders Collaborative to help states create comprehensive early childhood systems. Build provides selected states (currently IL, MI, MN, NJ, NY, OH, PA, and WA) with financial support, tailored technical assistance, a peer-to-peer Learning Community, conferences, reports and other services designed to help them meet the needs of children and families. Formerly with Qualistar Early Learning (formerly Educare Colorado), providing quality ratings, improvement strategies and parental support for early childhood across Colorado; Director of State Relations for the Education Commission of the States; also served as an education lobbyist and fiscal policy analyst in New York State.
Caroline Wilkinson: As a member of the National Reading Technical Assistance staff, Ms. Wilkinson has provided technical assistance to state departments of education in Alaska, Colorado, Hawaii, Minnesota, New Mexico, North Dakota, Ohio, Utah and Wisconsin. In addition, she provides training for Reading First coaches, teachers, and principals. Recent major training events have included presenting at the Annual National Reading First Conference for four years and at two regional Advanced Coaching training sessions in 2009.
Barbara Willer: No bio provided Deputy Executive Director, National Association for the Education of Young Children.
Maryanne Wolf: Director of the Center for Reading and Language Research at Tufts University, which came into being as the result of a large, three-city reading intervention grant from the National Institute for Child Health and Human Development to Dr. Robin Morris (Atlanta), Dr. Maureen Lovett (Toronto), and Dr. Maryanne Wolf. The grant is to investigate the efficacy of state-of-the-art reading intervention treatments with different groups of reading-disabled children.
Author of Proust and the Squid and the editor of Dyslexia, Fluency and the Brain, and has also written/designed three empirically proven instructional programs on thinking skills for middle school students, on reading and writing for elementary school students, and on linguistic awareness for emergent readers. Dr. Wolf has published hundreds of articles on reading and learning disabilities. . . .
— Conference Announcement with annotation by Susan Ohanian
U. S. Department of Education
2010-06-22