MEDIA WATCH: District 299 does it again... From soft pore cornography to Wal-Mart ads
George N. Schmidt - June 21, 2010
A few weeks ago, some of us at Substance chortled when District 299, a blog sponsored by the Chicago Tribune, supposedly covering Chicago's public schools, carried an ad for some orgies — or something like it — at the Excalibar Club in Chicago. From porn to economic pornography, let's hear it for the Chicago blog that covers the Chicago schools from Brooklyn.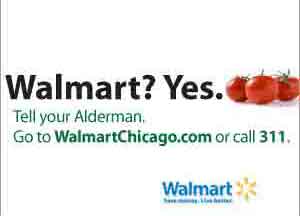 The Walmart ad at District 299 helps Walmart put pressure on Chicago aldermen. Walmart is an enemy of unions and public schools. We visit District 299 every couple of days to see what's up, although most of our staff have avoided commenting there since they went over to the scab Chicago Tribune. But on June 21, 2010, their Wal Mart button sort of took the cake. A few weeks ago, a friend of ours from New York mentioned that he had bumped into the District 299 blogger at a New York City party. Only the Chicago Tribune could pretend that Chicago's public schools can be covered from Brooklyn. But that's the way corporate propaganda is being organized and sprayed across the world today. It's better to know a few corporate narratives, a one liner or two, and then repeat them over and over.
The interesting thing about the Tribune featuring that Wal Mart ad (how much does that cost) is that it advises going to the Wal Mart propaganda center -- and to "311." Are they really going to try and spam the "311" number with Wal Mart propaganda?
The sellout aldermen and preachers (never leave out the preachers at times like this) who are spouting the Wal Mart line about "jobs" are the same types who told the slaves what a nasty person Nat Turner was ("crazy..." etc.) or how Harriet Tubman couldn't even write (my God! she'd never have gotten into "Teach for the Confederacy" to save Alabama's public schools) -- or how John Brown was, after all,
WHITE.
This nonsense never chances, just the names of the propagandists and the pay they receive. "Gone with the Wind" and "Birth of a Nation" were much better pieces of propaganda for that iteration of corporate capitalist rule, but District 299 and the preacher patronage crew are doing their part for the early 21st Century, so let's now and then give them their due.