Will teachers picket UNO chief at City Club September 1?
George N. Schmidt - June 18, 2010
On June 17, 2010, the City Club of Chicago announced that UNO chief Juan Rangal, who has been operating the non-union UNO charter schools in competition with both Chicago public schools and nearby Catholic schools on Chicago's southwest side for the past decade, will be speaking at the City Club of Chicago on September 1, 2010. The question is what greeting UNO will receive.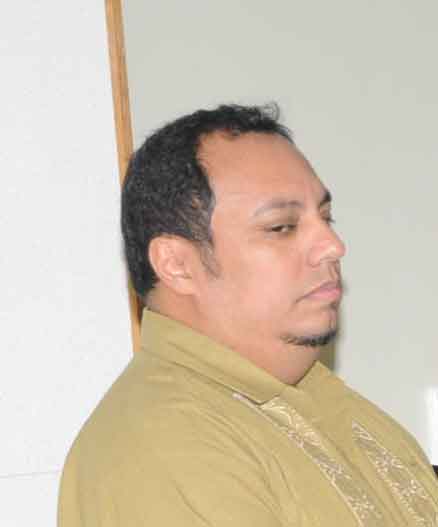 UNO's Juan Rangal (above, at a community meeting on the UNO takeover of the De La Cruz school building in August 2009) has long profited from UNO's clout with Chicago's corporate elite and Mayor Richard M. Daley. The ongoing expansion of the UNO charter schools in Chicago is coupled with the national expansion of UNO thanks to the Obama administration and U.S. Education Secretary Arne Duncan, who promoted UNO's charter schools (and abetted UNO's lack of transparency) during the years Duncan served as Chief Executive Officer of Chicago's public schools (2001 - 2008). Substance photo by George N. Schmidt.According to the City Club, Rangal will be at Maggiano's Banquets, 111 W. Grand Ave., on Wednesday, September 1, 2010 (11:30 a.m. Reception 12:00 p.m. Luncheon). The event is called the Public Policy Luncheon.
Rangal's controversial career in Chicago's public schools centers mainly around his UNO charter schools, which have been established generally across the city's southwest side in primarily Mexican and Mexican American communities. Despite growing community opposition (including opposition from parochial schools against whom Rangal's UNO schools compete from an unfair advantage), Rangal's schools continue to expand because of patronage support from Democrats at both the city and state level.
One of the most controversial aspects of the UNO charters schools, especially in light of the Chicago Board of Education's current budget problems, is the fact that they have been given leave to borrow money from the nation's largest financial institutions through a "bond" mechanism that is far from transparent. In addition to issuing quasi-public bonds, UNO has also been the beneficiary of outright grants, including one totaling $100 million from the administration of Illinois Governor Patrick Quinn one year ago.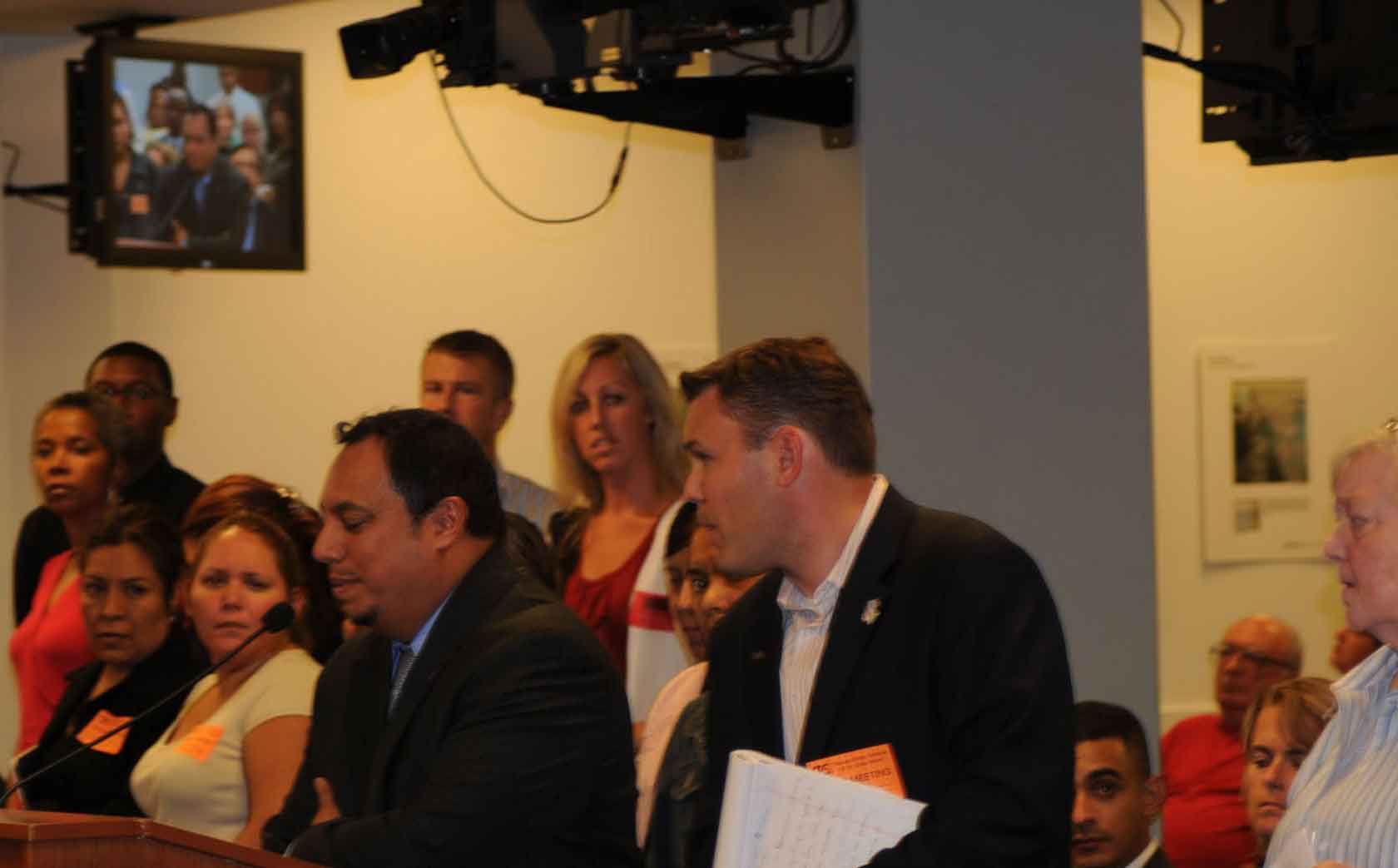 Whenever he has attended meetings of the Chicago Board of Education (as at the August 26, 2009 meeting above), Juan Rangal (at microphone) has been extended privileges by Board officials. During the meeting above, Rangal was not signed up to speak, but was allowed to speak by (then) Board President Michael Scott. Scott had just facilitated giving the recently closed De La Cruz school building to UNO during the weeks prior to the August 2009 Board meeting. The transfer came less than two months after Scott closed De La Cruz as a public school and told the public it would not be used as a charter school (as rumors in the community reported). Substance photo by George N. Schmidt.UNO, which began as a highly respected community organization more than a quarter century ago, has long been absorbed into Richard M. Daley's Democratic Party machine, especially in wards where Mexican American voters predominate. UNO founder Danny Solis has served on the Chicago City Council for more than two decades and is currently Deputy Mayor. Solis chairs City Council meetings when Mayor Daley is unavailable.
Although UNO's clout has been challenged, it is stronger than ever today, thanks mainly to the patronage is controls through the UNO charter schools. All of the UNO charter schools are non-union, and Rangal himself is fiercely anti-union.
One of Rangal's specialties in service to those who bankroll him and the UNO charter schools has been the promotion of divisions between Chicago's African American and Mexican American communities. UNO charter schools are almost exclusively Mexican American, constituting a segregated system within the broader network of charter schools in Chicago. But one of the code words used to exclude black children from the UNO system is "safe." UNO markets its charter schools in its community by assuring parents that their children will be "safe" from them. Them in this case is a traditional Chicago designator.
In June 2010, Rangal weighed in against the Chicago Teachers Union after Marilyn Stewart filed a lawsuit against the proposal to overcrowd the city's schools made by CEO Ron Huberman in the context of what Huberman claims is a huge budget "deficit." Rangal took to the airwaves and corporate media to denounce Stewart's lawsuit as "racist" because, Rangal claimed, Stewart had been ignoring overcrowded public schools in his "community" for years. 