June 2010 Print Edition of Substance will be sold June 2 at CTU House of Delegates meeting, Editorial endorses CORE in June 11 runoff
George N. Schmidt - June 02, 2010
The June issue will be available for sale by the time of the CTU House of Delegates meeting at the headquarters of Local 399 of the Operating Engineers union beginning at 3:00 on June 2, 2010. The issue will also be in the mail to all subscribers by the end of the business day on June 3, 2010.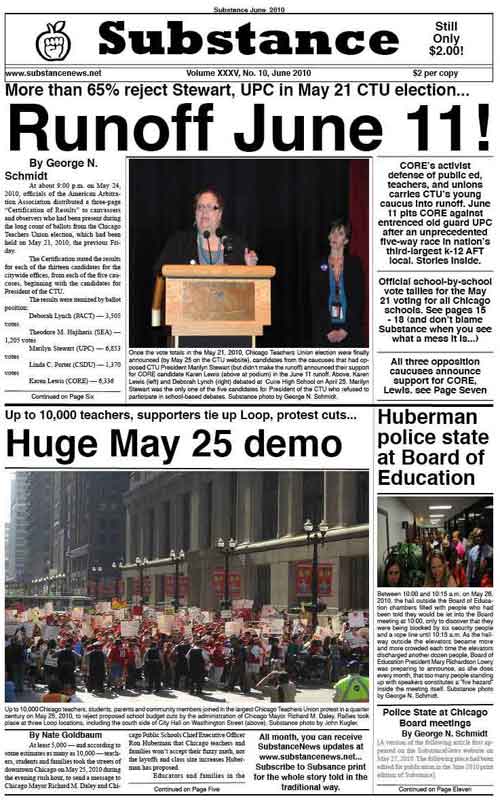 Page One of the June 2010 issue of Substance.The issue contains 24 pages of news and analysis in the Substance tradition.
The June 2010 print edition of Substance has been printed and will be sold to Chicago Teachers Union delegates at the June 2 House of Delegates meeting at Local 399, and mailed to all paid subscribers and vendors on June 2.
The 24-page issue contains several articles on the heated race for President of the Chicago Teachers Union, as well as articles on Race to the Top and other national attacks on public education.
The complete content of each month's print edition of Substance is first published in print, and does not become available on line until at least one month following print publication.
One Page Two of the print edition, Substance strongly supports the election of the CORE slate in the June 11 CTU runoff election. In the May edition of Substance, no endorsement was offered because, as the June editorial explains, at the time of the publication of the May issue members of the Substance staff supported candidates from three of the five slates in contention. It has been Substance policy since 1983 (the Harold Washington election) not to endorse if there is a division on the Substance staff. Once the May 21 election was finished and the three other caucuses (PACT, CSDU, and SEA) had endorsed CORE, the Substance staff with an opinion in the CTU election was unanimous in support of Karen Lewis and CORE.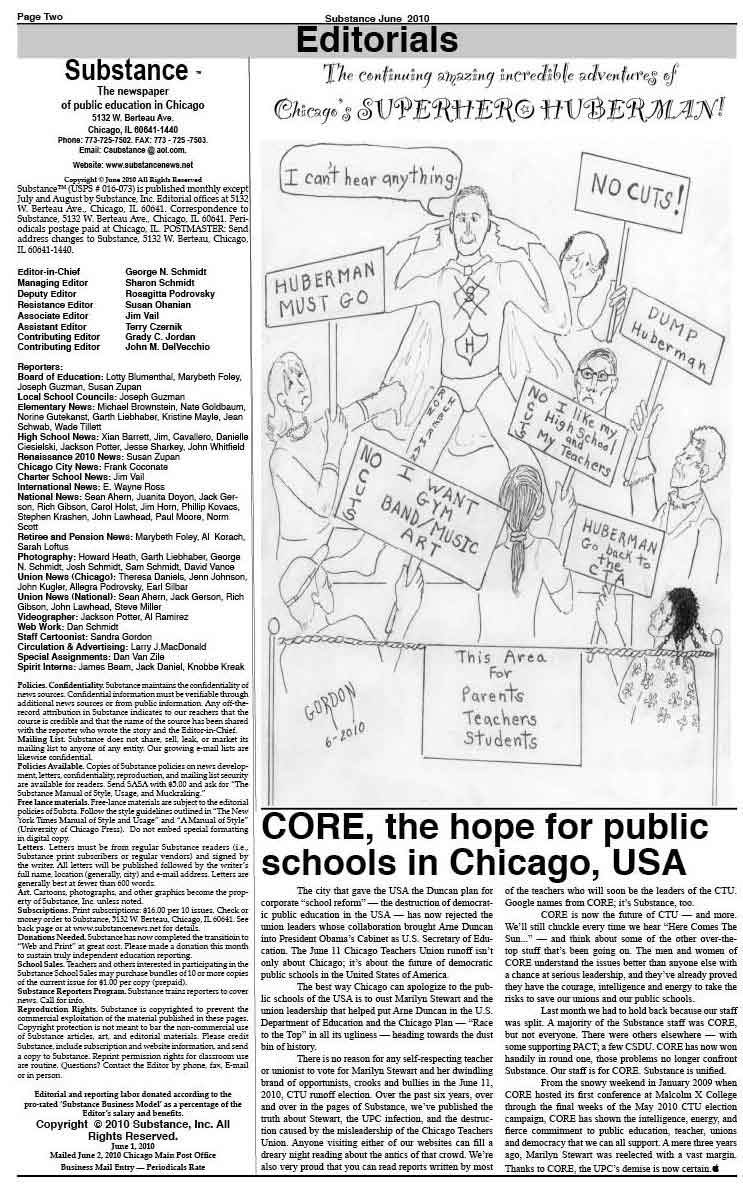 Following the voting in the May 21, 2010, CTU election which resulted in a runoff between CORE and the incumbent UPC, Substance has editorially endorsed the CORE slate. Above, a copy of the editorial page of the June 2010 Substance (page 2). Substance has noted for its readers and supporters that the transition from print to print and web has been time consuming and costly. In order for Substance to continue to support both the online news service at www.substancenews.net and the print edition, the newspaper will now begin a major drive to increase print subscriptions, sales, donations, and ads. Since January 2010 Substance has been selling ads that combine on line and print iterations.
Individual copies of Substance are sold for $2 per copy. Those who purchase between ten and 99 copies pay $1 per copy. Those who purchase more than 100 copies pay 50¢ per copy.
Substance subscriptions are still available for $16 per year (ten issues) by sending a check to Substance, 5132 W. Berteau, Chicago, IL 60641. Those who subscribe between June 2 and June 30 will receive a copy of the June 2010 issue in the mail following the receipt of their subscription payment. 