Lewis and Stewart to debate at PUSH Saturday, June 5, at 10:00 a.m.
George N. Schmidt - June 02, 2010
The two candidates for President of the Chicago Teachers Union, King High School Chemistry teacher Karen Lewis, of CORE, and incumbent Marilyn Stewart, of the UPC, will debate this Saturday, June 5, 2010, at Operation PUSH headquarters, 950 E. 50th St. in Chicago. The two (along with most of their caucus slates) are facing each other in a runoff to head the third largest K-12 local union in the American Federation of Teachers.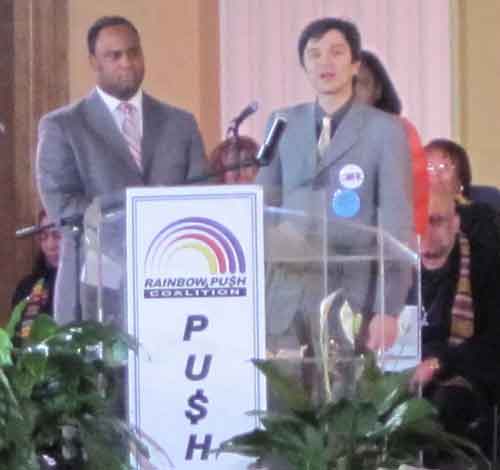 Jonathan Jackson (left), National Outreach Coordinator for Operation PUSH, has been one of Chicago's leaders in the fight against school closings, especially turnarounds. At the February 27, 2010 meeting of PUSH, Jackson hosted Xian Barrett (Julian High School teacher) and student Shantell Steve following the refusal of the Chicago Board of Education to allow Steve to read her Martin Luther King Jr. speech at the Board meeting. Since February 2010, Xian Barrett has been elected to the Executive Board of the Chicago Teachers Union as a "High School Functional Vice President". Six CORE candidates for CTU high school seats won a majority of the votes from high school teachers and will not face the June 11 runoff. Substance photo by Lara Krejca. The runoff came as a result of the failure of any of the five candidates to get a clear majority in voting on May, 21, 2010. There were five slates running in the May 21 election. Not all of the candidates for CTU offices will be facing the runoff, however. Union rules require that each individual candidate get a majority of the votes cast for that particular office. In the high schools, CORE's candidates for "high school functional vice president" received a majority out of all five slates in the May 21 voting and should not be facing any further electoral fights.
The PUSH event on June 5 is unprecedented, but the Chicago Teachers Union and Marilyn Stewart's United Progressive Caucus seem to be ignoring it. As of the morning of June 2, 2010, the CTU website (www.ctunet.com) was not mentioning the June 5 event, although it was still carrying a press release, on union stationery, describing Marilyn Stewart's May 21 "victory." Marilyn Stewart's caucus website, www.UPC4CTU.com, was also silent on the June 5 PUSH event as of the morning of June 2.
According to a CORE announcement:
CTU Presidential Debate at Rainbow/PUSH National Headquarters Saturday, June 5th
This is the first and only public debate between Karen Lewis and Marilyn Stewart. Come out and support Karen as she goes head-to-head with the incumbent president of the CTU. Wear your CORE T-shirts and buttons. All are invited, please arrive early, this event will surely pack the house.
Rainbow/PUSH National Headquarters, 930 East 50th Street, Chicago, IL 60615, 10:00 AM
Saturday, June 5th, 2010 
_____________________________