MEDIA WATCH: Sun-Times pushes Marilyn Stewart while Tribune ignores march, promotes another charter school Big Lie
George N. Schmidt - May 26, 2010
What do you do if you are the two biggest centers of corporate propaganda in Chicago and Chicago's public school teachers and students hold the biggest march in a quarter century? (a) If you are the Sun-Times, you trivialize it; (b) If you are the Tribune, you ignore it and tell another lie about how great anti-union charter schools are. Either way, you get to publish school "news" while ignoring the biggest stories of the year. Please don't ask us "Why?" on this one. Let's just consider the facts of Who, What, When and Where.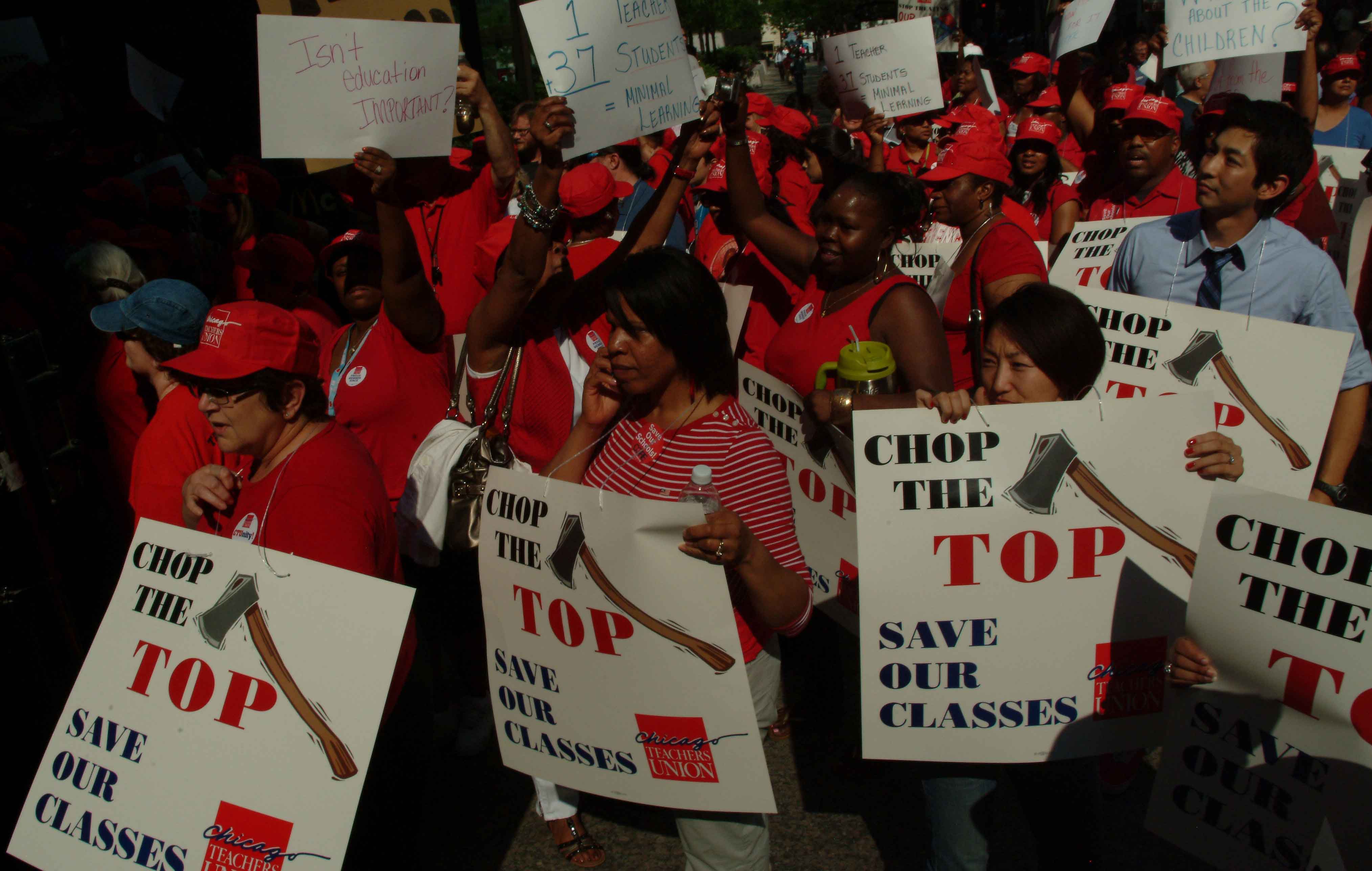 Above, some of the more than 5,000 teachers, students and parents who marched against Mayor Daley and Ron Huberman in downtown Chicago on March 25, 2010. Substance photo by Garth Liebhaber.Either way, the corporate party line about corporate "school reform" gets to the "public." Hence, the coverage on May 26 about the May 25 march and rallies (that's a plural) that caught Chicago's mayor in traffic for at least ten minutes and brought out between 5,000 and 10,000 teachers, parents and students on the afternoon of May 25, 2010 to protest corporate school reform, privatization, and the budget lies of Ron Huberman.
It wasn't news for the Tribune, which devoted a half page to that Big Lie about how Urban Prep Charter School gets all of its graduates into "college", ignoring the fact that that scam is easy to pull off and has been a mainstay of the teacher bashing, union busting anti public school crowd since the Sun-Times first told its Big Lie about the so-called "miracle" of Marva Collins and West Side Prep. On May 26, the Tribune did Urban Prep again.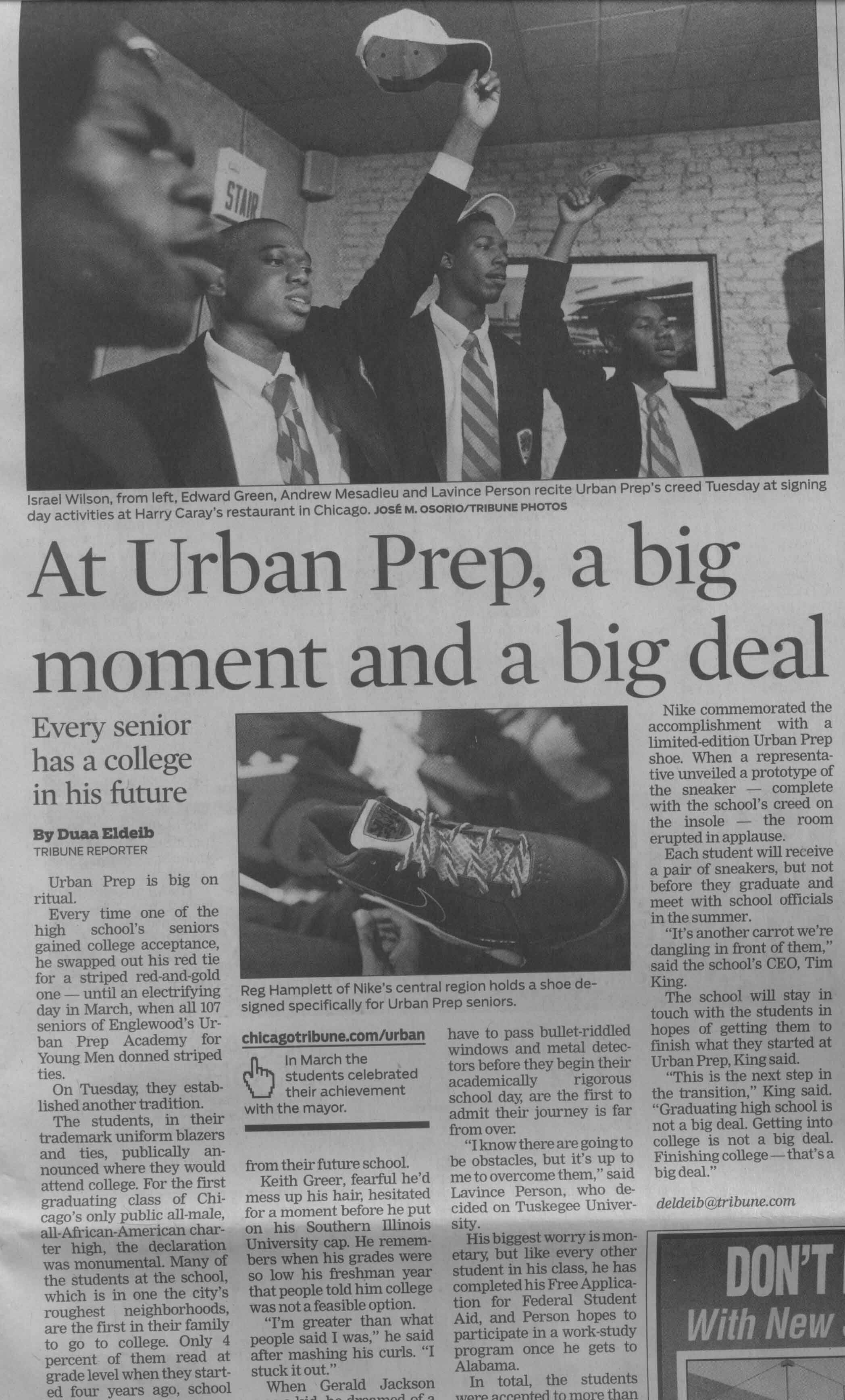 In case you missed it when the Chicago Tribune ran the story on page one a couple of months ago, on May 26, the same tale was back. According to the Tribune, the old trick of getting everyone into college (pioneered and fed to racist media people as early as the 1980s by the privatization crowd on Chicago's west side) is a miracle. Apparently, Tribune reporters don't think most black kids can get into college at all, at least not those who attend unionized public schools. So the Big Lie as "news" continues, with Urban Prep's Tim King feeding the same story line that used to come from Marva Collins and Paul Adams. And they do it without blushing, as if a bunch of middle class black guys getting into college in Chicago was some kind of big deal. Every year, Whtney Young graduates more of everybody than the Tribune's pet charter propaganda schools, but the Tribune ignores Whitney Young's graduation, as much as Tribune ignores everything else about African American success in the city's real public schools. Charter school propaganda as "news" is the main fare there.
Meanwhile, over at the Sun-Times, ace reporter Rosalind Rossi was hanging around with Marilyn Stewart, who is six weeks from being the ex-president of the Chicago Teachers Union. Rossi's story featured a publicity stunt by Stewart, who double crossed most of the union's friends by agreeing to hold a rally at which everybody would speak and then making sure it did not happen. Nothing new about any of this stuff, unless you were the kind of trusting soul who believes that the Sun-Times and Tribune are reporting something you think of as "news."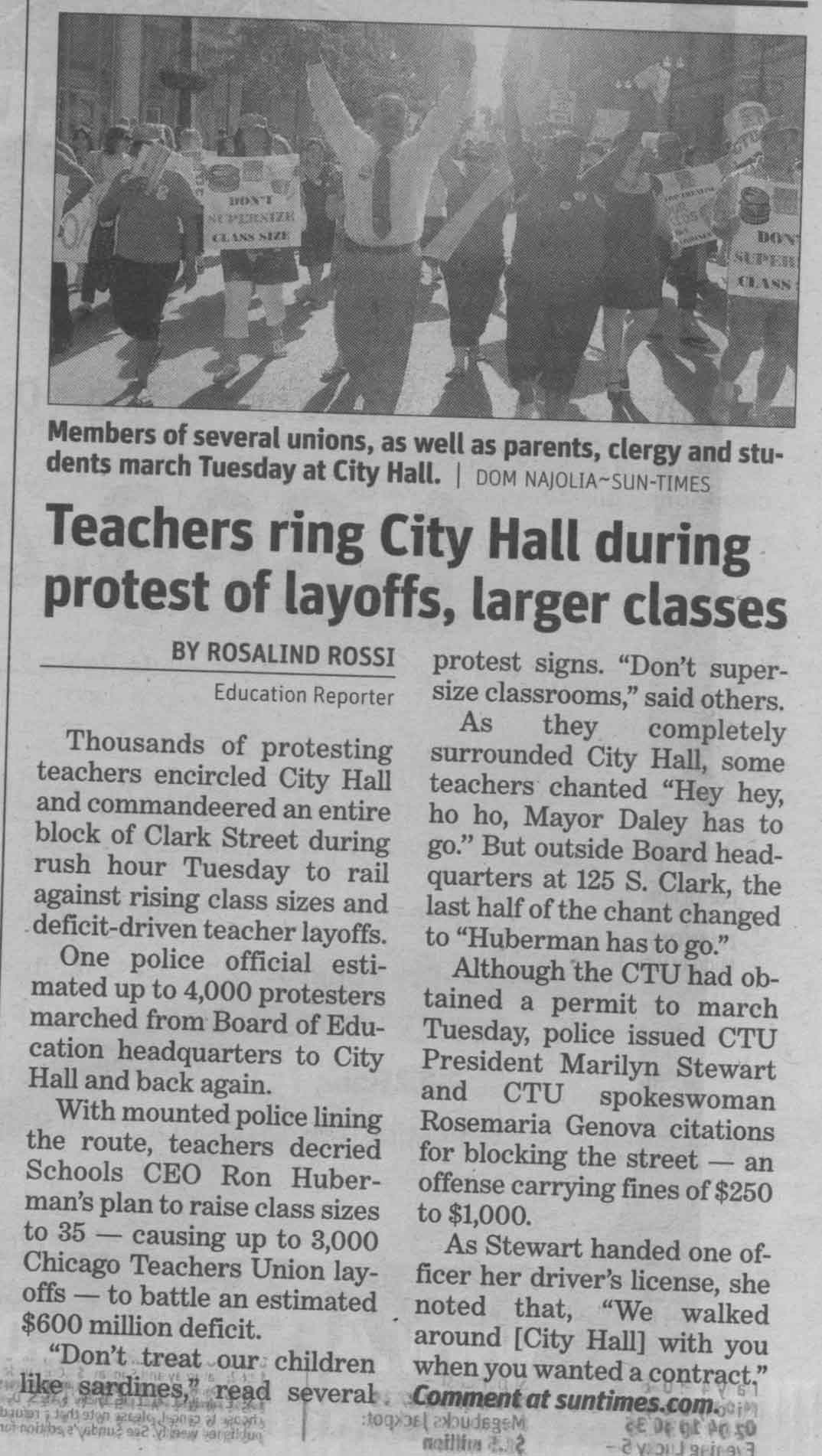 Ignoring the thousands of teachers at the marches and rally at City Hall and CPS, the Sun-Times produced a little bitty propaganda piece for lame duck CTU President Marilyn Stewart on March 26, complete with a staged police event. If anyone is reading to try and make this another "Letter from the Birmingham Jail," the response has to be "Only in Chicago."The last time more than 5,000 people surrounded City Hall in a protest relating to the public schools, it was in 1993. That September, Chicago's schools were closed by Martin Koldyke's School Finance and Reform Authority, which was refusing to approve the CPS budget - not because there wasn't enough money, but because there might not be enough money in a year or two! Koldyke, the multi-millionaire who has led the reactionary attack on public education and teacher unions, is now head of the Academy for Urban School Leadership (AUSL) as in "turnaround", but back in 1993, he was running the School Finance Authority. That September, 5,000 Black Gangster Disciples on orders from Larry Hoover marched to re-open the schools, as we reported then in Substance. So when more than that march to get rid of Ron Huberman and end cuts in public schools, you'd think it would be "news." But if you think that in Chicago, well, you're kind of naïve… 