COUNTDOWN: CTU election reports from the May 21 election are still incomplete on May 26 as the union's website gives high school information but not PSRP results
George N. Schmidt - May 26, 2010
It's two o'clock in the morning on May 26, 2010, as I write this, and the official website of the Chicago Teachers Union (www.ctunet.com) is still not providing the public with the election results for the PSRP groups. When you click to download the PSRP results, you get the high school functional vice president results instead. It has now been 131 hours since the polls closed in all schools on May 21, 2010, the day of the actual voting. It has also been 29 hours since the "canvassing committee" voted to accept the brief report offered by AAA and then quickly left the AAA offices at 225 N. Michigan Ave. in Chicago (at roughly 9:00 p.m. on May 24, 2010).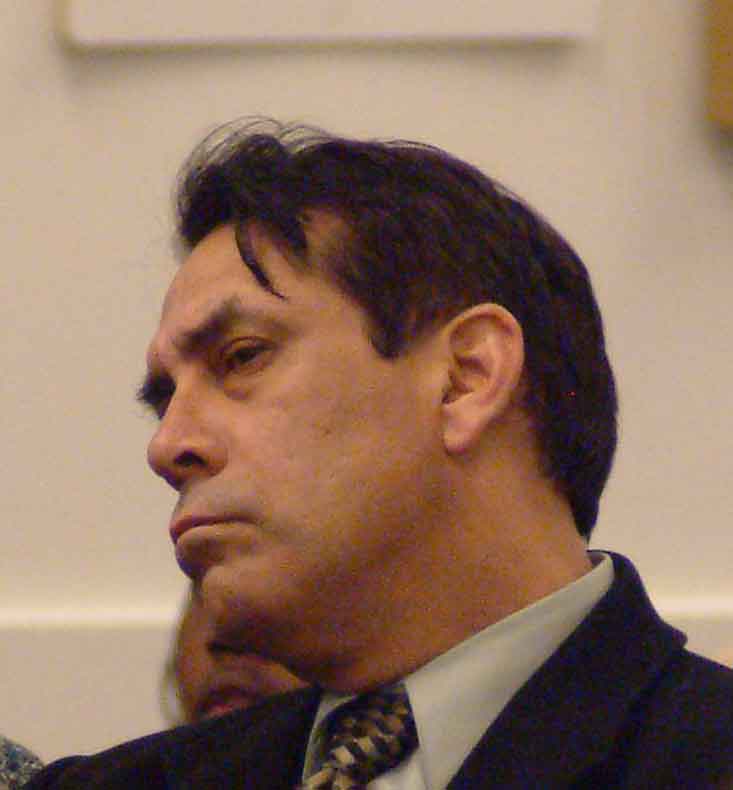 Chicago Teachers Union Financial Secretary Mark Ochoa (above) is currently running for CTU President on the United Progressive Caucus (UPC) slate. Above, Ochoa was at one of the school closing hearings in early February 2010. Substance photo by George N. Schmidt.The union was electing "functional vice presidents" for the following non-teacher groups (generally listed as "PSRPs") on May 21, 2010: School (etc.) Clerks (1); Teacher (etc.) Assistants (3); Library assistants (1); Vision screening (etc.) technicians (1); School Community Reps (1).
In other words, we are still waiting for the tallies on seven executive board seats as I write this at 1:52 a.m. on May 26, 2010.
The executive board election reports that are still missing from the official CTU report includes more executive board seats than there are representing the city's high school teachers.
Everyone should be asking the Chicago Teachers Union and AAA where the PSRP results are. This is why I did not want the results "certified" by the canvassing committee on Monday night until each of us had a full copy of the full reports of all the voting. 