THE HOME STRETCH: Beverly Review does story on Deborah Lynch, PACT campaign
George N. Schmidt - May 16, 2010
While Media Watch at Substance is generally critical of Chicago's media, especially for the lame coverage of the Board of Education and public schools, every now and then there is an interesting exception to that. This week, comes an article published in the May 12, 2010 issue of The Beverly Review, one of Chicago's oldest and best community newspapers. The article, on the PACT campaign, follows below here in its entirety.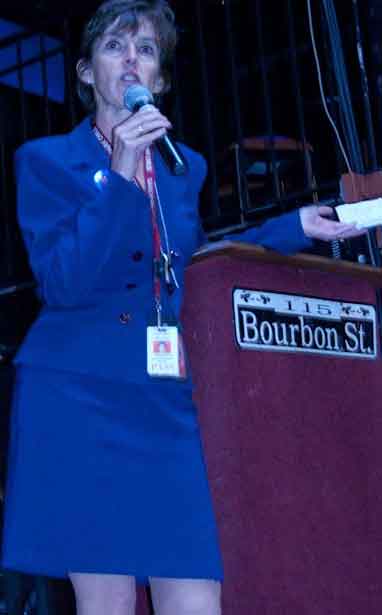 Deborah Lynch, candidate for president of the Chicago Teachers Union, speaks to the crowd of more than 300 people who showed up at Chicago's Bourbon Street for a campaign "Get Out The Vote" rally for PACT. Substance photo by Alan Bearden.One of the aspects of the campaign that Substance will be tracking during the coming week is how the incumbent, Chicago Teachers Union President Marilyn Stewart, is using all of the powers and resources of the union for her reelection. As example of that strategy, in the following article, is that Stewart herself doesn't respond to the issues raised by PACT, but instead, the union's official media person, Rose Maria Genova, does the talking for Stewart.
Court case just one battle for Lynch in CTU run, by Patrick Thomas, Beverly Review May 12, 2010
When a memo from Chicago Public Schools (CPS) CEO Ron Huberman last November banned the Chicago Teacher's Union (CTU) from distributing campaign literature and holding meetings on school g r o u n d s until April, D e b o r a h Lynch felt her rights were being v i o l a t e d . How could she garner enough votes to be elected CTU president in the May 21 election if her campaign time in schools was cut to less than two months?
So, Lynch and her CTU ProActive Chicago Teachers and School Employees (PACT) caucus filed a First Amendment rights lawsuit in federal court. Within four days of their March 22 filing, U.S. District Judge Amy St. Eve ruled in their favor and granted a preliminary injunction against Huberman and the Chicago Board of Education (CBOE), allowing the candidates back in the schools.
"Our meetings are always before school or after school. There are no interruptions to the learning process. This was attack on our First Amendment rights, not to mention it was helping the incumbents," Lynch said.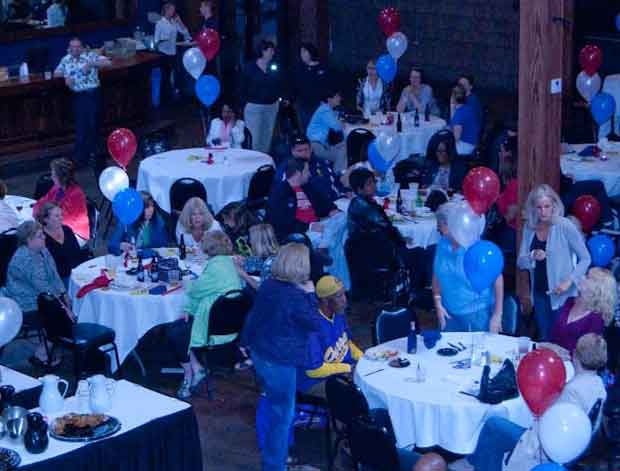 Part of the crowd at the PACT event at Bourbon Street on May 14, 2010, one week before the Chicago Teachers Union election. Substance photo by Alan Bearden.Lynch, a Mt. Greenwood native and teacher at Gage Park High School, is challenging the incumbent, CTU President Marilyn Stewart, in the upcoming election. But early victories like the recent litigation may prove pivotal in a crowded and contentious race with five candidates representing five separate caucuses taking on the numerous issues at stake for teachers.
"We were absolutely ecstatic, going up against the Daley machine, that we were able to win. We were able to make the case that many groups are in and out of the schools," Lynch said. "There are dozens and dozens of groups that don't have anything to do with education but meet at or during school and interfere with learning purposes. It was a victory for the teachers union that management couldn't shut us up."
Lynch said she lost $4,000 in campaign mailings that were cancelled because of the directive. She said Stewart colluded with the CBOE to ban campaigning in schools.
"Much to our amazement, in the board's response they said they issued the ban at the demand of CTU leadership, and to support their response they included a whole bunch of e-mails congratulating the board for issuing the ban and ratting myself and other candidates out for going to schools trying to get petitions signed and literature passed out," Lynch said. "That was appalling in itself."
Stewart asked CPS officials to shut down e-mail in November because "some [union] members and former members are abusing the system with political garbage. Enough is enough," she wrote in an email obtained by Lynch's lawyers.
Rosemaria Genova, spokeswoman for Stewart, said the Lynch lawsuit was politically motivated, and the issue was already resolved.
"We already addressed it back in January. If anyone had a problem with the ban they could contact us or our field staff, and they didn't. The judge's ruling just confirmed what we already said," Genova said.
Stewart is running under the United Progressive Caucus (UPC). Her opposition includes Lynch, of PACT; Karen Lewis, of Caucus of Rankand- File Educators (CORE); Ted Hajiharis, of the School Employee Alliance (SEA); and Stewart's former treasurer, Linda Porter, who split to join Caucus for a Strong Democratic Union (CSDU).
Lynch is seeking the support of local teachers on the Southwest Side and will hold a fundraiser on Friday, May 14, at 3 p.m. at 115 Bourbon Street, 3359 W. 115th St., in Merrionette Park.
Despite the delays in campaigning, Lynch collected 3,100 signatures, well over the required 1,500, to get on the ballot. She will seek votes from the 32,000-member union in order to defeat Stewart. After serving as CTU president from 2001 to 2004, Lynch lost to Stewart in a closely contested runoff election in 2004 and lost convincingly in 2007 when Stewart offered promises about negotiating an upcoming contract.
As part of her campaign initiatives, Lynch is demanding a 5-percent annual raise when the next contract is negotiated in 2012, but that may not be realistic given a recent arbitrator's decision that the police receive a 10-percent raise over five years. The Fraternal Order of Police Chicago Lodge 7 said the city pulled a 16-percent raise off the table. Mayor Richard M. Daley claimed the police did not accept the 16-percent offer.
Under the current collective bargaining agreement that Stewart's administration negotiated with the city in 2007, teachers earn a 4-percent raise every year for five years.
"That is pretty much the envy of teacher unions across the country," Genova said. "That's 20 percent, and we locked in healthcare costs and have done lots of really good things for the members. I've got to hope, when all is said and done, that our members will remember that. All union pensions are under attack, and the CTU has been pretty unscathed."
Lynch and the other challengers have been hard on Stewart for the number of school closings and job losses due to Daley's controversial Renaissance 2010 program. While Stewart's camp admitted that 31 schools closed under her watch, it also hailed a recent binding arbitration that forces the CPS to pay thousands of dollars in back pay to hundreds of teachers who were forced out of those schools and not given the right to claim vacant positions. School closures are not just a local trend, Genova said.
"Privatization is happening nationally. Privatization is not indicative of Chicago," she said. "I think the members are very smart. They are hearing a lot of rhetoric and promise. When they get a chance to evaluate privatization and school closings and all this talk, the members are going to sit back and think this is foolish and side with Marilyn."
Lynch, like Stewart, argued that union members will side with her because of her experience at the bargaining table. Besides the 5-percent raise, Lynch is calling for a moratorium on school closures and a continued freeze on healthcare costs.
"Sadly, a lot of people have given up on the union, and that is the travesty of the current union leadership. We have lost our power, lost our respect. The mayor and [the CBOE] rammed through a pension reform bill," Lynch said of the cost-cutting maneuver lawmakers recently enacted to push the age for retirement for future teachers from 62 to 67.
While that pension reform will only affect new teachers, Lynch said her first call to action, if elected, will be to "open the books" at CPS and see for herself where cuts can be made "because then we would know exactly where the bodies are buried."
She said there are too many mistruths passed on from the CBOE that are confusing and startling teachers.
"[Huberman] is negotiating in the press and trying to terrify people that they are going to lose their jobs. They've already raided our pension fund. We have given enough while the top brass of CPS has given themselves big salaries. The board cried last year that they cut 500 jobs from central office, but if that was really true there shouldn't be any one left at the board."
Lynch characterized the Stewart regime as "asleep at the switch" and too focused on internal wrangling. She said it was time for a change.
"There's a lot of work to be done. We've got to fight like hell, and we are going to fight like hell if we win," Lynch said. "The union members need to know that the union has their back, and sadly, too many union members don't feel that way."
This is part of the May 12, 2010 online edition of The Beverly Review.
