Huberman continues Central Office purge with resignation of press aide, hiring of more expensive cronies
George N. Schmidt - May 11, 2010
Chicago Public Schools Chief Executive Officer Ron Huberman continued his purge of people who know anything about public schools at the end of April and in early May 2010, and their replacement with patronage cronies, often at higher salaries than ever before, in one of the most cynical maneuvers in the history of the often corrupt Chicago Public Schools. The latest to go is a mid-level press aide, Malon Edwards, who was the last person in the Board's huge press department to try and answer press questions promptly and accurately.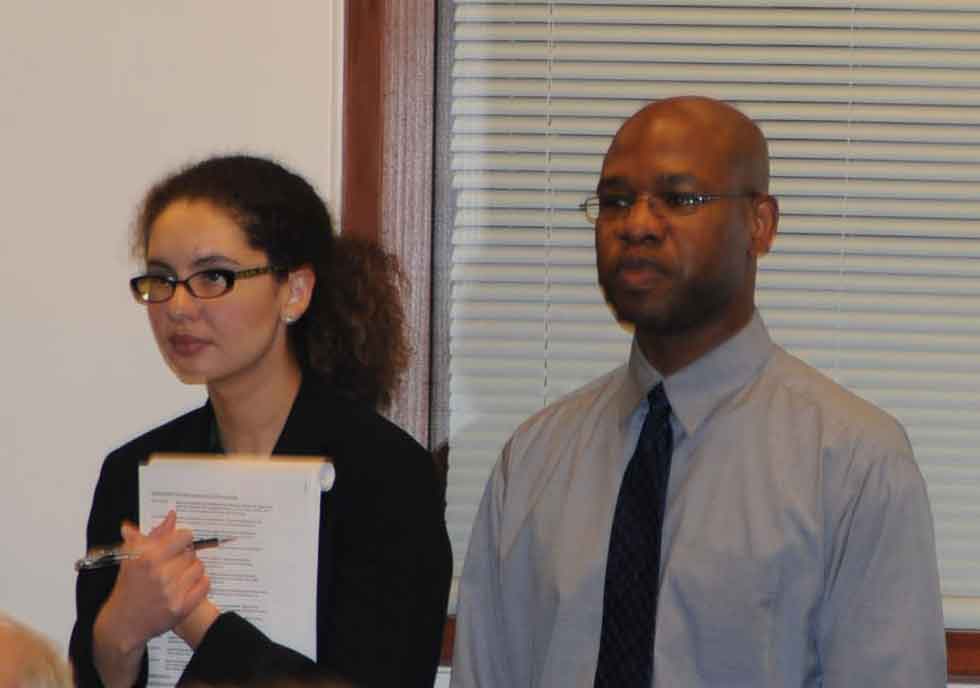 Malon Edwards (above right) at the November 2008 Board of Education meeting, following the election of Barack Obama. Edwards was forced to resign by Ron Huberman's staff on April 30, 2010. Substance photo by George N. Schmidt.Two days after the Chicago Board of Education established a virtual police state to control the surge of protests at the April 28, 2010 Chicago Board of Education meeting, Ron Huberman's propaganda chief, "Chief Communications Officer" Monique Bond, forced the resignation of one of the last of the people in the CPS Communications Department who knew the city's schools. According to CPS, Malon Edwards "resigned" effective April 30, 2010.
The resignation of Malon Edwards leaves behind only a handful of people in the Board's communications staff who actually can find their way around the city's vast schools system, placing what is left of public relations in the hands of propagandists like Monique Bond, who view their job as spinning every story (with the help of corporate media reporters).
Even by the standards of the administration of Arne Duncan, who preceded Huberman, the ongoing attempt to manipulate media at CPS today is unsurpassed. By the final two years of the Duncan administration, CPS communications staff, usually led by Michael Vaughn (who resigned and left town almost immediately after Huberman took office) tried to answer straightforward factual questions about important matters coming out of CPS. Within six months after Huberman's appointment of Monique Bond as "Chief Communications Officer" (her official title in CPS budget documents), every phone call, including those with even the simplest question, was answered in the same way:
"You have to ask Monique about that."
And one of the funniest things about the answer was that Monique Bond never answered her phone calls, and those trying to get to her phone at CPS would get a recorded message that the "mailbox is full."
Malon Edwards was officially listed in Board records as a "Staff Writer" at a salary which never exceeded $60,000 per year, but his work was respected by reporters and his colleagues.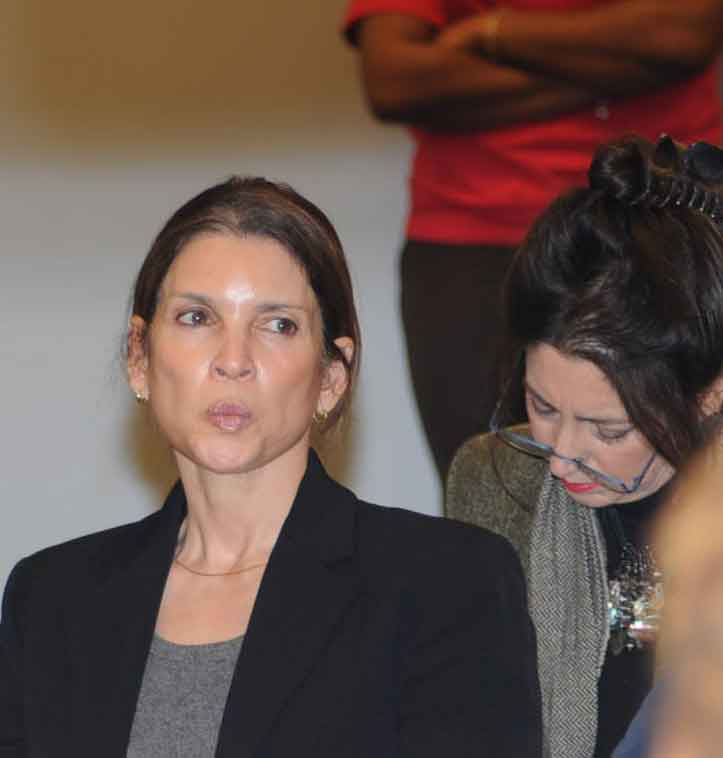 Ron Huberman's propaganda chief, Monique Bond (above left, sitting beside Sun-Times reporter Rosalind Rossi at the February 2009 meeting of the Chicago Board of Education) was put in place at an annual salary of $130,000 per year by Ron Huberman less than a month after he was appointed CPS CEO by Mayor Daley in early 2009. Bond has become legendary among reporters who try to get accurate information about CPS by her unwillingness to even answer her own telephone, and her insistence that every question go through a Freedom of Information Act (FOIA) request or email. Substance photo by George N. Schmidt.In February 2009, Ron Huberman had appointed Monique Bond, whose prior experience had been in the Chicago Police Department, to the position of "Chief Officer, Communicatioins," at the unprecedented annual salary of $130,000.
Prior to Huberman's appointment, the highest paid press aide at CPS had been Peter Cunningham, who worked as a "consultant" under Arne Duncan, at a final annual salary of $120,000 per year. Cunningham was moved into a full-time job as a strategic planner for Duncan.

Malon Edwards (top) and Celeste Garrett (bottom) during an Arne Duncan press conference in March 2007. Garrett served as head of the CPS press office during the last years of the Duncan administration. Substance photo by George N. Schmidt.Following the Cunningham move, the top job in the press office went to Celeste Garrett, who was paid (at the end) $100,000 per year.
Monique Bond's immediate predecessor at the Board's Office of Communications was Mike Vaughn, who left for a job in Colorado in late 2009, following Huberman's reorganization of the Board's public information office into a propaganda department headed by Bond. During the last years of the administration of Arne Duncan, Vaughn established a reputation among reporters for what is now called "transparency." He was often available at all hours when breaking news (such as student deaths) happened, and would usually answer reporters' phone calls within an hour or two, often providing factual information on the spot.
At one point in 2008, Substance received phone tips about gang activity at Clemente High School and Crane High School on the same morning. By the time Substance reporters arrived at Clemente, Vaughn had checked the story and had additional information, including the number of arrests, for the press. The same day, a Crane student was murdered outside the school, and CPS was ready to answer all relevant questions almost immediately under Mike Vaughn.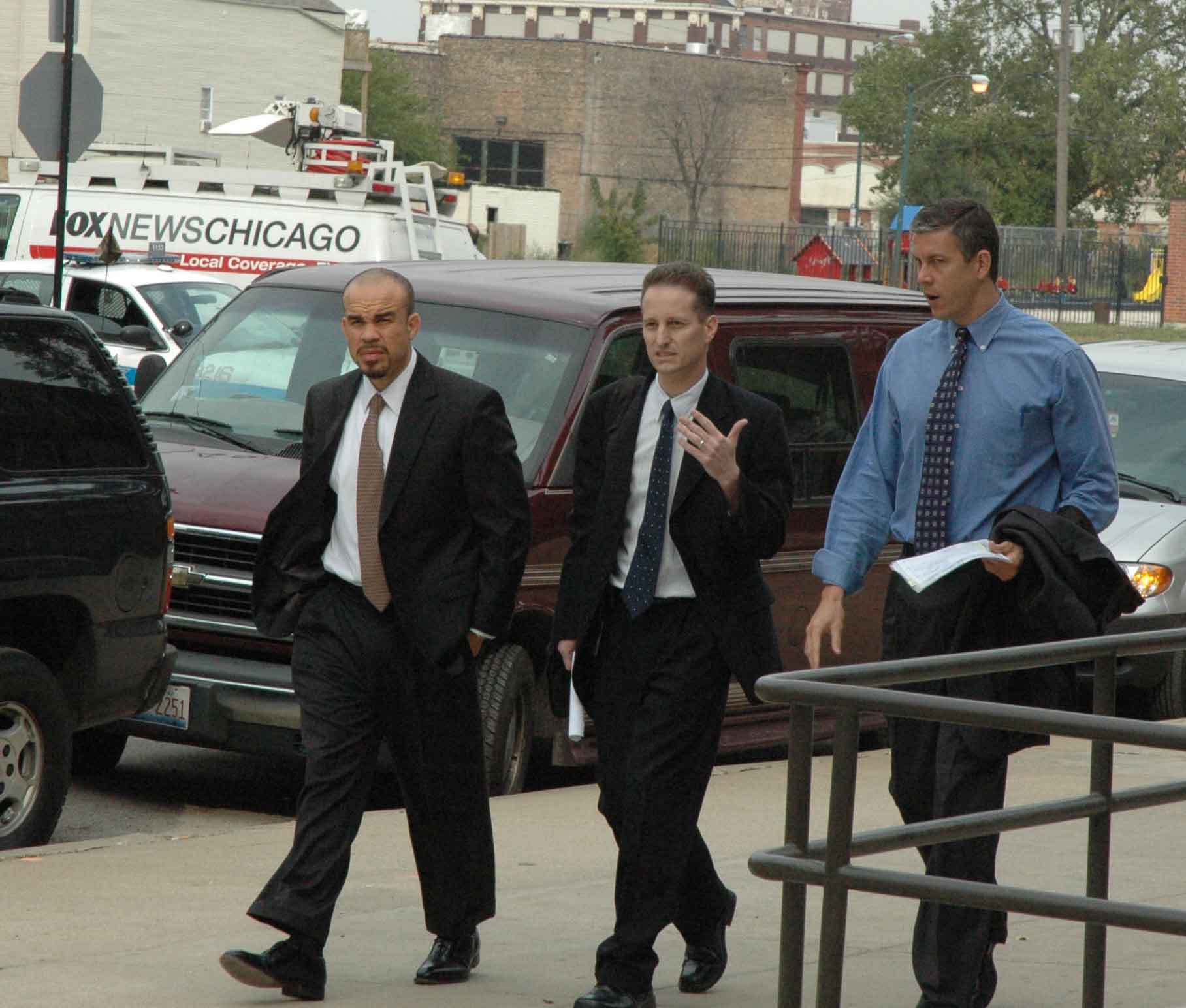 Above, Mike Vaughn (center) arrives at the October 2007 dedication of Chicago's Marine Military Academy with CPS New Schools Chief Josh Edelman (left) and Chief Executive Officer Arne Duncan (right). Once Ron Huberman arrived, the process of closing off communications to the public under Vaughn's successor, Monique Bond, began. Substance photo by George N. Schmidt. By the time Vaughn had left, the Office of Communications was being dubbed to Office of Obfuscation by some observers. The cover up of information and constant stalling became Bond's trademark, and she has been terrorizing staff who try to provide even the most simple answers to citizens' and reporters' questions.
In one of the strangest examples in this strange and storied history of Chicago public education journalism, Bond offered to arrange a press breifing on the CPS budget for Reader reporter Ben Jarovsky, following Jarovsky's expose in the Reader of Huberman's inflated staff salaries and jobs to Huberman's cronies. During a meeting with the three people who were supposedly the top budget and human resources people at CPS, Joravsky, as he later reported, was treated to the Monique Bond runaround. Bond didn't note that all of the people meeting with Jarovsky were recent appointees of Huberman's who still knew almost nothing about CPS finances. When asked specific questions, Jarovsky reported, they told him he had to ask Monique Bond, who demanded that he file a request under the FOIA. 