THE HOME STRETCH: CORE Fundraiser at Casey Moran's Lights Up North Side Friday Night, May 7
Jim Vail - May 09, 2010
[EDITOR'S NOTE: With the publication of this story, Substance begins a series of articles which we will be calling "The Home Stretch" leading up to the May 21, 2010, Chicago Teachers Union election. We hope that reporters from every caucus and group in the Chicago Teachers Union will provide us with regular reporting and photographs from schools and community events leading up to the most hotly contested election in the history of the Chicago Teachers Union. Every article we publish will indicate for our readers the caucus affiliation of the reporter, if necessary. George N. Schmidt, Editor, Substance].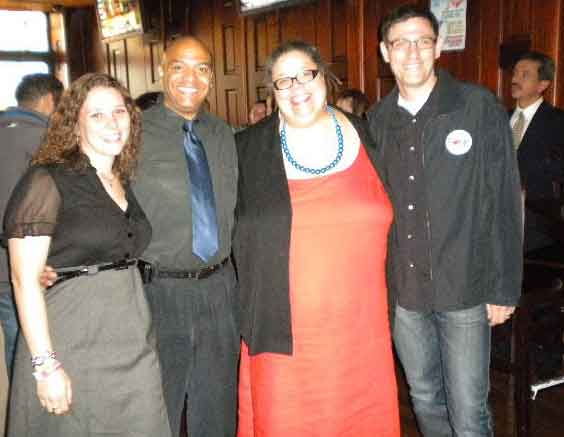 CORE officer candidates Kristine Mayle, Michael Brunson, Karen Lewis, and Jesse Sharkey at Casey Moran's. Substance photo by Jim Vail.The Caucus of Rank and File Educators (CORE) held a lively fundraiser on the northside at Casey Morans on Friday, May 7, 2010, with two weeks to go before the Chicago Teachers Union election.
About 75 people attended the event just across the street from Cubs Park where supporters gathered. A raffle was held in which this reporter won a 2010 Chicago Blackhawks Central Division Champion hat, which was promtly given to his son Leo.
"We are gathered here because we want to stop the attacks on public education and build a strong union again," CORE Presidential candidate Karen Lewis said to cheers and whistles.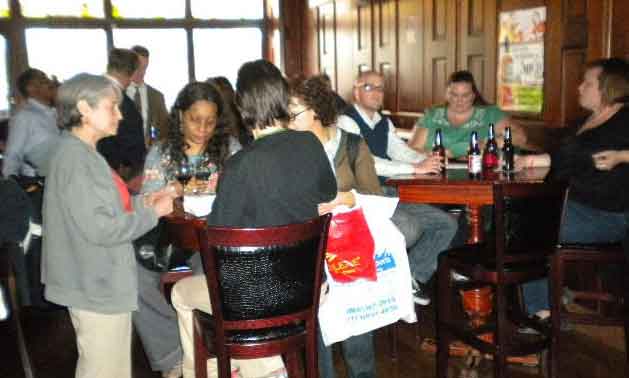 Part of the crowd at Casey Moran's. Substance photo by Jim Vail.As the campaign heats up in the final two weeks before election day May 21, more and more schools have been contacting CORE to set up school visits. Many delegates have been impressed with Lewis's fighting rhetoric and reigniting a 30,000 strong membership to fight the latest round of budget cuts Mayor Richard Daley and the Board of Education are threatening, including laying off thousands of teachers by increasing the class size to 37 students.
"Isn't Karen Lewis a part of CORE?" wrote a northside delegate. "I heard and saw her at the delegates meeting ... I was impressed!"
Another CORE northside meet and greet fundraiser will be held Friday, May 14 at the Fireside Restaurant and Lounge at 5739 N. Ravenswood from 4pm - 7pm. CORE candidates president Karen Lewis, vice president Jesse Sharkey, recording secretary Michael Brunson and financial secretary Kristine Mayle will again be on hand to meet people and answer questions.
[Full disclosure: Jim Vail is a CORE candidate (for elementary functional vice president) as well as a long-time Substance reporter].