interview with Chicago Teachers Union Treasurer Linda Porter, who is the CSDU candidate for President of the Chicago Teachers Union
John Kugler - May 04, 2010
[Editor's Note: With the interview below, Substance reporters will be trying to interview each of the candidates for the presidency of the Chicago Teachers Union. Since the candidates all became official with their nominating petitions turned in to the CTU on March 23, four of the five candidates and their caucuses have been cooperating with Substance so that we can provide this coverage, both for the election and so that an accurate account of the story of this unprecedented election stays on the Internet. Full disclosure: John Kugler is a member of CORE. George N. Schmidt, Editor, Substance].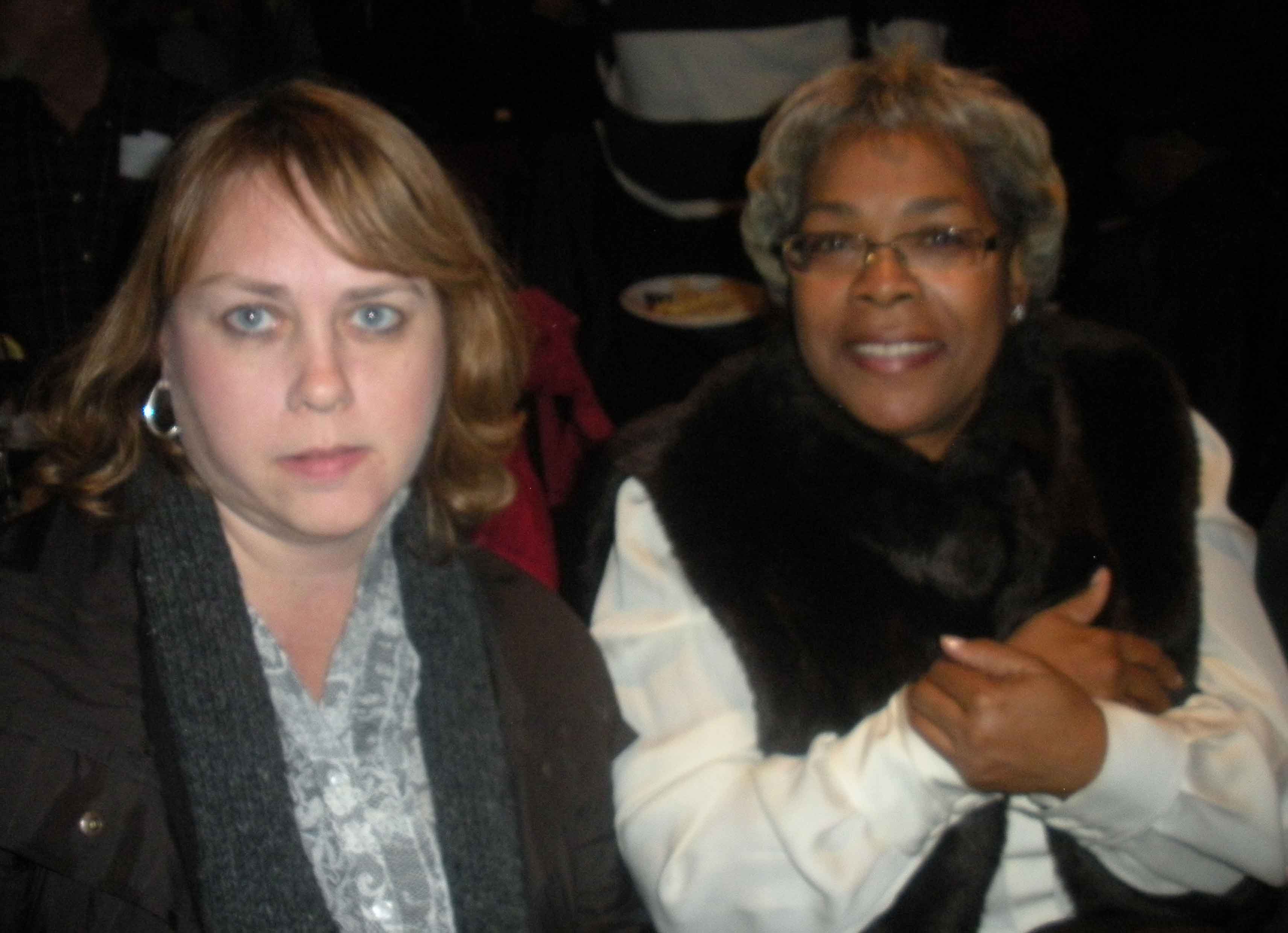 Chicago Teachers Union Treasurer Linda Porter (above right) attended the Substance Second City benefit on November 10, 2009, with her running mate (candidate for Recording Secretary) Lisa Dimberg. Substance photo by Sharon Schmidt.Interview with Linda Porter candidate for President Chicago Teachers Union is the current union Treasurer who broke with Stewart following the union's 2007 election and the 2007 contract. Her Caucus for a Strong Democratic Union (CSDU) has been in existence since 2009.
WHY DO YOU WANT TO BE PRESIDENT OF THE CHICAGO TEACHERS UNION?
As the president of the CTU I will be able to restore job protection and continued employment for all teachers and PSRP's and mobilize union members. The last two CTU Presidents have sold out the members and caused an erosion of true job protection. In the last nine years the CTU has lost more than 6,000 members. Currently, our active membership is less than 27,000, that is an 18% reduction of our membership. Having the best-paid benefits and working conditions mean nothing if you don't have a job. I am not for sale, nor are the acquired contractual rights addressing the needs of the members to be given away. I will fight, as I always have, to ensure that a contract is in place benefiting the members' career choice and a professional salary.
DO YOU FEEL YOU HAVE ENOUGH EXPERIENCE TO RUN ONE OF THE LARGEST TEACHERS UNIONS IN THE COUNTRY?
With more than 30 years of union experience and as a union activist, I have demonstrated the passion and commitment to fight on behalf of the membership. I embarked upon my career as a playground delegate and became a functional Vice President, IFT Vice President and Treasurer of the CTU. I recognize the importance of enlisting and maintaining experienced personnel in the administration and operation of CTU. I will place people in leadership positions that have a broad based knowledge and skills necessary in effective contract negotiations, enforcement, lobbying, organizing and communicating.
YOU WERE ELECTED AS PART OF MARILYN STEWART'S SLATE THREE YEARS AGO, IN MAY 2007. WHAT MAKES YOU DIFFERENT THAN HER AND HER POLITICAL PARTY?
Stewart promised the members true job protections and continued employment — she lied. She has not delivered on her promise. In fact, she cheated on the vote in the House of Delegates to get the contract ratified. This is a well-documented fraud committed against the membership. She has exposed herself for who she really is, it's all about the money--$200,000 a year from CTU and IFT compensation. My views are different from hers and her political cronies. I openly broke from her political party and leadership, I am not a self-serving person who does not care about the members, I work for the members.
CAN YOU TALK ABOUT WHO BROUGHT YOU UP (MENTORED) THROUGH THE RANKS OF THE UNION AND SOME OF YOUR BACKGROUND IN THE UNION, INCLUDING ANY MAJOR GRIEVANCES OR ADVOCACY YOU WERE PART OF?
I was mentored by the late Gene Borucki, who was a very dedicated Field Representative and union activist. Gene encouraged me to run for the position of Playground Functional Vice President. I have over 30 years of union experience and as a union activist, fighting on behalf of the membership — it's in my blood. I started out as a playground delegate and became a functional vice president, IFT vice president and Treasurer of he CTU. Also, I have served on various committees in the CTU, IFT and AFT. CPS arbitrarily eliminated the jobs of over 100 play ground teachers. CPS owed the teachers compensatory timed earned during spring break and Christmas vacation. I filed a grievance on behalf of these teachers and a 4year battle ensued, with four different field representatives. Through persistence and working along with the union, we were eventually able to reach a mutual settlement. This is how I learned the benefits of standing up for your contract rights and how the grievance system can work.
WHAT DO YOU SEE AS THE MOST PRESSING ISSUE NOW FACING THE UNION?
The most pressing issue facing the union today is the carving-up or dismantling of CPS schools into a two tiered school system, opening non union charter and traditional public schools that are separate and unequal. My mantra and the mantra of CSDU is to obtain true job protection for teachers and PSRP'S and to stop the proliferation of non-CTU schools. I will persistently and effectively attack both of these issues contractually and legally.
DO YOU AND YOUR GROUP HAVE AN ALTERNATIVE PLAN TO RON HUBERMAN'S PROPOSED BUDGET CUTS AND DEFICIT PROJECTIONS? AND WHAT IS IT?
John, you realize that I can't reveal our specific strategies in detail, but I assure you that we are ready to hit the ground running immediately following the election. The CSDU team and I are currently working to analyze the budget. We are seeking to determine where CPS has hidden money. Our objective is to protect the 2007-2012 contract. Additionally, we are developing a negotiation plan to address CPS threats to the contract and the security of the members.
NOW THAT ARNE DUNCAN IS THE US SECRETARY OF EDUCATION AND IS PUSHING PRIVATIZATION, MERIT PAY, AND REWRITING OF TENURE LAWS AS PART OF HIS RACE TO THE TOP GRANT PROGRAM, HOW WOULD YOU ADDRESS THESE ATTACKS ON PUBLIC EDUCATION IN CHICAGO?
The public needs to be educated concerning "The Race to The Top Program". It is a union busting program that attacks public education in Chicago as we know it, diminishes the quality of education and adversely affects students. The attack began under the Lynch administration with the REN 2010 program. Under Stewart, it has progressed to breaking–up the CPS Schools and weakening our union. The AFT and IFT organizations must actively fight Duncan's union busting initiatives. I will hold our parent organizations feet to the fire. They must be accountable―that's why we pay hundreds of thousands of dollars in per caps to both of these unions. We must demand our monies worth.
WHAT IS YOUR POSITION ON ORGANIZING CHARTER SCHOOLS? IS IT GOOD FOR THE UNION?
We need a contractual solution addressing the issue of charter school expansion, and the cloning of these schools. The continued growth of these schools threatens public education and our jobs and must be aggressively addressed and stopped now!' One can blame CPS and the mayor, but the buck stops with the president of the CTU for allowing this to happen.
IN THE PAST WEEK, GOVERNOR PAT QUINN SIGNED INTO LAW SB 1946 THAT CREATES A TWO-TIERED PENSION SYSTEM FOR CHICAGO TEACHERS. WHAT WOULD YOU DO AS PRESIDENT TO REVERSE THE EFFECTS OF THIS LEGISLATION ON CHICAGO TEACHERS UNION MEMBERS?
The two-tiered pension system is another union busting legislative act and the current CTU leadership has abdicated its responsibilities in that regard. My plan as CTU president will be to hire a professional lobbyist to navigate the politics of Springfield. I will educate our members in the need to build up our Political Action Committee monies, our need to become political. We need to hold the political powers accountable. I will personally confront all politicians who disrespect the CTU membership. I will not be in bed with them. I will confront them. If they want our support they must give us their support.
DO YOU PLAN ON TAKING UP THE CAUSE OF THE THOUSANDS OF DISPLACED TEACHERS THAT ARE NOW OUT OF WORK AND ARE BEING REPLACED BY NEW TEACHERS FOR TEACHERS WITHOUT PROPER CERTIFICATIONS? AND WHAT MEASURES WOULD YOU TAKE TO HELP THESE TEACHERS?
Last summer, I began working on this issue with hundreds of displaced and reassigned teachers. The CSDU team has been avidly working with DARTS/Antoinette Barnes to secure the rights of these teachers. There are hundreds of DARTS members from every caucus. We have taught Antoinette to write grievances, consulted with her and her members and assisted some members in getting their jobs back, even the grievance that they recently won. In addition, we were instrumental in Ms. Barnes filing her multimillion-dollar lawsuit. This is the mantra of CSDU: aggressive enforcement and legal action to enforce the contract and members' rights and this is the same pledge we make to all teachers and PSRP'S.
ONE OF THE HARDEST HIT GROUPS WITHIN THE UNION ARE THE PSRP'S WHO HAVE ALMOST NO JOB PROTECTION WHATSOEVER UNDER THE CURRENT CONTRACT IN SCHOOL CLOSINGS, REORGANIZATIONS AND OTHER MEASURES WHEN THEY ARE FORCED OUT OF THEIR JOBS. HOW CAN YOU HELP PROTECT THESE MEMBERS AND GIVE THEM JOB PROTECTION EVEN THOUGH THE CONTRACT IS IN FORCE FOR ANOTHER TWO YEARS?
It's true our PSRP'S have been hung out to dry by the last two CTU administrations. I will fight for the rights of the PSRP'S, in strategic bargaining, in the courts, and in the streets. The Stewart administration has made PSRP'S second-class citizens and that never should have happened. My team will continue to fight for the jobs of our members: contractual parity for all PSRP'S with the teachers. We feel so strongly that PSRP's need a voice in the union that when CSDU was slating officer candidates we made a conscious choice that one candidate needed to be a PSRP. CSDU did make that decision and slated Jose Jimenez, a school payroll clerk at Wells Community Academy High School, for Financial Secretary of the Union.
LET'S SWITCH GEARS HERE A LITTLE BIT AND TALK ABOUT THE UNION AND HOW YOU SEE YOURSELF BUILDING BACK BOTH THE MEMBERSHIP OF THE UNION AND EMPOWERING THE MEMBERS SO THAT THEY CAN DO THE BEST JOB THEY CAN DO WITHOUT FEARING LOSS OF BENEFITS OR EMPLOYMENT.
I will be a hands-on president who aggressively enforces the contract and confronts abusive principals. The members will be protected in their daily activities, from intimidation from CPS. It is imperative that we have true job protection to protect teachers and PSRP'S.
CAN YOU GIVE US A PLAN HOW YOU PROPOSE TO STREAMLINE THE UNION SPENDING AND MAKE SURE THAT EACH MEMBER GETS THE SERVICES THEY REQUEST AND ARE ENTITLED TO?
In view of the 18% reduction of union membership, that's approximately 6,000 members, the CTU needs to downsize and reduce their expenses. The demands on our personnel's time will challenge them to improve their overall efficiency through better time management and not forsaking quality service to the members. Also, a system of accountability for services will be put into place. Despite the losses we have suffered under the Stewart administration, we will boost our performance in servicing members and ensure our members' rights are protected.
YOU HAVE PROBABLY SEEN MANY THINGS THAT THE PRESENT ADMINISTRATION IS DOING WRONG, SO WHY HAVEN'T YOU BEEN MORE VOCAL TO BRING THIS TO THE MEMBERSHIP DURING THE HOUSE OF DELEGATES MEETINGS?
John, both you and the members are well aware of my break with the Stewart camp. She has overspent by $8,000,000 and given us a "sell-out" contract. To add insult to injury, Stewart has
stripped me of all my constitutional duties, taken my computer, secretary, and froze me out of all decision-making activities at CTU. Additionally, she has instituted a policy for the staff not to talk to me and to report my movements to her. I am unable to enter the office without someone letting me in – I have no key. As a result, I decided that it was in the best interest of the membership, to reorganize and create a new political party to challenge Stewart, The Coalition for a Strong Democratic Union, CSDU, is that party and for the last three years, I have been bringing these concerns to the membership. We regularly sent out more than 18,000 emails, distribute literature to over 500 schools and we have held over 100 school meetings. This is how you change the leadership of the CTU.
DO YOU BELIEVE THAT IT MIGHT BE TIME TO MOVE OUT OF PRESENT LOCATION AT THE MERCHANDISE MART AND HAVE A MORE ACCESSIBLE LOCATION FOR UNION MEMBERS TO COME AND EVEN HAVE MEETINGS WITHOUT HAVING TO GO TO DOWNTOWN OFFICE? AND COULD THIS BE DONE LEGALLY AND IN A COST-EFFECTIVE MANNER?
The Merchandise Mart is quite expensive and a review of the lease agreement coupled with a cost analysis of a move needs to be completed by professionals prior to any decision being made.
HOW MUCH OF THE CURRENT UNION STAFF WILL BE RETAINED IF YOU WIN THE UNION ELECTION?
The current union staff is composed of two categories. You have employees with collective bargaining agreements, your Field Staff and Clerical Staff, and you have "at will" employees/ administrators who have contracts that expire with the current officers. As a unionist, I certainly honor all collective bargaining agreements. My guiding philosophy is simple-- all CTU employees work for the membership and we are there to serve the members. Whatever that entails we must be willing to do what it takes, those who don't have the will or who have lost there fight will be asked to leave.
DO SEE ANY PROBLEMS WITH THE WAY GRIEVANCES AND OTHER WORK-RELATED ISSUES ARE NOW BEING HANDLED BY THE UNION? AND HOW WOULD YOU CHANGE HOW MEMBER CONCERNS WOULD BE HANDLED?
Under this administration, Stewart discourages the membership from filing grievances and other work related complaints. Under my leadership I will develop initiatives for the membership to file grievances and complaints to challenge CPS in all attempts to intimidate the members. Naturally, both my staff and I will lead this challenge. As president I will initiate this program to file grievances in my name on behalf of CTU members.
WOULD YOU ESTIMATE, SINCE YOU ARE THE TREASURER WHAT THE CURRENT UNION ADMINISTRATION HAS SPENT IN LEGAL FEES FIGHTING ITS OWN MEMBERSHIP?
For the past three years Stewart has hidden all CTU expenditures from me, however, by my current estimates the Stewart and Lynch administration have spent legal fees in excess of 3.5 million dollars fighting its own members.
HOW WOULD YOU CHANGE THE LEGAL DEPARTMENT WITHIN THE CHICAGO TEACHERS UNION?
The legal fees at CTU are 2 million dollars annually. I will seek out talented dedicated and experienced labor attorneys. Our members deserve no less, their livelihoods depends on competent dedicated union attorneys. Every aspect of the union operations demands and requires dedication, experience and passion. We don't need self-serving attorneys who are only here to make money.
IS THERE ANY CHANCE THAT DUES COULD BE LOWERED DUE TO THE HARD ECONOMIC TIMES NOW FACED BY MANY TEACHERS?
John, I know some of the candidates are offering dues reduction for votes the CTU revenues have declined over 5 million Dollars under the Stewart Administration as a result of the reduction in membership. Less members equals less dues revenue. I will prioritize the budget to direct more CTU Revenue into member services and job protection. This is not the time to weaken our abilities to fight for the membership. I pledge to give the members everything that they pay for.
WHAT IS YOUR POSITION THAT UNION OFFICIALS SHOULD MAKE NO MORE THAT ANY TEACHER IN THE SYSTEM, HAVE TERM LIMITS ON OFFICERS AND FIELD REPRESENTATIVES AND ONLY EMPLOYEE MEMBERS IN THE UNION OFFICES?
I will hire CTU members in administrative and Field Representative positions. Everyone who works at the CTU in these capacities must be a member and pay union dues. Term limits are not practical nor an efficient use of members' abilities and experience. We must have the best people in these jobs. The membership has the final say in who stays in office; in that way they will chose the term limits of officers. If they are satisfied they will elect and re-elect the same officers or they will exercise their vote and elect new officers; this is a true term limit? As for compensation for employees at the CTU, I expect total dedication to the members, ten, twelve or fourteen hours a day 24/7-- whatever it takes. The employees have union representatives who negotiate for them. They should be compensated for the hours they put in and the number of weeks they work. This will have to be sorked out through their negotiations.
IN MANY ISSUES THE IFT AND AFT SUPPORT INITIATIVES AND LEGISLATION THAT ARE COUNTERPRODUCTIVE FOR CHICAGO TEACHERS. CAN YOU OUTLINE HOW YOU WOULD MAKE SURE OUR AFFILIATES DO NOT WORK AGAINST US OR DO WE HAVE ANY OTHER CHOICES TO DISAFFILIATE THAT WOULD NOT HURT OUR UNION?
The IFT and AFT must represent the concerns of the CTU membership. This is what we pay them to do. I will demand that they stand-up for CTU members. I will demand representation on the decision-making committees of the IFT and AFT, and I will leave all our options open.
WHAT ARE THE PROS AND CONS WITH OUR CURRENT UNION CONTRACT?
The CTU contract has a lot of ambiguity such as job protection, class size, hourly rate of pay, disciplinary actions, the 4% raise, health Insurance, and lack of contractual protection to stop the privatization of schools. These are major areas that the current CTU president had a chance to address and did not!! This current 2007-2012 contract is a paper tiger the only real PRO in the contract is article 3 grievances procedure, which the current president had nothing to do with negotiating. This is the meat and potatoes of the contract.
IF YOU HAVE THE CHANCE TO NEGOTIATE THE NEXT CONTRACT, OUTLINE YOUR PRIORITIES AND MUST GET ITEMS FOR THE MEMBERSHIP IN THE NEXT CONTRACT?
My priority is true job protection for teachers and PSRP'S that means continued employment. This is a must, when you do not have a job then nothing else will matter. The other top priorities are PSRP'S contractual parity with teachers, the end of privatization of schools, arbitration rights for all disciplinary actions, pension protection through legislation, and professional salaries.
WHAT IS THE FIRST THING YOU'LL DO IF YOU WIN THE UNION ELECTION?
John, I am not waiting, I am preparing a transition plan that will allow for a smooth rocess of my CTU administration. I am prepared to confront Huberman's threats to our contract. Whatever we do, will do it together, the membership will always have the final say―that's who we work for, in true solidarity. 