Large police and security presence as students protest CPS budget cuts in downtown Chicago
John Kugler - May 06, 2010
Students left classes across Chicago and protested against proposed school budget cuts on May 5, 2010. An estimated 1000 students converged at the front doors of the 125 South Clark Street headquarters of the Chicago Board of Education. Meeting the students was a heavy police presence of uniformed officers, on bicycles, in squad cars, ATVs and in plain clothes with guns showing. The police did not deter the students from making there voices heard.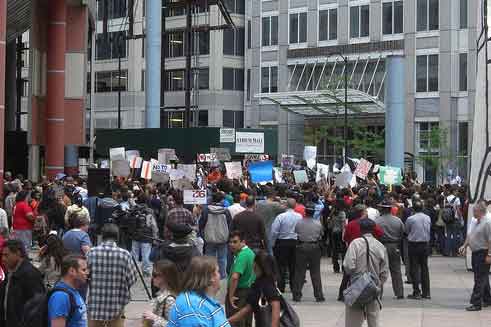 More than 1,000 Chicago students marched from the headquarters of Chicago Public Schools to the Thompson Center (State of Illinois Building) at Randolph and Clark streets to hold a rally protesting school budget cuts on May 5, 2010. Substance photo by John Kugler.As the crowd grew and more students started gathering they seemed to ignore the police and shut down Clark Street between Monroe and Adams. The students began chanting:
"Where's our Bailout"
"Who got sold out!"
"Where's our Bail Out"
"In Justice"
"In Justice"
"We want Huberman", they chanted, calling out Ron Huberman Chief Executive Officer of the Chicago Public Schools and mastermind of this year's proposed one billion dollar budget deficit.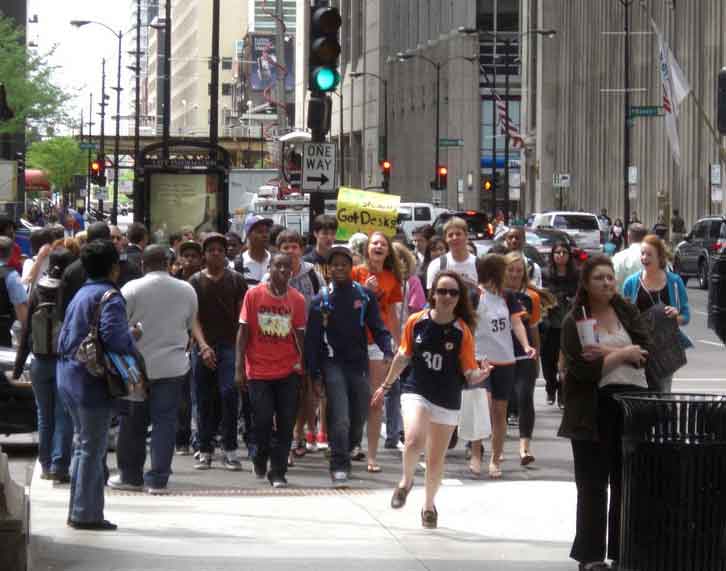 Students marching up Clark St. from the headquarters of CPS passed City Hall before ending their protest day with a rally at the State of Illinois Building. Substance photo by John Kugler.For about a about a half hour, the students made their concerns known by bullhorn: class sizes over 37, program cuts, their future educational opportunities. The students made the point that 50 percent of CPS students drop out before graduation and reiterated what they sent out over the internet the night before the protest: imagine what the crime and drop out rate will be after the budget/teacher cuts and the increase in class size. We are the future and we have to fight for our education. Think about our brothers, sisters, and kids.
The students started northbound towards City Hall and the State of Illinois government buildings. The Students chanted and walked through the streets of downtown Chicago as police blocked off intersections for the students. The protest walk was three blocks long as it made its way to the Thompson center. Once all the students arrived a series of speakers began to outline their demands and concerns regarding the proposed budget cuts CEO Huberman has been threatening since he announced $1 billion is budget deficit in February 25, 2010 for the fiscal year 2011. To this day Mr. Huberman has not presented any formal documents outlining specific budget deficiencies and shortfalls but has only used PowerPoints to make his point that drastic measures need to be taken for next year's budget.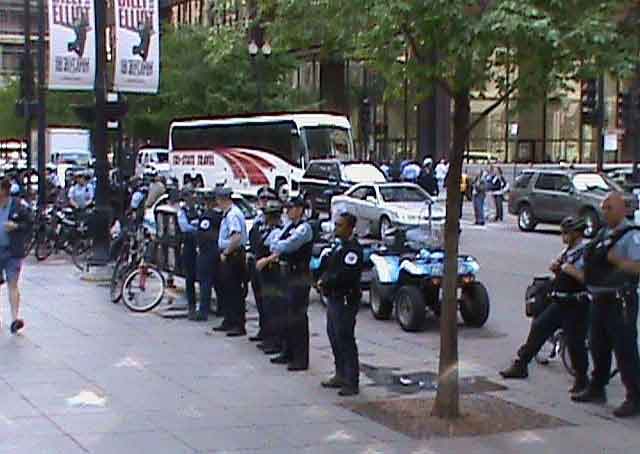 Police were everywhere along the line of the students' march on May 5. Substance photo by John Kugler.As the student speakers took turns attacking the claims of both Huberman and Illinois Gov. Pat Quinn that only severe cuts to education can solve the fiscal problems of government, it was clear from the speakers that they were making the case that education was not and should not be part of balancing government budgets. In fact the students repeated that education was not something like a commodity but that was their future and the futures of their younger brothers and sisters not something to be cut, slashed or bargained over.
One of the most poignant points during the presentation at the state of Illinois building was the playing of the Star-Spangled Banner by trumpet that drew loud applause from the crowd showing their spirit for democracy and freedom. This was a deep contrast to the overwhelming police presence that surrounded them on all sides.
The crowd was loud but peaceful, and seemed to be very well-organized with a schedule list of speakers at all at a different message in regards to problems that the proposed budget cuts will bring to their classrooms. At one point a speaker asked everyone to hold up their phones and then dial Gov. Pat Quinn phone number 217-782-0244. Then collectively left the governor and message to stop the cuts.
The protest ended with a singing of "We Are the World" by all the students. As a students started to disperse another protest was coming into the Thompson Plaza this one protesting budget cuts to mental health care in Illinois. This made many of the students cheer and some stayed to show support for this cause.
Pictures and Videos of the Protest can be seen here.
http://www.flickr.com/photos/32225081@N07/sets/72157623876020601/show/
One of the chants the protesters had while walking was "No To 37."
During the protest and on different banners and pickets there was the following website written
http://www.noto37.org
Website is simple form that allows individuals to contact their legislators to stop cuts in programs and staffing in Illinois schools to balance budgets.
The text of the website is below:
Thank you for visiting, and helping to avert a crisis in schools across Illinois.
By completing this simple form below, you'll send a powerful message to your elected leaders - that they must create a solution to properly fund education for the children of Illinois. Class sizes of up to 37 - and cuts in at schools statewide - are unacceptable.
When you press Find Legislators, this site will automatically search for your state reps, and present you with their email addresses and a pre-written email for you to send to them. Before it is sent, you will have the opportunity to customize the message as much as you like.
The more loudly they hear our voices, the harder they'll work to create a solution. So please let others know about this site, so they can join the effort of saving Illinois' schools.
http://www.noto37.org 