CTU candidates at Curie High School forum on April 27, 2010
Sarah Loftus - April 28, 2010
Four caucuses vying for office in the May 2010 Chicago Teachers Union election held a forum at Curie High School on Wednesday, April 27th. PACT, CORE and SEA were represented by their presidential candidates, Deborah Lynch, Karen Lewis and Ted Hajiharis respectively. CSDU was represented by vice presidential candidate Jack Moran who was substituting for Linda Porter. Moderator Curie teacher Susan Kroll told the audience of 40+ that Marilyn Stewart of the UPC sent a memo stating that she had a scheduling conflict and would not be coming. During the event, Substance reporters counted as many as 60 people in the audience and on stage.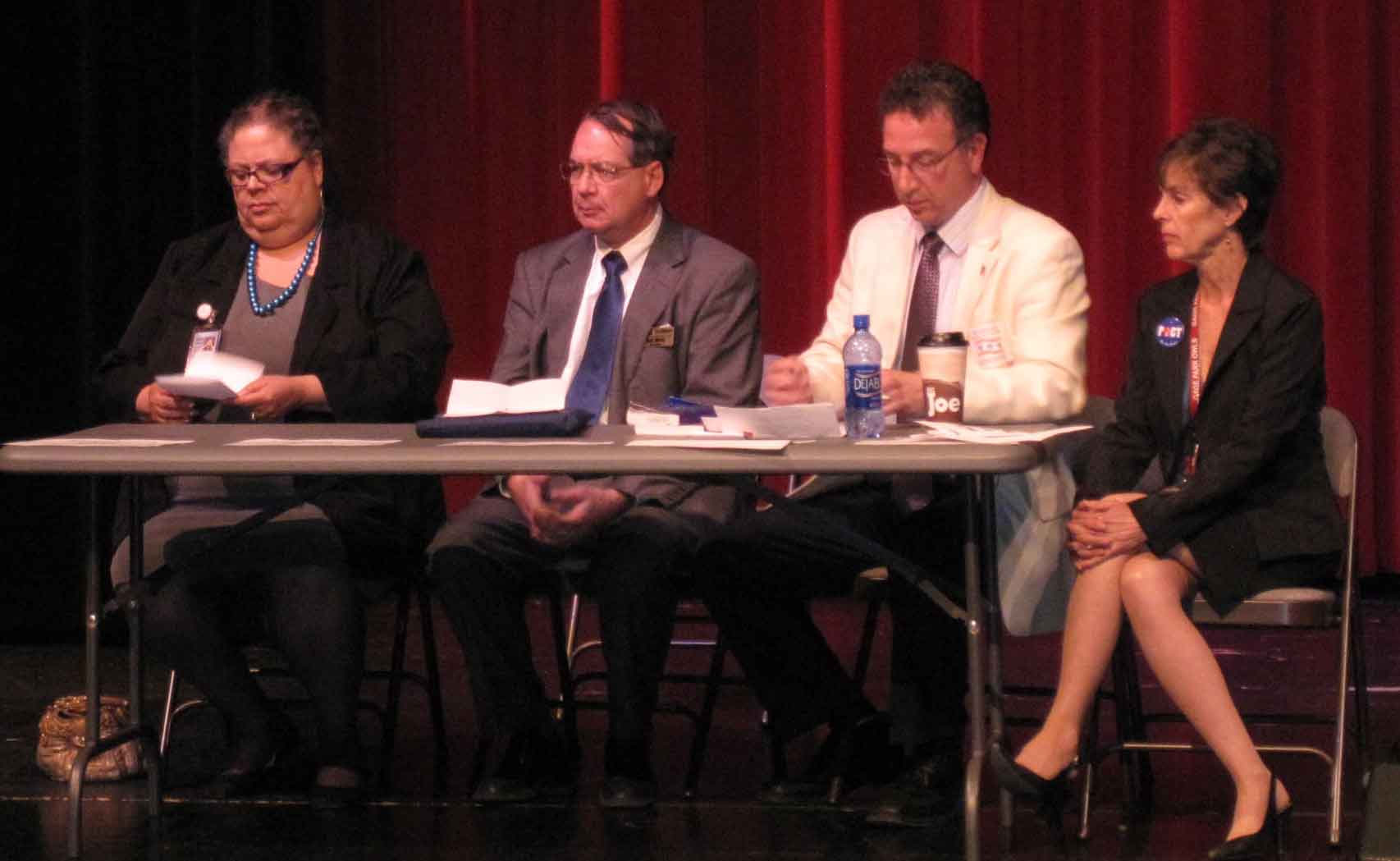 The candidates who took part in the Chicago Teachers Union candidates' forum at Curie High School on April 27, 2010, were: Karen Lewis (presidential candidate, CORE); Jack Moran (vice presidential candidate, CSDU); Ted Hajiharis (presidential candidate, SEA); and Deborah Lynch (presidential candidate, PACT). CTU President Marilyn Stewart told the group that she had a "scheduling conflict" and did not send anyone else. Jack Moran took the place of presidential candidate Linda Porter. Substance photo by Sarah Loftus.The order of opening statements was determined by lottery.
Jack Moran told the assembly that CSDU's platform was, 1. To protect jobs, 2. To bring democracy back to the House of Delegates, 3. That no one should be losing their job, and 4. That the Board of Education was not truthful about their budget.
Ted Hajiharis of SEA said that he would bring expertise in enforcing the contract and would change the contract to protect jobs, the work environment and member rights. He directed all to see his web site. Deborah Lynch of PACT stated, "We're mad as hell at the reign of terror," by CPS and cited the recent victory against Ron Huberman, CEO of CPS, and the BOE in Federal Court to regain First Amendment rights (without which this forum would not have been allowed in a Chicago Public School). She pointed out that the Union has lost nearly 6,000 members and thousands of children to charter schools and that the PACT team has experience and success in fighting the Board. While CTU president, she and her team delivered the highest raises in more than a decade, abolished the onerous FTB policies, which has given over 5,000 teachers tenure, created the Pension Enhancement Program, and conducted the first ever-principal evaluation that resulted in one of the most abusiveprincipals being fired.
Above, some of the nearly 60 CTU members who attended the April 27, 2010, candidates' forum at Curie High School. Substance photo by George N. Schmidt.Karen Lewis of CORE stated that what makes her caucus different from others is that they, "will not be doing it for you (the members) but with you." She said that membership has fallen off and many do not believe that unions are important. The CORE model is member driven not organization from 'top down.' "We must educate our members, school by school," she also talked of her goal of organizing the whole community.
The question period followed.
Questions were written down by members of the audience and then asked of all the candidates, who has a fixed amount of time to answer. Many questions focused on the flood of media reports about CPS budget woes exacerbated by Huberman's threats.
WILL YOU GIVE UP THE FOUR PERCENT RAISE TO SAVE JOBS?
Lewis, "No."
Moran, "No, we don't believe the Board."
Hajiharis, "4% will affect the pensions of those ready to retire, but the possibility of losing a job to others." He also said that, "the contract doesn't guarantee raises." And that he must sit down with the Board and discuss it.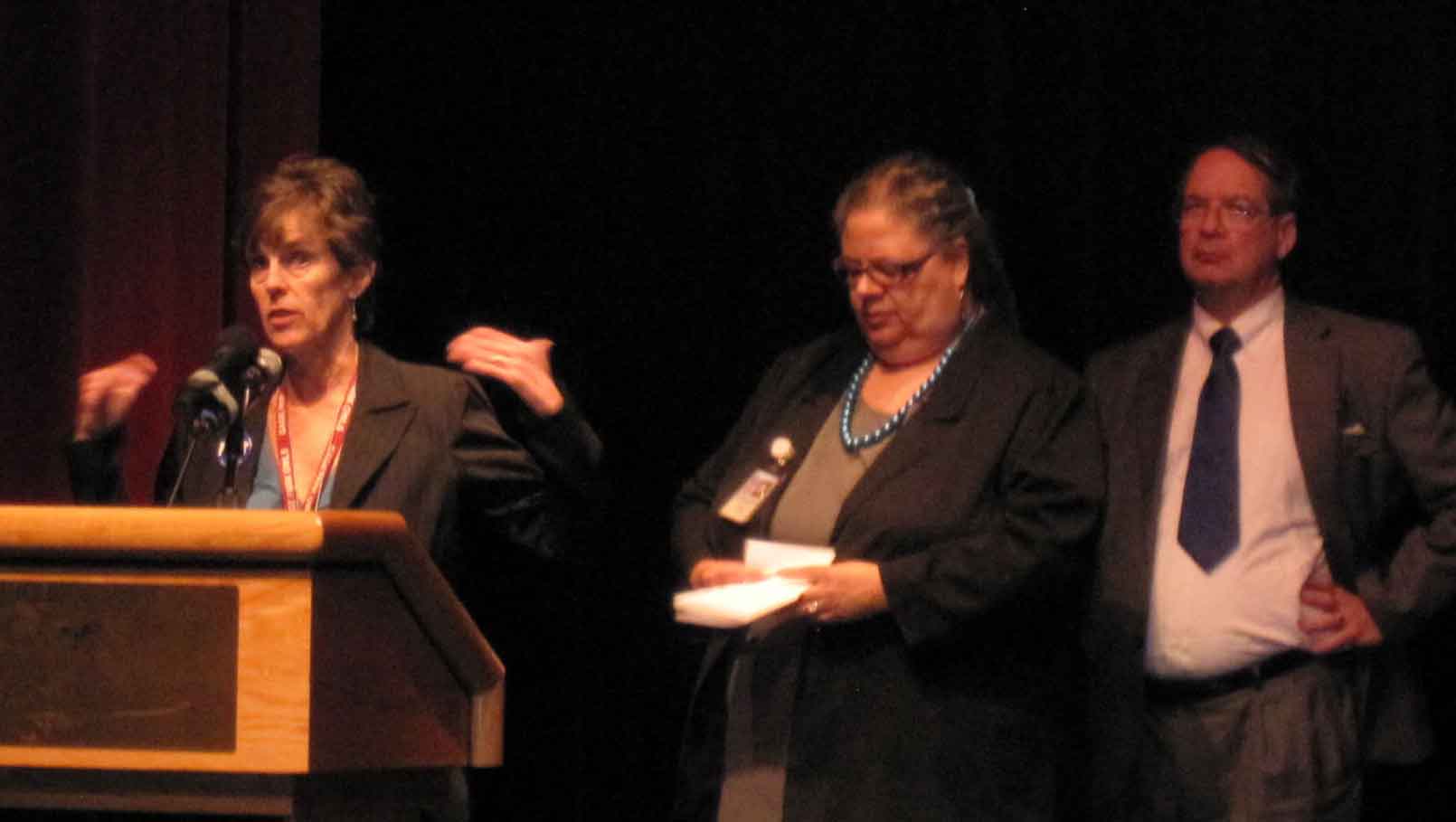 Above, an animated Deborah Lynch (left) responds to one of the questions posed during the forum. Also in the above photograph are Karen Lewis of CORE (center) and Jack Moran (CSDU). Substance photo by Sarah Loftus.Lynch, "if CPS declares a legal fiscal emergency the membership will have the final say."
WILL YOU REOPEN THE CONTRACT?
Moran, "No, Huberman wants "Bobble head Marilyn reelected"
Hajiharis reiterated that raises are not guaranteed.
Lynch, "NO, if CPS does not implement our raises the House of Delegates can vote to go on strike."
Lewis agreed that Huberman wants Stewart as president and "some back room deal will be made."
DO YOU SUPPORT THE RESIDENCY BILL?
Lynch, 'Let's be clear, King Richard (Daley) wants it and he makes the decisions… Charter school teachers don't have a residency requirement and CTU members shouldn't either."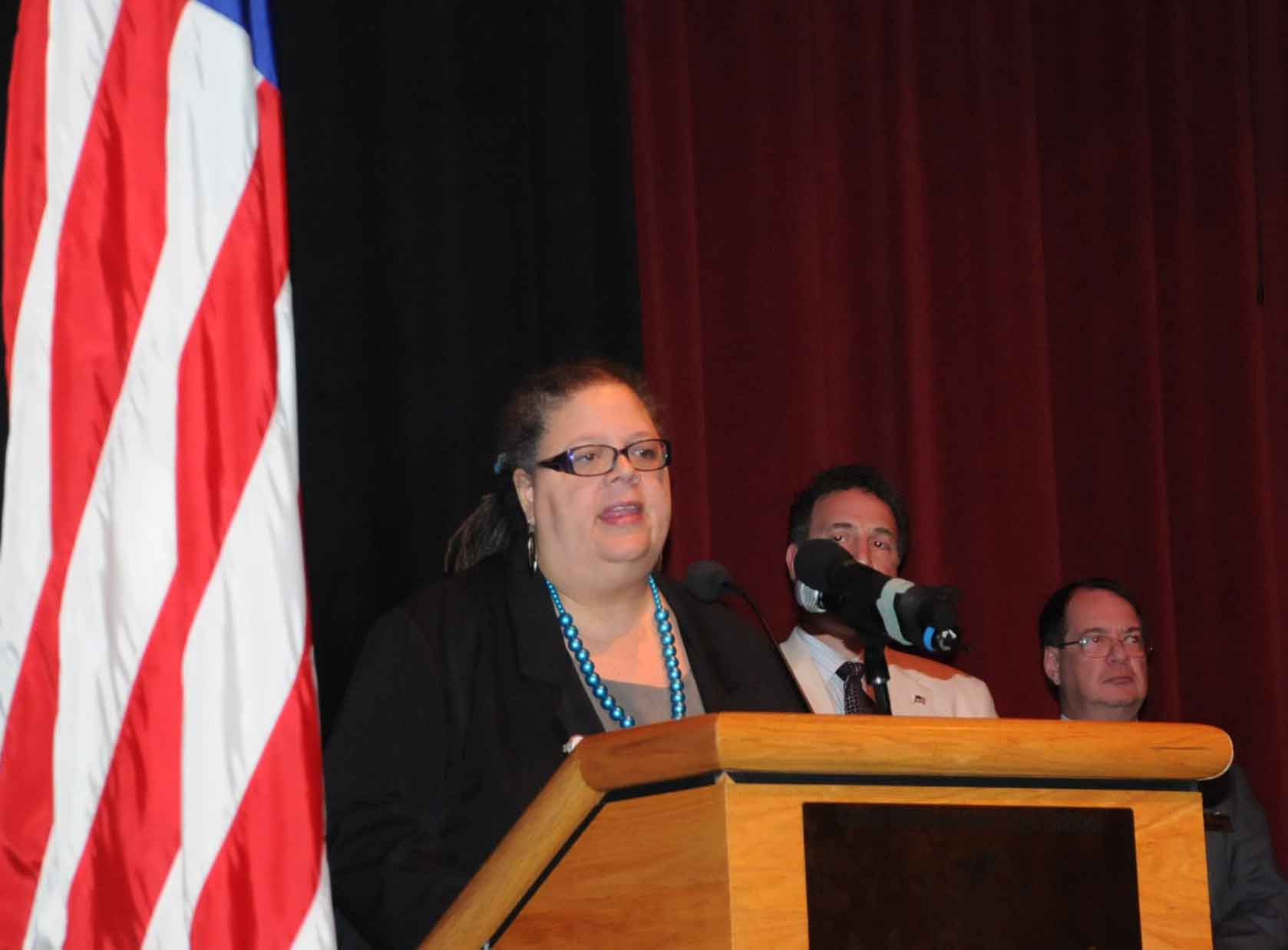 Flanked by the American flag and two opponents, Karen Lewis of CORE responds to a question during the Curie HS forum. Substance photo by George N. Schmidt.Lewis, "We don't have the power to change it…CTU must change the way things are done in Springfield."
Moran said he was against the residency requirement but also acknowledged that many good teachers live in the city.
Hajiharis stated that he has a political background in Chicago and that "CTU doesn't have the leverage needed to get it done." He also called for changes in the Political Action Committee.
HOW WOULD YOU COMBAT THE VICIOUS ATTACKS ON THE PROFESSIONALISM OF TEACHERS?
Lewis, "Corporate America wants to destroy unions and we must work member by member, school by school." She also suggested having a weekly TV show about the accomplishments of good teachers.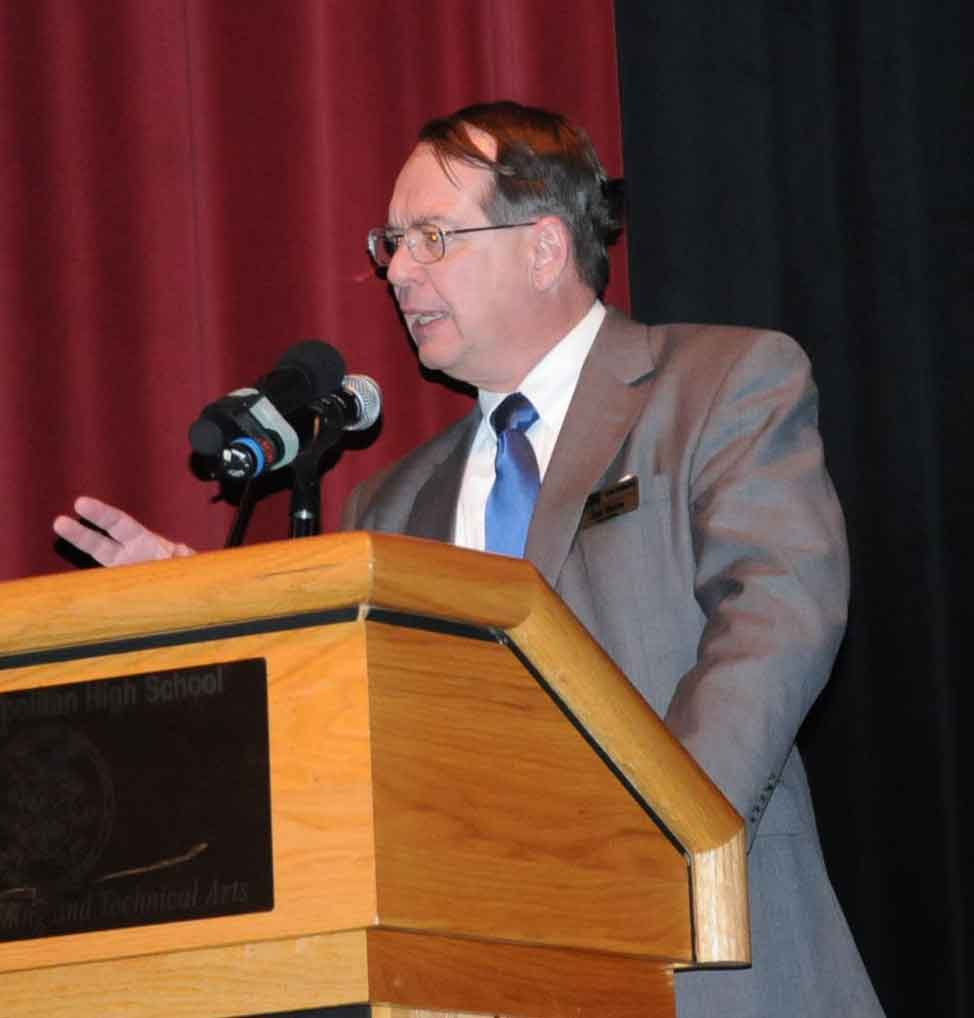 CSDU vice presidential candidate Jack Moran, substituting for presidential candidate Linda Porter, responds to a question on April 27 at Curie High School. Substance photo by George N. Schmidt.Moran, "We must reach out to the community,' and have better public relations.
Hajiharis said he would change the public perception through advertising, marketing and working with the community. He also said that there isn't time to get 'all factions on board.'
Lynch said that even though she "inherited a staff that vigorously worked against her (as president of CTU) she insisted the BOE and the media treat the CTU as a "Union of Professionals". She also forced a moratorium on school closings for academic reasons and established a program to improve schools developed by teachers through the union. (Stewart later dismantled this program.)
HOW WILL THE CTU ELECTIONS BE HELD AND WILL THEY BE HONEST?
The American Arbitration Association will be conducting the final count.
Moran said problem many occur in schools that do not have delegates and members need to be alert to this.
Lewis was concerned about the location of the counting location.
Lynch reminded everyone that PACT was responsible for the school-by-school reports and the initial hiring of AAA, an independent agency.
Hajiharis talked about the controversial House of Delegate contract vote.
HOW WILL YOU HANDLE THE NEXT CONTRACT NEGOTIATIONS?
Lewis, "Negotiations will not be behind closed doors… Classroom teachers will be at the table… we must empower members."
Moran, "Electing officers means you trust us."
Hajiharis, "We will negotiate in public… if problems occur…Boom."
Lynch, "Members will be informed."
Other comments;
On CTU lawyers:
Moran: " I have no trust in the (CTU) lawyers."
Lynch; "CTU had a father/daughter law firm on $1.5 mil retainer. We let them go and hired 5 full time attorneys on duty 24/7, for less money. Stewart fired them and rehired the father/daughter team."
On divisiveness: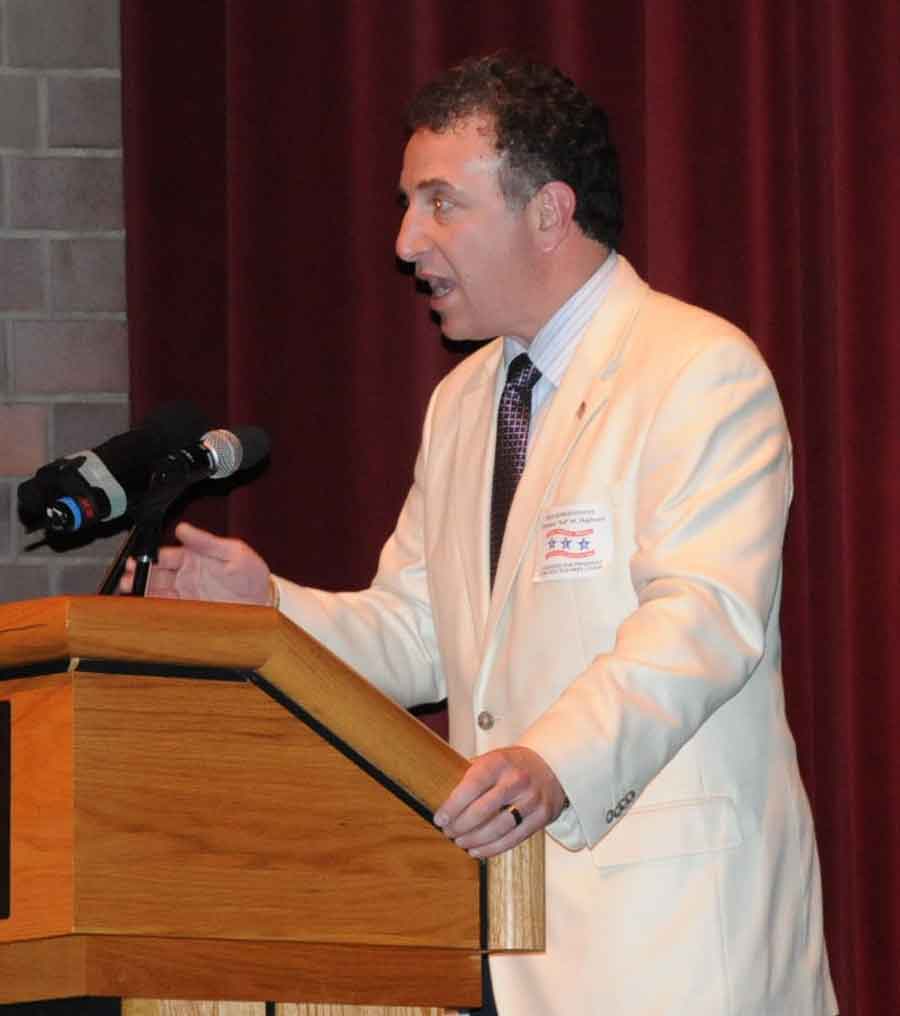 SEA caucus candidate Ted Hajiharis responds to one of the questions at the Curie HS forum. Substance photo by George N. Schmidt.Hajiharis, "Principals and administrators need to be in-serviced in sensitivity and human relations."
Lewis, "CTU leadership has contempt for members…they abrogated their responsibility to PATs because they wanted to beat Lynch."
The forum ended with closing statements.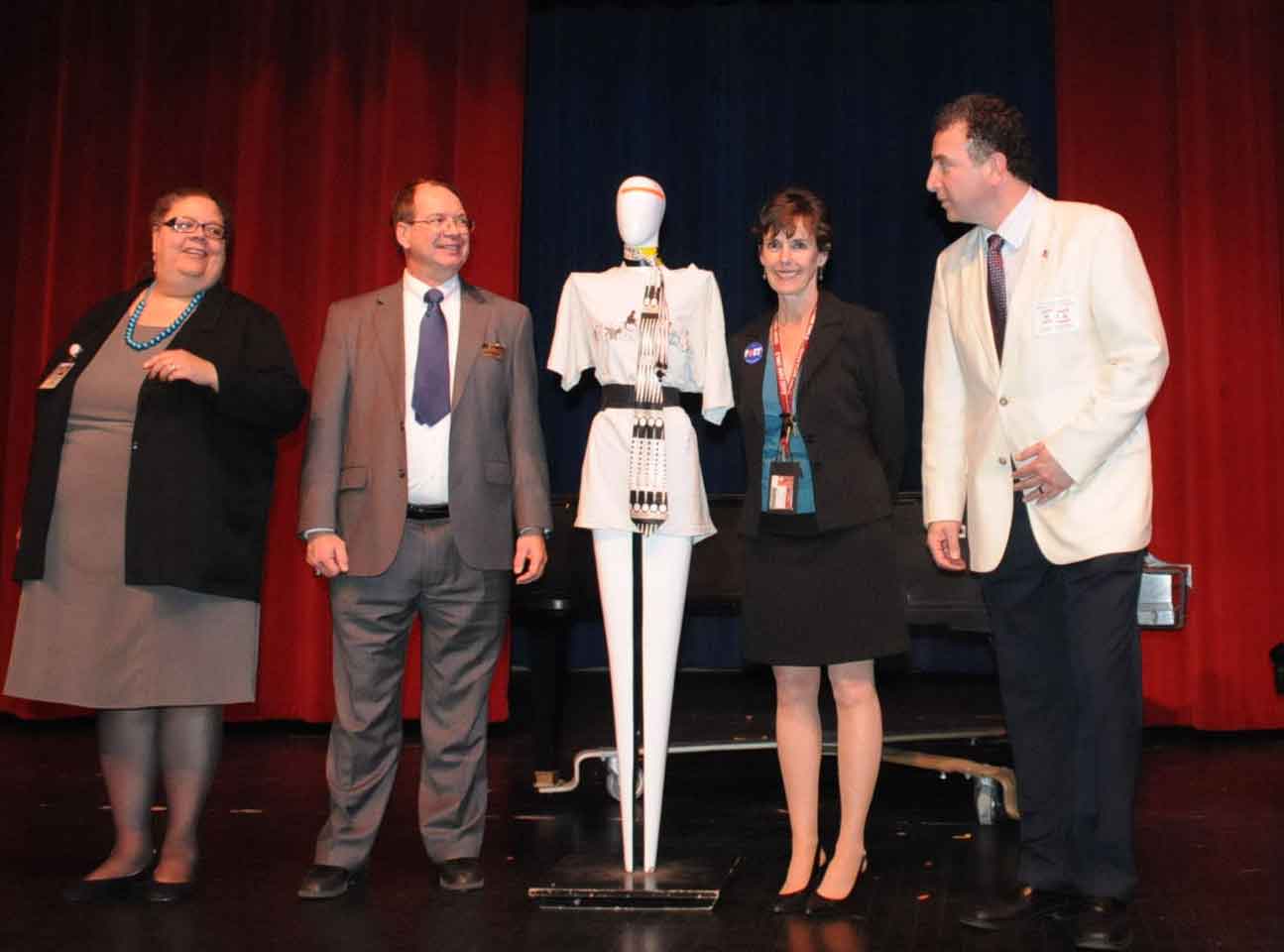 Chicago Teachers Union President Marilyn Stewart was the only one of the five presidential candidates who did not show up for the April 27 event or send a replacement. Although Stewart claimed that she had a "scheduling conflict," she also failed to send any of her three running mates. Stewart has been using the union's field representatives to schedule "union meetings" at schools since the election season began. Stewart then arrives at the meetings and then are turned into UPC campaign events, as Substance has reported. Often, Stewart's staff expel union members from the meetings,as happened at Hyde Park High School two weeks ago. While the union's field reps are being used to campaign on behalf of the UPC, Stewart forced Ted Hajiharis to take an unpaid leave of absence when she learned he was going to challenge her. Above, the four challengers posed at Substance's request with "Marilyn Stewart" following the forum. Left to right: Karen Lewis (CORE); Jack Moran (CSDU); "Marilyn Stewart" (UPCnot); Deborah Lynch (PACT); and Ted Hajiharis (SEA). Substance photo by George N. Schmidt.Lewis stated that this election is an opportunity to awaken the voices of 30,000 members. "We know best how to educate the children of Chicago," and 'we will restore the joy of teaching by empowering the membership building by building," and by building alliances with the community.
Hajiharis, "I know these guys down at the Board and they know that I know what I'm doing."
Moran evoked Jacqui Vaughn and stated that he believes in "members serving members".
Lynch stated that she has learned from her experience as president and as a teacher. She reiterated that, "Good working conditions are good learning conditions." and, "CTU must have the backs of all members. We are a Union of Professionals."
[Full disclosure: Sarah Loftus, a Substance reporter and retired CTU member, is running on the PACT slate for convention delegate]. 