CHARTER SCHOOL NEWS: IMAGINE charter schools seems to be more interested in profit and real estate as part of their charter business model
Jim Horn - April 27, 2010
Is this legal to sell a school that has students in it?
Net Lease Investment with 5 years left on lease.
It seems from this posting that the students are included in a for profit real estate deal.
http://www.schoolsmatter.info/2010/04/school-for-sale.html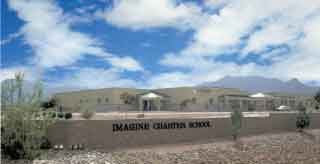 Since The New York Times blew the whistle on the business practices of the Imagine charter schools, new questions are arising. Does Imagine have the right to sell the following school in Arizona with its students inside?Now that a major news outlet has finally paid attention to the business practices of Dennis Bakke and his management company (with a well-deserved round of applause for Stephanie Strom), reporters and school districts may begin to more carefully scrutinize the company's dealings.
Someone in Arizona might want to keep their eyes on an Imagine School currently listed for sale in Sierra Vista. The asking price is $6.3 million, with 5 years left on the lease. The listing also claims Imagine makes $456,968/year in income from the tenant (Imagine School at Sierra Vista). Here's a PDF flier about the property.
I haven't been able to track down additional financial information about this particular school. Like quite a few other Imagine-run schools, Sierra Vista does not have a 990 tax form readily available online (even though it's been around since 2002). Without more information, it's hard to say if the occupancy fee is steep; right now, it's at about $1,050/kid/year (they have 435 students). Shoot me an e-mail or post a comment below if you have more info.
http://www.loopnet.com/xNet/MainSite/Listing/Profile/Profile.aspx?LID=16297200
School Campus Facility
1000 E. Wilcox Drive, Sierra Vista, AZ 85635
School Campus Facility
Price:
$6,300,000
Building Size:
31,286 SF
Price/SF:
$201.37
Property Type:
Special Purpose
Property Sub-type:
Special Purpose (Other)
Additional Sub-types:
Office Building
Property Use Type:
Net Lease Investment with 5 years left on lease
Cap Rate:
8%
Occupancy:
100%
No. Stories:
1
Tenancy:
Single
Year Built:
2004
Lot Size:
231,304 SF
Find Out More...
Last Verified 4/10/2010 Listing ID 16297200
Attachments
Flyer(3 MB)
Highlights
Excellent Tenant who operates a first class school
Project Ready for Phase III (8,600 sf)
Superb location for expansion
Description
This project is a commercial building constructed as a charter school with 20 classrooms, 7 offices, 4 banks of bathrooms, lobby, reception area, 2 multi-purpose rooms, and a kitchen. The tenant is Imagine Charter Schools, the nations second largest charter school operator. The project was designed to accommodate a future conversion to an office campus to avoid the special purpose facility disadvantages. The current office market demands $16-24/sf/year.
The project is located in Sierra Vista, the home of Fort Huachuca, one of the largest employers in Arizona. 1000 E. Wilcox Drive, Sierra Vista, AZ. (Located on the south side of Wilcox, one mile from the main gate of Fort Huachuca)
Financial Summary
Major Tenant Information
Debt & Equity Information
Actual
Year
2009
Scheduled Gross Income
$456,968
Effective Gross Income
$456,968
Net Operating Income
$456,968
Map of 1000 E. Wilcox Drive, Sierra Vista, AZ 85635 (Cochise County)
Hide Map
Contact Listing Broker to find out more details.