Telemarketers will be screening 'turnaround' teachers by phone for Chicago's AUSL... Picking the next generation of 'turnaround teachers' requires no experience or qualifications
Susan Ohanian - April 25, 2010
Can telemarketers pick the next generation of superteachers? It seems so, at least if Chicago and the "Academy for Urban School Leadership" (AUSL) are concerned. The following advertisement appeared on line beginning on April 8, 2010, and seems to contradict the claim that "turnaround" teachers are being trained in some special method to make them successful when other teachers have failed. This year, as Substance has reported, Chicago has scheduled three elementary schools and two high schools for "turnaround" - four of the five by AUSL.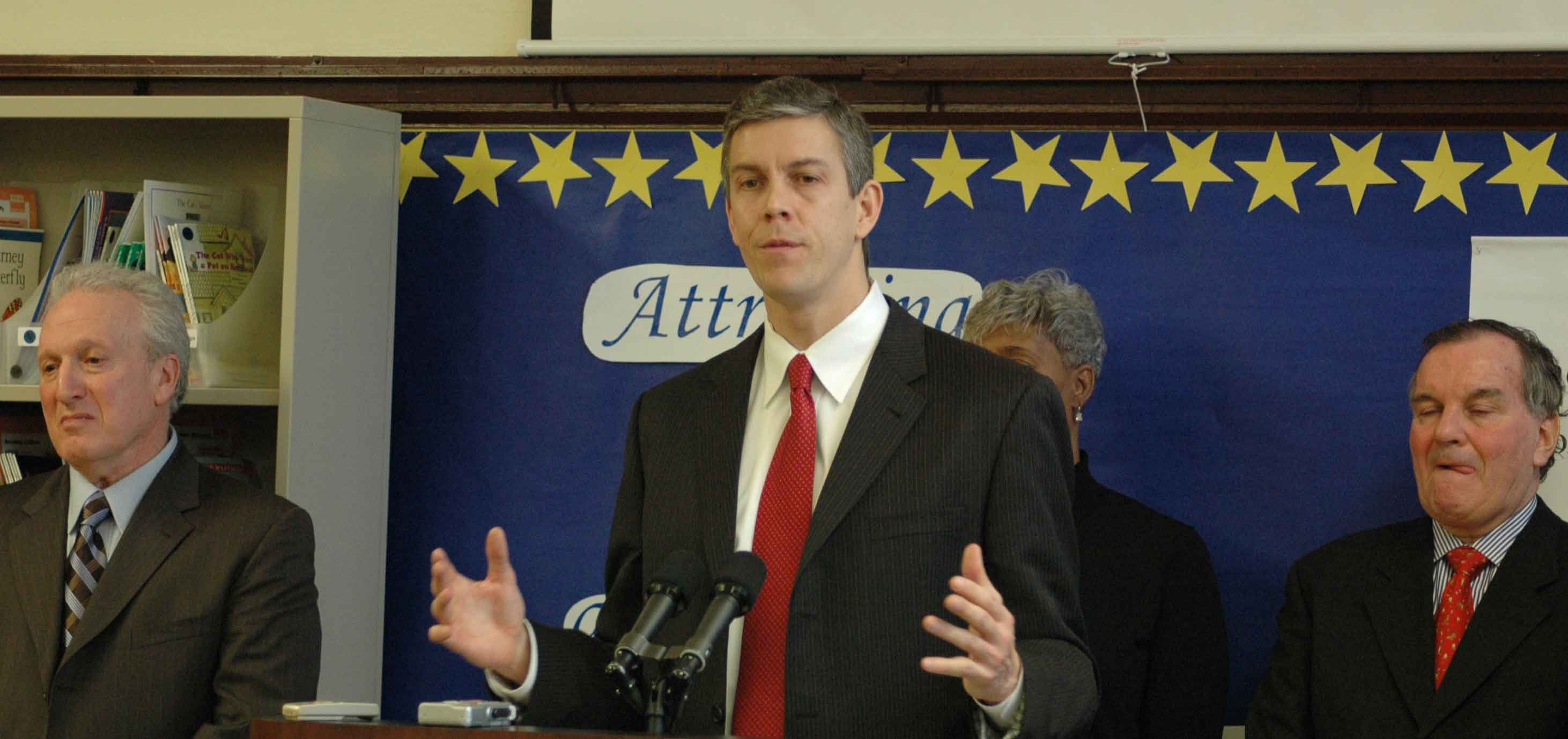 One year before he became U.S. Secretary of Education, Chicago Schools Chief Executive Officer Arne Duncan appeared at Chicago's Sherman "School of Excellence" with AUSL's Donald Feinstein (left above) and Chicago Mayor Richard M. Daley (above, right) to announce that "turnaround" had been a huge success in Chicago, that AUSL was the turnaround experts, and that the Gates Foundation was providing Chicago with $9 million to promote "turnaround" and terminate its previous program for insuring success — "small schools." After Barack Obama appointed Duncan U.S. Secretary of Education, many parts of the Chicago model became the national plan, now "Race To The Top," including "turnaround" for supposedly "failing" schools and charter school proliferation. Substance photo by George N. Schmidt.Since January 2009, Chicago's "Turnaround" has become the national model for turnaround, according to former Chicago Schools Chief Arne Duncan, and that the President of the United States has praised AUSL's Dodge "Renaissance Academy" on numerous occasions.
Teach Chicago Turnarounds Seeks Part-Time Selectors, Posted by: Teach Chicago Turnarounds (Employer Profile), Posted date: Apr-08-10, Location: Chicago.
Description
Teach Chicago Turnarounds (TCT) is currently looking to hire part-time selectors to complete phone interviews of teaching candidates. This is a flexible, part-time opportunity and the position has the potential to run from April through July.
Roles and Responsibilities
Selectors are expected to conduct telephone interviews to assess candidates' responses to interview questions against a set list of criteria in order to determine which candidates should interview with our schools. After conducting 10-15 minute interviews with candidates, selectors will be responsible for entering the interview and assessment notes into our online applicant tracking system.
Scheduling is flexible, although calls are generally made Monday through Friday between the hours of 4 p.m. and 7 p.m. Prior to starting work, selectors will participate in a one-hour training session. Selectors are expected to screen 3-4 candidates each hour and will earn $6 per screening.
For more information, please email Don O'Callaghan at docallaghantntp.org.
http://www.teachchicagoturnarounds.org/
Teach Chicago Turnarounds (TCT) is calling all educators who seek opportunities for personal and professional growth through the challenge and excitement of turning around Chicago's historically struggling schools. Whether an accomplished veteran teacher or a passionate novice, if you believe all urban school students deserve a top quality education, apply today to make a difference where it's needed most.
Teach Chicago Turnarounds (TCT) is an initiative of the Chicago Public Schools, in partnership with the Academy for Urban School Leadership (AUSL), to recruit high-quality teachers for the Turnaround Schools in Chicago. Schools selected for the "turnaround" model are reopened the following academic year with a new administration, faculty, staff and curriculum.
CORPORATE AMERICA BECOMES CHICAGO HUMAN RESOURCES DEPARTMENT?
Who's Hiring in Chicago?
Donnell O'Connell, the contact person for selecting telemarketers to screen teacher candidates for Teach Chicago Turnarounds, works for the New Teacher Project. He is program manager for the "Chicago Model Hiring Initiative."
Go here — http://www.tntp.org/aboutus/our_staff.html — and you will see all the other cities in which the New Teacher Project operates.
Here's some info about the New Teacher Project.
Before becoming CEO of the New Teacher Project, Ariela Rozman led the Online Marketing group for PlanetRx.com, which included managing the company's online new customer acquisition strategy, media buying and creative agency relationships, and large partnerships with companies such as AOL and Yahoo!.
Typically, about 30 percent of TNTP's annual revenue comes from the support of leading philanthropies, including the Bill & Melinda Gates Foundation, the Arnold Family Foundation, the Joyce Foundation, theCarnegie Corporation of New York, and the Charles & Helen Schwab Foundation.
Chair of the Board of Directions of TNTP is Kati Haycock of Education Trust. Other members include: John D. Arnold (Arnold Family Foundation), Chris Bierly (Bain & Co.), Christopher Cross (Cross & Joftis, whose clients include Gates & Broad & Walton Family Foundations), Daniel Keating, Wendy Kopp (Teach for America), Julie Mikuta (New School Venture Fund), Dr. C. Kent McGuire (Temple University), John Simpson (Stupski Foundation) , Dr. Uri Treisman (University of Texas, Austin)
Here is more:
Site Manager – Chicago Model Hiring Initiative
Company Industry: Non-Profit / Social Enterprise
Functions: Other Functions
Type of Position: Full-Time
Salary: $65k - 75k
Description:
Site Manager – Chicago Model Hiring Initiative
Chicago, IL
The New Teacher Project (TNTP) helps school districts and states fulfill the promise of public education by ensuring that all students—especially those from high-need communities—get excellent teachers. A national nonprofit organization founded by teachers, TNTP recognizes that although teachers matter more than any other school factor in student success, the nation's education systems are not aligned with the goal of an effective teacher in every classroom. In response, TNTP develops customized programs and policy interventions that enable education leaders to diagnose their teacher quality challenges and find, develop and keep great teachers. Since its inception in 1997, TNTP has recruited or trained approximately 33,000 teachers—mainly through its highly selective Teaching Fellows™ programs—benefiting an estimated 4.8 million students. TNTP has also released a series of acclaimed studies of the policies and practices that affect the quality of the nation's teacher workforce, most recently including The Widget Effect: Our National Failure to Acknowledge and Act on Differences in Teacher Effectiveness (2009). Today TNTP is active in more than 25 cities, including Baltimore, Chicago, Denver, New Orleans, New York, and Oakland, among others. For more information, please visit www.tntp.org.
We are currently seeking a Site Manager for our Chicago Model Hiring Initiative. The Site Manager will be a TNTP employee based out of the Chicago Public Schools (CPS) district office. This position is available immediately.
The Program
The quality of the teacher is the biggest factor in determining whether or not students achieve at high levels. A report published by TNTP, entitled Missed Opportunities: How We Keep High Quality Teachers Out of Urban Classrooms, showed that urban school districts lose their high quality teacher candidates because they hire late.
While great strides have been made at many CPS schools, some schools continue to under-perform. For this reason, the Chicago Board of Education has authorized the implementation of the turnaround model for a number of schools in Chicago over the past two years. The turnaround model for public education reform has gained national attention and support as a potential approach to improve performance rapidly in underperforming schools in high-poverty neighborhoods. Dedicated teachers are needed to join highly committed teams to ensure that all students have equal opportunities to succeed. Teachers in Turnaround Schools must be particularly committed to overcoming the challenges they face in helping their students achieve.
To address this challenge the Chicago Model Hiring Initiative (CMHI), a partnership between The New Teacher Project and CPS, works to recruit the highest quality teachers possible to work in the Turnaround Schools. Principals learn successful strategies to fill vacancies in a timely and effective fashion with the best possible candidates. The CMHI works with the ten current CPS Turnaround Schools and will support any new Turnaround Schools identified for the 2010-11 school year.
Through this partnership, the Model Hiring Initiative (MHI) program team manages a teacher recruitment campaign, provides high-touch, customized logistical support to both the school site and candidates during the hiring process, holds hiring events and facilitates strategic hiring workshops through which school leadership teams learn successful strategies to fill vacancies effectively and with the strongest possible teacher candidates.
Role and Responsibilities
The Site Manager is responsible for ensuring the successful planning and execution of the initiative. This position offers the successful candidate the opportunity to have a profound impact on how teachers are hired in the CPS Turnaround Schools. Specifically, the Site Manager will be responsible for the following:
• Setting, monitoring and meeting ambitious goals that support the early hiring of high quality teachers and ensuring that all vacancies in MHI schools are filled by the first day of school
• Meeting regularly with principals to monitor hiring progress and discuss current needs and challenges
• Generating innovative solutions and strategies that allow principals to hire earlier and more effectively and meet needs identified for individual schools
• Coordinating interviews and other hiring opportunities for teachers and principals
• Developing and implementing an internet-based recruitment campaign to attract additional high quality teachers to the district; developing a recruitment plan for filling mid-year and fall vacancies
• Engaging school district staff in ongoing problem solving to ensure that best hiring practices, including early hiring, can take place in MHI schools
• Delivering professional development to principals and other school-based hiring staff to help them hire the highest quality teachers
• Communicating regularly with teachers and principals and differentiating support services as needed
• Maintaining data management systems and compiling weekly data reports for the initiative
• Building and managing strong working relationships with district and school-based staff, and other stakeholders as needed
• Working with the district to reduce or remove barriers to early hiring
This position reports to a Partner in the Staffing Initiatives business line and will manage a team of two Program Managers who support the program implementation.
We seek detail-oriented, independent self-starters who believe deeply in our organization's mission and who display a record of achievement in challenging situations. Successful candidates will also demonstrate:
• Project management experience
• Superior leadership skills
• A record of setting and achieving ambitious goals
• Excellent communication and writing skills
• The ability to manage multiple responsibilities simultaneously
• Outstanding interpersonal and teamwork skills
• Exceptional client management skills
• A commitment to producing consistently high quality work
• The ability to learn quickly and work in a fast paced environment
• The ability to identify challenges and actively work to find solutions
• Flexibility
• Excellent organizational and time-management skills
• Extraordinary attention to detail
• The ability to work effectively with others at all levels of an organization and to consistently display a high level of professionalism in all interactions
• Public-speaking abilities, including the ability to inspire others
• Knowledge of the Chicago public school system (preferred)
• Experience working with under-performing schools (highly preferred)
• Superior quantitative and computer skills, specifically Microsoft Office suite
• A willingness to work non-standard hours and occasional weekends
