STRIKE! Orange County California teachers strike for first time in decade... Strike against cutbacks and a ten percent pay cut!
John Kugler - April 23, 2010
[Editor's Note posted on April 26, 2010. Substance will try to update the story of the Capistrano teachers' strike on a daily basis as long as the strike continues. Sources for this story will include coverage by Substance reporters John Kugler (from Chicago) and Rich Gibson (from San Diego) and will credit various media and other sources as the story develops. The strike entered its third day on April 26, 2010. George N. Schmidt, edtior, Substsance].
Teachers in Capistrano school district in California (Orange County) began a strike on April 22, 2010, against the district's 56 public schools after their school district and school board cut their pay and announced more cuts. The union teachers walked out while the Board of Education pretended that schools were open with scab substitutes, administrators, and others trying to cover classes and keep up the pretense that school was still going on. As a result, as reported below, violence broke out at San Clemente High School, where there weren't enough staff to staff the school and students were angry because the school board had forced their regular teachers on strike. [Ironically, San Clemente, once a conservative bastion and home of Richard Nixon, was the place where scab substitutes were unable to control classes.]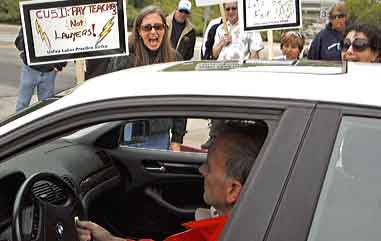 Striking Capistrano California teachers (above rear) encourage a scab to turn around rather than cross their picket line on the second day of the first strike in Capistrano since 1974. Los Angeles Times photo. Even the very conservative Orange County Register newspaper presented its readers with some of the facts as the strike began, in the following story:
Attendance plunges during Capo strike, By SCOTT MARTINDALE, VIK JOLLY, PETER SCHELDEN, LINDSEY BAGUIO, NIYAZ PIRANI, RASHI KESARWANI, FERMIN LEAL AND BRITTANY LEVINE (Orange County Register, April 22, 2010)
Student attendance plunged well below 50 percent across the Capistrano Unified School District on Thursday as hundreds of teachers picketed outside schools, but there still weren't enough substitute teachers to go around and at least one high school was reportedly vandalized by unsupervised students.
A few classrooms at San Clemente High School were trashed in the morning, with desks thrown to the ground and papers scattered around.
Student witnesses said about a dozen students were responsible for the damage, the result of students reporting to classrooms that weren't staffed by a substitute teacher.
"They did it because they could, because no one was supervising them," San Clemente High junior Anthony Saccone said. "… We were supposed to do work, but there were no teachers around to tell us what to do."
This is Day 1 of a teacher strike in Orange County's second-largest school district, the county's first in a decade. The teachers union says it is protesting the district's failure to make a "clear, unambiguous offer" to settle a bitter, months-long pay cut dispute.
Initial attendance figures released Thursday afternoon indicate about 52 percent of elementary students were absent, plus about 59 percent of middle school students and about 76 percent of high school students. The district cautioned, however, that the figures were preliminary and subject to change.
Meanwhile, about one in eight district teachers crossed the picket line and reported for work, according to the district. They were joined by about 600 substitute teachers.
Also, about 20 administrative staff members from the Orange County Department of Education traveled to Capistrano Unified upon request to help district administrators, said Nina Boyd of the county Department of Education.
At the beginning of the school day at San Clemente High, all students were assigned to report to a classroom, but when they got there, some classrooms had no substitute teacher present, students said.
"They said the curriculum wouldn't suffer, but it obviously did," Saccone said as he waited to be picked up from school around noon.
San Clemente High Principal George Duarte said that as soon as administrators learned there weren't enough substitutes for the students, he instructed juniors to return to the Triton Center multipurpose room.
"It sounds like these kids who were unsupervised at the time decided to have some mischief," Duarte said of the classroom vandalism.
ALL-DAY PICKETING
Hundreds of Capistrano Unified teachers, clustered in groups of 20s and 30s at schools across south Orange County, have been walking picket lines all day, holding up signs that read "Quality public education at stake," "Board of tyrants," "I'd rather be teaching" and "Willing to fight for our kids."
"This is bigger than our district," said demonstrator Tim Sampson, an English and yearbook teacher at Dana Point's Dana Hills High School.
"We're trying to set the bar high," explained Sampson, holding a sign that read "Save our schools" as he picketed with his wife, Audra. "We're letting (those who break the picket line) know that they're hurting public education and collective bargaining."
Many students at Aliso Viejo's Aliso Niguel High School were heading home by midday "because there was little instruction," the teachers union said in a statement released Thursday morning. Some Aliso Niguel students were watching episodes of "The Office" in the morning, until administrators could dispatch them to classrooms with substitute teachers, student said.
"This was a way to try to keep us settled," Aliso Niguel junior Gary Lee said. "It didn't really work."
STUDENTS WORRIED ABOUT EXAMS
Some students said they were worried the strike has hampered their preparation for college-level Advanced Placement exams, which will be administered in early May.
Aliso Niguel sophomore Chris Tran said the substitute teacher in his AP European History invited students who took the class in previous years to lead class study sessions.
"No one really listened to anything that was going on," Tran said. "I'm not going to be prepared at all for my AP test. This is going to hurt my GPA. Colleges won't look too kindly toward me."
Added Alia Bonetti, a senior at Aliso Niguel High School, who arrived at 6 a.m. and was planning to picket all day with the teachers: "There's no point in going to school. The subs are not qualified. We're not going to learn. These people are our teachers. The subs just want money. Our teachers care."
At San Clemente's Las Palmas Elementary School, 291 kids out of about 700 showed up for class, the principal told parents in an e-mail.
"We had a good start of our day considering 31 out of 31 Las Palmas teachers are outside our school on strike," Principal Kristen Nelson said in the e-mail. "… We have six credentialed substitutes, 20 classified staff to help, and Mrs. Aguilera and me. Students were divided into groups of students per grade level and sent to specific classes."
RALLIES ACROSS DISTRICT
Dozens of students who did not attend class staged morning rallies with their parents across the school district, including at district headquarters in San Juan Capistrano and at least two along the 5 Freeway.
At district offices, about 70 parents and their children — mostly elementary and younger — stood outside for about a half hour, waving signs and chanting "We support our teachers," "Be fair with teachers," and "End the strike now."
Similar protests were reported along the 5 Freeway overpass at Ortega Highway in San Juan Capistrano and near the Avenida Calafia exit in San Clemente.
At Carl Hankey K-8 School in Mission Viejo, picketing teachers chanted "We just know what we've been told; we're not worth our weight in gold" and "2, 4, 6, 8 … we're trying to negotiate" while passing drivers honked their horns in support.
"All the teachers need a fair shake," said parent David Cox of Mission Viejo, who has a daughter at Carl Hankey, explaining that a permanent pay cut for teachers is not fair.
SOME APPALLED BY TEACHERS
While many parents and students are supportive of the teacher strike, many other parents say they're appalled at teachers' behavior.
Parent Marc Mastromonico said his teenage daughter reported at least three instances of teachers telling her not to show up for class Thursday because of the strike, and he's heard similar stories from friends and neighbors, including at the elementary level.
"I'm pro-teacher, not pro-propaganda," said Mastromonico, a San Clemente resident. "Isn't their job to keep kids in school, not keep them out? When you use a child as a pawn in your own game, it changes the whole game. When they decided to bring the children in, they brought me in. I shouldn't have anything to do with their job except make sure my child gets taught what they're supposed to learn."
Schools will take attendance, and students who do not come to school will be marked absent, the district says. Teachers who picket will lose a day's pay.
"My parents were both public school teachers; my mom went through a strike at LAUSD years ago," said parent Stacy Saiki of Mission Viejo, who has two kids at Carl Hankey. "I do support … the teachers, yet I don't think the kids should be involved, meaning I'm not going to take my kids out of school because of it. I really hope that through the negotiations they settle this quite quickly, for themselves, the board and the kids."
STRIKE MAY CONTINUE FRIDAY
It is unknown how long the strike will last.
The teachers union began meeting with the district at 2 p.m. Thursday. Around 5 p.m., the meeting was adjourned for dinner; talks will resume again at 6:30 p.m.
The strike will continue Friday unless an agreement is reached Thursday night, a union spokesman said.
Before the meeting, union leaders stressed they weren't committing to negotiate, but rather attempting to seek out additional information.
At Dana Hills High, much of the seniors' parking lot was still empty with just 15 minutes to the school start time of 8 a.m. Students said the lot is usually jammed.
"It's pretty sad that teachers had to strike and it had to come to this, but hopefully it resolves the matter," said Dana Hills sophomore Emily Cullen, 15, as she walked to school with friends. Cullen, who is on the track team, had a meet scheduled for Thursday canceled because of the strike.
ALL SCHOOLS OPEN
All 56 campuses were open Thursday.
Bell schedules were altered at many schools, and some classes were canceled entirely, including zero period. At the district's six high schools, the school day was shortened, with dismissal at 1:35 p.m.
Bus transportation for all but special education students was canceled, as were most after-school activities – from sports to tutoring to club meetings.
Some student drama and music productions are continuing as scheduled, as well as after-school care programs and food services, according to the district.
"Our primary goal today was to provide a safe and orderly learning environment for our students and their families," the district said in a statement Thursday afternoon. "We believe we met that goal, due to the dedication, leadership and hard work of our principals, administrators, participating certificated employees, substitutes, and valued support staff."
FESTERING DISPUTE
Capistrano Unified's school board unilaterally imposed a 10.1 percent pay cut on teachers in March, after nearly a year of unsuccessful negotiations.
The district last week invited union leaders to return to the table to settle the remaining issues related to the pay cut — including the possibility of adding an automatic expiration date to the pay cuts — but the union condemned it as an attempt at "sham bargaining."
Then the Capistrano Unified Education Association offered a compromise, saying teachers would not go on strike if Capistrano Unified agree to four demands upfront. The district refused to agree to those terms, saying to do so would constitute an "unfair labor practice." But it did say it was interested in talking.
"There has to be a compromise," said parent Judy Pegram, whose twin sons attend San Juan Capistrano's Del Obispo Elementary. "Everyone's going to lose in this: the kids, the teachers, everybody."
ONLY TEACHER STRIKE IN STATE
Capistrano's teacher strike is the first in Orange County in a decade, and the only one in California this year, at least so far.
The California Teachers Association says about 17 school districts in a five-county region — Orange, Riverside, San Bernardino, San Diego and Imperial — are at impasse in contract negotiations.
The most recent Orange County teacher strike was in the Orange Unified School District in April 2000, when up to 70 percent of teachers picketed for one day to protest an employment contract imposed on them by the school board, according to news reports.
Orange Unified trustees said the contract gave teachers an 8 percent raise retroactive to two years earlier; union leaders disputed that figure and stressed it would not bring teacher pay up to the county median.
The school board did not back down, and teachers returned to work after the one-day strike.
ON APRIL 24, SOUTHERN CALIFORNIA PUBLIC RADIO REPORTED AS FOLLOWS:
Negotiations continue in Capistrano teacher strike, April 24, 2010, KPCC Wire Services
Negotiations continued today between the Capistrano Unified School District and its teachers, who are on strike because of 10.1 percent pay cuts.
No progress was reported Friday. Officials from the school district were unavailable for comment today.
Bill Guy of the Capistrano Unified Education Association said negotiations continued late this afternoon, but no progress was reported.
About 90 percent of the district's 2,200 teachers went on strike Thursday, picketing all 56 schools.
District officials said less than half the 51,000 students showed up for classes on Thursday, and less than a third on Friday.
The school board imposed pay cuts of 10.1 percent to help balance the district's budget.
The teachers want the district to make the pay cuts temporary and to restore salaries, unpaid workdays and other benefits if "unforeseen funds" are received.
The pay cuts are projected to save the district about $19.9 million, but the district still needs to close a $34 million budget gap. The teachers said they will return to the picket lines on Monday if no resolution is reached over the weekend.
Reduced revenue from the state and poor financial planning left the school board with little choice but to impose the salary reductions, Bryson said. He said school administrators took a 10 percent pay cut last year, but because that affects only about 150 people, more cuts need to be made to balance the budget.
The strike is the first by educators in Orange County in a decade. Teachers in the Capistrano school district last struck in 1974.
Over the past several years, the school board considered closing three elementary schools, resulting in two recall elections. The district has also been criticized for constructing a $35-million administration building some called the Taj Mahal.
Another recall effort is under way for two current board members, CBS2 reported.
UPDATES FROM APRIL 26, 2010 FROM PRESS AND UNION SOURCES
From the Orange County Resister (posted on line at 6:00 a.m.)
.
Teachers across the Capistrano Unified School District will return to the picket lines Monday morning for a third day of striking, after district officials and teachers union leaders failed to reach a settlement Sunday in a bitter pay cut dispute.
Talks ran from 1 to 9 p.m. Sunday, with a dinner break in between. Negotiations were scheduled to resume at 11 a.m. Monday.
"Talking is more positive than not talking," the union said in a statement Sunday.
District and union bargaining teams have met for four consecutive days – about 22 hours in all – even as hundreds of Capistrano teachers walked the picket lines in front of their schools Thursday and Friday.
Capistrano's teachers union says the district – Orange County's second largest, with 2,200 teachers – has failed to make a "clear, unambiguous offer" to settle some final terms of a 10.1 percent pay cut imposed on teachers last month.
Capistrano's teachers union isn't fighting the imposed pay cut itself, but is demanding that it have an automatic expiration date and that it be restored if the district receives additional, "unforeseen" funding over the next 15 months, among other demands.
The school district has offered to discuss the demands, but argued it couldn't legally agree to them upfront.
The strike has crippled programs and services across Capistrano Unified and pushed student attendance rates down to about 30 percent, including as low as about 10 percent at the high schools.
