LETTER: Since when does a retired Army Colonel qualify to be a district superintendent running a bunch of Chicago high schools?
Neal Resnikoff - April 14, 2010
April 13, 2010. We Need to Beat Back New Attacks on the Schools, and here is one example of what I mean. The Chicago Public School System (CPS), with orders coming down from the top commander, CEO Ron Huberman, is once again targeting Chicago's general community high schools for further militarization, and possible closure, charterization, and privatization. This means we need to get even better organized to beat back these new attacks.
These attacks include the following —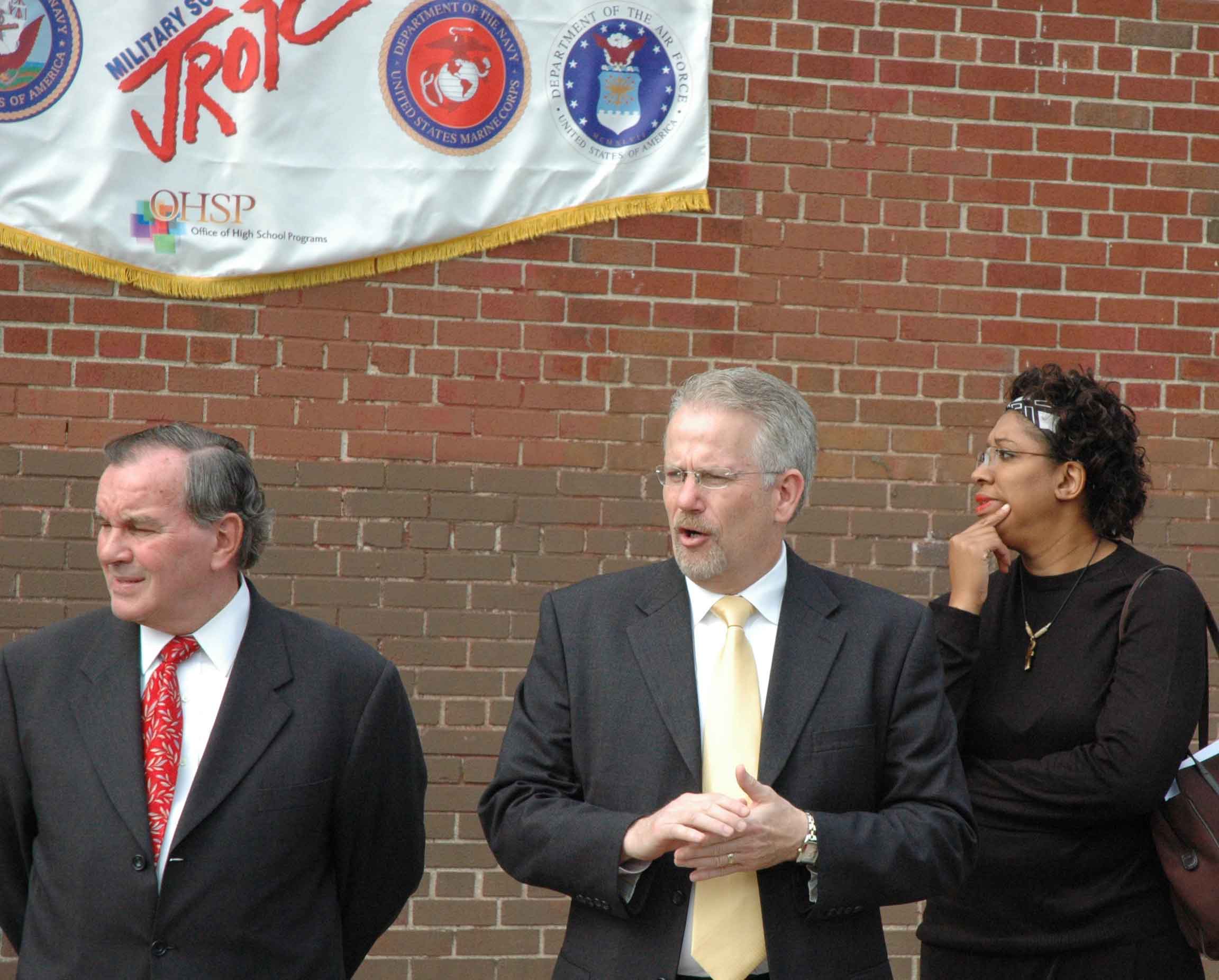 Retired Army Colonel Rick Mills (above, center) was part of the group that dedicated the "Marine Military Academy" at the old Grant Elementary School on October 15, 2008, when the above photo was taken. Left to right, above: Chicago Mayor Richard M. Daley, Rick Mills (who at the time was chief officer for military and ROTC programs in CPS), and Alderman Latasha Thomas, who chairs the City Council Committee on Education. Since the above photo was taken, Daley's school board has promoted Mills to the post of "Chief Area Officer" for high school "Area 26," where he is now working to impose a command model on the general high schools in the district. Mills's career was spent in the U.S. Army prior to 1979, when former Chicago Schools CEO Paul Vallas hired him to expand the JROTC and military programs. Substance photo by George N. Schmidt.Several high schools have been placed in a department that has had only military programs in it, under the command of Lt. Col. Rick Mills. This department was renamed Area 26 a few years ago. General community high schools that have just recently been placed in Area 26 include Farragut, Foreman, Kelly, Kelvyn Park, Prosser, Senn, Steinmetz, and Taft.
Overseeing Area 26 is Lt. Col. Rick Mills, from the Army and still in charge of military programs in CPS, which includes JROTC (Junior Reserve Office Training Corps) and the military academies.
One of the criticisms of Lt. Col. Rick Mills is that he uses the military command model that has been adapted as the model for administration in CPS since 1995. So, for example, he has come to the Local School Council (LSC) at Senn High School to try to undercut the democratic power that it has been exercising.
The Senn LSC has been developing the Senn Strategic Plan to improve Senn High School programs, with input from literally thousands of teachers, administrators, students, parents, and the community.
Lt. Col. Mills announced to the Senn LSC this own strategic plan is to be used.
The Mills plan, for all of the schools now in Area 26, would arbitrarily decide the "success" or "failure" of the schools based on bogus high-stakes standardized testing and guidelines which would ensure that the schools could be shut down any time and replaced by selective privatized charter schools. So, for example, the Mills plan mandates that "70% will graduate" and "80% of graduates will enroll in Post Secondary." (Rick Mills, Performance Management Template. Doc x.) This in a school system that has a 50% drop out rate in its high schools.
In addition to this undercutting of LSC democracy, Lt. Col. Mills is attempting to remove the democratic power of the Senn High School LSC to decide on who the next principal should be.
Not that the issue of imposing a military command structure and otherwise militarizing the public schools is just an issue of Lt. Col. Mills. There is an overall plan for the Chicago Public Schools, known as Renaissance 2010 written by the corporate interests of the U.S. (the Business Roundtable nationally and by the Chicago Commercial Club locally). The plan has been for the school system to have more military academies and more selective privatized charter schools. The school system has been run like a corporation, with CEOs (Chief Executive Officers) who have no background in education or teaching. Thus we have seen CEOs such as Paul Vallas, Arne Duncan, and now Ron Huberman, who comes from the Police Department and the CTA. Those who CEO Huberman recently appointed as Chief Administrative Officers, such as Lt. Col. Rick Mills, also have no background in teaching or education.
Not having school authority in the hands of educators and the general public and, instead, in the hands of military officers, corporate CEOs, and political appointees is the path to further wrecking public education. We already see that teaching to the standardized tests and the military programs that 1 out of 10 Chicago high school students are in does not encourage the teaching of critical thinking about public issues in the schools or other cultural matters. We already know the path to improving public education, which includes democratic governance, increased funding, smaller class sizes, teaching critical thinking and having a rich arts curriculum, and dealing with issues such as poverty that undermine student abilities to achieve in school.
And so, our need to unify ourselves against these latest attacks is cut out for us.
Neal Resnikoff, Albany Park Neighbors for Peace and Justice, Chicago. 