Financial corruption at Aspira? Interview with a former Aspira teacher continues the saga of one of Chicago's most corrupt charter school operators and the clout and coverups that keep it going
Jim Vail - March 22, 2010
Substance spoke with Kayleen Hernandez-Garay, a former Aspira teacher fired for speaking out against the corrupt charter operator. Like former whistler blower Meg Sullivan, who exposed strip searching and grade changing at Aspira and then was fired, Hernandez also uncovered corruption that has led to major charter school investigations in other cities. However, Aspira Charter School corruption continues unchallenged in Chicago while another whistle blower is fired.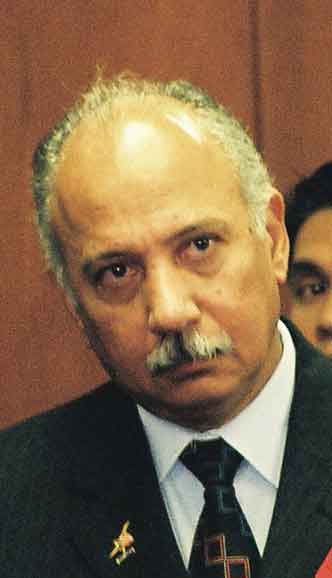 Aspira Chief Executive Officer Jose Rodriguez (above) has refused for six years to talk with Substance about the numerous charges brought against Aspira's charter schools by a growing number of parents, students, and former teachers. Critics of the Aspira operation say that only its enormous political clout — from Chicago's City Hall to Springfield — keeps it from a major scandal as the Chicago media continue to ignore repeated charges ranging from strip searches of children, nepotism, junketeering, to routine sexual misconduct inside the Aspira organization. Substance photo by George N. Schmidt.SUBSTANCE: When did you begin working for Aspira and why did you choose to work in a charter school?
KAYLEEN HERNANDEZ: I started working for Aspira in 2007. I choose to work for Aspira because it was a charter school, and transferring from Florida to Chicago --certificate requirements were easier to handle. I also liked the mission of the program. When I started working there I knew it was a non-profit organization; I also knew the organization had a lot of community ties.
Substance: Did you know anything about the controversial Aspira director Jose Rodriguez?
Hernandez: Jose Rodriquez is the CEO. I did not have much contact with him other than the occasional school visit, or school meeting when he attended. He was the CEO, "voice for the school" so to be speak, but he did not have much hands on unless there was a meeting or someone to show off the school to.
SUBSTANCE: When did problems begin for you at Aspira?
KAYLEEN HERNANDEZ: Hmmmm … where to begin. 1. Nepotism — everyone who is anyone in admin is either a relative or significant other making the big bucks. I did not know about all of this in the beginning, but it did not take very long to find out. 2. Unorganized — the HR person is Jose Rodriquez's relative. She is the "manager" and does not even have a degree in that field. She is so incompetent with payroll, and other important paper work like benefits, etc. 3. The insurance carrier changed, I think, four times in a two-year span! 4. The organization spent a lot of money on the Early College High School. That is where I started working. The first mistake was mismanagement.
SUBSTANCE: Can you be more specific about mismanagement?
KAYLEEN HERNANDEZ: The mismanagement of money. I started at Aspira Early College before we had students. I was hired as a math/science teacher and worked four months before school started to purchase books, equipment, etc. During this time I went to lots of meetings with Northeastern University where we (three other teachers) heard about all the things Early College ("EC" they called it) was going to have. Well, every time we asked for the things they were reporting in these meeting we were going to have, it never came to pass. Things like books for each student? Nope — only one set per class! Computers in the classroom? None! Materials and supplies to teacher project based learning? No supplies... Geesh, I couldn't even get paint for the Math in Art & Architecture class I taught. But being me —I went and got it any way and demanded a refund. But the Aspira way is they say "No" to paint. But when they saw the scale model building the students produced, well then all of a sudden everyone is interested. They want pictures and even put it in a place in the school where they will be seen for generations to come. But no one in management helped supply the materials necessary to make this type of project based learning (we were mandated to teach) a reality.
Everything is difficult to come by at the school at the Early College. The students did not have a proper chemistry lab as outlined in the proposal. It took months after school started to get any orders for math or science to be approved, although the money was already there for these things.
SUBSTANCE: How do you know a lot of money was spent on the Early College? Did you just observe a lot of stuff or see documents or hear about reports?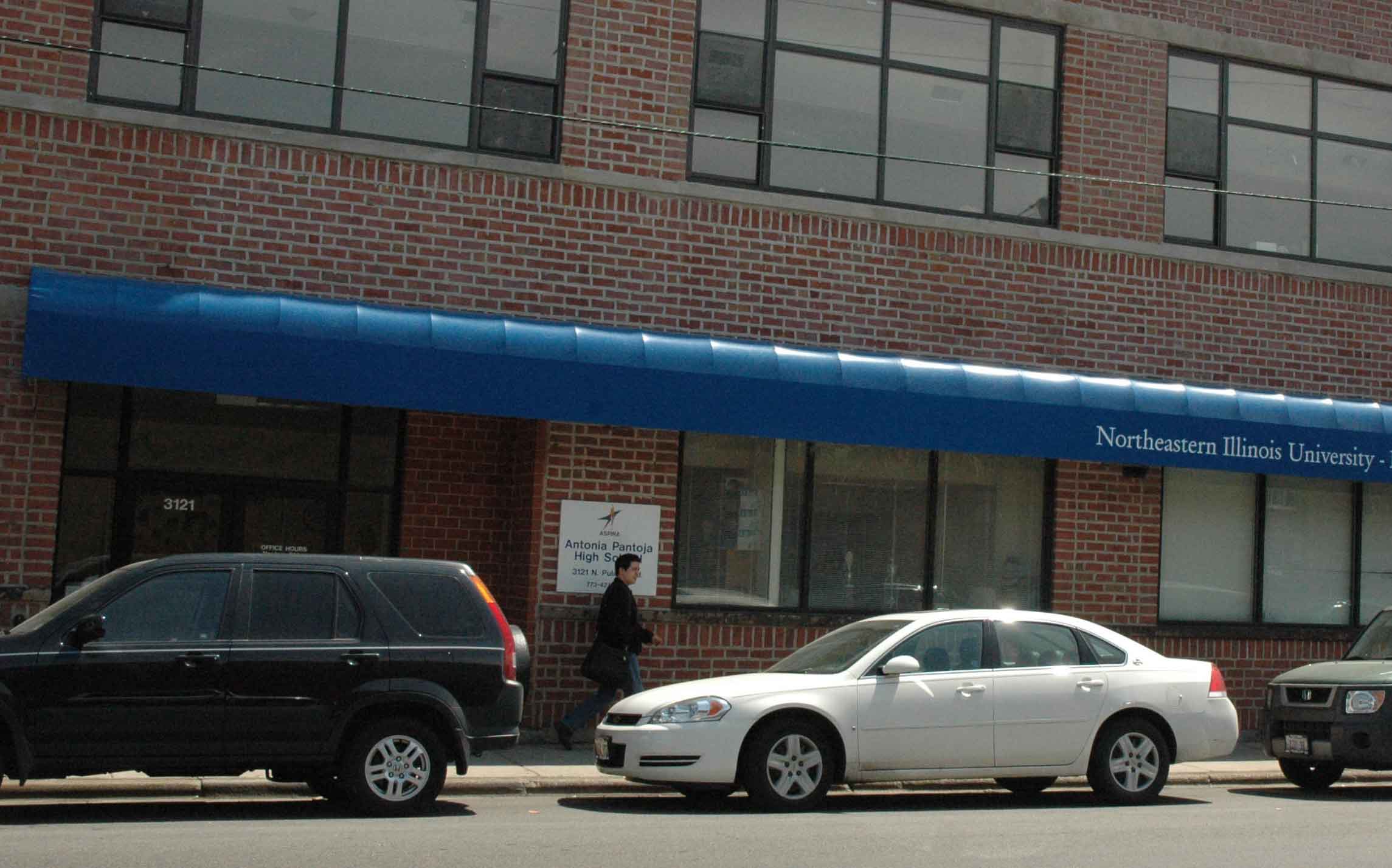 Aspira's association with Northeastern Illinois University began with the establishment of an Aspira 'high school' on Pulaski Ave. near Belmont (above) and expanded as Aspira went into the "Early College High School" discussed in this interview. Substance photo by George N. Schmidt.KAYLEEN HERNANDEZ: Again, I worked there. We could not buy normal supplies required to teach. But when anyone from Northeastern was coming to visit, they'd have a five - course lunch for Rodriquez and other leaders in the lounge.
SUBSTANCE: One of several problem administrators who left Aspira during the strip search allegations was Missy Ravid, who was believed to have been a political hire when Arne Duncan was the head of CPS.
KAYLEEN HERNANDEZ: The former CIO of Aspira (Missy Ravid) was a terrible manager. She was very rude, and condescending to staff. However, when "important" people were around she was friendly and "fake." She basically made the 1st principal quit. Now this is the principal she hand picked. Well, on the last day of this principal's final work day is when the strip search occurred (while we were housed at the Haugan building). This incident should have never of happened. Missy ordered the search and later tried to blame others.
SUBSTANCE: And where was Aspira director Rodriguez when all this was happening?
KAYLEEN HERNANDEZ: Jose Rodriquez was in Puerto Rico again on Aspira money and time. The man was practically there all the time!
SUBSTANCE: Another alarming accusation against this charter school was changing grades and attendance.
KAYLEEN HERNANDEZ: Later that same year — the grades at Aspira Early College were illegally changed by the principal (Jose Velazquez who was later fired). All the teachers, including myself — protested to Rodriquez, Ravid and the Board members. Well, the chairman of the board told us in a meeting to "keep our mouths shut." After this incident, I put in a request to transfer schools. I got the transfer to Haugan, but found out later that the principal fully intended to fire me — with no grounds of course — simply because he didn't like me. So I put in another year at Haugan. The same troubles there.
SUBSTANCE: Did they fire you for exposing Aspira corruption, like your former colleague Meg Sullivan who has since settled her case with Aspira?
KAYLEEN HERNANDEZ: Long story short — two days before school ended I was called into the office and fired by Jose Rodriquez himself. His reason on paper — my attendance. However, all my time-off requests were approved by the principal and not reprimands in my file. Consequently, the unemployment office agreed.
SUBSTANCE: Why do you think Rodriguez fired you?
KAYLEEN HERNANDEZ: Rodriquez fired me because I was one of the last three teachers who knew what really happened at Early College regarding the illegal grade changes. I had excellent reviews; no reprimands or write ups of any kind. So like I said before, even the department of labor said the firing was wrong, so they are paying unemployment.
SUBSTANCE: Then what happened?
KAYLEEN HERNANDEZ: So after I left Aspira I heard other things that occurred. Supposedly, the financial director was found "having sex" in his office with another employee. People could do things like this, and they were not fired. This was known in the community. I also found out that an anonymous letter was sent to the Aspira board of directors explaining some corrupt things happening, appealing for an independent investigation, incuding financial wrong doings and unfair favors to (State) Senator (Iris) Martinez. The letter apparently stated Aspria tech department and maintanence redid and wired her new office and paid for it.
SUBSTANCE: This is alarming information. State Senator Martinez is a big backer of Aspira who lobbies Springfield to get more state funding for the charter school. Has the Chicago Public Schools looked into these serious allegations and done an investigation?
KAYLEEN HERNANDEZ: The board received an anonymous letter with several allegations. One of the allegations was the misue of Aspira staff for favors to Sen. Martinez. This allegation was discussed and confirmed to be true by Sonia Sanchez. I know the board was suppposed to hire an independent company to look into the financial claims based in the letter, but I doubt it ever happened. As far as I can remember, this happened in late August, early June 2008 after the layoffs and firings occured. The board met and decided to have this independent audit and tell ONS (Office of New Schools) about the letter because the person(s) writing it threatened to reveal the info as well. As far as I know, the audit has not occurred.
SUBSTANCE: So there has been a cover up?
KAYLEEN HERNANDEZ: Aspria covered it up by not acting against both employees. No action was taken. And the Aspira board admitted to not reprimanding either staff members. The person who reported it was a peon, so of course that person was at risk.
SUBSTANCE: Can you tell me more about this letter that was sent to the board of directors explaining about these corrupt allegations. Who wrote the letter?
KAYLEEN HERNANDEZ: I don't know who wrote the letter; neither does the board, but because the letter included some heavy allegations the board decided (against the wishes of Aspira Chairman Sonia Sanchez) to share the letter with CPS. The letter stated if the allegations were not investigated, the information would be made public. So from what I understand the letter was shared with CPS Office of New Schools. They were supposed to hire a separate company to review financials to prove the allegations were not true, but I am not sure if that ever came to light.
SUBSTANCE: Last summer Illinois Governor Pat Quinn announced that Aspira was awarded $12 million to open more charter schools. How is that possible in light of all this?
KAYLEEN HERNANDEZ: It is sick that they were awarded more money — CPS, the inspector general, Iris Martinez, and the Office of New Schools all know about the grade changes, and strip search — but for some reason continue to support Rodriguez. I'm not sure why.
SUBSTANCE: In terms of academics, Aspira has been failing. The Mirta Ramirez High School that they have touted in literature as one of the highest performing charter schools in the city has actually seen their test scores plummet, decreasing each year where less 17% of its students are performing proficiently.
KAYLEEN HERNANDEZ: The bottom line is the kids at Aspira are not making AYP under No Child Left Behind and the school should be sanctioned. Even if they change the grades, state exams are public record and the scores are very low. Like I said, everyone in Admin is connected some how.
SUBSTANCE: Another problem with charter schools is little oversight, which in addition to your charges of nepotism and other corruption, the directors can pay themselves even more than regular public school administrators, while paying their teachers a lot less.
KAYLEEN HERNANDEZ: I also know Jose is making $200,000 per year — and more. His contract is supposed to be up for renewal this year, but the chairman of the board is [close to him] and she will also vote him in and for a pay increase. The organization really is corrupt, and it is too bad because the Latino students in the community could really use the help. I can tell you having been a teacher, they are not doing all they "promise" to do.
SUBSTANCE: Where did you get all your information?
KAYLEEN HERNANDEZ: I won't give a name — but the information is coming directly from the inside Aspira. When Rodriguez's contract was up for renewal last time, a vote was made against his salary increase. Most of the board members were against such a hike in pay — but Sonia Sanchez [and another board member] pushed it and made the final vote.
SUBSTANCE: When Meg Sullivan contacted Chicago Public Schools Inspector General Jim Sullivan to investigate Aspira, he told her that already a few employees were fired after the strip search incident. The main problem — Rodriguez — is instead getting rewarded for running a corrupt charter operation.
KAYLEEN HERNANDEZ: I know of other Aspira staff who were kind of the pioneers who said Rodriquez really started off trying to do the right thing, but over the years changed and used the organization for his own interests. He is corrupt but knows "someone" who keeps protecting him. I fault Jose Rodriguez and the Office of New Schools because the problem is there is no oversight of what goes on! They are giving them SOOOO much money, yet no one checks to see how it is being used? Why? 