CTU facing massive deficit but... Stewart's top eight staff make between $180,000 and $200,000 per year
John Kugler - April, 2008
At least eight appointed staff members of the Chicago Teachers Union are currently being paid a total salary (base salary plus total benefits) of $200,000 or more in the current year. These include two field reps and six staff members whose titles are "coordinator", according to current CTU records and sources familiar with the current operations of the union.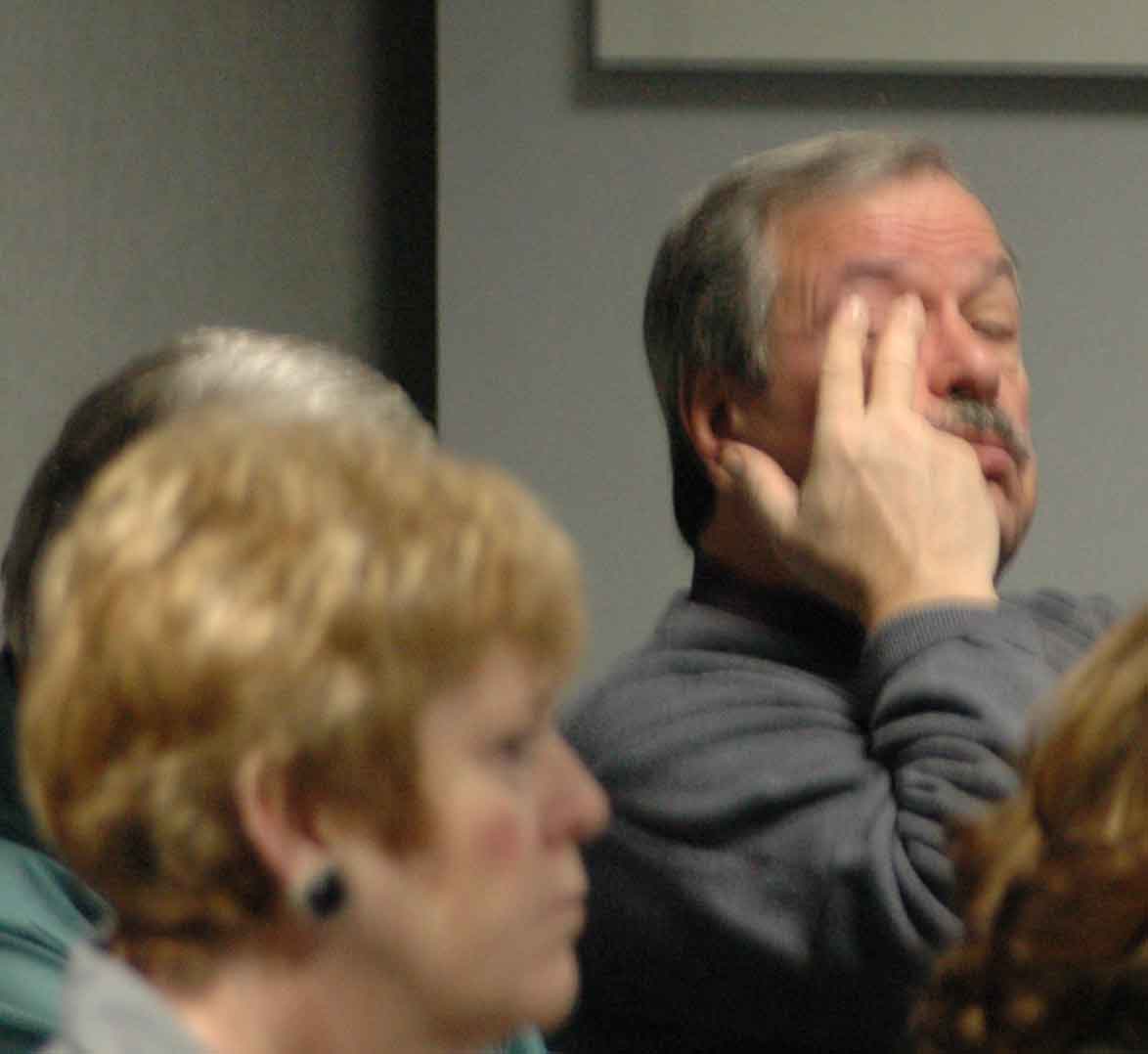 Above: February 25, 2008. CTU staff member Nick Cannella (above, being camera shy), is one of eight appointed staff who are now being paid between $180,000 and $200,000 per year. The imprecision in the numbers comes from the fact that the Chicago Teachers Union, alone among teacher unions and CPS unions, refuses to file the federal "LM-2" form, which provides union members with information about the pay, benefits, and financial activities of unions. Substance photo by George N. Schmidt.
Almost all of the other professional (as distinct from clerical) staff at the union are paid in excess of $140,000 per year. Two retired union staff members — Pam Massarsky and Gail Koffman — are also paid in excess of $100,000 per year. This group — which observers are now calling the "$200,000 Club" — includes the following people who are in appointed job titles which did not exist before the 2004 election of Marilyn Stewart as union president: Nick Cannella (currently holding the title of "Special Projects/Members Services Coordinator); Molly Carroll ("Member Services Coordinator")
June Davis ("PSRP Field Staff Coordinator);
Colleen Dykas ("Teacher Field Staff Coordinator");
Above left: Colleen Dykas (hands raised, clapping), Chicago Teachers Union "Coordinator of Teacher Field Reps", has been working for the Chicago Teachers Union for four years, but is being paid for being on the 10th Step of the union's salary schedule. Dykas's total compensation package (which includes salary, pension annuity, car allowance, cell phone, and expenses) totals between $180,000 and $200,000 per year. Others above: Ted Cox, Sharon Owlowek, Traci Cobb Evans.
Connee Fitch-Blanks ("Quest Center Coordinator");
John Ostenburg ("Officer Liaison, Executive Editor, Chief of Staff").
The "$200,000 Club" also includes two people who are currently field reps. The CTU field reps are also appointed by the union's president, but they are currently also members of Teamster Local 743 ("Health Care, Professional, Technical, Office, Warehouse, and Mail Order Employees Union"), which has a new contract with the CTU extending to 2011 (a year after the next union election). The Teamster contract provides a base salary (current school year) of $90,125 per year. However, the fringe benefits provided to union members include a pension pickup of 21 percent; a car allowance of $11,000 a year; a cell phone allowance of $2,880 per year, a "cashout" week of paid vacation in an amount ranging from $1,700 per year to $2,200 per year, and reimbursement for expenses. The current field rep salary schedule brings field reps to the top of the schedule after ten years, but the union officers have rewarded some staff with additional years, thereby increasing their total compensation. The two field reps who are currently in the "200,000 Club" are:
Eileen Camacho ("Teacher Field Rep");
Nate Dickson ("Teacher Field Rep").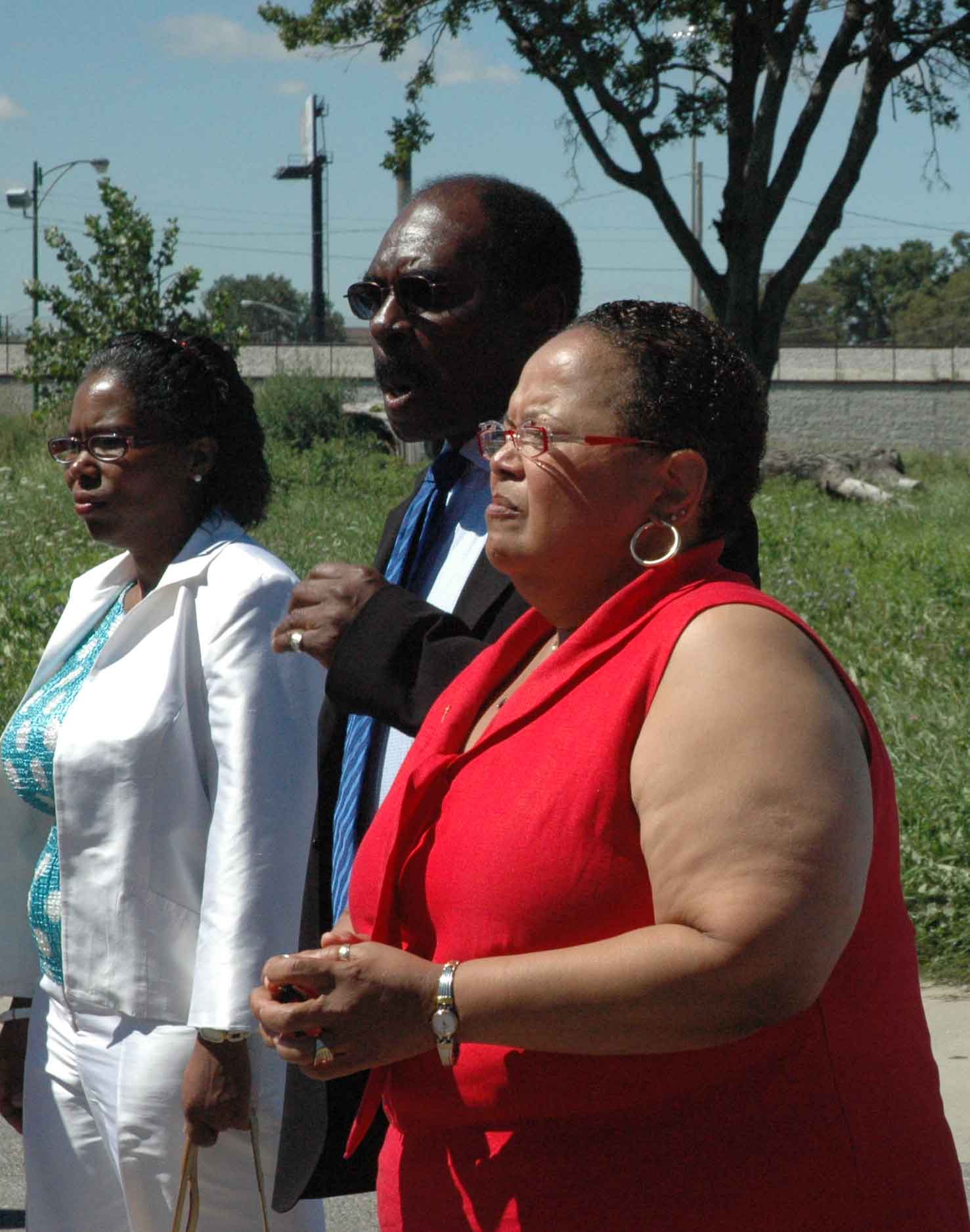 Above: Nate Dickson (center), Chicago Teachers Union "Field Rep", served as a one of two negotiators for the Teamsters union local (Local 743) representing field reps. Dickson's total compensation package (which includes salary, pension annuity, car allowance, cell phone, and expenses) totals between $180,000 and $200,000 per year. Above right: Connee Fitch-Blanks, Chicago Teachers Union "Quest Center Coordinator". Fitch-Blanks's total compensation package (which includes salary, pension annuity, car allowance, cell phone, and expenses) totals between $180,000 and $200,000 per year. She and Dickson are shown at a Board of Education media event promoting "Hooked on Phonics" on August 30, 2007. Substance photo by George N. Schmidt.
The current analysis does not include the salary and benefits of the union's officers, who are paid according to a different salary schedule. Union debt The union is in debt, losing membership and no end in sight. The Chicago Teachers Union — once one of the strongest teachers unions in America — has a reported $1.5 million shortfall for the fiscal year ending June 30, 2007. There are outstanding loans for up to $2 million from Amalgamated Bank to cover the union's payments to the IFT and AFT. If that is not enough bad news it is estimated that there has been a loss of 3,000 members in the past years.
How is this happening? With the recent (annual) dues increase of $38.36 for teachers and $22.04 for PSRPs, how is it still possible we cannot pay our bills? In the real world, it is called mismanagement and overspending. So the question becomes, how did this happen? It is not hard to figure out. There has been only one party (the United Progressive Caucus) running the union for two terms now. What is interesting is that there are similarities to the "mandate" Bush Jr. took into his second term of office, just as Marilyn Stewart claimed in the last union election in May 2007. Winning by vilifying the other candidate and by making promises of a better future, the "Stewart Team" won an overwhelming majority for a second term in office.
Now she is finally in complete control by usurping to herself power as the supreme Chief Executive Officer of the Union. So the truth is coming out about the fiscal mismanagement under her leadership. It needs to be clear here that since December 2007 Stewart has taken total control of the executive branch of the Union. In doing so she has stopped the Vice-President and the Treasurer of any oversight responsibilities within their constitutionally appointed duties. In effect, the current situation leaves only one person to blame: President Marilyn Stewart.
The sources for this report are: the February, 20, 2008 Audit Report of the 2006-2007 CTU finances by Bansley and Kiener, LLP; the 2007-2011 Teamster Union staff contract that determines the expenditures for the union staff downtown in the categories of field rep and clericals; countless memos and directives from Marilyn Stewart; and authoritative sources within the union who wished to remain anonymous for this article.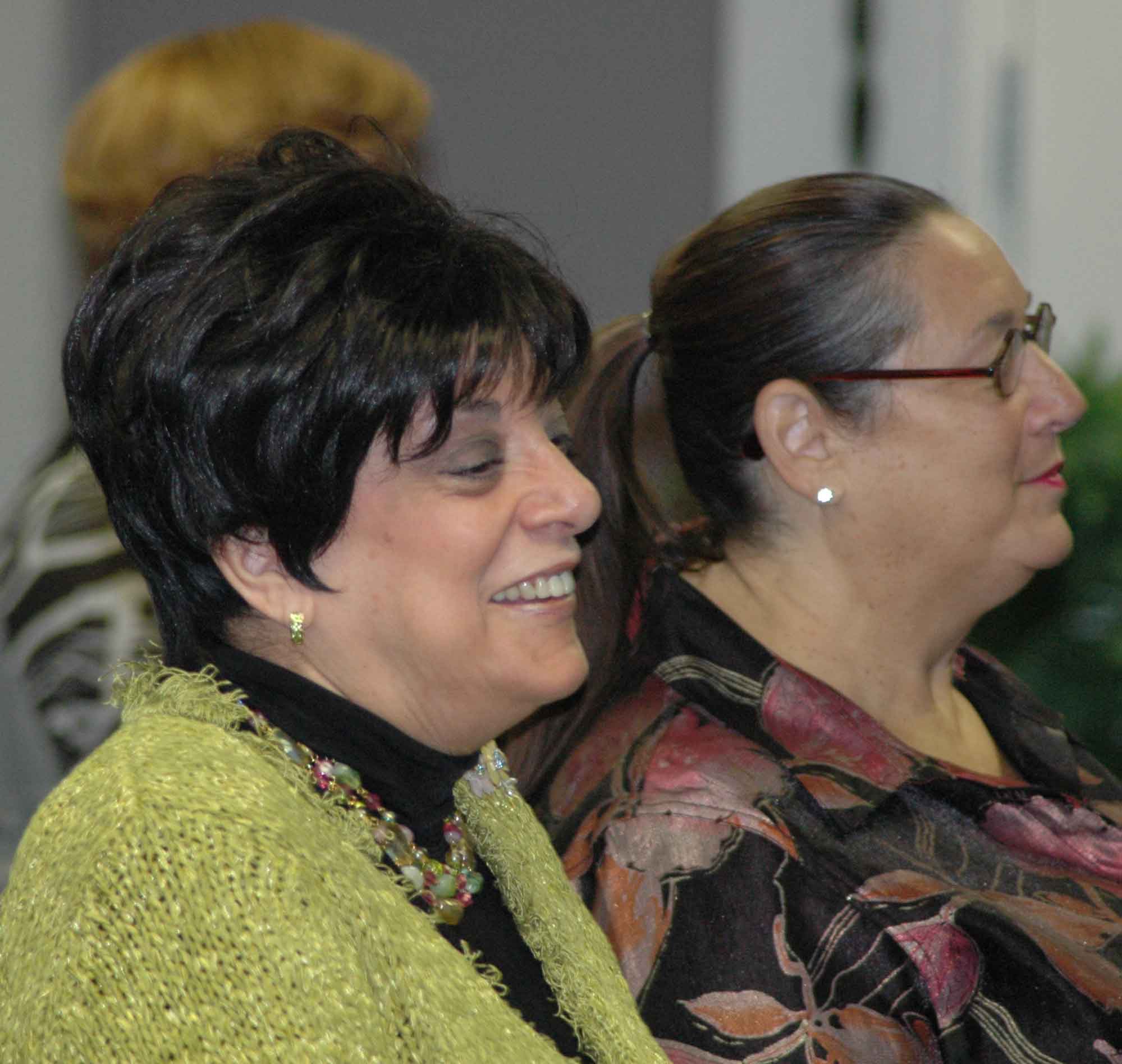 Above: Gail Koffman, Chicago Teachers Union "Consultant", reportedly works three days per week at the CTU offices. Retired on a pension of more than $80,000 per year, Koffman assisted with collective bargaining. Above right: Lynn Cherkasky-Davis, Assistant Coordinator (National Board Certification Initiative), Quest Center, is receiving total compensation in excess of $140,000 per year. Substance photo by George N. Schmidt.
Let's get to what's going on. In a March 14, 2008 meeting at union headquarters when the AFT presented its findings of a fiscal investigation two conclusions were made clear: one, the CTU is overspending and two, the AFT will not allow a budget that is not balanced. Yes, this is the parent union of the CTU telling the simple facts, stop spending money you don't have! Incidentally, the AFT report could not be obtained for this story because they were numbered when they were passed out and promptly collected when the AFT presentation was over, showing again the complete domination of President Stewart over the Union without regard to the democratic process of transparency and oversight.
It is not hard to see where all this trouble came from.
Salaries and benefits for Field Representatives that reach $200,000 per year; staffers, some of whom have never been a teacher nor CTU member, making as much. To make it even worse, some of the executive staffers of the CTU do not have the basic credentials to even be a classroom teacher. To add to the problem there is office staff pulling in full pensions and a full-time salary who are nowhere to be found on most days of the week. It is reported that one staffer could be making as much as $100,000 per year and only required to come in three days per week to downtown office. There are four Field Reps that have been bumped up four steps in pay in this last contract they signed. Yes, they got a four-year advance pay raise. All this comes at a time when teachers are fighting for their jobs during the latest round of school closings and reclassifications to further diminish the power of the Union. Not to mention the economic downturn we all are experiencing on a daily basis such as, food prices, gasoline prices, high taxes and government overspending.
The following is a snapshot of the budget problems the CTU faces today:
1. $2 million loan to pay IFT in AFT per caps from Amalgamated Bank.
2. $1.5 million deficit June 30, 2007 and 2006 audit.
3. $475,000 spent to get new contract.
4. $1.5 million [estimated] exclusive legal fees to Lawrence Poltrock and associates.
5. $95,000 per month rent for downtown offices.
6. 3,000 members [estimated] lost 07-08.
7. No working capital [$100,000 estimated] for a $30 to $35 million dollar operation.
When looking over these figures, they are hard to understand and for many non-accountants such as I, do not mean anything. Discussing the plight of the current union fiscal crisis with past and present organizational managers, it is clear the only way to save the Union is to make deep cuts in administrative and office budgets downtown. Just to get a balanced budget there needs to be $2 million in cuts made immediately. We are not talking about running a tight ship here, what we're talking about is balancing the budget. That does not take into account the repayment of the loans or the loss of membership. In reality, to save the Union there may need to be an additional $1 or $2 million in cuts to be able to protect the future fiscal survival of our union.
In simple terms, the union is running amok. One person is taking complete control and has surrounded herself with people who have no vested interest in the membership down in the trenches. Those teachers dealing with gang bangers, dysfunctional families, indoctrinated administrators, and a central office that wants to completely wipe out any and all semblance of a powerful union that will stand up for their rights of the working person. That will stand up for the right of each individual to work in a safe environment. That will stand up for each and every member no matter what the situation and protect their job. It is hard to see how a union can protect its members when she cannot manage its own affairs. 