CPS proposes to hire hundreds of new teachers while Ron Huberman says he has to prepare to cut thousands of jobs because of a near billion dollar 'deficit'
John Kugler - March 08, 2010
While claiming it must cut hundreds (perhaps thousands) of jobs, the Chicago Board of Education is simultaneously advertising around the nation and locally to hire new teachers. Is there an explanation? Secret Job Fairs and hundreds of hidden job positions posted on out-of-state Web sites — plus some postings from CPS itself — indicate confusion, if not a policy of dishonesty. Additionally, a federal age discrimination lawsuit is already pending that could cost CPS millions of dollars if the pattern that seems to be there is verified in court. The charge is that CPS is dumping veteran teachers (an instance of age discrimination) while trying to hire young teachers in large numbers — despite their lack of experience and proven abilities, and the fact that a majority of the newly hired teachers leave the profession within five years.
A little recent history provides some context.
On February 24, 2010, the Chicago Board of Education voted to close one school (Las Casas Occupatonal High School), subject five schools to "turnaround" (Bradwell, Deneen, and Curtis elementary schools and Marshall and Phillips high schools), phase out another school (Schneider Elementary), and consolidate McCorkle Elementary by closing it and sending its students to nearby Beethoven Elementary. The majority of the hundreds of teachers and other staff at the schools are veterans, including principals and non-teaching staff. If CPS goes through with this latest round of staff eliminations, their numbers will be added to the thousands (most of them African Americans) who have already been eliminated from the ranks since former Chicago Schools CEO Arne Duncan began these policies in 2002.
All of the schools targeted this year on what activists have called the annual "Hit List" protested and provided evidence to refute every claim made by CPS officials to supposedly justify the Board's policies, but the Board voted on the proposals, made by Ron Huberman, despite the facts. When the schools are closed, consolidated, or "turned around", more than 400 teachers and other staffs will be out of jobs.
At the time of the Board of Education's February 24 meeting, which was covered by every TV station in Chicago and dozens of other media, no mention was made by the Board members or their CEO that draconian staff cuts might be necessary because of an unprecedented budget "deficit."
Within 24 hours, the "deficit" was the main news story, even though its details were carefully evaded by Ron Huberman. [Editor's Note: Since January 19, 2010, Huberman has refused to be interviewed by Substance about CPS finances. On January 19, Substance gave a copy of the CPS Comprehensive Annual Financial Report (CAFR) to Monique Bond, Huberman's propaganda chief. We told her that we needed to interview Huberman about the finances, in general, and the use of "Swaps" and "Derivatives" by CPS in particular. Indications from the CAFR are that CPS may have lost more than $100 million because of controversial variable rate bonds issued during the years Arne Duncan was CEO and the so-called "swaps" that match the bond. Traditionally, CPS had issued fixed rate bonds, and the use of variable rate bonds and "swaps" was a secret until Substance and CORE began asking questions at the time of the 2009 budget hearings. Huberman signed the FY 2009 CAFR and presented it to the December 16, 2009 Board meeting, but Monique Bond claimed in January that she had never seen it before. Since January 19, Huberman has escalated his claims about a 'deficit' while refusing to discuss his own audited financial report with Substance].
Chicago Public Schools Chief Executive Officer Ron Huberman, announced on February 25, 2010, a nearly $1 billion 'deficit' and told the city's mass media of the need for massive job cuts, furlough days, program cuts, salary freezes and "tight hiring restrictions."
During the following week, CPS was buzzing with rumors that hundreds of people in the school system's main central office were going to be fired (supposedly, on February 26, 2010). That rumor was followed by a rumor that all citywide fine arts (art and music) programs had been cut. By the first full week of March, CPS had announced, sort of, that pre-varsity Spring sports programs were being cut (maybe).
The rumors and leaked stories continued, putting everyone on edge and undermining teacher morale across the city as the schools administered the ISAT test. The confusion and destabilization ran from the system's massive central office staff to the lowest paid lunchroom and custodial workers in the farthest schools from downtown. Every day a new rumor appeared, and usually by the end of the day it was questioned or rescinded. The only rumor regarding cuts that Substance was able to confirm was that Huberman had imposed an additional 15 "furlough" days on his top executives and administrators (those not covered by union contracts).
By the time the Chicago Teachers Union held a modified union delegate training event on March 6, the rumors were the source of many questions that the union leadership found itself less and less able to answer.
But on March 4, 2010, Illinois State Schools Superintendent Christopher Koch told lawmakers that the state's $12 billion budget deficit will likely force local schools to lay off thousands of teachers, administrators, and other workers. Finally, apparently looking for some good news, Chicago Teachers Union President Marilyn Stewart put out a "Call to Action" to union members to support Residency Bill SB 3522 (Amendment 1) that would lift the residency requirements for Chicago teachers, thereby in her view saving jobs (according to Stewart). Since these events there seems to be a shocking twist of findings to how all this news fits together.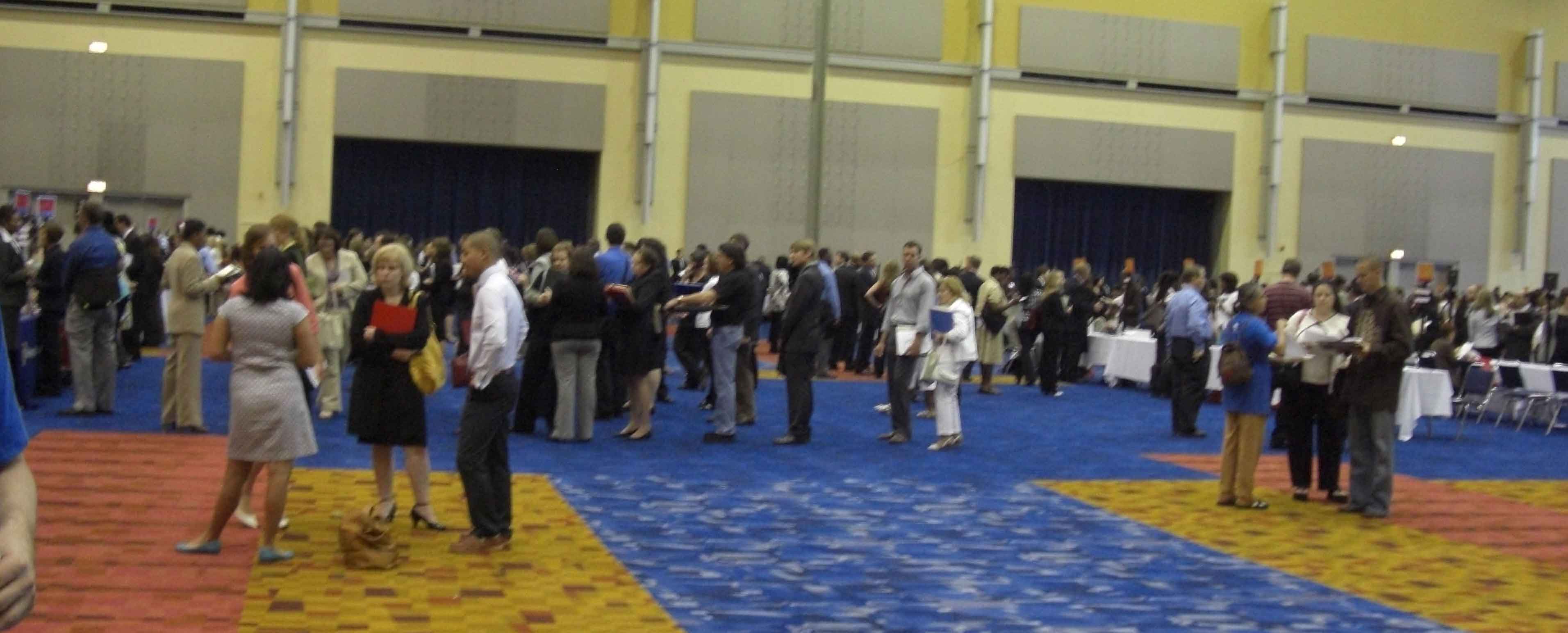 Novice and student teachers and the youngest applicants at the July 31, 2009 CPS Job Fair (above) had been tipped off in advance about the event, while displaced veteran teachers had to fight to get notification the event was taking place. Substance photo by John Kugler. Over 700 CPS jobs have been found to be posted on out-of-state websites advertising hundreds of positions in the Chicago Public Schools (CPS). This was reminiscent of the exposure of the 'Invitation Only' job fair planned for July 31, 2009. That event became public when a teacher uncovered it and questioned it during the July 22, 2009 Board of Education meeting. Like the earlier Job Fair, the out of state jobs posting seems to have been a secret. The uncovering of the hundreds of advertised jobs came from a tip from a reassigned teacher who was attending the Lake County teacher fair and happened to talk to a student teacher in CPS.
A reassigned teacher who asked to remain anonymous sent an email to a Substance reporter. "I was talking to a CPS student teacher this morning," he wrote. "There is a job fair on April 10. She said that as a student teacher she received a pass to let her in early. If this is true, shouldn't displaced and reassigned teachers get the same priority admission?"
There was a link provided by the teacher http://www.cps-humanresources.org/Special/cpsatwork/AtWorkNewsNov09.pdf >
"RWP[Recruitment and Workforce Planning] has tentatively scheduled two career fairs at McCormick Place, Lakeside Center for Saturday April 10, 2010, and Saturday, May 15, 2010. (PLEASE NOTE: these are tentative dates. More information will be forthcoming in early 2010.)," from of the November Issue (p. 3) of the cps@work newsletter.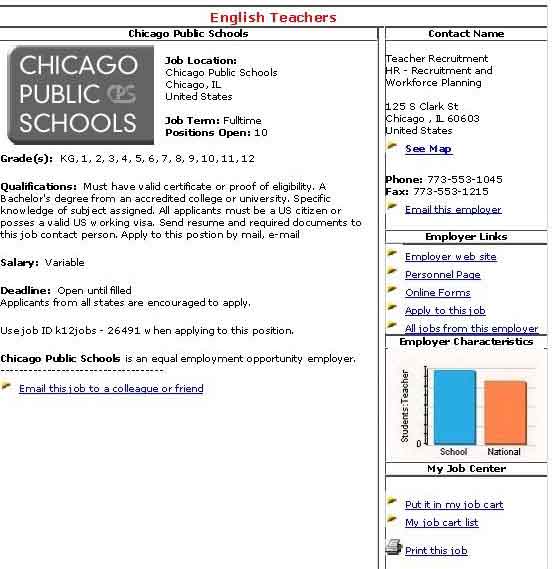 Even the CPS Website is advertising teaching jobs, while hundreds are facing cuts. CPS CEO Ron Huberman refuses to answer any Substance questions about his contradictory policies and outrageous budget claims. Substance graphic. Here again, as happened in the July 2009 Job Fair debacle, it seems like CPS may be trying to secretly recruit new teachers to replace tenured veteran teachers by given them an advantage of having information that is not made public and accessible to the thousands of experienced, reassigned, displaced and teachers in CPS.
"This would be fair if that happen for the displaced/cadre teachers to be let in first but has this group of persons in charge ever been fair?" asked John Fremault, a displaced Carpentry teacher, when he found out about what might be another secret job fair. "Not a chance. I just wonder how often does a displaced person not get a full pay check? I am really thinking about filing a class action law case."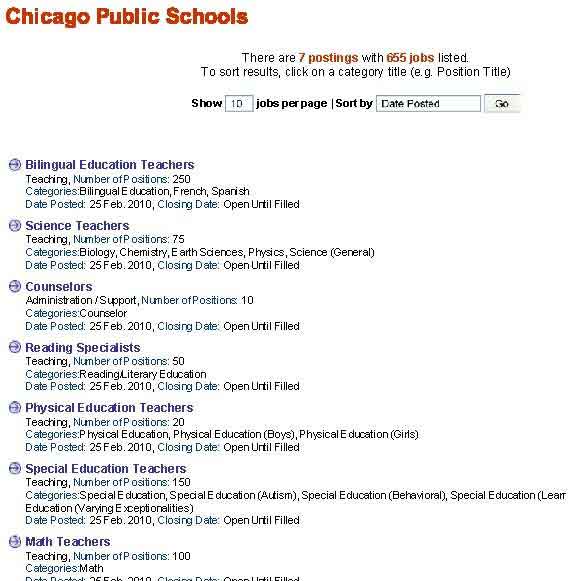 The above out of town jobs listing from CPS was originally posted on February 25, 2010, the same day that CPS CEO Ron Huberman told a gullible Chicago corporate press corps that CPS was facing a "deficit" of at least $700 to $900 million — and possibly a billion dollars. In Huberman's regime, the CEO can refuse to discuss the numbers upon which he is basing his "deficit" claims, order staff to take furlough days or be cut, and at the same time advertise nationwide for new teachers. Substance graphic.After getting this tip, Substance searched the Internet for job fairs, open positions, recruitment events and any other postings that were related to the Chicago Public Schools and job opportunities.
The first place searched were the CPS sites that might have information regarding job opportunities. Neither the main CPS website < www.cps.edu > nor the Chicago Public Schools Department of Human Resources < www.cps-humanresources.org > yielded any information on any upcoming career fairs.
There was and still is no mention of these career fairs or events anywhere in any CPS website or communication. After finding nothing on any Chicago based website for job fairs multiple search variables were plugged into common search engines to see of there was anything out on the internet that would yield information on any up job fairs in April and May of this year, still there was no finding of any postings of up coming CPS Job Fairs.
What was uncovered through an extensive Internet search was hundreds of hidden CPS jobs advertised on two Internet sites. EducationAmerica.net < http://www.educationamerica.net > based out of Austin, Texas and K12Jobs.Com < http://k12jobs.com > a privately held company with headquarters based, Royal Palm Beach, Florida. Both websites had an extensive login procedure that did not allow any open searching of its databases without first inputting personal information, educational background, resume and cover letter.
After gaining access into the EducationAmerica.net website and searching for Chicago Public Schools, the readers gets the following message "There are 7 postings with 655 jobs listed." The jobs include(parentheses indicate number of positions): Bilingual Education Teachers (250), Science Teachers (75), Counselors (10), Reading Specialists (50), Physical Education Teachers (20), Special Education Teachers (150), and Math Teachers(100).
Again after spending time uploading private information and documents to gain access, on K12Jobs.Com jobs listed 11 postings with 92 positions available: English Teachers(10), Bilingual Education(10), Special Education Assistant(1), Special Education Teachers(10), Science Teachers(10), Math Teachers(10), Speech Language Pathologists(10), School Social Worker(10), School Psychologist(1), Occupational Therapists(10), and Physical Therapists(10).
The timing of finding these hidden advertised positions could not be stranger than fiction. First, there was the announcement of the 'billion dollar deficit' and the need for job cuts on February 25, 2010. The 655 jobs on EducationAmerica.net were posted on the very same day February 25, 2010.
CTU President Stewart, declared her support this weekend to lift the residency requirements (SB 3522) on Chicago teachers, "CPS seeks to recruit the best and the brightest for its students. However, because of the potential teacher's zip code, he/she is unable to teach in Chicago without residing within the city limits," before any of these new jobs were found on out-of-state non-public websites.
Norine Gutekanst, Chicago Teacher, Union Delegate from Whittier Elementary School and member of the Caucus of Rank and File Educators (CORE) warned Stewart during a Union Delegate Training Workshop, March 6, 2010, of the danger of lifting the residency bill at this time, "What they [CPS] are planning to do now is hire all new teachers from outside the district and even nation wide and not giving our veteran displaced teachers the jobs they rightly deserve."
It looks like CPS is intending to import as many as 747 teachers and staff from outside of the system using out-of-state private web posting and maybe even trying again, as in July 2009, to have preferential access to job fairs by pre-service teachers. Looking through the internal CPS human resources websites that advertise jobs is clear that there is nowhere near 747 jobs advertised on its own CPS HR websites and no access to any job fair registration.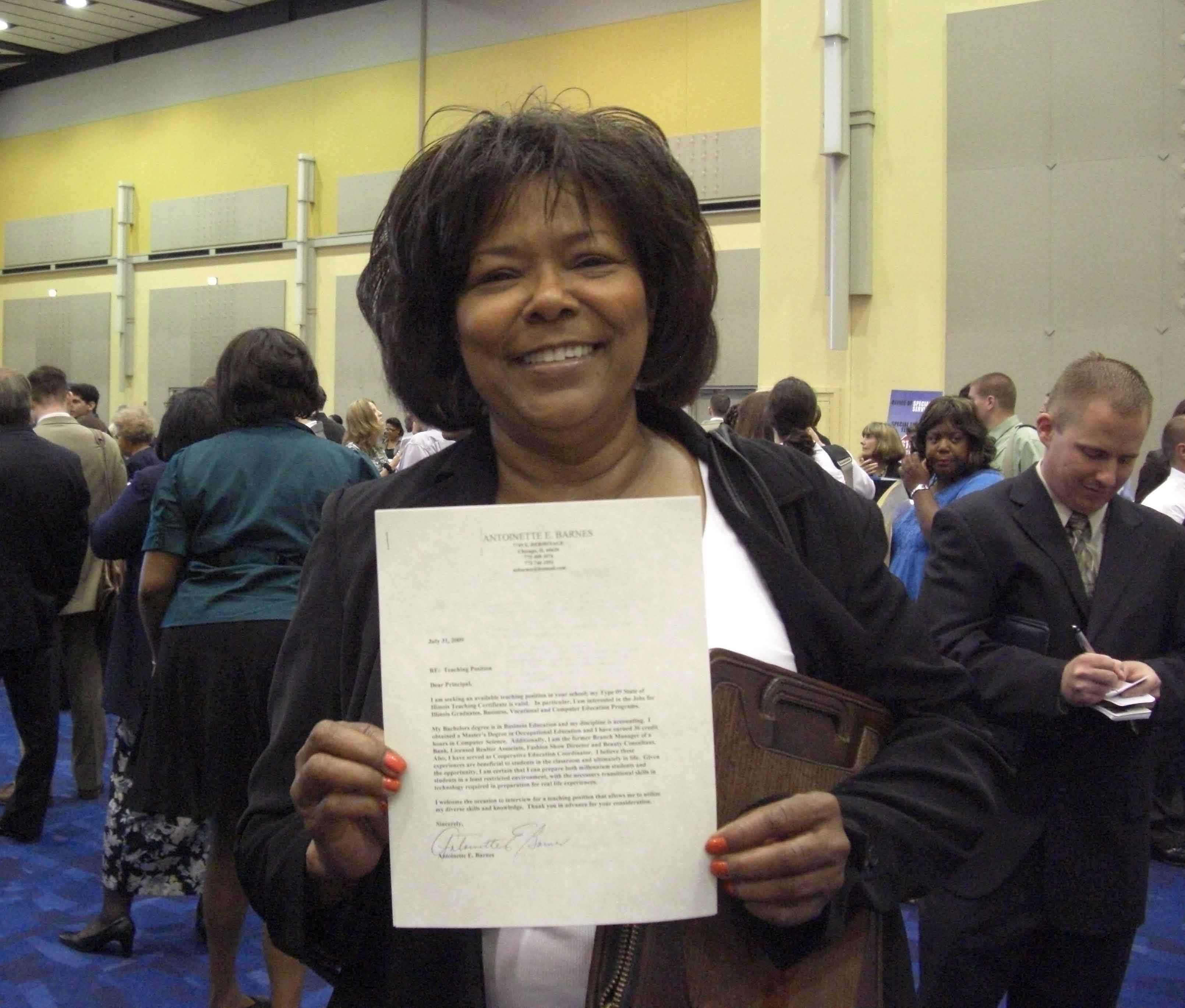 CPS teacher Antoinette Barnes (above) was displaced as a high school teacher and discovered that CPS was favoring young inexperienced teachers while discriminating against veterans. Barnes has filed a federal class action lawsuit charging age discrimination. Above, she displays her letter to principals during the secret July 31, 2009 CPS Job Fair, which was exposed and opened up by teacher activists. Substance photo by John Kugler. There is already one pending cases regarding hiring discrimination against CPS. Antoinette Barnes a displaced teacher has filed a Federal lawsuit in the Northern District of Illinois Eastern Division (10-CV-00020) where one of her charges against CPS reads:
"Although the Board conducts job fairs, applicants under forty (40), many of whom are from "alternative" teaching programs, are permitted early entrance to job fairs. When plaintiffs and other older teachers are granted access to the job fairs, the younger teachers are on their way out of the fair. Younger applicants are given different colored wristbands from the older applicants and the resumes of the younger applicants are stamping a different colored ink from the resumes of the older applicants."(p. 5, January 4, 2010)
At the time of writing this article there was no response from CPS officials. This could be the second time in less than one year that the Chicago Public Schools seem to be attempting to discriminate against older veteran teachers within CPS that have been displaced from their teaching assignments.